How to keep a Christmas tree alive – with tips from Monty Don
Knowing how to keep a Christmas tree alive is the difference between a spectacular spruce and a cheerless conifer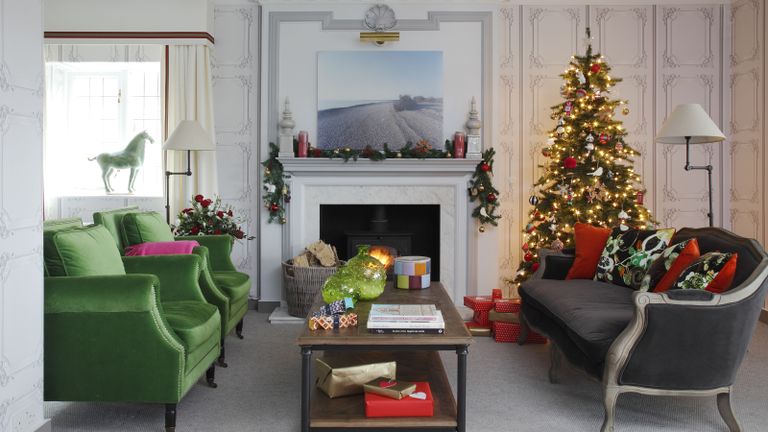 (Image credit: James Balston)
Wondering how to keep a Christmas tree alive (or at least green) until the big day?
It's a conundrum that plagues every festive decor enthusiast who likes to put up a real tree as soon as they can. The earlier you get your tree, the more time you get to bask in its glow – but the harder you will have to work to keep it looking fresh until December 25.
A healthy, happy tree is the basis of all the best Christmas tree ideas, so it's important to show it some TLC over the holidays.
Writing on his blog (opens in new tab), BBC Gardener's World presenter Monty Don has shared a whole host of tips on how to care for a real Christmas tree, helping to ensure your evergreen stays looking good throughout the entire festive period and into 2022.
How to keep a Christmas tree alive
If you want to stop your Christmas tree topper from flopping and your branches bowing under the (minimal) weight of your baubles, follow Don's tips on how to keep a Christmas tree alive.
Can you stop a Christmas tree from dying?
If you have bought a cut tree, then we're afraid your tree is already effectively dead or dying, and the best you can do is to work to keep it looking as fresh as possible, for as long as possible.
You can, however, go for a planted tree in a pot that will remain alive and growing during the festive season. This is great if sustainability is an increasingly key Christmas tree theme for you, as it means you can even keep your tree for next year and years after that.
'Do get one with roots if possible, even if you are not intending to plant it,' says Don, writing on his blog. This is a surefire way to guarantee those needles will stay firmly on the tree. You can even replant it in the garden after.
'Pot it into as large a container as you have and fill this with sharps and/or compost. Sand is perfectly good for the few weeks it will be indoors. Water it and keep the sand moist,' he adds.
How do you keep a Christmas tree from drying out?
Both planted and cut trees are in danger of drying out – and the effect on the latter is pretty disastrous. Even before you think about how to decorate a Christmas tree, the first thing you should do is to place it in the coolest part of the house you can find.
'Never place your Christmas tree by a radiator,' warns Don. While a cosy warm room might appeal to us, a tree will respond by immediately shedding its needles.
'All these evergreen firs have adapted to cope with cold winter weather and will react to central heating heat by dropping their leaves in order to conserve moisture,' explains Don.
What do you put in a real Christmas tree to keep it alive?
The next step in keeping a Christmas tree looking lush is ensuring it is well-hydrated, especially if you have a cut tree. As well as helping to prevent needle-dropping, healthy branches and leaves will make a Christmas tree look fuller too.
'Buy a tree holder for a cut stump with a reservoir and keep it topped up with water,' advises Don. 'Treat it like a cut flower. This will do more than anything to stop it shedding its needles.'
What is the best type of Christmas tree to buy?
If you're skipping on the alternative Christmas tree ideas this year and want something atmospherically traditional, you really can't get better than a real tree.
The first step to getting the most out of a real Christmas tree is picking the right variety. Don explains that the Norway Spruce, The Nordmann Fir or the Colorado Spruce are all great options.
'All three are very good, have specific virtues and can last for a long Christmas season if looked after properly. All three will also grow in most gardens if they are bought with healthy roots and planted carefully as soon as possible after Christmas,' he says. However, Monty's particular favourite is Colorado or Blue Spruce, or the Picea pungens.
'Although it comes from the southern states, it originates from a high altitude, so is very hardy and grows into a tall, very straight, rather beautiful tree, with glaucous blue needles the colour of cardoon or artichoke leaves,' Don says.
Plus, the high mountainous conditions give the tree a stiff habit that makes it even more attractive to Don. 'If you do plant one in the garden, it will grow much stronger if given maximum sunlight,' he adds.
Rebecca is the News Editor on Homes and Gardens. She has been working as a homes and interiors journalist for over four years. She first discovered her love of interiors while interning at Harper's Bazaar and Town & Country during my Masters in Magazine Journalism at City, University of London. After graduating she started out as a feature writer for Women's Weekly magazines, before shifting over to online journalism and joining the Ideal Home digital team covering news and features. She is passionate about shopping for well-crafted home decor and sourcing second-hand antique furniture where possible.