Victorian garden design – 5 key elements for your backyard
Use features of Victorian garden design to inspire the planting and ideas for your modern home garden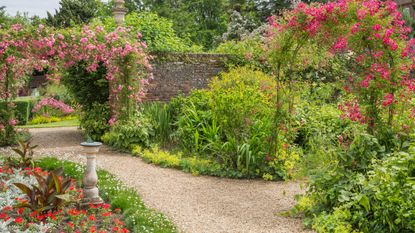 (Image credit: National Trust/ James Dobson)
Sign up to the Homes & Gardens newsletter
Decor Ideas. Project Inspiration. Expert Advice. Delivered to your inbox.
Thank you for signing up to Homes & Gardens. You will receive a verification email shortly.
There was a problem. Please refresh the page and try again.
The key elements of Victorian garden design can be incorporated into any modern garden. You can make them your own – whether you live in the country or city, or have a backyard large or small.
Take inspiration from Victorian gardeners and incorporate some of their garden features into your garden ideas for your modern backyard.
Here National Trust gardeners advise on some of the key elements to include if you are planning a garden with a traditional appeal.
Victorian garden design
'Victorian garden design reflects the Victorians' love of plants, travel and innovation. These three enthusiasms combined to transform gardens in this period into spaces that celebrated 'new' plants from all over the world – in technicolor,' explains Rosie Fyles, head gardener at the National Trust.
'Indoor areas were transformed, too, as growing under glass became both more fashionable and more possible, thanks to the availability of cheaper glass,' she adds.
The end of the 19th century saw the rise in popularity of cottage gardens ideas, with their abundant flowering borders filled with wild self-seeders.
1. Include shaped beds full of colorful bedding plants
'Fuelled by exploration and plant breeding, and an increasing ability to source plants from retailers, the Victorian gardener had access to an ever-swelling array of "new" plants,' explains Rosie Fyles.
With improved and greater access to specialist bedding plant seeds, the 'bedding plant boom' reached even small suburban gardens – and characterizes English gardens today.
Victorian garden design reflected ways to display and showcase these plant finds.
The fashion was for vibrant bedding plant displays in island beds centrally placed in lawns. This can be done on a small scale and you can have fun with the bed shapes as part of your flower bed ideas.
'These beds came in a variety of forms, most commonly a circle but also stars, crescents, hearts, butterflies and even tadpoles. Plants used included calceolarias – or pocketbook plants – lobelias, pelargoniums, petunias, verbenas and violas,' explains Rosie Fyles.
2. Build a Victorian style rockery
As the variety of plants brought back from expeditions to mountainous regions increased, Victorian garden design incorporated rock garden ideas.
'Victorian gardeners created a wide range of artificial landscapes, including rockeries that were designed to be naturalistic and were created for newly discovered ferns, alpine and rock plants that would not do as well elsewhere in the garden,' explains Rosie.
There are two rockeries at Peckover House & Gardens that would provide inspiration for a home garden rockery.
'We used any stonework that we could find, aiming to re-use and recycle. Stone and brick that tones in with the property works brilliantly. It doesn't need to be large, but it does need to remind you of the shape and irregularity of a stony area you might find on a mountain or a seaside cliff,' explains senior gardener Jenny Windsor.
When choosing plants for a rockery consider:
The aspect – will they be growing in sun or shade?
Make sure the plants for the rockery will tolerate winter conditions.
'Think about low growing plants and a mixture of compact types and those that spread,' advises Jenny.
Creating a rockery in one area of the garden will add a different character to your outdoor space.
3. Grow exotic plants under glass
'The Victorians popularised the fashion for cultivating under glass exotic plants brought back by explorers and plant hunters,' explains Rosie Fyles.
While gardeners living in USDA hardiness zones 9 to 11 may be able to grow these exotics successfully in their gardens, If you live in a colder hardiness zone, you can still enjoy these warmth-loving plants, as the Victorians did, by growing them as part of your greenhouse ideas, in summerhouses or conservatories.
The conservatory at Wallington Garden in Northumberland is known for its fabulous, striking flower displays.
Beth Orton, who looks after the conservatory, advises to do what the Victorians would have done and, 'stuff your space and pack it full of colorful, vibrant plants.'
To mimic the Victorians, include lots of rich, dark colours: burgundies, blues, yellows, shades of green, but no pinks or pastels.
'We think about how to enjoy the glasshouse during the different seasons, and create impact where it can be seen,' Beth adds.
Beth advises to take advantage of what can be grown from seed, and include some of the following exotics:
Heliotropes.
Coleus – which was introduced to the US in the second half of the 19th century.
Salpiglossis – also known as painted tongue.
Cleome, or spider flower.
'Include really large growing plants, too – our senna with its gold flowers covers half of the wall,' Beth explains.
Lemon verbena.
Burgundy abutilon.
Fuchsias.
4. Plant in a cottage garden style
Victorians romanticized rural life and created cottage gardens full of abundant planting and a mass of colorful flowers
One of the key elements of a Victorian cottage garden is 'an abundance of cottage garden plants joyfully crammed together with the emphasis on flowers rather than foliage,' says Rosie Fyles.
Hardy's Cottage, the evocative Dorset birthplace of author Thomas Hardy, is a prime example of a stereotypical cottage garden.
Caps Browning Smith looks after the garden at Hardy's Cottage. 'Informal and dense planting is the key characteristic of a cottage garden. Plants jammed in together, jostling for light and spilling over the paths. Plants that have arrived as cuttings from neighbors and gifts from other gardens. There is no soil to be seen,' she explains.
Allow plants to self-seed by 'happy accident' and self-colonize. 'Key plants for a cottage garden include foxgloves, fruit trees, hollyhocks, phlox, sedums, roses and Welsh poppies,' says Rosie Fyles. 'Choose those that are hardy, single-flowered, sweet scented and romantic,' she adds.
5. Include different types of pelargoniums – or tender geraniums
'Victorians championed pelargoniums for their reliability and flower power, developing new cultivars and new ways of using them. Pelargonium-rich displays became essentials of Victorian life,' explains Rosie Fyles
'Try scented pelargoniums if you have some over-wintering space indoors. They work well outside through mid-spring to early fall,' she adds.
If you learn how to to overwinter geraniums it can also save you money and prolong the life of this favored flower of the Victorians.
At Peckover House & Gardens they propagate their collection of geraniums with cuttings and use them as foliage and flower-rich bedding.
'Try including different types of pelargoniums in your garden, which you can propagate from each year. Use them in pots along a garden wall, or as a garden table centrepiece, for instance,' recommends Rosie.
Her recommended pelargonium varieties to try include:
Pelargonium sidoides, or African geranium, a species type with delicate crimson flowers and a silver leaf.
P. 'Ashby', which has bright pink flowers with a crimson heart at the center of each.
P. 'Prince of Orange', which superbly scented leaves and light pink flowers.
P. 'Attar of Roses', with clustered pink flowers, rose-scented and good as a cut flower.
What flowers were in Victorian gardens?
Favorite flowers that were used in Victorian gardens, advises Rosie Fyles, included:
Dahlias – the Victorians bred thousands of cultivars, so it's worth learning how to grow dahlias.
Chrysanthemums – the enthusiasm started around 1800 and quickly became a craze.
Highly colored rhododendrons captured the Victorian imagination, particularly those from the Far East. Fine examples can be seen at Killerton.
Petunias, particularly in white and purple, were widely used in suburban gardens and if you know how to deadhead petunias you can prolong the blooms.
Roses could be described as 'the queen of the garden' – 'by the 1840s breeding was at full pace and roses were grown by every type of gardener and in most gardens, often used in borders and as vertical focal points in the centre of parterres or bedding,' Rosie explains.
Ferns were a vogue plant in the later Victorian period, especially from 1840 to 1860 – enjoy the ferns on display at Peckover.
Hardy perennials like aquilegia, cardiocrinum, Alchemilla mollis and thalictrum were streaming onto the market.
Camellias were prized, especially those spotted and striped in pink, and are among the best winter plants for pots and borders.
Tender plants like African violets and poinsettia were used indoors.
Orchids were quintessentially Victorian and commonly used to decorate drawing rooms.
Azaleas, especially fragrant Ghent azaleas, were ubiquitous in greenhouses and conservatories.
Lobelias were first used as greenhouse and conservatory plants and later loved in urns, as border edging, and as a key plant in ribbon beds.
What does a victorian garden look like?
A Victorian garden looks like a space that showcases 'new' plants introduced in the Victorian era, explains Rosie Fyles. There was a return to a more formal garden style with garden beds and parterres filled with colorful and exotic species of plants.
Victorian gardens included:
Plants gathered by collectors from all over the world.
Beds and borders full of flower color, becoming brighter and brighter – any unusual colors of flower or foliage were popular.
'Exotic' plants featuring in changing planting displays.
Expanding walled kitchen garden ideas – extended use of growing under glass.
Rockeries of 'alpine planting' to emulate mountainous regions.
Wilder and more natural gardens increased in popularity towards the end of the 1800s in a reaction against industrialization.
There are many National Trust gardens you can visit – in person or enjoy the galleries online – for inspiration of including Victorian garden design ideas in your own backyard.
Sign up to the Homes & Gardens newsletter
Decor Ideas. Project Inspiration. Expert Advice. Delivered to your inbox.
Rachel is senior content editor, and writes and commissions gardening content for homesandgardens.com, Homes & Gardens magazine, and its sister titles Period Living Magazine and Country Homes & Interiors. She has written for lifestyle magazines for many years, with a particular focus on gardening, historic houses and arts and crafts, but started out her journalism career in BBC radio, where she enjoyed reporting on and writing programme scripts for all manner of stories. Rachel then moved into regional lifestyle magazines, where the topics she wrote about, and people she interviewed, were as varied and eclectic as they were on radio. Always harboring a passion for homes and gardens, she jumped at the opportunity to work on The English Home and The English Garden magazines for a number of years, before joining the Period Living team, then the wider Homes & Gardens team, specializing in gardens.