Best smart speaker: the top speakers to boost your home's smart set-up
The best smart speakers for setting routines, listening to music and wireless streaming from Amazon, Sonos, Google and more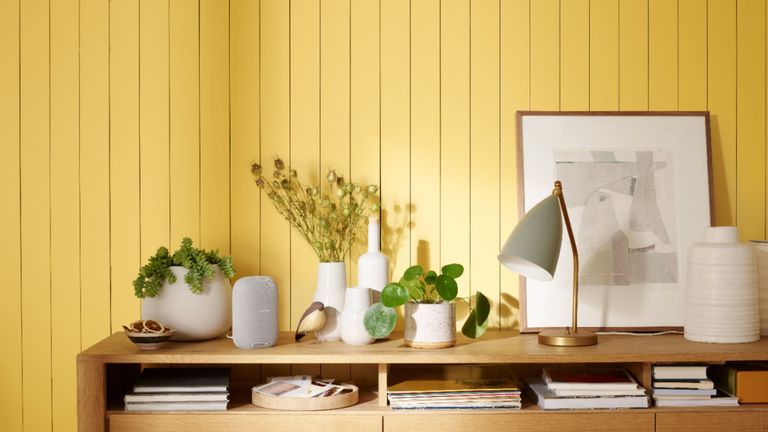 (Image credit: Google)
If you've not yet taken the plunge of introducing smart technology into your home, then an excellent first step is to invest in a smart speaker. The best smart speakers are self-contained digital assistants that can answer questions, set timers and automate pretty much everything, and you can build its capabilities over time.
Available in a range of stylish designs and with features that go far beyond simply playing music or the radio, smart speaker platforms like the Google Assistant and Amazon Alexa (by far the two most popular, but not only, options) allow you to control everything from your heating and lighting to morning alarms and timely reminders.
But as the amount of choice grows, finding the perfect speaker for your home can get overwhelming. We've looked at all of the best and most popular products to determine which would be the ideal choice.
Scroll down to see what we thought or, if you value audio quality over smarts, jump on over to our best soundbars guide.
The best smart speakers in 2021
1. Sonos Move
Best portable smart speaker
Specifications
Platform: Google Assistant, Alexa
Battery life: Up to 11 hours
Dimensions: H9.4 x W6.2 x D4.9in
Weight: 6.6lbs
Reasons to buy
+Can detect space and adjust sound to fit+Supports Google and Amazon assistants+Waterproof+Wireless
Reasons to avoid
-Quite large-Doesn't work as well without a stable Wi-Fi connection
A fantastic option for anyone who wants a wireless speaker that can be used anywhere from the kitchen or study to the garden without any problem. The Sonos Move is a seriously impressive speaker with compatibility with both Google and Alexa, several streaming services built-in, and the same smart features of other leading products.
The biggest selling point of the Sonos Move is its ability to be taken anywhere, including for summer garden parties, to the beach or anywhere else life takes you. It's slightly larger than some would like, but there's a convenient carry handle that allows you to easily pick it up and carry.
It's also drop-resistant and weatherproof, for those who are on the clumsy side or don't enjoy year-round good weather.
2. Amazon Echo Smart Speaker (4th Gen)
Best value smart speaker
Specifications
Platform: Alexa
Dimensions: W3.9 x D3.9 x H3.5in
Weight: 7.4lbs
Reasons to buy
+Can detect space and adjust sound to fit+Fire TV compatible+Voice calling+Built-in privacy+Multi-room
Reasons to avoid
-Nothing!
Our top choice for the best value smart speaker available right now, the 4th Gen Echo Smart Speaker is the ultimate option for all the features that come with Amazon's Alexa smart platform. You can use Alexa to connect to any smart-enabled appliances, TVs or other speakers around the home, as well as setting reminders or kitchen timers while you're cooking.
You can also use the speaker to call friends and family completely hands-free, and using multiple speakers allows you to speak to others in your household whenever they're needed. No more yelling for the kids to come to dinner!
And to help ease people's minds on the matter of privacy, the Amazon Echo gives you the ability to switch off the device's microphone when you don't want it listening in. Just turn it back on when you want to issue a voice command.
If you want to see more options from Amazon, take a look at our guide to the best Alexa speakers.
3. Echo Show 10
Best smart speaker for video calls
Specifications
Platform: Amazon Alexa
Dimensions: 9.8 x 9 x 6.7in
Weight: 5.5lbs
Reasons to buy
+Moves when you move+Great compatibility with other devices from Amazon, Ring and third parties+Can be used for home security
Reasons to avoid
-Size may make it difficult to move from room to room
The first smart display from Amazon that actually moves as you move, the Echo Show 10 is a significant upgrade for the smart display. With a 10.1-inch HD screen that gives you the ability to make video calls (invaluable in 2021!), read recipes while you cook and watch YouTube, Netflix or other streaming platforms, it's the smart assistant for those who want a little more.
The automatic movement aspect is particularly intriguing as it means you can theoretically walk around while speaking with friends and family and the camera will follow. You can also use this function for home security, accessing the camera when you're away to see what's going on.
But don't worry, to can turn the camera off when you don't want to use it, and the smart display has plenty of features to make this just a brilliant extra.
4. Google Nest Hub Max
Best smart display from Google
Specifications
Platform: Google
Dimensions: 7.1 x 9.8 x 3.9in
Weight: 2.9lbs
Reasons to buy
+10" HD display+Works with Arlo, Hue, Nest, Ring, SmartThings and Wink devices
Reasons to avoid
-Slightly lighter than the Amazon Echo Show-Can't be used wirelessly
Google's take on the smart display, the Google Nest Hub Max serves the purpose of a speaker, smart home hub and tablet all in one. The 10" screen makes it easy and convenient to do everything from video calling family members to streaming cooking videos on YouTube while you're in the kitchen.
The screen sits on the speaker stand, which has the trademark fabric cover of all Nest speakers. This means it's not an eyesore if placed on the kitchen counter or anywhere else around the home, but you'll need to take into account that the smart speaker/display needs to be plugged in to work.
The Nest Hub Max benefits from compatibility with a huge array of other smart devices, making it the perfect starter to your smart home. Hook it up to Hue products for customisable lighting, an Arlo security camera or even your Ring doorbell.
Homes & Gardens rating: 4 out of 5 stars
5. Google Nest Audio
Best smart speaker for music
Specifications
Platform: Google Assistant
Dimensions: W4.8 x D3 x H6.8in
Weight: 2.6lbs
Reasons to buy
+Voice match+Built-in privacy+Multi-room+Adjusts sound to space
Reasons to avoid
-Sound quality still not as good as competitors
An example of Google's Nest range that prioritises sound quality, the Nest Audio has everything you want in a smart assistant with great acoustics on top. The speakers boasts voice match technology that can detect who's speaking, added privacy with a mute switch (or just say "hey Google, delete what I just said"), and the ability to connect to countless devices around the home.
One of the Nest Audio's best features is its ability to map the space it's in and adjust audio levels to fit. That means that your speaker will know whether it's in the smallest room of the house or the largest, and change how it outputs music, podcasts or anything else to provide the best experience.
For those who would prefer a Google device over an Amazon or Apple, the Nest Audio is our pick of the best of the bunch whether you want to listen to the radio on full volume or have some quiet time with an audiobook.
Today's best smart speaker deals
How to choose the best smart speaker
Do I want Alexa or Google Assistant?
The question of whether Amazon's Alexa platform or Google Assistant are better is one without a clear answer, but can often come down to personal taste. If you're used to one but have yet to try the other, we would recommend staying with the familiar but, if your chosen smart speaker requires a switch, it shouldn't be a deal breaker.
How important are aesthetics over functionality?
The smart speakers we have included on this list all come with a combination of style and great features, but we're aware that personal design styles can often dictate what smart technology you bring into your home. While flagship speakers like the Amazon Echo or Google Nest look nice to some, others will have a hard time imagining them fitting into their carefully curated space.
If that's the case for you, then our advice would be to carefully read through specifications before committing but, if a smart clock runs on Alexa or Google, you shouldn't be faced with many limitations on how it works within a smart home set-up.
How can I stop my smart speaker listening to me?
One key concern for many of us is that a smart speaker in the home can not only listen to everything you and your family are saying, but also record and store that information. The big companies know this is a worry, and so many of the top devices have a switch that allows you to temporarily mute the microphone until you want to issue your next voice command. If this is particularly important to you, make sure your smart speaker has this function before buying.
Caroline has worked with the Homes and Gardens team since the start of 2021, bringing her background in technology with her. She's passionate about incorporating smart devices into the home without compromising on style, and her own interior design style has evolved over the years to reflect this.