How far above a table should a light hang? Design and lighting experts advise
Pendant lights are a popular choice in dining rooms, but how far above a table should a light hang? We ask the interior designers for their advice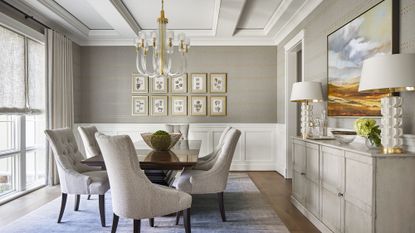 (Image credit: Tracy Morris / Greg Powers)
How far above a table should a light hang is a hotly debated question in interior design and one which is important to address if you're considering hanging a pendant over a dining table.
When it comes to dining room lighting ideas, incorporating a large sculptural pendant light or chandelier above a dining table is a popular choice. As well as providing both general and more direct task lighting over a table, they can help create a cozy atmosphere and make beautiful design features whether switched on or off.
Choosing the design is the fun part, as there's such a huge array of styles available, but when it comes to fitting it can be a tricky to know what is best. Too high and it may feel lost, too low and you risk the light obstructing views and it becoming a safety hazard.
If you're planning lighting a dining room with a hanging pendant and are eager to know how far above a table should a light hang, then read on to find out what the interior designers had to say.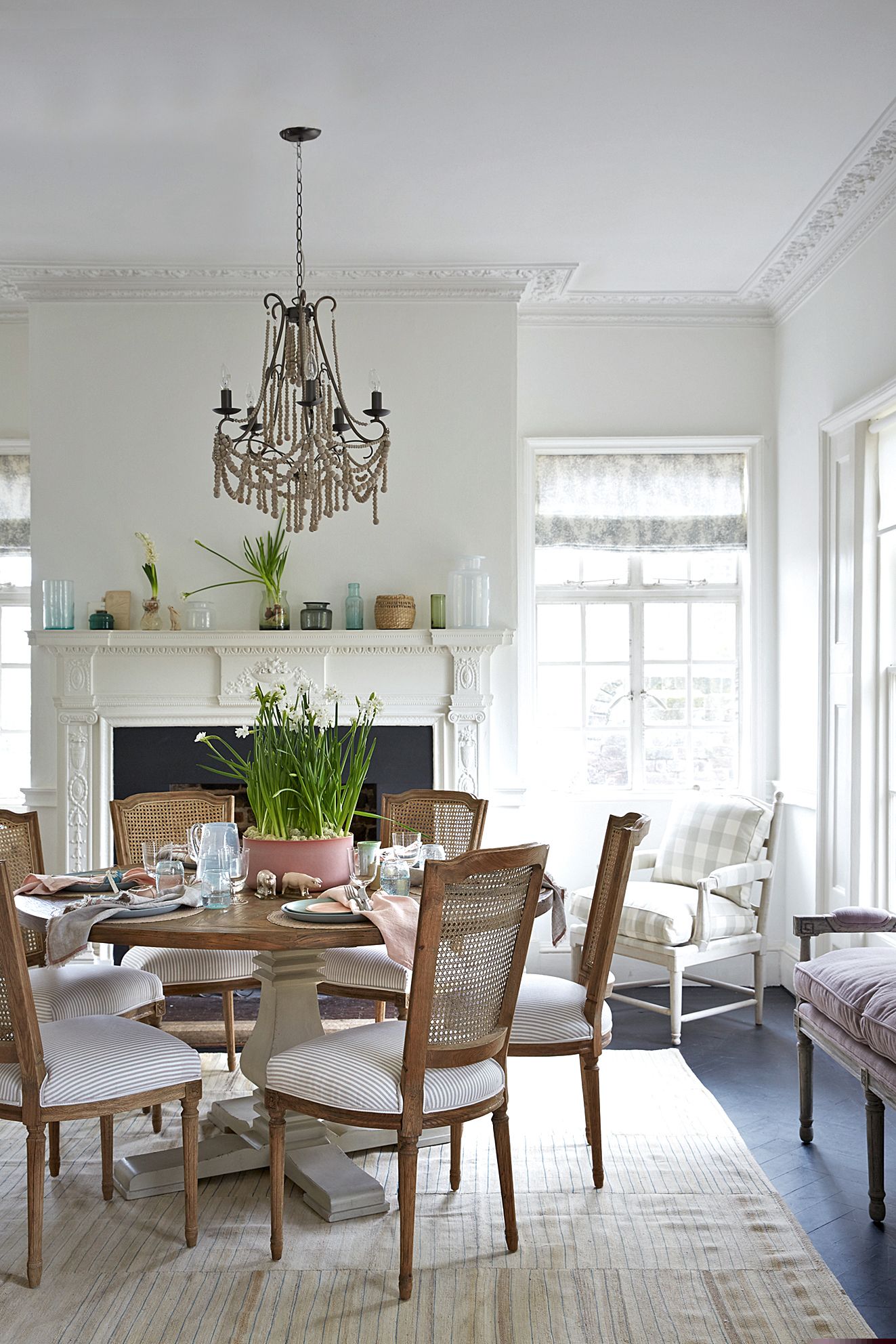 How far above a table should a light hang?
Generally the advice is that a light should hang around 3 feet above a dining table with 'the bottom of the light to hang just above eye-line, so it doesn't obstruct the view across the table,' says Simon Temprell, interior design manager at Neptune.
However, this is not a strict rule and will depend on a number of factors including the size of the room and how the light looks in proportion to the space. Whether you want the light to provide direct light or more general light will also play a part. In order to get it right it's important to be present at the installation.
'This is a question my staff and I debate constantly!' says interior designer Amy Forshew. 'While the rule of thumb is at least 36 inches above the table, I insist on being there when the electrician hangs the light. Every room is different – I take into consideration the ceiling height, the size and scale of the chandelier, the mass of the table, and most of all my clients!'
Similarly, interior designer Susan Sutter suggests that 'ideally, the bottom of the light fixture should hang 30-36 inches above the standard 30 inch high table top, being sure the bottom of the light doesn't block anyone's view.'
However, some interior designers suggest to hang lights at greater heights, which goes to prove that there is no one rule fits all.
'40-44 inches is the typical height chandeliers are installed above dining tables, but with a more sprawling light it's possible to hang slightly lower to give more of a restaurant feel,' suggests Michael Sandsmark of Design West Interiors.
Alternatively, interior design Phillip Thomas suggests a gap of 6 feet from the table to the bottom of the chandelier, but adds that 'this is just a starting point in the height negotiation. There are many factors that can dictate a chandelier height –aesthetics, site lines, architecture etc.'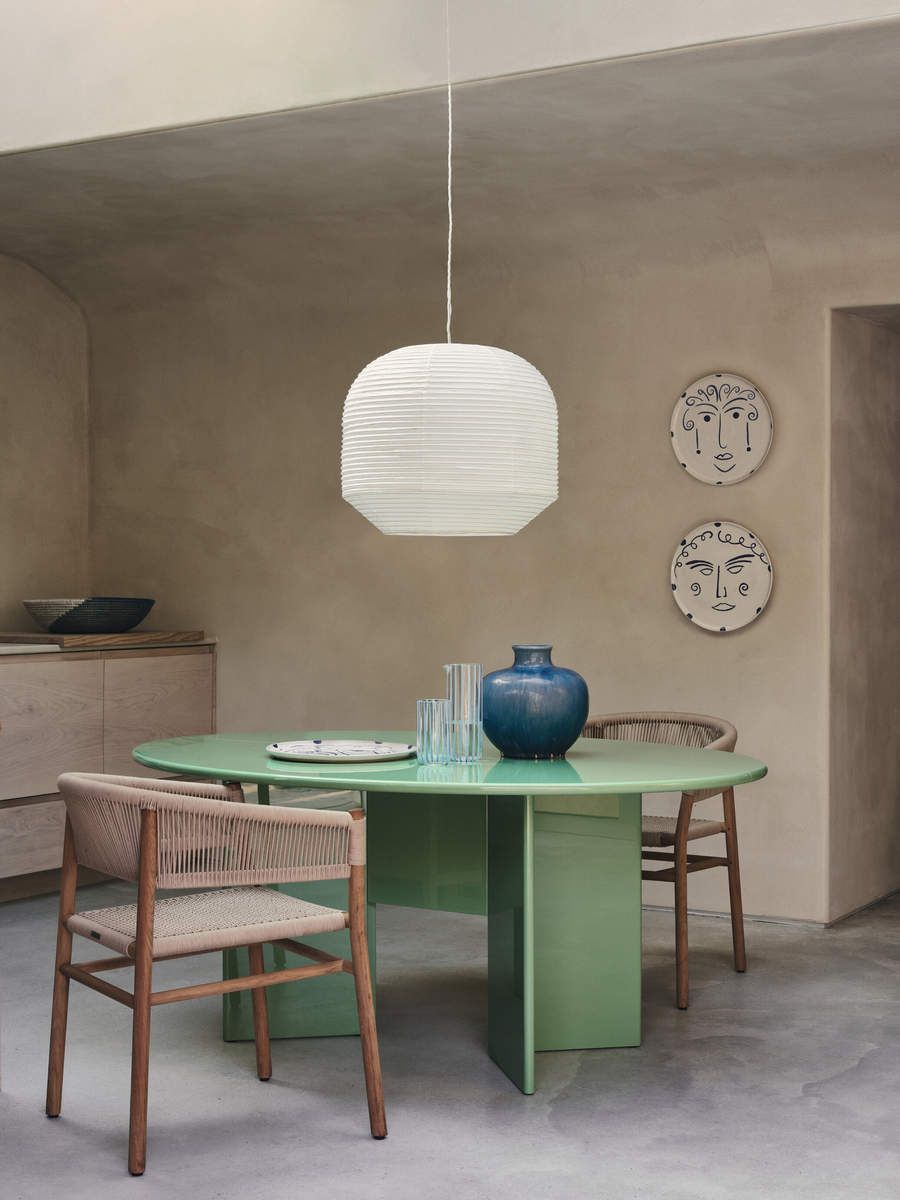 Take ceiling height into account
While having a 36 inch gap between a table top and the base of a ceiling light is often cited as a good distance for a light to hang above a dining table, if you have a large room with high ceilings you may want to consider hanging the ceiling light higher.
'Generally, the taller the ceiling the more clearance you want so the hanging fixture balances with the scale of the space,' says Noelle Parks, interior designer and founder of Noelle Interiors.
'For a room with 8ft to 10ft high ceilings, I recommend 36 inches – 42 inches of clearance from the bottom of the light fixture to the top of the table. This puts the fixture between 5ft 6 inches to 6ft above the floor – about eye level when standing up,' adds Noelle Parks.
Tracy Morris concurs, suggesting that, 'if you have 8ft ceilings, the standard rule is to hang the chandelier 36 inches above the table. If your ceilings are 10ft, we like to hang the chandelier 40-42 inches above the table.'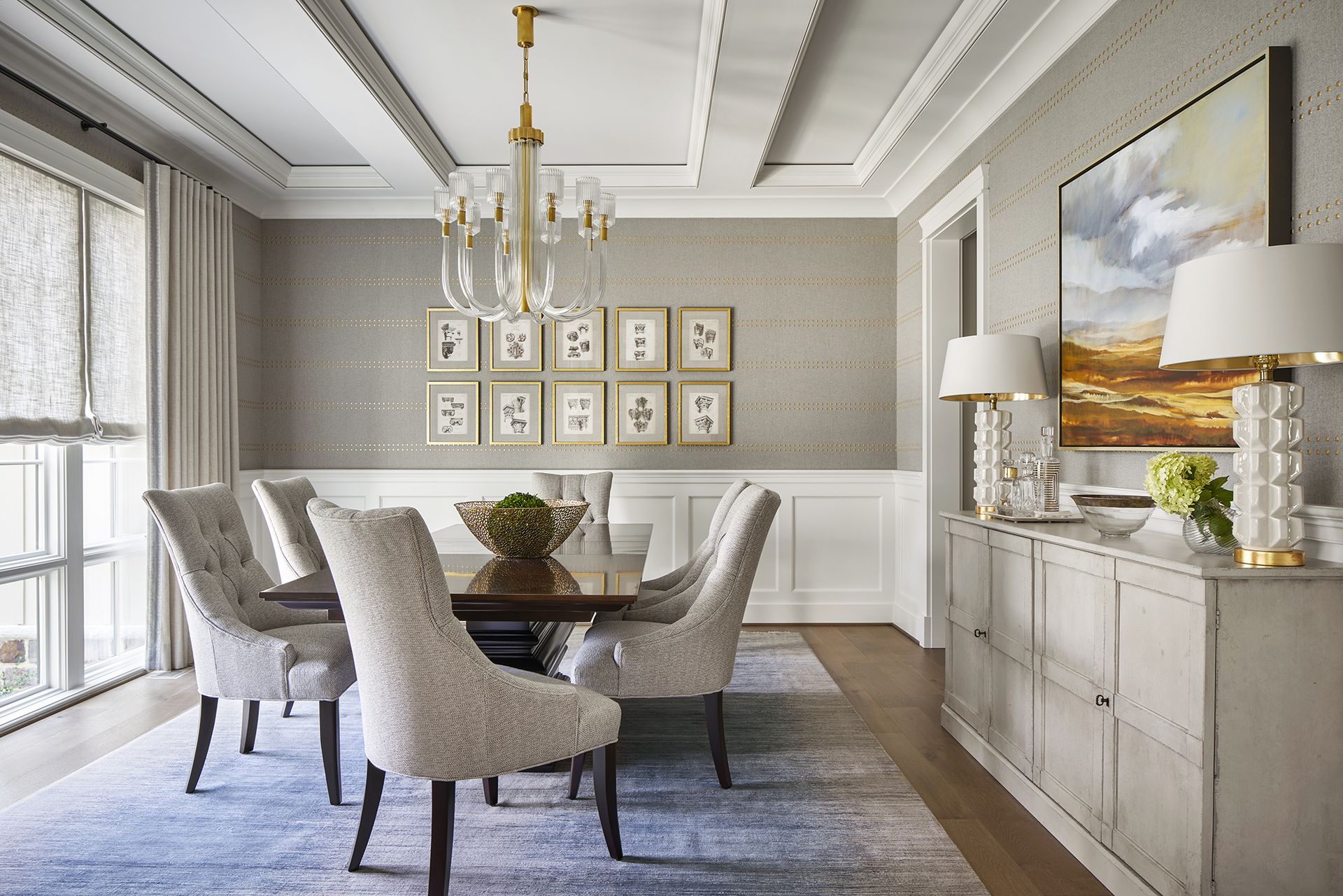 Consider scale
When deciding how far above a table to hang a light there are practical issues to consider, including not obstructing sight lines, but also key is how the light looks aesthetically within the space. In order to see if where it hangs works with the proportions, be sure to take a step back say the experts.
'It is important to be present during chandelier installations to ensure that the height is perfect. Viewing the chandelier both from a standing and a sitting position is key,' says Phillip Thomas.
'A good general rule of thumb is to hang the fixture 3 feet above your table or higher. This may change a bit depending on the view within the room, which will also allow you to determine what size and style of lighting fixture would work in the dining room,' adds Malka Helft, Think Chic Interiors.
However, for Susan Sutter it's important for a light not to hang too high as, 'keeping the link between the table and light is critical so they are viewed as one element.'
Finally, perhaps just as critical as the height is making sure the light hangs in the right place over a dining table. Generally the centre is the go-to, but this will vary if you are hanging a series of light fittings as part of a design feature.
'When placing a dining table in the room, always make sure the table, light fixture, and entrance of the room are in line and center with one another. Following this rule will allow for ample space on all sides of the table,' says Malka Helft of Think Chic Interiors.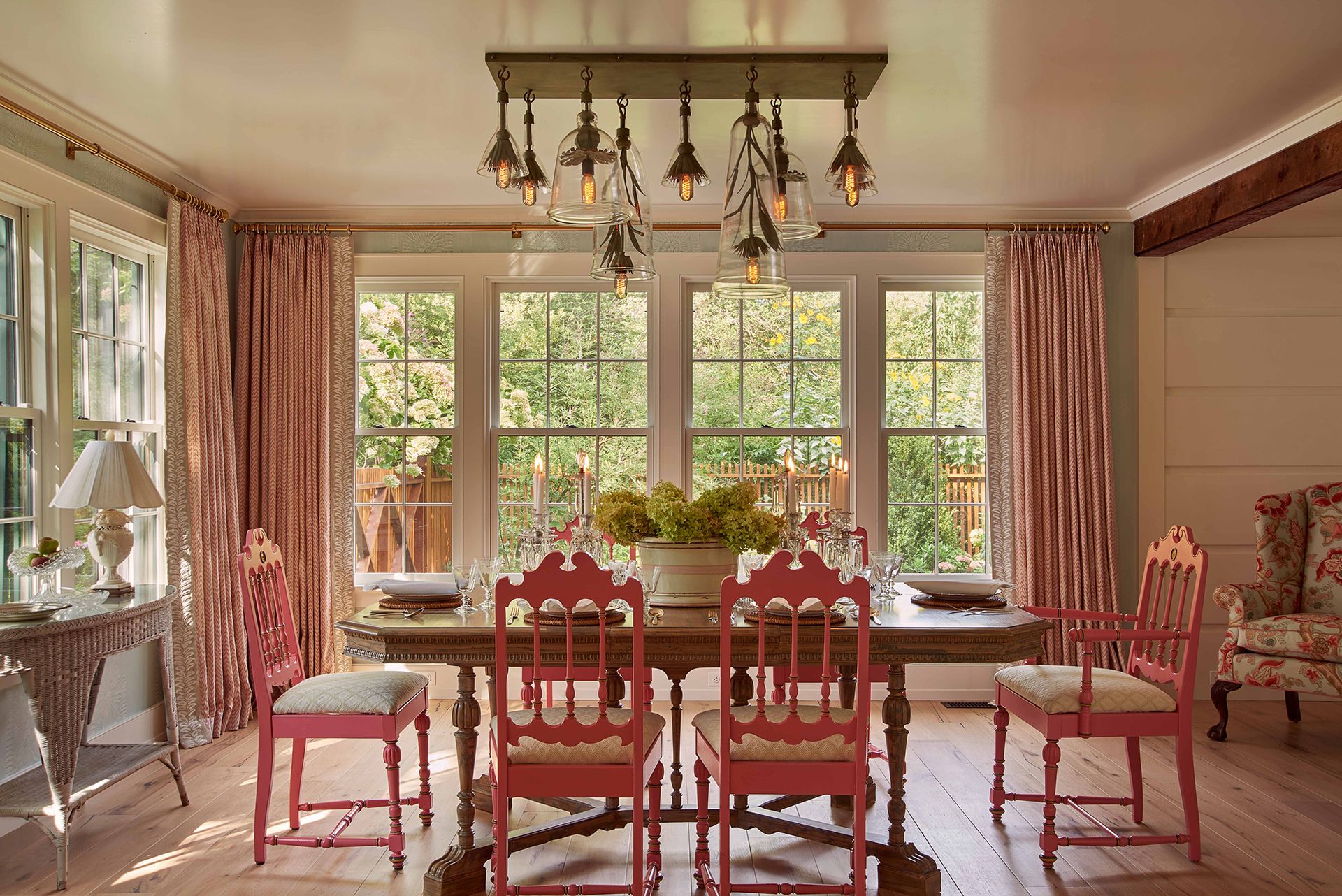 What type of light is best above a dining table?
When it comes to above-table lighting there are many different designs to available. While ceiling spotlights will are a good general light source, hanging ceiling light above the table is a popular choice with interior designers as it can also serve as a design feature. 'Incorporating a large sculptural light or chandelier above the dining table can also be used to create a focal point and create atmospheric light in the evening,' says Clara Ewart, Head of Design at Kitesgrove.
'We like to use oversize and often fairly low hanging pendant lighting in a dining room. This fills the space and makes a dramatic statement in what might otherwise be a fairly traditional design,' says interior designer Tracy Morris.
When choosing a ceiling light take a cue from the architecture and choose a piece that works with the proportions of your room. 'If you are lucky enough to have a dining room with high ceilings and windows, having a statement light pendent is a great way to fill the space and adds an element of drama to the design,' says Louise Wicksteed, design director of Sims Hildtich.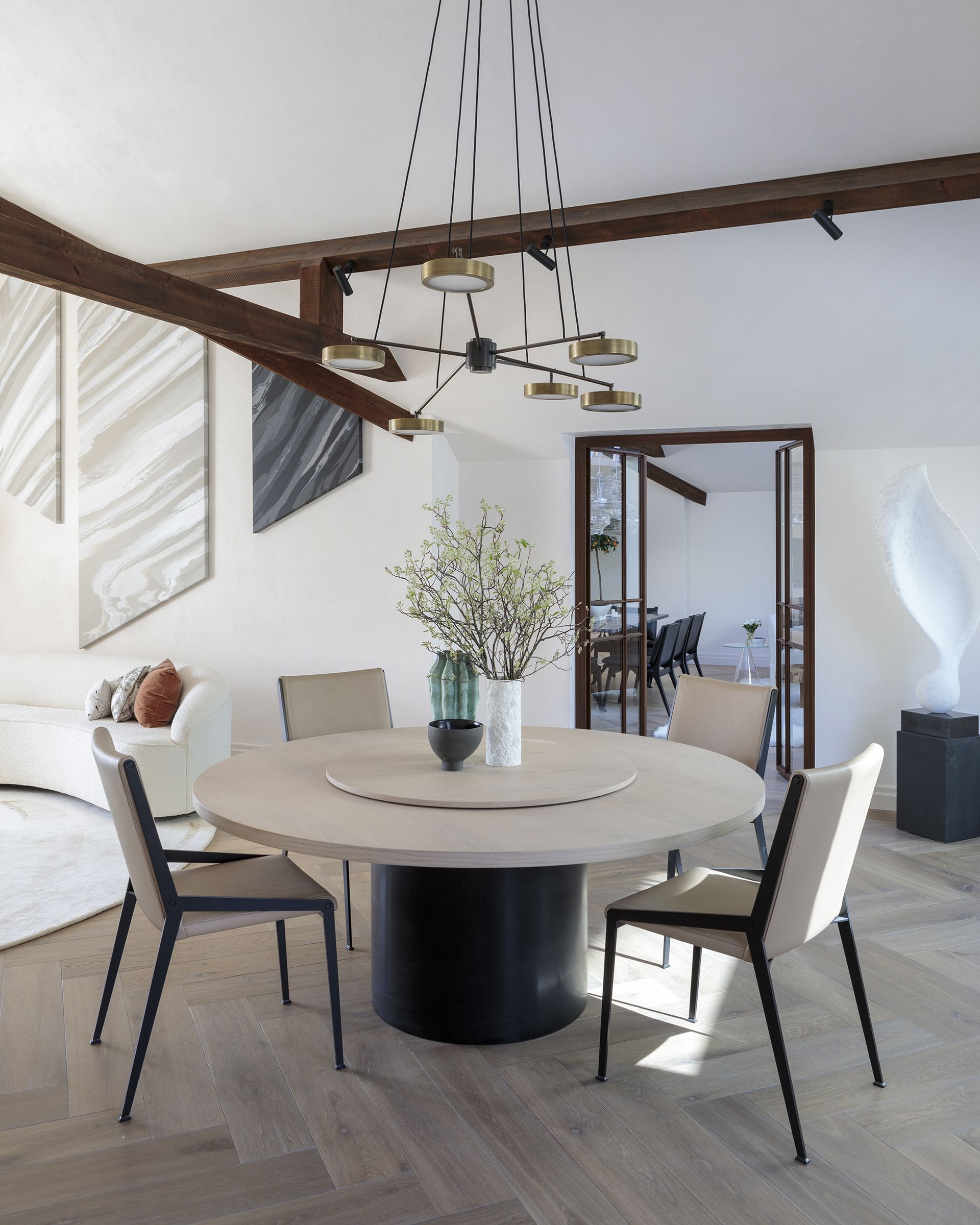 The type of pendant lighting you choose will also be determined by the style and look of space you wan to create. For a traditional space 'choose a chandelier over the center of the table to bring a strong focal point to the room as well as a luxe element,' says Shalini Misra of Shalini Misra Ltd.
'Don't forget to install a dimmer! Everyone looks better in dim lighting – candle light is the best light,' adds Phillip Thomas.
However, there are some designers who believe hanging lights over a dining table is not the right choice. 'Bright overhead lights at dinner are a pet hate of mine,' says Caroline Inchyra of fabric house Inchyra. 'I wouldn't specifically put lights in over the table – leave that to candles – and think about wall lights to give a glow behind everyone.'
Sign up to the Homes & Gardens newsletter
Decor Ideas. Project Inspiration. Expert Advice. Delivered to your inbox.
Pippa is Content Editor on Homes & Gardens online contributing to Period Living and Country Homes & Interiors print issues. A graduate of Art History and formerly Style Editor at Period Living, she is passionate about architecture, creating decorating content, interior styling and writing about craft and historic homes. She enjoys searching out beautiful images and the latest trends to share with the Homes & Gardens audience. A keen gardener, when she's not writing you'll find her growing flowers on her village allotment for styling projects.