How to grow roses – with tips from a gardening expert
The rose is the most classic of flowers – here's how to grow yours to perfection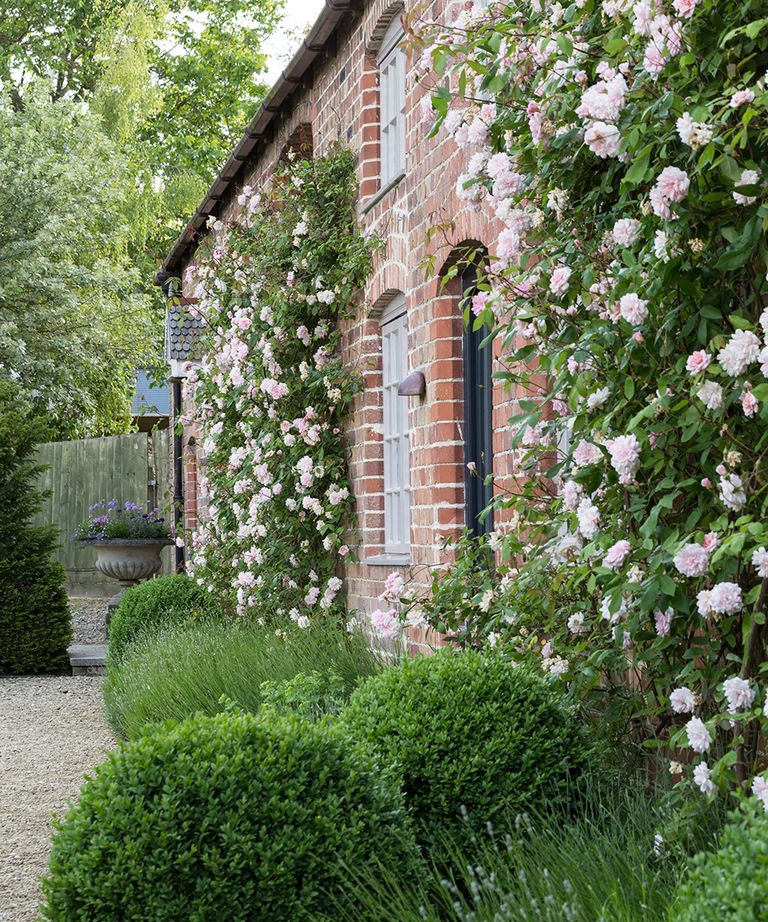 (Image credit: Mark Bolton)
If, like us, you are planning ahead into spring and summer – and who can blame you – this guide to how to grow roses is a great place to start. Rose season is, for us, the best time of year in the garden, with ramblers and shrub roses amongst our favorite blooming plants.
Even if you don't have many in your own garden, roses are incredibly generous. So you can usually enjoy the sight and scent of one spilling out of a neighbor's garden or even growing in a hedgerow.
Here, National Trust garden researcher Rebecca Bevan, gives us her top tips on caring for roses over the summer.
How to grow roses
'Much of the work which goes into keeping roses healthy should have been done by spring,' says Rebecca. 'That would include pruning to stop them getting congested. Also, mulching to feed the soil, trap in moisture and bury fungal spores.'
However there are still some jobs to be done throughout the year. Here are Rebecca's essential tips for growing roses.
When to plant roses
'June through to August is a good time to make a note of which roses you like best and want to introduce into your garden, says Rebecca.
'Try to hold off buying and planting them until the autumn or winter when you can order them bareroot.'
'If you want a rose to cover a garden fence, stick to small climbers such as golden yellow 'Teasing Georgia' and pink 'Blush Noisette'. Or you can simply fan out the branches of a shrub rose so it is flat against the fence.'
How to deadhead roses
'While traditional rambling roses tend to flower once, in great profusion, modern, repeat-flowering roses begin more slowly, but send up new blooms throughout the summer,' says Rebecca.
'Deadheading repeat-flowering roses such as climbers and hybrid tea roses to encourage more blooms.'
'Use scissors or secateurs to snip off the spent flowers, cutting back to just above a leaf, from where the new flower shoot will form.
'Stop deadheading in late summer to let a few hips form for the birds,' she adds.
When to prune roses?
Be sure to prune them before they come into leaf to prevent damaging buds and shoots, ideally in October or November but you can get away with as late as February depending on the weather and where and you live in the country.
'For those who live in the north, where some roses are yet to leaf, you could get bending in spring,' gardening expert advises Sarah Raven
If your roses still look dormant and haven't got buds yet you can still get your pruning done.
How to grow potted roses
'Water roses in pots and feed them with a liquid feed every few weeks. Patio roses such as 'Queen Mother' are the best for growing in containers.'
'They need to be planted in a pot that is at least 40cm deep. Make sure you use a soil-based compost which holds water and nutrients.'
How to get rid of aphids on roses?
'Watch out for pests such as aphids and sawfly larvae,' advises Rebecca. 'Most roses can accommodate a few aphids, which provide a food source for other insects and small birds. But if an infestation is affecting the health of your rose, you can try squashing them by hand or using an organic insecticide.'
'There are no products for treating the caterpillar-like larvae of sawfly and roses will soon recover when they mature and leave the plant.'
How to treat black spot on roses
'Sadly, fungal diseases like mildew and blackspotare very common. They're usually worst when roses are stressed by drought, poor soil or overcrowding.'
'If your rose has a small amount of mildew or blackspot, you can pick off the affected leaves to try to slow the spread.'
'Watering and liquid feeding it – and even spraying the foliage with a foliar feed, rose tonic or plant invigorator – may also help boost its health.'
'If the plant is badly affected, you may wish to try a fungicide. Look for products that don't also contain an insecticide, which can harm pollinating insects.'
'Routinely using a combined insecticide and fungicide is not good for the environment,' Rebecca warns.
Learn more about looking after roses from the latest National Trust Book, Roses & Rose Gardens, from £10, by Claire Masset.View Deal