5 design ideas to inspire from this narrow and small garden
Feature patterned paving, bespoke trellis and year round planting interest are among the clever design elements of this narrow and small garden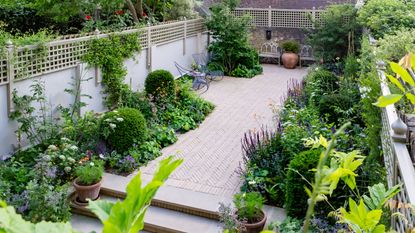 (Image credit: Butter Wakefield Garden design/ Ellie Walpole)
There are many ways to approach the design of a narrow backyard, and this garden is a lesson in how much can be achieved in a small space.
There is an abundance of textures, features and backyard ideas to enjoy in this urban garden, including patterned paving, feature trellising and integrated lighting, while the planting includes evergreen structure along with an abundance of color from perennials and cutting flowers.
The cumulative effect makes the garden feel a lot larger than it actually is as your eye travels from one element to the next, and the design brims with clever small garden ideas.
'The brief for the garden design was to create a more welcoming, pleasing garden to be viewed and enjoyed from the lower ground floor kitchen,' explains garden designer Butter Wakefield (opens in new tab).
'The owner, a keen flower arranger, wanted a garden rich in texture, color, and form,' she adds.
Butter shares her design ideas for making the most of a small garden space.
1. Use paving to create pattern and interest
The eye-catching herringbone design of the paving creates a strong impact and introduces zones, one of many narrow garden ideas for making the space appear larger.
'The client no longer wanted a lawn and we wanted to create as much interest as possible in the new paved areas,' explains Butter.
A pale colored Belgian brick was chosen for the paving, which is among the many options for small yard landscaping, with the main path laid in a herringbone pattern.
'This herringbone design is framed on all sides by a header course of bricks, which creates a bold outline for visual emphasis,' explains Butter.
One of the garden path ideas was to change the direction of the laying pattern for the small maintenance paths, along with the upper seating area, to help delineate different areas and create yet more interest.
2. Create a feature out of decorative trellis
There are many trellis ideas that can be used in a small garden design, to help create privacy, screen areas or add a decorative element.
In this garden design the existing boundary trellis needed replacing, so panels were made and painted in a bepoke color that complements the garden planting.
A lighter shade was used to paint the rendered wall, creating a seamless flow up the boundary.
'We also thought it would be nice to mirror the finials on the trellis with the Gothic arch of the two existing garden benches. It was a bit extra in price, but worth having,' explains Butter, as the result helps to anchor the design.
Two decorative trellis panels were commissioned to hang on the garden walls at the lower level to fill empty wall space. Consider the potential for decorative elements as garden wall ideas to lift otherwise featureless areas, 'just as you would hang paintings indoors,' Butter explains.
3. Enhance the potential of steps and slopes
In a small garden design it is important to make the best possible use out of every gradient, surface and feature. If the plot is on a slope there are a number of sloped backyard ideas that can help maximise on the space available.
In this backyard the steps leading up from the lower level have an unusually deep tread, measuring 400mm.
'We wanted them to look and feel generous and pleasing, but we also wanted the steps deep enough to allow for the placement of pots so that we could bring the greenery of the garden closer to the kitchen doors,' explains Butter.
The steps are also wide enough that they can be used for extra seating, if required.
4. Plant for year round interest
A profusion of planting in raised beds provides texture, color and form, the plants juxtaposed wonderfully against the boundary walls and areas of hard landscaping.
Made from treated hardwood, the raised beds are planted with vegetables, spring bulbs and summer annuals following the owner's intentions for planning a cut flower garden.
There are many raised garden bed ideas and in this design the beds are covered with bespoke willow surrounds for 'further textural interest and colour,' explains Butter.
Evergreen structural planting provides interest throughout the year. 'We specified seven clipped Taxus baccata 'beehives' in varying heights and diameters and also planted some of the best evergreen climbers and perennials,' explains Butter
The evergreen climbers include the wonderfully scented Trachelospermum jasminoides.
Various evergreen ferns further extend the year round interest, such as Blechnum spicant, Dryopteris affinis, Dryopteris erythrosora, and polystichums, as well as perennial Euphorbia amygdaloides var. Robbiae and fragrant rosemary.
5. Incorporate lighting to enjoy the garden at night
Lighting is integrated into the design of the steps as one of the garden lighting ideas, so that they are transformed into a sparkling feature at night.
Wall lanterns placed by seating areas, and infill lighting around the raised garden beds provide further points of illumination and allow the garden to be enjoyed into nightfall, creating an outdoor living space for summer evenings.
Rachel is senior content editor, and writes and commissions gardening content for homesandgardens.com, Homes & Gardens magazine, and its sister titles Period Living Magazine and Country Homes & Interiors. She has written for lifestyle magazines for many years, with a particular focus on gardening, historic houses and arts and crafts, but started out her journalism career in BBC radio, where she enjoyed reporting on and writing programme scripts for all manner of stories. Rachel then moved into regional lifestyle magazines, where the topics she wrote about, and people she interviewed, were as varied and eclectic as they were on radio. Always harboring a passion for homes and gardens, she jumped at the opportunity to work on The English Home and The English Garden magazines for a number of years, before joining the Period Living team, then the wider Homes & Gardens team, specializing in gardens.