The 'glass box' living room is the perfect place to experience the wildness surrounding this 19th-century cottage
A tiny cottage by a loch became Catherine Spain's perfect project, and her inspired renovation blends beautifully with its backdrop of mountains and wide skies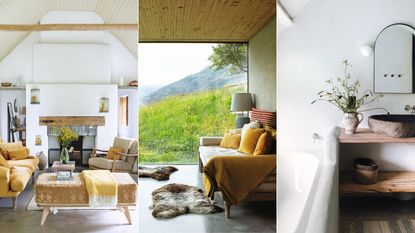 (Image credit: Ruth Maria Murphy)
As a child in the 1970s, Catherine Spain would go swimming in a tranquil loch surrounded by the Kerry mountains, beginning her love affair with southwest Ireland. So years later, when she moved back to the area from overseas looking for a project, perhaps fate played a part. For not only did she find an ideal cottage to restore, but it was set on the shores of that same loch.
'From the moment I saw it, I knew this was the one,' says Catherine. It must have been love, as she looked past the cottage's ugly yellow plaster, the uPVC windows, and the lack of indoor facilities. What did impress her was the setting on five acres of Ireland's wildly romantic west coast.
As builder Henry Thompson began to strip back the plaster to the original stonework it became apparent that the cottage was at least 200 years old. 'It dates back to the times when animals were kept at one end and people lived at the other,' explains Catherine. Determined to strip away decades of inappropriate changes, she planned to restore the cottage sympathetically using artisan methods so the old stone walls could breathe again. Catherine chose hemp to insulate the building, and traditional lime renders for the exterior finish. Inside, the walls are also plastered with lime.
Catherine gained permission to add two cottage extensions, each unique and contemporary, creating a striking contrast to the older parts of the building. One gable contains a new living room with wall-to-ceiling glass, which gives uninterrupted views across the loch and the mountains. 'I love the glass box,' says Catherine, who was inspired by images of a house in Belgium with a similar addition. 'You can relax inside with a glass of wine and still experience the wildness of this place.'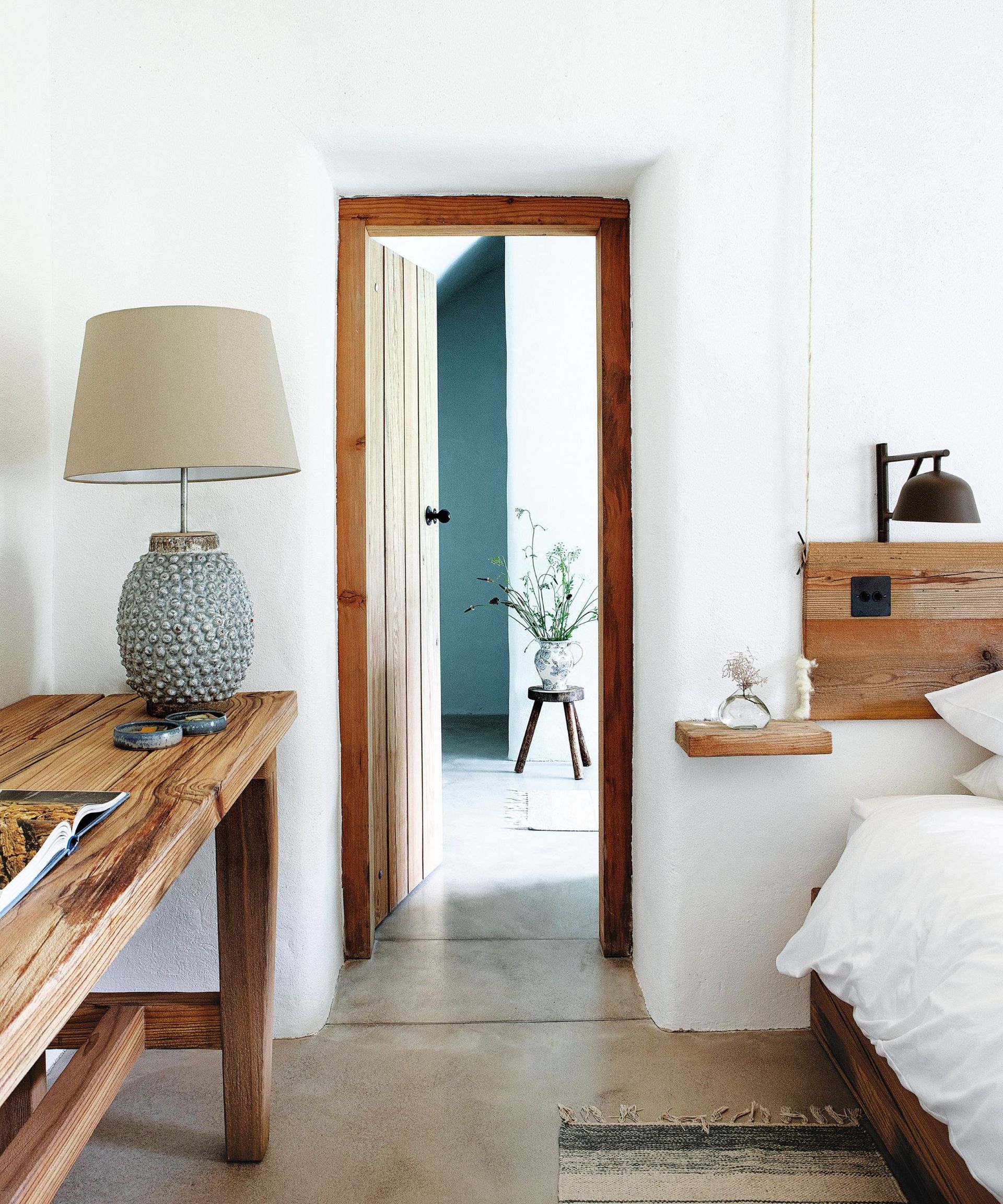 The second extension houses the bathroom. Catherine's architect, the award-winning Maxime Laroussi, suggested a concept inspired by the barns on surrounding farms. Those barns are often made from a section of corrugated iron, and Catherine's curved cocoon echoes that local style. 'It has a cozy feel of being enclosed, but there are great views from the bath,' says Catherine.
Her own 'modern rustic' interior style is all about celebrating natural, hand-crafted elements. 'My approach was to use traditional raw materials and let them shine through,' says Catherine, who opened up the ceilings of the original cottage to bring in more space and light. Her palette is all warm yellows and muted greens, which sit beautifully against the off-white lime plaster, with rugs and soft furnishings in natural colors, adding warmth and texture.
Catherine has brought her own quirky vision to the evolution of this old cottage. The lime render around the bath is curvy and sensuous, and the basin appears as though hewn from a single piece of rock. While hardy types may wish to start the day with a sprint down to the loch and a plunge into its peaty depths, Catherine prefers a soak in her outdoor bath, nestled in the cottage's grounds.
'I'm interested in re-wilding, so I consulted gardener Mary Reynolds, who suggested planting wildflowers, clover, and herbs. It was just lovely last summer.'
Yet while the location may be inspirational, it also meant a tough working environment for Catherine's team. 'In the fall the weather was so wet and wild, the wind picked up my builder's site office – a caravan – and threw it over,' recalls Catherine.
Catherine's cottage is ready for another 200 years of admiring the sunset, swapping stories around the fire, or just relaxing and becoming absorbed in the landscape. 'It's a fantastic place,' she says. 'There's no light pollution, so the stars are amazing. And there's a really peaceful atmosphere.'
Limehouse Cottage is available to rent via Unique Homestays
Sign up to the Homes & Gardens newsletter
Decor Ideas. Project Inspiration. Expert Advice. Delivered to your inbox.
Alexandra has worked as an author and journalist for 25 years, and writing homes' features for magazines has been a big part of that. She says it is a privilege to explore these extraordinary homes, and she is inspired by owners who find original solutions and create beautiful spaces. Alexandra loves to get stuck into her own projects, too. Working with her husband, she has renovated five properties and even completed a self-build, which is something the couple is hoping to do again in their new home county of Wiltshire in the United Kingdom.