Ancient meets modern – this Arizona villa includes pieces dating back to the 13th Century
Built 20 years ago, this beguiling Arizona villa has a sense of history that comes from a thoughtful restoration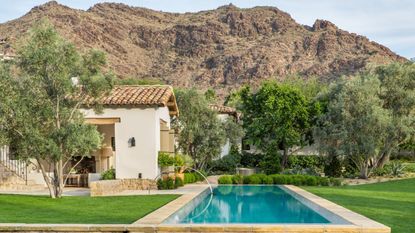 (Image credit: Lisa Romerin/Otto)
Sign up to the Homes & Gardens newsletter
Decor Ideas. Project Inspiration. Expert Advice. Delivered to your inbox.
Thank you for signing up to Homes & Gardens. You will receive a verification email shortly.
There was a problem. Please refresh the page and try again.
Upon entering the courtyard of this Arizona villa designed by Oz Architects, the sense of therapeutic calm is beguiling. The sound of water bubbling from an old French wall fountain mingles with the distant crickets and chattering birds. Once shut, the reclaimed timber courtyard gates isolate this relaxing enclave from the rest of the world.
'The quiet strength of the building has a calming effect. You feel that it's going to be here for a long time. It's serene on the inside and out. We did a lot of sound-proofing to ensure that external noises don't interrupt the tranquillity,' Inga Rehmann, the project's lead interior designer explains.
Designed 10 years prior by Don Ziebell of Oz Architects, the villa recently changed hands and the new owners decided to commission the practice to renovate and add a few additions to suit their lifestyle.
'It was a unique experience to renovate a project we designed ourselves. The architecture is timeless and has really stood strong through the years so we were able to moderate it easily for the personality of our clients,' Inga explains.
'Their taste was more modern so we changed interior finishes, swapped the timber windows for steel frames and refinished wood floors. The interiors were simplified in line with a more contemporary taste. We also added a lap pool and a separate chef's kitchen where the clients could host private dinners with professional chefs,' says Inga.
Adding to its nurturing feel, the villa has a kitchen garden of herbs and vegetables to feed guests. The architecture, with its white walls, terracotta roof tiles and wooden shutters, is rich with rural Mediterranean character. Surrounded by olive trees, pines and eucalyptus, and backed by precipitous mountains, it could easily be mistaken for a finca on a Balearic island.
'It has a casual European feel that sits so nicely in the Arizona desert which itself has a similar climate to Provence. The planting is mature and the property feels much more blended with the landscape than some of the local architecture,' Inga explains.
Embedded in the villa are various European transplants in the form of reclaimed timber beams and doors and 13th century French fireplaces. 'We travelled to France with the original owners and they picked out several of the reclamation pieces. They have experienced multiple lifetimes before being put into this home,' Inga says.
'We like to use old materials in new ways,' she adds, referring to an ancient stone slab which has been inserted in a wall as a floating console. 'The antique pine beams have been sandblasted and refinished to make them lighter. We also used a paler domestically sourced limestone that brings a creamy feel which sets off the clients' modern art collection,' Inga explains.
While much of the property is one storey, allowing for extraordinary beamed ceilings, the second-floor loggia offers exceptional 360-degree views. 'You can see the lights of the nearby city as well as the mountains and the desert. The sunrises and sunsets are breathtaking,' Inga notes. 'This upper storey mimics the mountains in an unspoken connection,' she adds.
'With the separate loggias, pool house and chef 's kitchen there are always plenty of different spaces to enjoy. This property is the owners' sanctuary. They travel a lot but they always come back here as their home base,' Inga concludes.
Design / Oz Architects
Sign up to the Homes & Gardens newsletter
Decor Ideas. Project Inspiration. Expert Advice. Delivered to your inbox.