How to organize a small dorm room closet at college if space is tight
This is how to organize a small dorm closet in the smartest way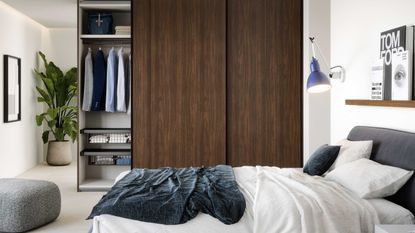 (Image credit: Go Modern)
Sign up to the Homes & Gardens newsletter
Decor Ideas. Project Inspiration. Expert Advice. Delivered to your inbox.
Thank you for signing up to Homes & Gardens. You will receive a verification email shortly.
There was a problem. Please refresh the page and try again.
The question of how to organize a small dorm room closet is likely to be on your mind if you're packing for college because the chances are that your wardrobe space will be on the compact side.
However, don't allow concerns about to how fit all your clothes and shoes into your bedroom to take over, because there's a smart way to approach this dilemma.
As you'll find out, there are many handy and affordable solutions for using your dorm room closet most efficiently. From hanging organizers to keeping some items in behind-the-door storage and under-the-bed buys, you'll be able to find an easily accessible place for all your possessions – so you can focus on getting stuck into college life, which is where your headspace should really be.
How to organize a small dorm closet: 7 tips
So, if you're after the best small dorm room storage tricks then we've enlisted top experts to reveal their most important advice. As well as their tips for small closet organization and small bedroom storage secrets, they'll also share in particular how to organize clothes if the space is really cramped and what to do if you discover your closet hasn't got any shelving.
1. Choose a hanging organizer
Every organization expert will tell you that there is one leading answer to the question of good things to have in a dorm room. 'Closets at college are notoriously small, but anyone can make a small space work with the right approach and helpful, inexpensive products,' insists Robert Farrington, a personal finance expert and founder of The College Investor. 'My favorite item for fitting a lot of clothes in is a hanging closet organizer, even one with drawers so that you can make it look as tidy and uncluttered as possible.' This one from hanging organizer from Target is ideal.
2. Utilize beneath your bed
It's important to note that you don't need to stuff everything inside your closet –there are other parts of your dorm room that can share the load. 'If your bed is tall enough or you're able to put risers under it, I also recommend a storage trunk for shoes and bags,' advises Farrington. 'This way, you can fit more clothes into your closet and save some of the bulkier items for another space.' You can pick up some underbed storage bags at Amazon. Additionally, you can also use compression sacks to fit even more into your underbed storage space, like these underbed vacuum storage bags at Amazon.
3. Choose the right hangers
It might not seem like a big deal, but the right hangers can make all the difference. 'Use thin, felt hangers as they take up less space and also ensure clothes don't fall off so easily,' says Helen Sanderson, a psychotherapist, interior designer and author of The Secret Life of Clutter. Good options include the six-tier blouse and shirt tree hanger from The Container Store, the TRYSSE hangers from Ikea, which also have grips to hold garments in place, and the KOMPLEMENT multiuse hanger, also from Ikea, which can hold scarves, accessories and necklaces. 'Organize clothes by type and take a few minutes each week to tidy up the closet, rehang clothes, and return items to their designated spots,' she adds.
4. Think about floor space
The floor of your door room should not be a clothing dumping ground, which is also important if you have a roommate and are considering how should you lay out a shared dorm room. 'Utilize floorspace thoughtfully,' advises Lindsay Viren, an interior design leader for Ikea. 'To avoid a dusty shoe pile, use our SKUBB shoe boxes to keep pairs together. The floor is also an opportunity to add clear bins, such as our RYKTA storage boxes, to store seasonal clothing. These are also a great way to see what you have stored away.' If you want to maintain a nice aesthetic, then this patterned box from patterned box from Target is ideal.
Lindsay is an experienced creative professional with a background in interior design, management, and retail store design. She is also an interior design leader at Ikea.
5. Be sparing when packing
Just because you're going to college, doesn't mean you need to pack up your entire teenage wardrobe. 'Because space is at such a premium, it's important to be selective with what you decide to bring with you to college to begin with,' advises Dr Julia Raz, a professional organizer and owner of Golden West Organizing. What's more, you don't need to have everything out for hot and cold weather at one time. 'Use the wardrobe for only in-season clothes,' she adds. 'Then, use under-bed storage boxes for keeping off-season clothes.'
6. Make the most of height
Thinking vertically is one of the best dorm room storage ideas. 'Use your door for items like belts, scarves or ties,' says Artem Kropovinsky, an interior designer and founder of Arsight. You can also use over-the-door storage options for footwear and hygiene items. This door hanging organizer from Amazon is a hardworking buy, while this over-the-door organizer from Target is specifically for shoes. He adds: 'Additionally, strategic hooks positioned on the interiors of your wardrobe doors can also help in holding daily essentials, from bags to hats.'
Founder of NYC-based interior design firm, Arsight, Artem Kropovinsky has a decade of extensive global design experience, connecting a cohesive, collaborative team of passionate professionals, and working on projects in the U.S. and worldwide.
7. Perfect your folding technique
Stuffing clothes into drawers will not only leave the fabric looking terrible, but it will also take up more space. 'When you're crunched for room, standard folding techniques don't always cut it,' notes Kropovinsky. 'Tucking clothes in rolled bundles could be your new strategy – this approach not only keeps creases at bay but also provides a clear view of all items, which is ideal for those spur-of-the-moment fashion choices.' However, not all pieces of your wardrobe should be stored this way. Viren adds: 'Consider your fabrics. T-shirts and sweats can be folded in drawers, while shirts for smart occasions should hang to avoid wrinkling.'
FAQs
How do you organize a lot of clothes in a small space?
The first step is to not bring too many items with you in the first place. 'Before packing, go through your clothes, shoes and accessories and donate or sell items that you no longer need or wear,' says Sanderson. The key to small space storage is regular maintenance. 'Do a "closet review" part way through term and clear out things you never wear,' she advises. 'If you are able to, take home winter clothes at Easter break and bring back summer gear, rather than keeping both in your wardrobe.'
Once you've got what you need, it's time to think about how frequently you use particular items. 'Have your everyday items accessible and organized in drawers or at the front of your closet,' suggests Viren. 'Our SKUBB drawer compartments, at Ikea keep clothing and accessories organized and easy to find within a dresser.' For the items that you don't need all the time, but can't leave at home, then Kropovinsky suggests using compression bags to keep them compact and dust-free beneath your bed.
How do I organize my closet without shelves?
It might seem like an impossible task, but there are a few key buys that can save the day if you find yourself without shelves. 'Look into various hanging organizers tailored for shoes, sweaters or pants,' says Kropovinsky. Indeed, Ikea sells hanging options in their SKUBB and BLADDRARE series.
You can also add adjustable tension rods for even more hanging space. Kropovinsky explains: 'When placed at different heights, these can be multi-functional and support clothes and shoes.' Like these tension rods from Amazon. Additionally, baskets and bins can be used to make the most of dead space at the bottom of your closet. Sanderson notes that using clear stackable storage will allow you to easily see what's inside.
---
As mentioned above, the key to utilizing a small space is to take the time to work out the frequency of items you use on a daily, weekly or monthly basis. Do you need that comfy sweater to hand pretty much all the time? Can those tennis shoes be tucked away beneath your bed until summer? This will ensure you're not upturning your room every time you're trying to find something you need.
Sign up to the Homes & Gardens newsletter
Decor Ideas. Project Inspiration. Expert Advice. Delivered to your inbox.
Lauren Clark is a freelance writer and editor with more than eight years of digital and print journalism experience. She covers all aspects of lifestyle, specialising in health and wellness topics, and her work has previously been published in titles such as Women's Health, The Times, Daily Telegraph, Stylist, Woman & Home, Grazia and Dazed.