How to organize a closet without hangers – 8 expert tips to make use of awkward space
Don't be left hanging by a lack of clothes hangers, these professional organizing tips will perfect your closet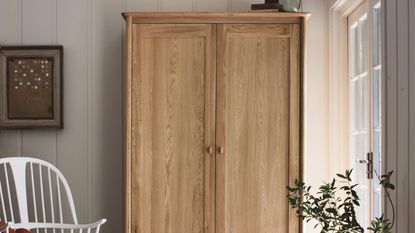 (Image credit: Ercol)
Clothes hangers are usually considered an essential closet item, but if you don't have enough of them, or simply don't have any hanging space, it can be tricky to keep things organized
The good news is that professional organizers have been faced with these challenges before – and know exactly what to do when organizing a closet without hangers.
Here, they offer their best tips, including how to make the most of the vertical space.
How to organize a closet without hangers
When tackling this home organizing ideas task, you need to think outside of the box. It is about repurposing the space you have to prevent dead space or the commonly seen closet-organizing faux pas of a pile of clothes on a chair in your bedroom.
1. Always begin by decluttering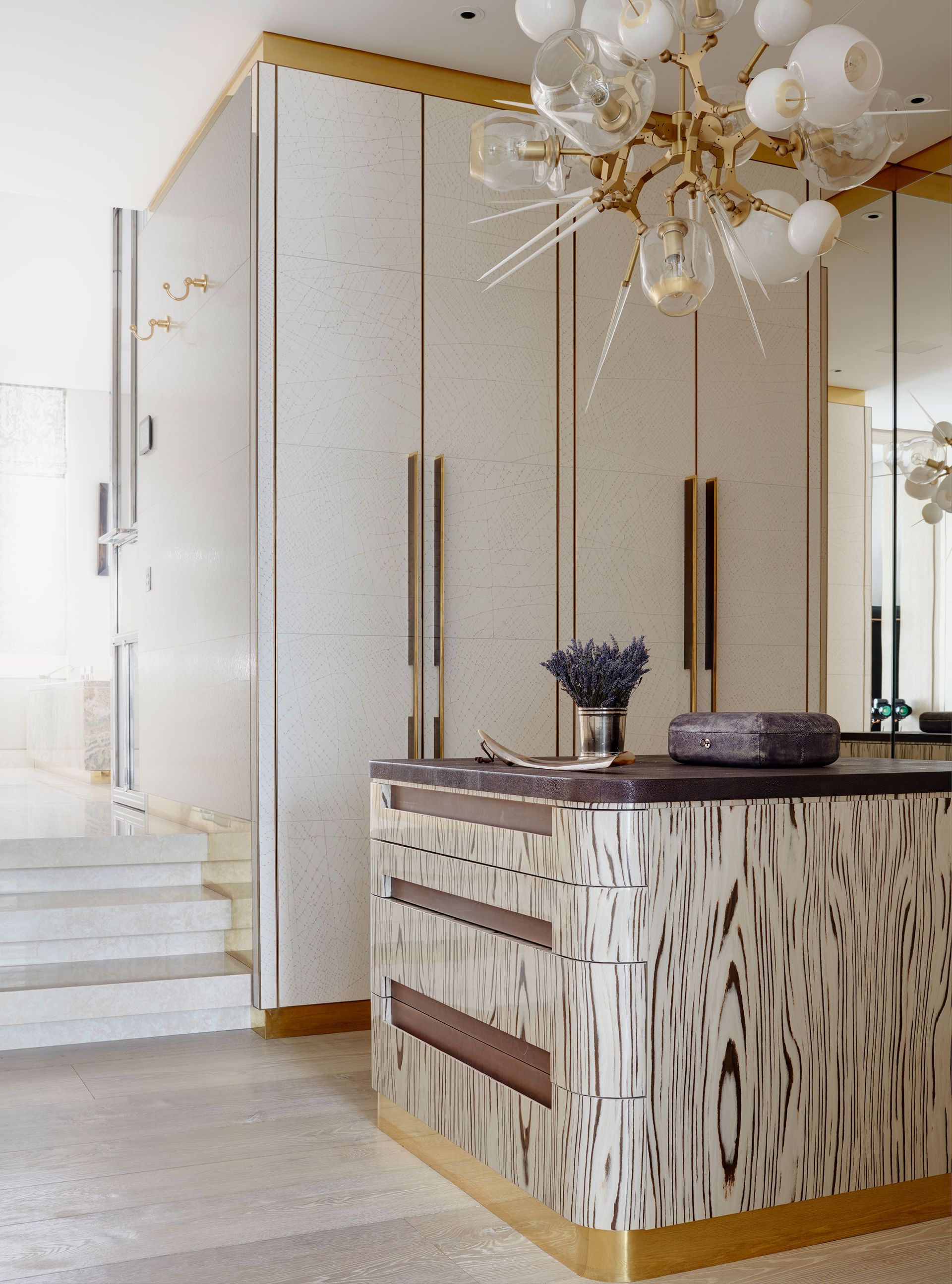 When organizing any space for the first time you should always begin with decluttering, says Lauren Saltman, professional organizer and founder of Living. Simplified. Decluttering a closet is essential when you do not have hanging space as you will be limited in your storage options and will likely need to prioritize what you want to store, and what you could live without.
You should start by reviewing everything you own and discarding the items you won't wear, that don't fit, that you don't like, and that are stained or worn out, Lauren suggests, working through everything from your clothing and outerwear to shoes and accessories.
'Remember to keep like-items together, for example, jeans with jeans and dresses with dresses,' she adds, 'this helps to simplify the task and can help to prevent decluttering when feeling overwhelmed.'
For professional organizer Lauren Saltman of Living. Simplified., decluttering, and organizing are how she lives her daily life, whether she is organizing her home, a friend's office, or a client's garage, her resourceful approach yields happy clients who learn to incorporate techniques for a happier and more simplified lifestyle.
2. Fit a dresser into larger closets
If you have a large closet – one that is built into the house, for instance, then adding a dresser could be the perfect storage solution to make the most of otherwise dead space, professional organizer Lauren Saltman suggests.
Try to opt for the tallest or widest dresser or chest of drawers you can fit in your closet space to optimize your storage possibilities and make organizing your dresser easier in the long run.
3. Use a door hanger to hold shoes and accessories
A popular closet organizer is an overdoor storage unit, these organizers really come into their own when you are lacking in hangers or need to put a dresser in the closet space, says Andrea Litsch, professional organizer at Closet Envy.
'I love customizable over-door organizers like this Elfa organizer from The Container Store as they provide you with plenty of space that can be used for a variety of shoes, purses, belts, clutches, etc. so you can dedicate the closet space itself for your clothing.'
4. Add shelving with dividers into the closet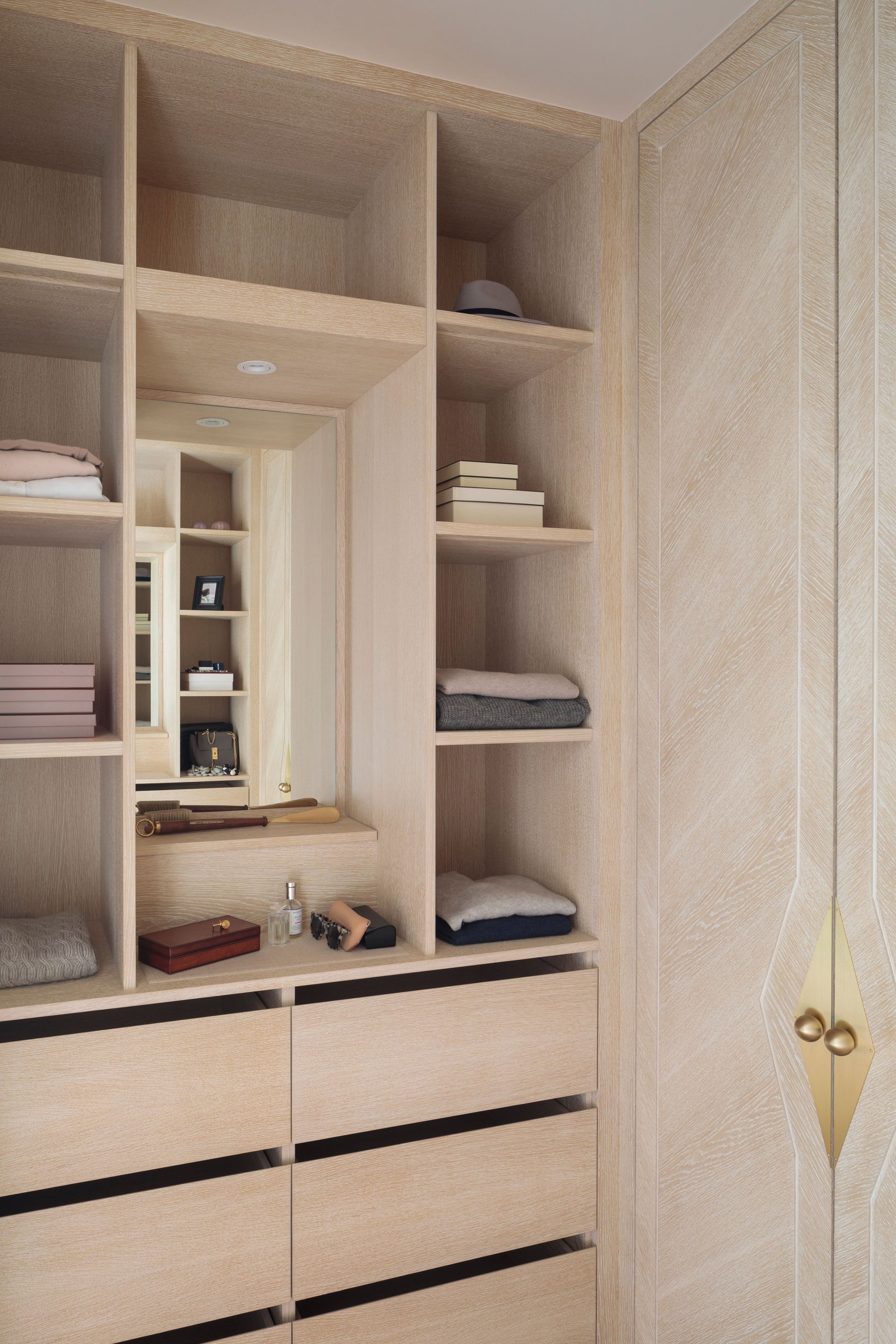 If you cannot fit a dresser into your closet, or you have a freestanding closet, then adding shelves into the unit is a simple and quick way of creating vertical closet storage for folding clothes. Just make sure to use shelf dividers to break up the space and keep your clothing piles organized, reminds Lauren Saltman, professional organizer.
Professional organizer Andrea Litsch adds that cubby organizers, like these fabric storage cubes from The Container Store are also a good storage option for shelves or can be 'added on top of lower closet systems or on the floor in hanging areas not in use.'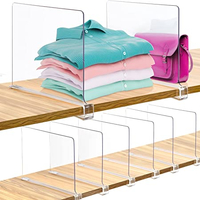 Acrylic Shelf Dividers | Was $34.99, Now $31.49 at Amazon
This pack of eight shelf dividers is perfect for slotting onto shelving to keep clothes piles in order without cluttering up your closet with dark or thick dividers. They are also a favorite among Amazon shoppers.
5. Use bins to store folded clothing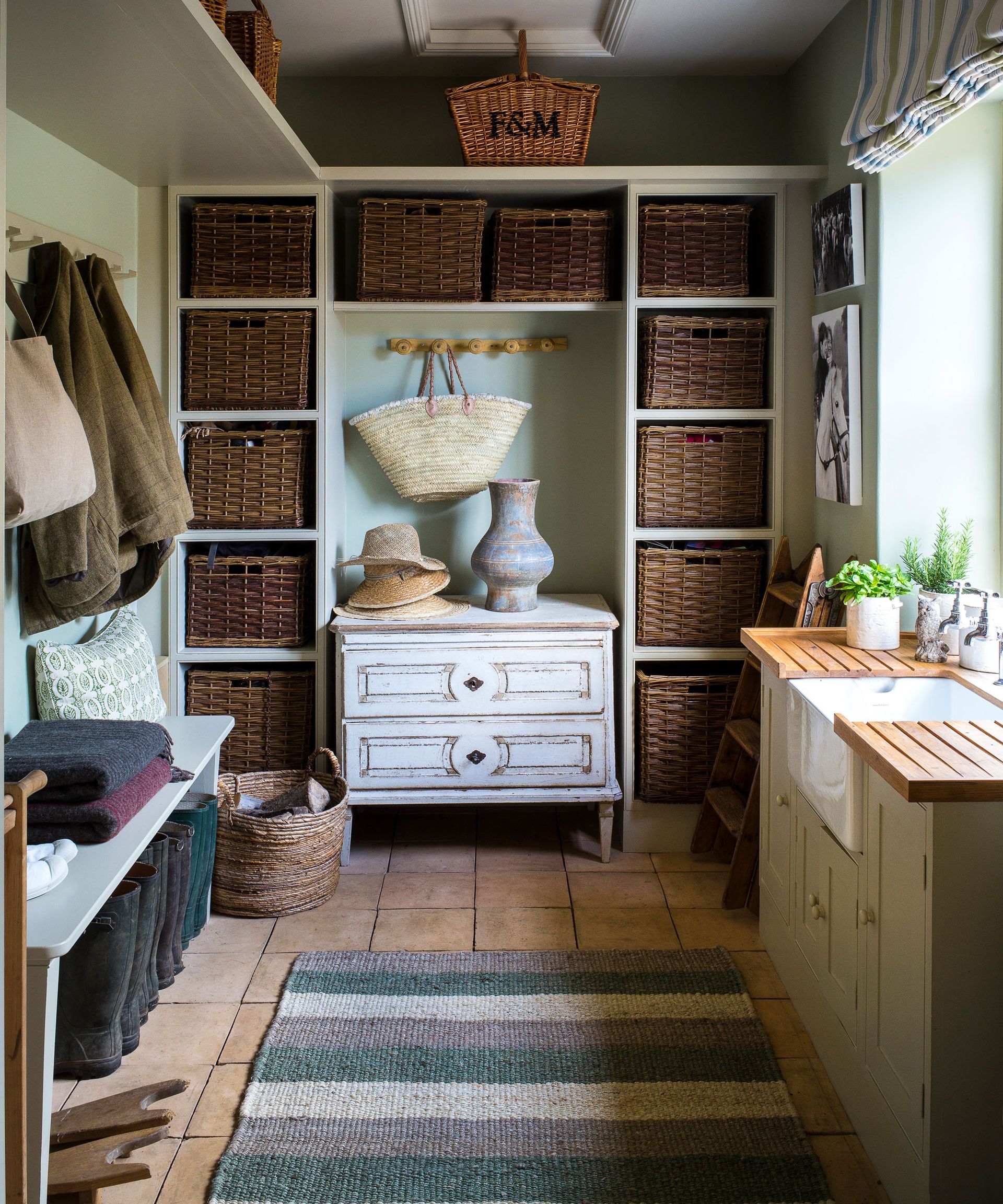 Bins can be a trickier storage option for organizing clothes, however, with the right bins and the best folding techniques they can be useful for storing clothes without hangers.
'If you need to be able to see inside the bins, then use acrylic bins. If you want a more decorative feel to your closet, and one that looks more uniform, use cloth bins to hide what's inside,' suggests organizer Lauren Saltman. 'Just be sure to label the bins on the outside so you don't have to search each morning for the appropriate bin.'
6. Use stackable bins to customize your storage
No matter the size of your closet, stackable bins can be used to provide customizable vertical storage in place of fitted shelves (especially useful in rented spaces) or a large single dresser.
Cleaner and home organizer Stefan Bucur of Rhythm of the Home suggests using modular stackable bins that go as high up as you can manage – up to the ceiling if possible. When selecting bins, make sure that they are large enough to hold multiple clothing pieces, or can 'hold a large jacket without having to fold it more than once,' he says.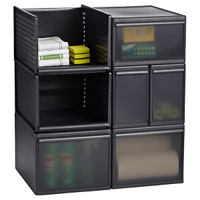 Modular Stackable Bins | $23.99 each at The Container Store
These stackable modular bins can be arranged in any order, making them the perfect customizable storage solution for closets without hangers.
Stefan is the founder and owner of the home improvement blog, Rhythm of the Home. He has over six years of experience in home improvement, interior design, cleaning and organizing.
7. Stack your clothes strategically
When working with awkward storage it is essential to work out a good organizing strategy to make it work for you and keep it in order, say the closet experts at California Closets.
For instance, 'sort your sweaters and shirts by weight, then by color, and pile them about four or five high,' they recommend. 'Creating short stacks will naturally break up your items by season, making it easier to find the exact item you need on a given day. Short stacks will also ensure that your piles will slip perfectly between your shelves.'
8. Use a decorative ladder for frequently worn items
Not all of your clothes have to be stored in a closet, it is good to remember. For example, you could steal a tip for organizing a bedroom with no closet space at all, and use a decorative ladder to hold your most frequently worn clothes, or your favorite clothes, out on display, Lauren Saltman, professional organizer, suggests.
'This is an excellent alternative to adding hooks to your closet walls,' she says.
FAQs
What can I use to hang clothes in my closet?
Clothes hangers are an obvious first bet when trying to hang clothes in a closet, but if you don't like them, or don't have any, then another option is to use a hanging cloth organizer with cubbies you can fold clothes into while making use of vertical space.
How do you use dead space in a closet?
If you have a lot of unused space in your closet, consider which organizers might fit in such as shelves, tension rods, or bins to help store lesser-used items such as seasonal clothing and accessories that you only use for special occasions.
---
When organizing a closet without hangers you will have to teach yourself how to fold items in a uniform shape so they fit in the bins and on the shelves to make the alternative systems work, points out Lauren Saltman, organizer. Learn how to file fold and label bins and shelves so you know exactly where to find the items you are looking for.
Sign up to the Homes & Gardens newsletter
Decor Ideas. Project Inspiration. Expert Advice. Delivered to your inbox.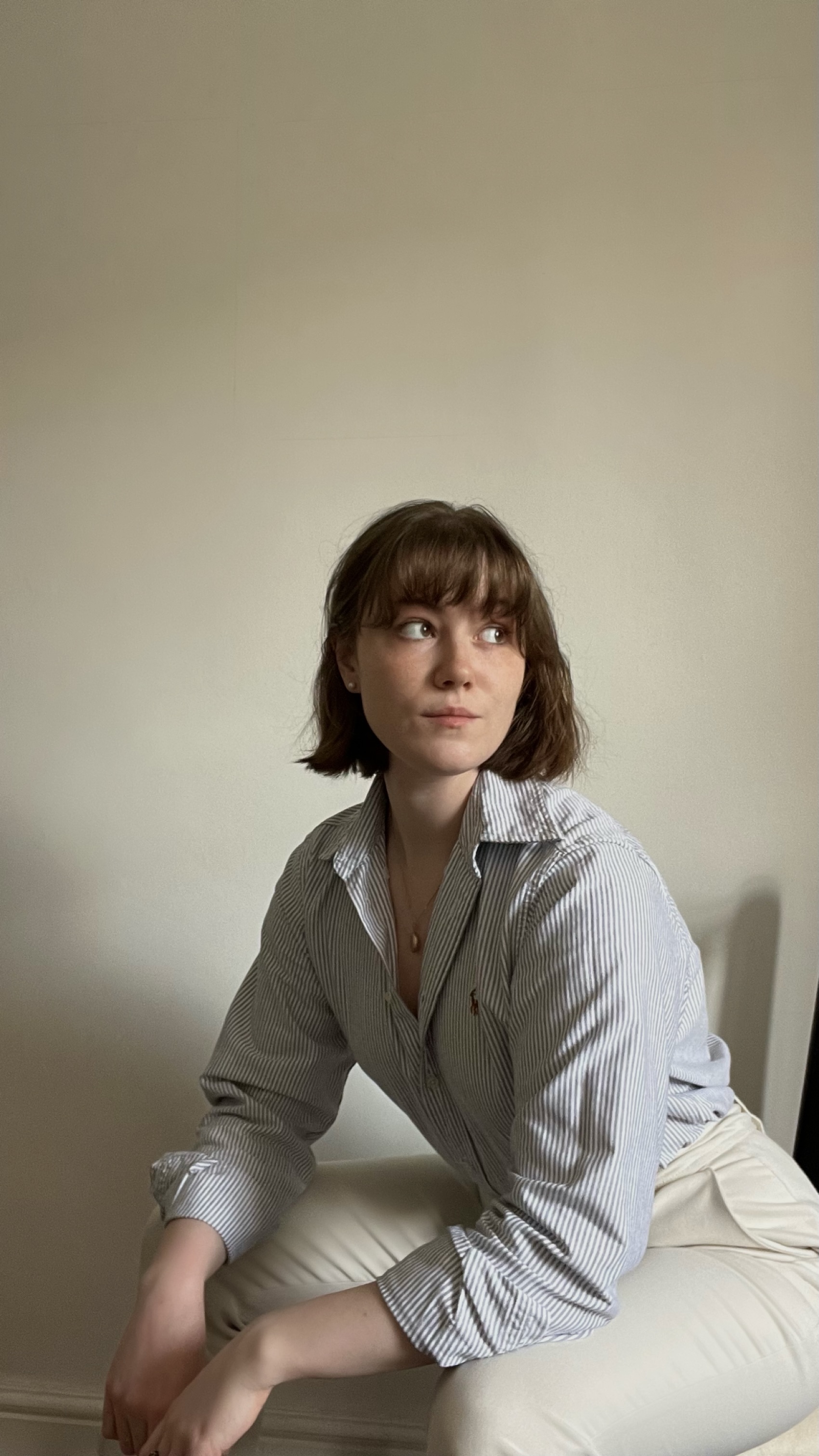 Chiana has been at Homes & Gardens for a year, having started her journey in interior journalism as part of the graduate program. She spends most of her time producing content for the Solved section of the website, helping readers get the most out of their homes through clever decluttering, cleaning, and tidying tips – many of which she tests and reviews herself in her home in Lancaster to ensure they will consistently deliver for her readers and dabbles in the latest design trends. She also has a first-class degree in Literature from Lancaster University.