10 black bathroom ideas for a chic and sophisticated color scheme
More versatile than you may imagine, our black bathroom ideas offer stylish and timeless options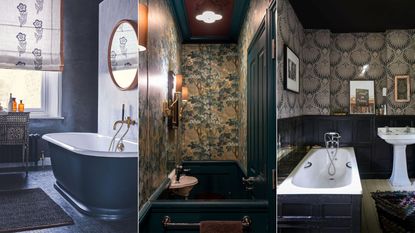 (Image credit: Future)
Black is not a color we naturally think of for this key relaxing room, but it has many bonuses and can make a cold and clinical space feel cozy and stylish.
Our black bathroom ideas will give you the inspiration to try it out. And if you're thinking it has to be all black don't worry, you can break it up with an accent color, wallpaper, patterned tiles or metallics.
'Black bathrooms can offer a unique set of advantages. They exude elegance and drama, creating a luxurious and high-end ambiance. As a neutral, black is a timeless color that looks chic for years to come. Additionally, black surfaces tend to conceal dirt and stains better than lighter colors, simplifying maintenance,' says Munir Turunc, president of Country Floors & Marble Systems.
Black bathroom ideas that you'll love
'In the world of interior design trends, dark bathrooms are gaining popularity for their dramatic and sophisticated appeal. However, achieving the perfect balance in such spaces is essential,' says Mara Rypacek Miller, managing director, Industville.
All black all partially black – which do you fancy? Our black bathroom ideas below show you how to introduce this dramatic color into your scheme be it in small accents or from floor to ceiling.
1. Add in hints of brass to an all black scheme
If you want to experiment with black then a powder room can be a great place to start due to its compact size. But if you want to be brave and go for it, consider incorporating a metallic to warm up those darker shades.
'It's important to balance out the heaviness of black with warm accents like brass, wood, warm stones and dramatic light fixtures. In general, bold colors can tend to feel a bit harsh against black, but sticking to earth tones with soften it without taking away from the moodiness,' advises Devon Wegman, designer director and founder of Devon Grace Interiors.
Devon Grace Interiors is an award-winning full-service design and general contracting firm specializing in inspiring luxury residential and commercial projects. Based in Chicago and led by husband and wife duo Devon and Michael Wegman, DGI synthesizes architecture, construction, and design disciplines to create thoughtful spaces to live, work, and play. With a multidisciplinary background and years of experience working with some of the most prestigious architecture and design firms, Devon has honed her eye for contemporary, textural design
2. Consider a monochromatic scheme
A monochromatic color scheme will give you the best of both worlds and the ability to add in more black with smaller details as and when.
'For those who appreciate beguiling contrasts and bold details, I encourage a daring 'jewel box' space. I find that geometric patterns work particularly well here. Glossy floor-to-ceiling, black and white bathroom tiles catch the light beautifully, creating a sense of space and added intrigue. This is an especially great option for those who may not be ready to commit to a fully moody-toned dark bathroom.' says London-based interior designer, Naomi Astley Clarke.
3. Start small by using black as an accent
'Black is a popular choice for bathrooms as it adds sophistication and contrast, creating a modern and elegant look. If you don't want to overwhelm the space, start by incorporating smaller elements such as black hardware, faucets, and even go as far as installing a jet-black bath or shower door,' says Jo Plant, head of design at Pooky
'Another way is through bathroom accessories such as towels, curtains, and bathroom lighting. Balance the black with lighter shades like white or cream to maintain a harmonious bathroom décor. There are no rules, so be bold and daring and follow your gut to create an interiors scheme that you'll love.'
If you fall in love with the black accents and have some white walls free, you can paint one to see how it feels in the space. We promise that once you've embraced the black bathroom trend you'll not want to go back!
4. Break it up with lighter elements
If your black walls are matte then add in some shimmery elements for a touch of glamor.
'An interesting pale and reflective bathroom backsplash is a great idea to add a fabulous tactile feature within a black bathroom. It not only adds a refreshing contrast but also brings a sense of brightness to the room. The juxtaposition of the dark surroundings with a light splashback creates a visual harmony that's both striking and calming.
Furthermore, metal elements, especially brass, can be a stunning addition to dark bathrooms. Its reflective nature adds depth and elegance, making it a preferred choice for lighting fixtures and accessories. In a dark bathroom, the use of brass lighting can elevate the overall aesthetic, turning it into a place of opulence and style,' says Mara Rypacek Miller, managing director, Industville.
5. Hang wallpaper with linear pattern
'A black bathroom is a bold and sexy choice for a bathroom,' says Victoria Holly, principal and founder of Victoria Holly Interiors.
'I love to use black to contrast with – whether it's a lighter marble or ceramic tile, or a bold floral wallpaper with a touch of metallic in it. I like the black to help make other components of the space pop. Especially metals - brass or nickel really pops against black!'
We love this striking space, the wallpaper with its slight hint of gold that catches the light perfectly, and the wide basin adds balance.
Victoria Holly Interiors is a full-service interior design firm that specializes in creating beautiful and functional spaces for both residential and commercial clients. They pride themselves on their ability to deliver high-quality projects that meet the unique needs and preferences of their clients. Victoria Holly Interiors offers a wide range of professional services, including project management, interior design, construction assistance, and renovations.
6. Opt for a terrazzo tiled floor
Create a stunning focal point in your black bathroom by choosing a bold bathroom floor that flows up to become the backsplash. Not only will it be eye-catching against jet black cabinetry, but it will be practical too.
'Using black can help to create depth and drama as it's chic, classic and timeless. In our project BML House we committed to a fully dark theme painting the small WC and shower room black and installing a Nero Marquina vanity unit. We paired these with striking monochrome terrazzo tiles and brushed brass fixtures which added a touch of elegance and luxury. Stepping into the unexpected space, full of ambience, it surprises and delights in equal measure,' says Tom Rutt, director of TR Studio.
7. Combine it with a contrasting element
Adding in a lighter element will prevent your black bathroom from feeling a little too dark. This could be by having a paler floor, woodwork or bathroom wallpaper. We asked Ruth Mottershead, creative director at Little Greene for her expert advice:
'Using black or very dark colors in a bathroom can create a sense of intimacy and an encompassing feel, however a true black can feel austere when used on all four walls. Consider adding a contrasting touch of warmth with lighter, warmer wallpaper, which will soften a black bathroom scheme completely changing the feeling of the room.'
8. Play with finishes
We love this idea, it's something you can implement in any room but works particularly well in a bathroom being a smaller space. Use a matte paint on the walls and then either paint tongue and groove in a gloss or invest in shiny tiles.
'Black can instantly bring a sense of glamor and opulence to a bathroom; in a generously proportioned room you can commit to it on all the walls to dramatic effect. 'New Black', which is very pure, will deliver a crisp, elegant contrast to bright white porcelain and reflective finishes – use it with a clean white on the ceiling or floor for a contemporary monochrome feel,' says Andy Greenall, head of design, Paint & Paper Library
9. Create pattern with tiles
Tiles laid in a herringbone pattern instantly add a decorative aspect even when they're black. They create a subtle focal point without being too prominent, so are a great option if you want to get away from plain black walls.
A solid marble vanity will work beautifully with this style, add in a white basin for contrast and use soft brass fixtures and fittings for warmth.
'If choosing to go with a true black tone it's best to use a tile or material that offers a sheen such tile. This will offer more movement and depth versus a flat black that lacks depth and could feel a bit like a void,' explains Regan Baker.
'While not necessarily black, using really dark colors like deep plum and aubergine tones, forest greens, and moody dark blues without windows is a great way to own that dark moment. Pairing these deeper hues with smokey glass light fixtures, dark woods and countertops, or antiqued brass for some drama are a great way to keep things tonal and build on the moment.'
10. Lift the look with a lighter ceiling
If a jet black makes you want to run for the hills, then source some shades that are softer and add in some white – Patrick O'Donnell, brand ambassador at Farrow & Ball explains:
'Consider more nuanced blacks, such as the charcoal-toned Off Blackor the perennially popular Railings, with its subtle blue note, for a slightly softer look for your bathroom. For a fully immersive color experience, paint your woodwork in the same color (especially if the room has quite low ceilings – this will help accentuate the height of the room) and choose a more empathetic white for your ceiling, the dark tones will complement any greenery and foliage within the space.'
11. Use textured tiles on the walls
If you want to keep your scheme as simple as possible but don't want plain black walls or wallpaper, then consider embossed tiles instead. They're beautifully tactile and contemporary which allows the scheme to stay stylish and high-end looking.
'Black is an effortlessly chic, sharp and sexy color for a bathroom. In this guest bathroom we used embossed cement Ogassian tiles, their scale and design has this gravitas about it, and it creates a depth of pattern without pattern that I love. Cox London's ivory glass mirror adds a pleasing contrast to the monochrome,' explains interior designer, Samantha Todhunter.
FAQs
Is a black bathroom a good idea?
A black bathroom is a good idea if it suits your style and space. Black is actually a good choice for smaller bathrooms or powder rooms as it can create the allusion of a large space as it blurs the edges of the room. A bathroom bathroom also works with very luxurious styles, it pairs beautifully with gold and marble to create a really elegant, but bold space.
Sign up to the Homes & Gardens newsletter
Decor Ideas. Project Inspiration. Expert Advice. Delivered to your inbox.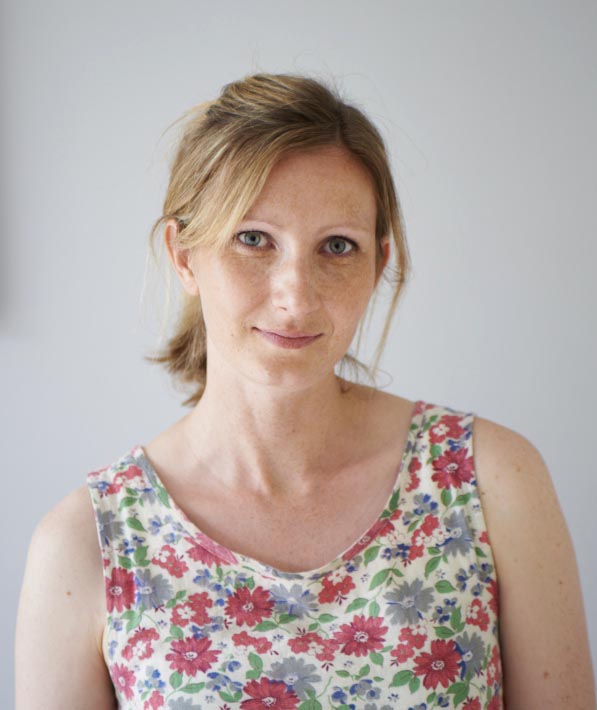 Sophie has been an interior stylist and journalist for over 20 years and has worked for many of the main interior magazines during that time, both in-house and as a freelancer. On the side, as well as being the News Editor for indie magazine, 91, she trained to be a florist in 2019 and launched The Prettiest Posy where she curates beautiful flowers for modern weddings and events. For H&G, she writes features about interior design – and is known for having an eye for a beautiful room.