Entryway storage mistakes – 7 slip-ups making this space less practical
These seven entryway storage mistakes are simple to fix, but a pain to live with, according to the pros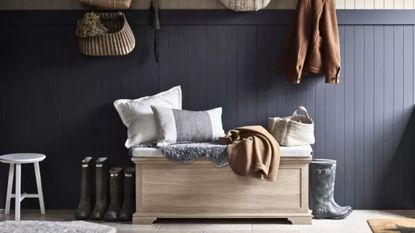 (Image credit: Neptune)
Our entryways are one of the most functional spots in our homes, working purely to welcome us into the home and help us get out the door a little easier. As a result, it is vital that the storage works and doesn't make our lives harder.
That being said, there are plenty of entryway storage mistakes many of us are making without even realizing it, and professional organizers say some simple fixes could make our homes a little more practical.
We have spoken to some of our favorite home organizers to learn their tops for entryway storage, and which common mistakes we need to fix.
Entryway storage mistakes
Although entryway layout mistakes certainly play a large part in a non-functional entryway space, how we organize the storage is just as important.
This is what you need to avoid.
1. Lack of multi-purpose furniture
Entryways, no matter their size, need good entryway furniture to make them functional – but picking single-use decorative pieces is a huge storage faux pas, according to professional organizers.
'The most common mistake I see when people are designing their entryway is not taking advantage of multipurpose furniture. An entryway bench with storage is a great way to store items like gloves, hats, and scarves, while also providing a place to sit and remove shoes,' says Emma Rostron, professional cleaner and declutterer and CEO of One Less Thing.
'Another option is an ottoman with storage that is both stylish and practical, allowing you to store small items inside and keep larger items on top.'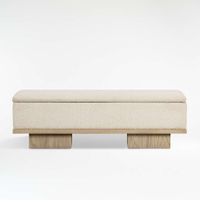 Brighton Upholstered Bench | $999 at Crate & Barrel
This multipurpose ottoman with storage is custom-made to order, offering a perfectly stylish and personal option for storing shoes in tighter spaces.
2. Focusing on aesthetics, and forgetting about practicality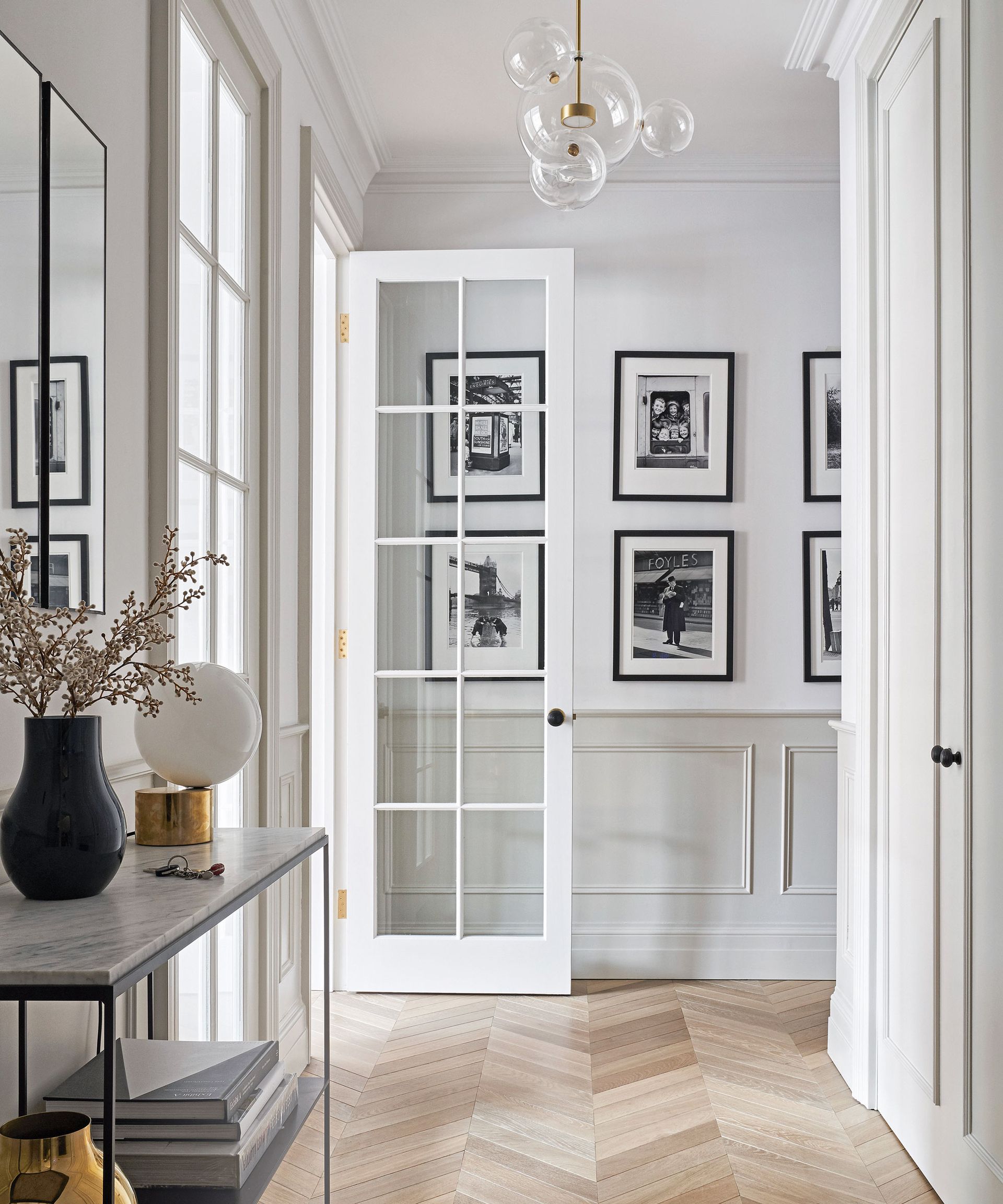 Many of us are concerned with what looks good in an entryway and making entryways look more expensive, however, putting too much focus on aesthetics and forgetting about practicality often hinders the effectiveness of our entryway storage, Amelie Saint-Jacques, professional home organize and Kon-Marie consultant at Amelie Organizes points out.
'There are things that always happen in that area: you need to put on your shoes (ideally sitting down), take off your shoes and store them; you need to hang your jacket; you need to put down and grab items such as keys, wallet, sunglasses, umbrella, etc. Kids will need to put down their backpacks. You might need to hang your dog's leash. Maybe you need to corral items that are going back out of the house (letters to mail, library books to return).
'It is important to make a list of those things (which is easy when you look at what piles up in that area!), and then make the space for them while leaving enough room to walk through easily,' she says. 'It is the best way to plan your storage out.'
3. Not using the backs of doors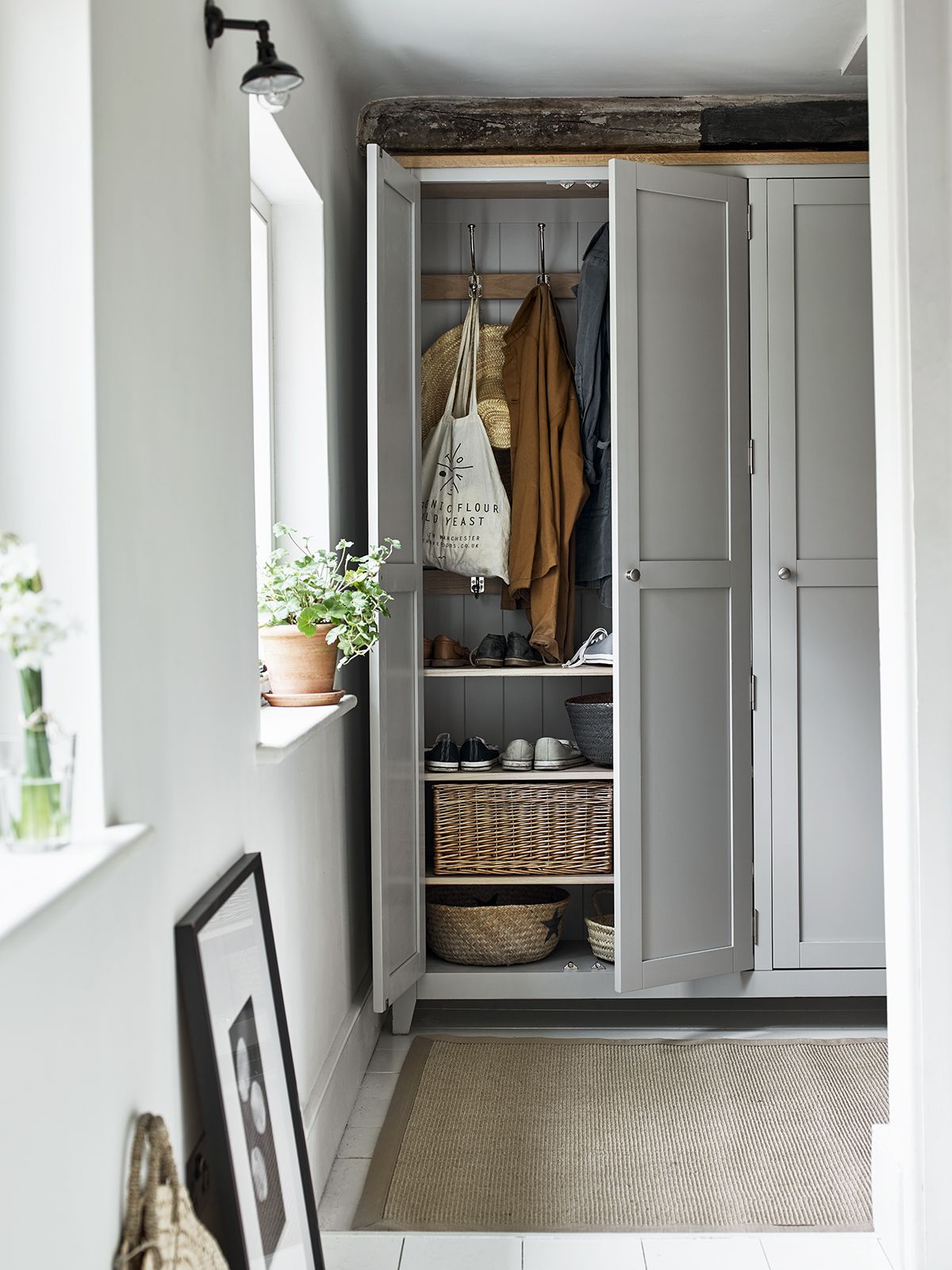 It is all well and good having an organized entryway closet or two, but neglecting to use the back of closet doors is a storage no-no in such a high-traffic area. Any vertical storage, for that matter, should be considered to help keep your entryway neat.
'Install wall-mounted shelves, hooks, or cubbies to make use of vertical space for storing bags, backpacks, or other frequently used items, helps to clear up floor space and provides a visually appealing storage solution,' says Barbara Oldham, professional organizer and founder of The Inspired Home by B.
'Utilize over-the-door organizers, like this shoe caddy from The Container Store, or hooks to hang items like hats, bags, or umbrellas. This frees up valuable wall or floor space while keeping frequently used items within reach.'
4. Trying to store too many things in one place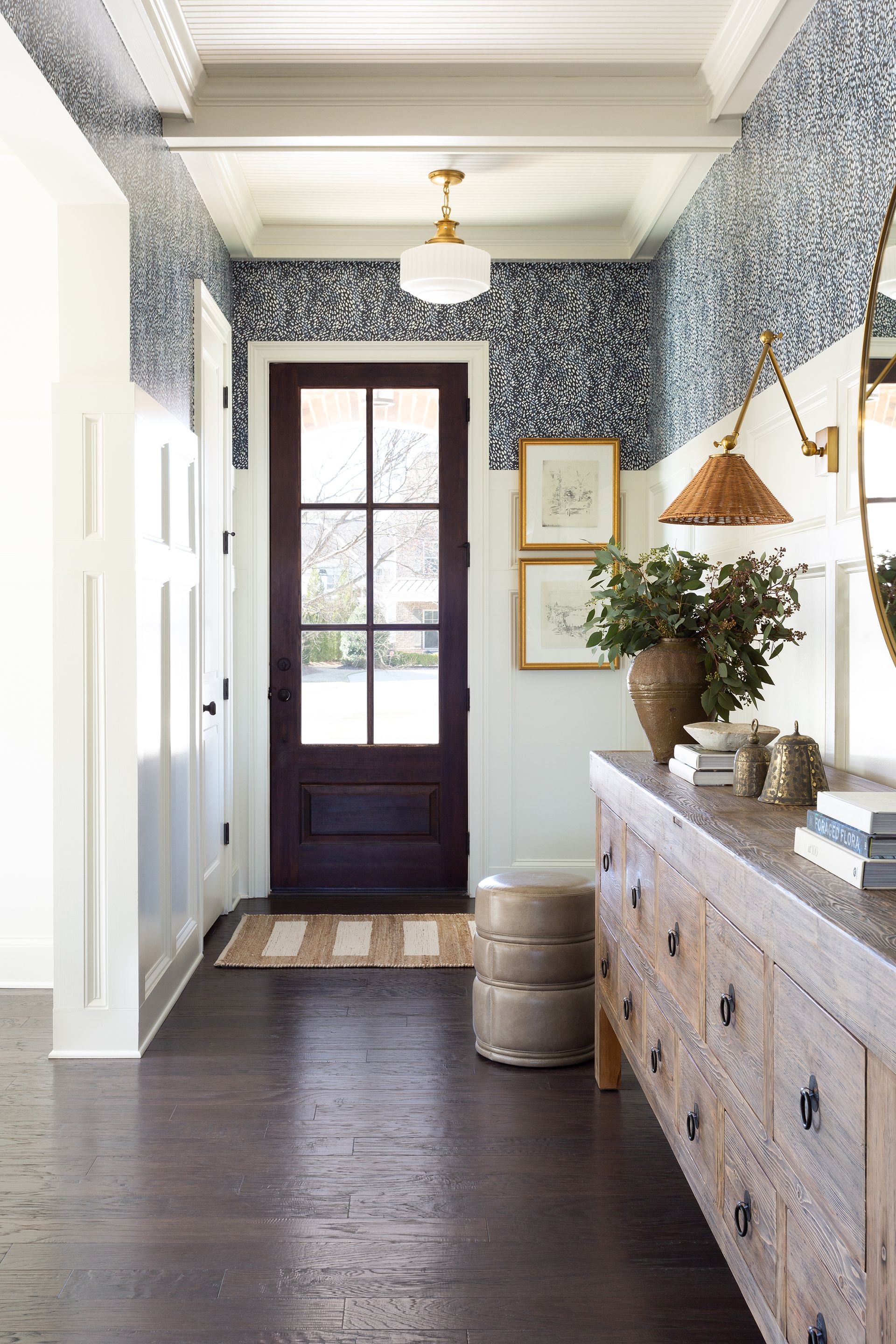 There can be a tendency to try to store everything in one space when it comes to entryways, especially when dealing with small entryway storage. While it can be convenient to have everything in one spot to make leaving the house a little easier, piling everything into limited storage makes it more impractical than having no storage at all, warns Lisa Munkvold, a professional organizer at Complete Clutter Control.
The entryway should only be the hub for items you frequently use, she says. 'Limit yourself to storing the things you need when you are heading out of the house; think keys, umbrella, purse/backpack in daily use, and possibly accessories such as sunglasses or a hat.
'Trying to store every piece of outerwear or all the family's shoes will only result in chaos.'
Lisa Munkvold has been a professional organizer for over eight years, having found her calling when helping a friend organize her home and create order. Since then, she has developed her own organizing business, serving the greater Houston area.
5. Not rotating coats
Coats naturally find a home in our entryways – especially if we do not have a mudroom available, however, they quickly make organizing an entryway a nightmare when we try to have them all on hooks.
Professional declutterer Emma Rostron recommends only hanging the ones you are using at that point in time, leaving space for guests to hang coats and jackets, and keeping the rest in a closet or storage bin.
Storing your coats in this way also helps to distribute the weight and prevents overcrowding – something that can easily make your entryway look cluttered and low-budget, adds Barbara Oldham, a professional organizer.
6. Neglecting your entryway table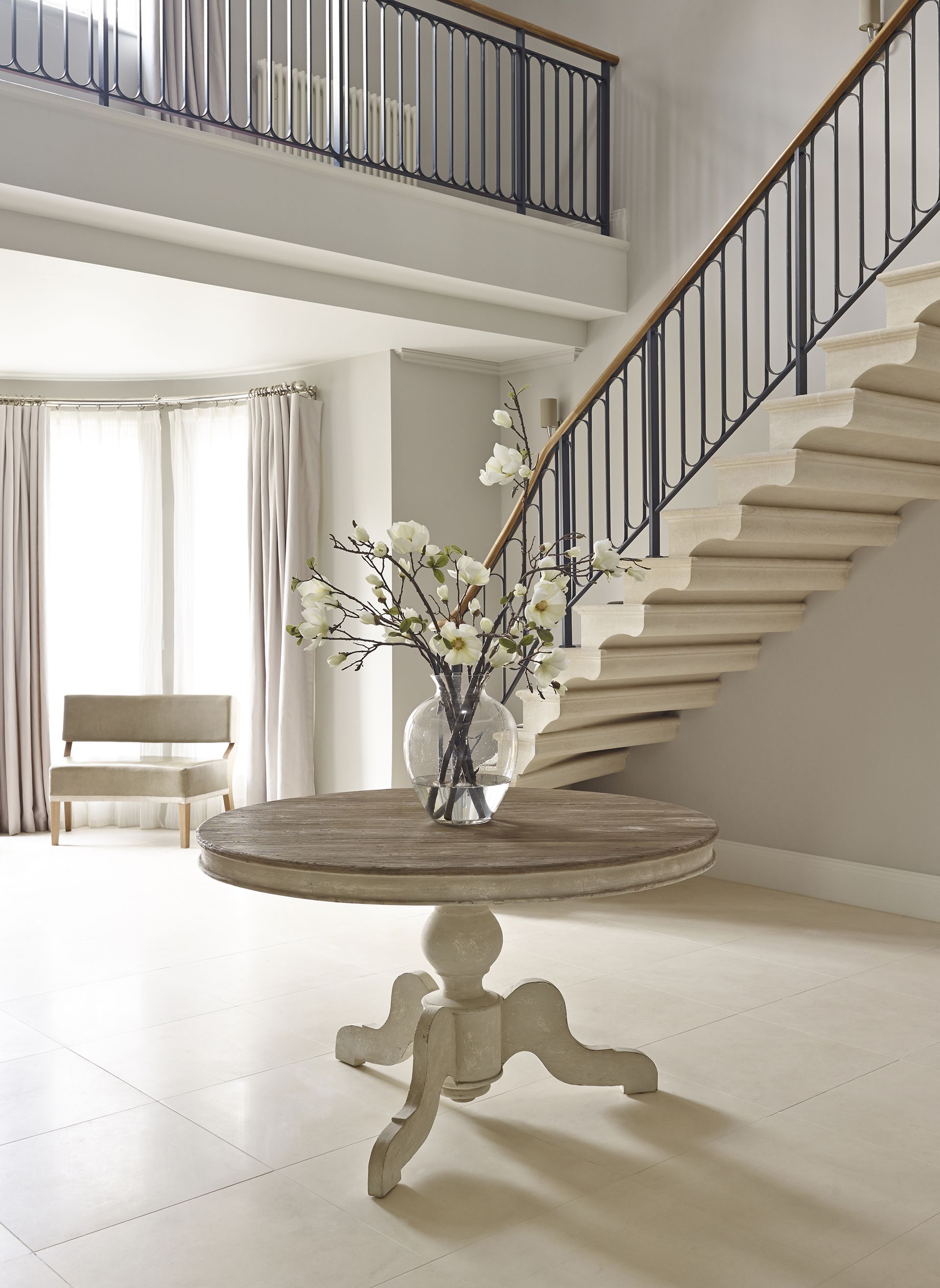 Entryway tables are essential, perhaps even more so than a place to sit, but it is not a case of styling a console table and leaving it be – or worse, leaving it bare.
'You need to make sure you can utilize this piece of furniture and not just a piece of decor,' reminds Chantelle Malarkey, interior designer and hosting expert at Lifestyle Alchemist. 'Pick a table with a shelf or cabinet beneath for more storage, and ensure it is not so wide as to block an easy path through the space. Having storage is one thing, but having it overcrowd the space is a problem.'
7. Not having designated drop zones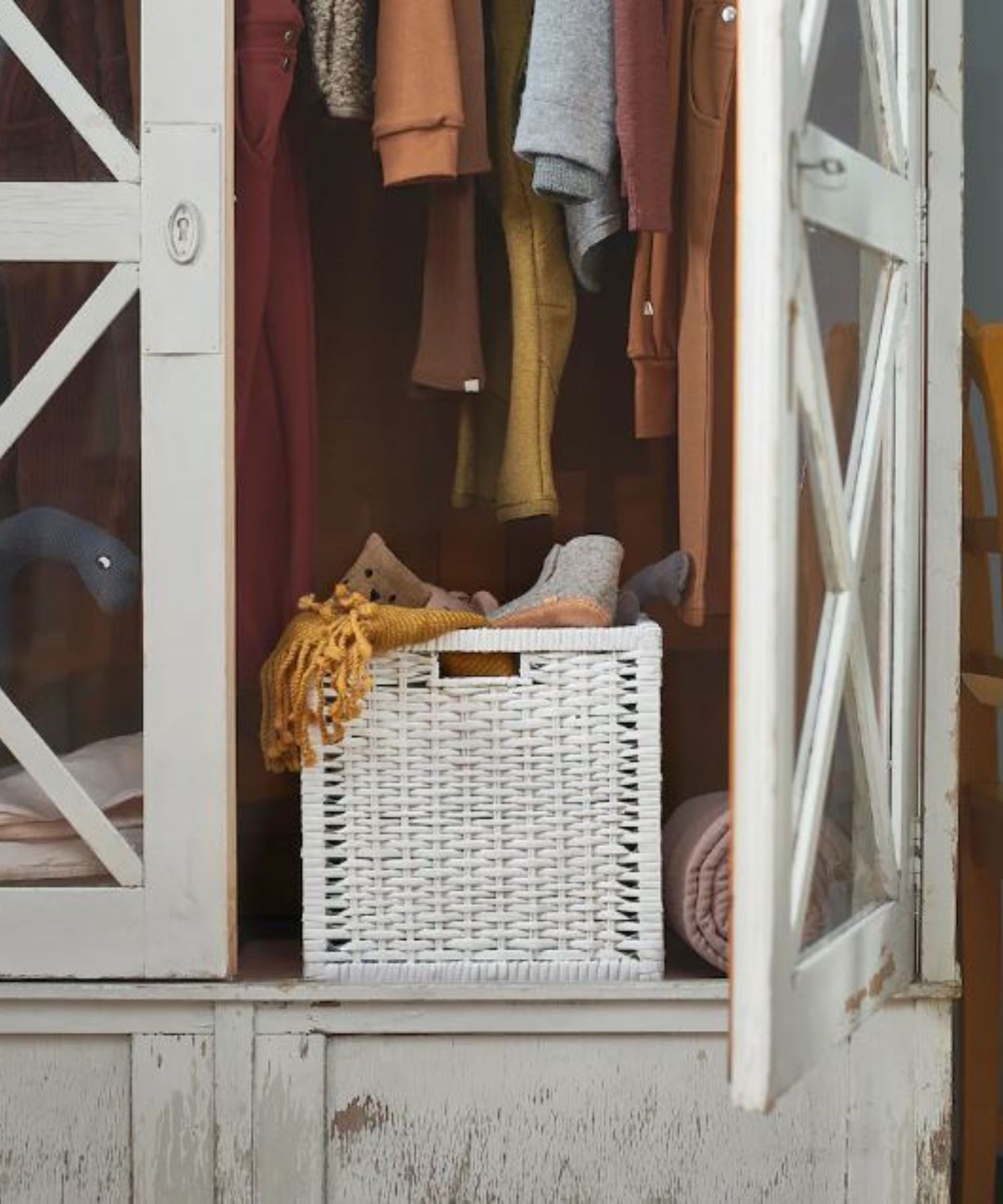 Whether you have a small entryway or a large entryway mudroom, it is essential to set out distinct dropzones to make it easy to throw down shoes, bags, and mail. The easier the storage is to use, the more likely you and your family are to utilize it.
Barbara Oldham, the professional home organizer, suggests opting for a designated shoe storage solution such as a shoe cabinet, shoe rack, or shoe cubby. This not only keeps shoes organized but also prevents tripping hazards.
'Without designated spaces, small items like keys, wallets, or sunglasses can easily get misplaced or lost,' she adds. 'Create a designated area for these items by incorporating a small tray or a wall-mounted organizer with compartments. This helps keep everything in one place and makes it easier to find essentials when heading out.'
FAQs
How can I make my entryway more functional?
To make an entryway more functional, carefully consider which furniture pieces you include in the space. Having somewhere to sit such as a chair or bench, for instance, can make putting shoes on and off easier, while having a console table designates a good drop zone for containing keys, bags, and mail. What's more, adding a good quality door mat inside and out can help to catch dirt and debris before you enter your home, making your entryway practical insofar as it keeps the rest of your house clean and easier to tidy.
How do I keep my entryway tidy?
To keep an entryway tidy, implement some drop zones to help throw keys, shoes, coats, and packages down without them getting in the way or being lost. Have an entryway console table, for instance, with surface space to put down bags as you come in the door, as well as a bowl for collecting keys. Use an open shoe rack or basket to contain shoes when you take them off as you get in without having to open cabinets and closets and make sure you have enough space to hang coats so you are not tempted to throw them on a chair.
---
Avoiding these entryway storage mistakes is a great first step to perfecting the hallway of your home, but it only works when you get your household involved in keeping the spaces organized and regularly decluttering, reminds Barbara Oldham, professional organizer.
'Once you have established your effective storage, only by regularly clearing out and laying out a strict system can create a more functional and organized space that is both visually appealing and easy to maintain,' she concludes.
Sign up to the Homes & Gardens newsletter
Decor Ideas. Project Inspiration. Expert Advice. Delivered to your inbox.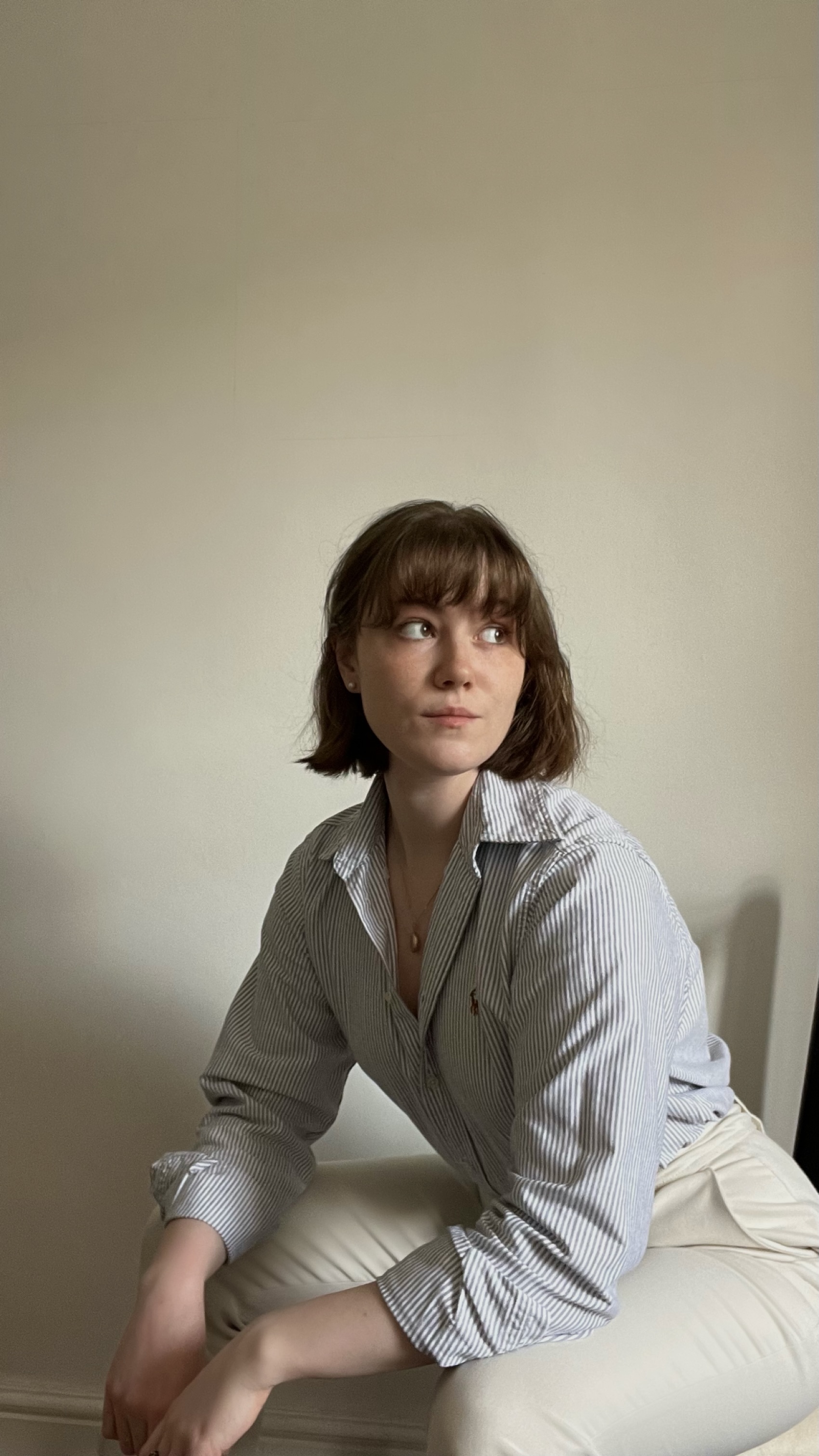 Chiana has been at Homes & Gardens for a year, having started her journey in interior journalism as part of the graduate program. She spends most of her time producing content for the Solved section of the website, helping readers get the most out of their homes through clever decluttering, cleaning, and tidying tips – many of which she tests and reviews herself in her home in Lancaster to ensure they will consistently deliver for her readers and dabbles in the latest design trends. She also has a first-class degree in Literature from Lancaster University.