How to wash fleece – and keep throws and blankets hygienic
Discover how to wash fleece so it retains its brushed texture, warmth and softness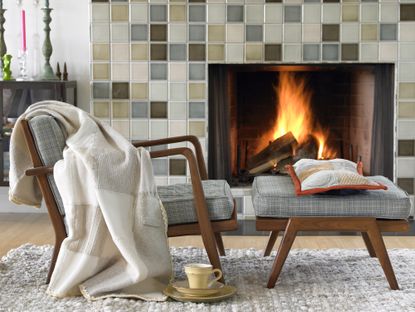 (Image credit: Getty Images)
Knowing how to wash fleece correctly means the wonderful soft feel that makes it so desirable for throws, blankets and more will last.
Items made from fleece may only re-emerge from closets in the colder months, but it's important that they're kept fresh and clean during use, and when they're stored away, too.
Make sure laundry room ideas include storage for the products required to keep fleece pristine as well as tactile. As for how to wash fleece, these are the answers.
How to wash fleece
There are two types of fleece material: natural fleece and synthetic fleece.
If you prefer a luxurious look, natural fleece is worth investing in. Made from a mix of real wool and cotton, it's incredibly soft and tactile.
Synthetic fleece, which is made from a mix of fibers such as polyester, has a very similar texture, but is cost effective and therefore more widely available.
Due to its man-made fibers, synthetic fleece can create static cling, thus attracting pet hair and allergens.
Always pay attention to the laundry symbols on the label to be confident of how to wash fleece of the two types with good results.
How to wash fleece items in the washing machine
Generally, it is acceptable to use the washing machine to wash fleece just as you can to wash pillows of many types as well as wash electric blankets from some manufacturers and wash down comforters but, as we've mentioned, check the tag for any specific instructions for all of these items.
Before you place it in the washing machine gently lint roll a fleece blanket in order to catch any larger pieces of fluff or debris; this will help keep your appliance clear of any fibers.
A spokesperson for Proctor & Gamble, the company behind fabric care brand Ariel, urges care when laundering. 'Make sure you wash your fleece on a gentle cycle on a cold setting and, remember, sometimes dyes require specific handling and care.'
Sophie Lane, product training manager at Miele adds, 'To preserve the soft fluffy look and feel of fleece, we would recommend washing on a delicate cycle.'
Which detergent to use to wash fleece
Be sure to use a gentle laundry detergent, with no strong chemicals or formulas to wash fleece.
Avoid using fabric conditioner, though, as it can cling to the fibers and weigh them down, reducing the item's fluffy and soft texture.
Lina Bombova, a TaskRabbit tasker specializing in cleaning, warns, 'Fabric softener or any sort of bleach product could change the texture of the fabric.'
How to remove stains from fleece
It's important to tackle a difficult stain prior to washing fleece items in the washing machine.
Treat with either a store-bought stain remover, soap and water, or a small amount of dish detergent.
Lina Bombova suggests, 'Gently dab on to the area to help lift the stain as much as possible and leave to sit for 10 minutes.'
How to dry fleece
When it comes to drying, always follow the care label in the same way you would for drying a duvet, drying a comforter or drying a weighted blanket. If the item is tumble dryer safe, use a delicate cycle.
Remember that extreme heat can melt the fibers and cause delicate fleece items to shrink.
A cold setting on the tumble dryer is ideal as it will spin the item around, fluffing up the fabric and restoring its soft and cozy texture.
How often should I clean my fleece items?
Fleece blankets, throws and cushions don't require the same frequency as washing sheets, or washing towels. The general guidance is once every few months.
However, if you have pets, it's worth washing fleece items more frequently, at least once per month. It's also a good idea to lint roller fleece blankets and throws to keep them free from dust and dirt.
Synthetic fleece made from polyester and plastic fibers can shed microfibers into your washing machine, so wash these items as infrequently as possible.
Can you wash fleece in the washing machine?
You can wash fleece in the washing machine as a rule, although you should always check the tag on the item before doing so. 'Make sure you spot treat stains first,' advises Lucy Searle, global editor in chief of Homes & Gardens. 'Cold water is also important and make sure you don't use an excess of detergent.'
Steph Hendries is a freelance journalist who has contributed to many different interiors websites including Homes & Gardens, Ideal Home and Livingetc. She has also worked on a range of social content for property brands such as Zoopla and Boomin. Steph writes for Homes & Gardens Solved section, concentrating on DIY, how to, cleaning and organizing content.