How to fix sagging couch cushions – 4 methods to sustain your sofa's softness
Sagging cushions aren't just uncomfortable, but look tacky, too – here's how to fluff them up again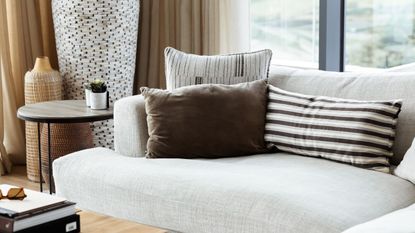 (Image credit: Minthouse)
Sign up to the Homes & Gardens newsletter
Decor Ideas. Project Inspiration. Expert Advice. Delivered to your inbox.
Thank you for signing up to Homes & Gardens. You will receive a verification email shortly.
There was a problem. Please refresh the page and try again.
It can be easy to think that a sagging couch cushion is a sign you need a new sofa, but there are some quick ways to fix sagging couch cushions and restore your seating to new again.
Whether you have previously invested in the best couch and do not want to replace it quote yet, or are looking to re-plump your cushions to keep your living room looking elegant, there are four techniques that you could consider to breathe new life into your existing furnishings.
Shared by designers, these simple fixes are perfect for repairing your sagging couch cushions, and even preventing them from sagging again, so you can have your comfy couch back without breaking the bank.
How to fix sagging couch cushions
While sagging couch cushions are often the first sign you may need to look for a new couch eventually, there are four tips you can try to improve your couch comfort quickly in the meantime that won't cost quite as much.
1. Rotate or flip the cushions, or both!
'This simple action, while it might appear trivial, is usually the initial tactic in resolving the issue of drooping cushions,' begins Artem Kropovinsky, interior designer and founder of studio Arsight. 'Especially if you have never flipped them before.
'By flipping them, the stuffing is redistributed, thus helping to balance out the wear. Rotating them from one end to the other is also recommended. This rotation assists in preventing the cushions from drooping at a particular spot and being fine in another.'
Based in New York, Artem Kropovinsky, founder of Arsight, has a decade of global design experience. Prioritizing minimalism, sustainability, and authenticity, Artem, alongside his team of professionals, works on projects in the US and worldwide.
2. Add is some extra soft stuffing
If flipping and rotating your couch cushions is not enough to rejuvenate your sagging couch cushions, then adding extra stuffing them is the next best bet – and is cheaper than having to replace the whole cushion. You can pick up couch cushion stuffing at Walmart.
Try to match the new stuffing to the existing material in the couch, but foam will do the job if you aren't able to. Source some foam lengths like these foam cushion replacements at Amazon. They should be around the same length as your couch cushion, preferably slightly longer so that they can be trimmed down, and add the foam one layer at a time to each cushion, testing it with each addition until you get the right support.
The cushion cover may be a little tricky to close with the new stuffing, so try not to force any zips to prevent them from ripping. Instead, have someone hold the cushion cover closed, squishing the foam, before pulling the zip closed over the top.
3. Beat the cushions to loosen compacted fillings
One thing I always try to do to give a little life back to my heavily used sofa is to beat the cushions to help reshape them. Although this may sound damaging, all I do is place the couch cushion standing up on the floor with the longest edge on the rug. Holding it firmly, I then hit the front and back of the cushions firmly with the other hand repeatedly to re-fluff them.
This works best for couch cushions with looser stuffing that has compacted down over time, but it is also a good way to clean a couch and its cushions and bang out any dust and crumbs.
4. Consider a sofa topper for temporary support
Sofa toppers are really a last resort for fixing your sagging couch cushions, as they can look a little out of place in well-designed living rooms. Nevertheless, a topper can help to provide a little extra firmness and plushness without opening up the cushions, designer Artem Kropovinsky recommends.
'Various toppers are available, so choose one that suits your preferences and budget, and try to find one that matches the aesthetics of your room,' he adds.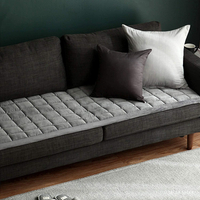 Sofa Topper and Protector | $72.99 at Amazon
This washable sofa topper is great for adding some extra comfort in a pinch, and is available in a range of colors and sizes for any living room.
How to prevent couch cushions from sagging
Sagging couch cushions are part of the natural life cycle of your sofa and are a natural consequence of you sitting on them every single day. However, there are a few things you can do to try to slow the sagging process.
For instance, flipping or rotating your couch cushions regularly will help to distribute the pressure and wear-and-tear evenly so that they do not sag in one spot or one side more than the other, suggests Jennifer Ebert, Homes & Gardens' deputy editor (digital).
'Where your budget allows, you should also pick couch cushions made of high-quality, natural materials from some of the best places to buy couches,' she adds. 'These are more likely to last longer, and will be easier to fluff and refill if needed in the future.'
Jen is the Deputy Editor (Digital) of Homes & Gardens online. Before starting this position, she completed various interior design courses at KLC Design School, as well as working across Ideal Home, LivingEtc, 25 Beautiful Homes and Country Homes & Interiors as an interiors writer.
FAQs
How can I make my couch cushions more supportive?
If your couch cushions have a little too much give, then you can add some extra support by adding extra foam inside the cushion cover. Simply unzip the couch cushion and layer in foam, thin sheets at a time, and test until you reach your perfect firmness. This also works for down cushions, with the foam giving a little more structure to the otherwise loose filling without losing that plush sensation.
Why do couch cushions go flat?
Couch cushions are susceptible to going flat as we place them under significant pressure and wear-and-tear on a daily basis. This can compress the foam over time, leading to flat and uncomfortable couch cushions. As this is completely normal, it is hard to avoid it completely, but it should only happen after a few years of owning your sofa. Any sooner and you should check your couch's warranty to see if you are entitled to a replacement cushion.
---
Although there is no way of completely preventing couch cushions from sagging, investing in a good couch (and knowing how much you should spend on a sofa to ensure longevity) as well as caring for your couch cushions correctly with regular rotations will help to delay the deterioration.
If you have re-plumped your cushions and you still find the couch sagging, then it may be the base springs in your sofa that have given out. If this is the case, consider having an upholsterer restring the sofa, or, alternatively, use a hard seat saver pad beneath the cushions to provide a little extra support.
Sign up to the Homes & Gardens newsletter
Decor Ideas. Project Inspiration. Expert Advice. Delivered to your inbox.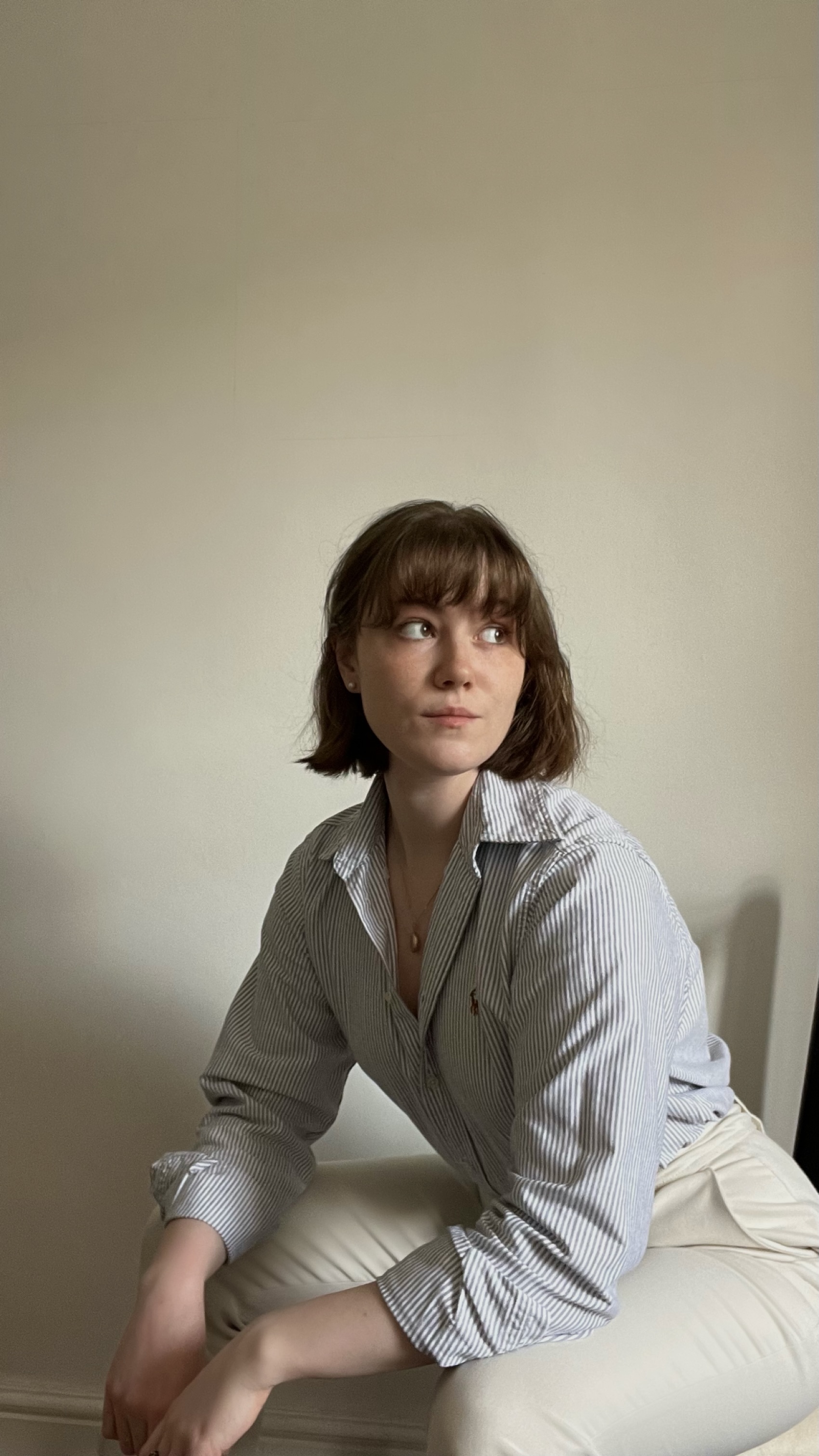 Chiana has been at Homes & Gardens for a year, having started her journey in interior journalism as part of the graduate program. She spends most of her time producing content for the Solved section of the website, helping readers get the most out of their homes through clever decluttering, cleaning, and tidying tips – many of which she tests and reviews herself in her home in Lancaster to ensure they will consistently deliver for her readers and dabbles in the latest design trends. She also has a first-class degree in Literature from Lancaster University.