6 modern fall decorating ideas to create a cozy, contemporary space rich with character
Our modern fall decorating ideas can help you to establish a stylish seasonal scheme that feels fresh and elegant as well as warm and cozy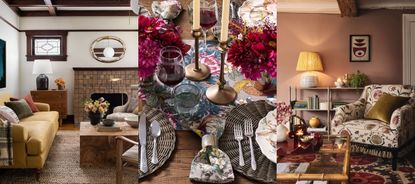 (Image credit: Heidi Caillier Design | Pottery Barn | OKA )
Decorating your home for fall is all about making your home feel more warm, inviting, and special for the cozy season; and our modern fall decorating ideas can do just that – but with a stylish, contemporary twist.
From more chic and sophisticated fall decorating ideas to embracing unique faux pumpkin designs and styling with rustic, earthy textures, there are plenty of ways you can curate a contemporary fall scheme.
6 ways to embrace modern fall decor for cozy season
We've rounded up our favorite modern fall decorating ideas – along with some beautiful product picks, to help you beautifully style your space for the season, don't worry, many of our ideas still reference a collection of the classic fall trends (you can never go wrong with decorating with pumpkins) – but show you how you can take these traditions and create something new.
1. Enrich your space with stylish seasonal accents
Modern fall decor does not necessarily have to embrace a theme, it can be as simple as styling your space with a beautiful new table lamp or cozy candle.
Switching up your home for the seasons is all about creating a sense of freshness – and it can be as minimalist or as maximalist as you like.
Decorate your home with stylish seasonal accents that make your space feel more warm, cozy and comforting during the colder winter months, or new designs that simply bring you joy as you step foot through the door. Shop some of our favorite decorations below.
Talasa Tray - Chinese Red
Named after the Greek word for "sea" in homage to its waved edge, this colorful decorative tray is perfect for resting on a coffee table or ottoman. Complete the look with candles and flowers.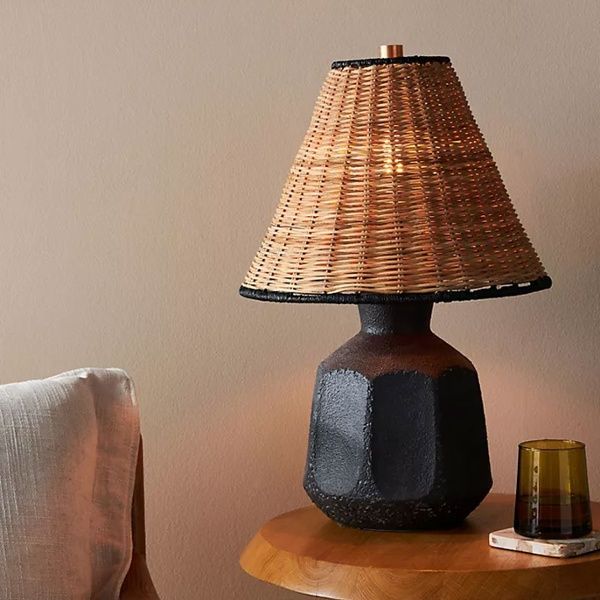 Add warm, cozy lighting and tactile texture to your space with this beautiful rattan table lamp from Anthropologie.
2. Refresh your pillows and throws
'When the air starts to crisp, nothing is better than cozying up to a nice fabric. You'll want to find textures that are both luxurious and earthy, such as mohair or velvet,' says interior designer, Tess Twiehaus.
One of the easiest fall decorating ideas you can embrace in your home is bringing in new, or refreshing your existing, throws and pillows.
Interior designer Brooke Spreckman states, 'One simple way to decorate your home for fall is by re-doing your throw pillow covers with a new color palette. If you have lighter tones, try swapping all of them out with a richer palette of fabrics. I'm currently showing a space with navy pillow covers that immediately make the room feel layered and warmer for the upcoming season.'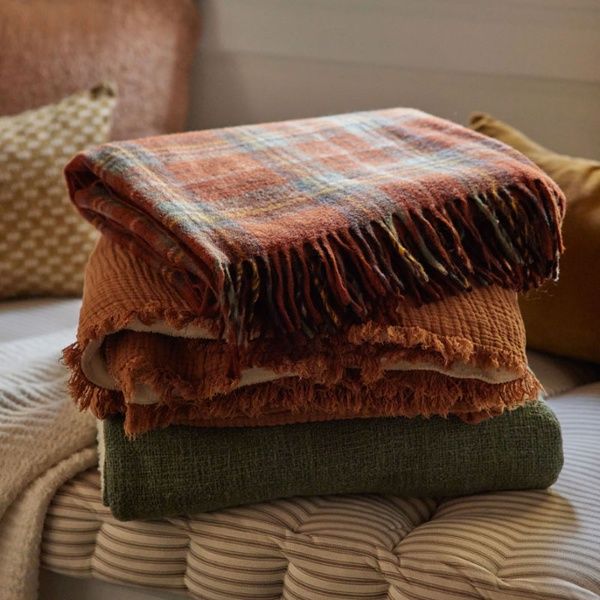 Layer inviting color to your living space or bedroom with this Alaia Sherpa Throw from Lulu and Georgia.
Bettie Tapenade Yellow Throw Pillow
Bring the cozy colors of fall into your home with this Tapenade Yellow pillow, finished with a fringe of darker yellow-green for a look that's polished and pulled together; perfect for uplifting a bed or sofa.
Interior designer, Tess Twiehaus, is the founder of design firm, Tess Interiors, a full-service interior design studio creating bespoke, expressive spaces for high-end residential and commercial clients.
Principal and Owner of Design Hutch Interior Design, Brooke Spreckman has been practicing Interior Design since 2013 in Los Angeles, San Francisco, New York and beyond; and has a diverse background in residential and commercial design.
3. Be creative with fall flowers and foliage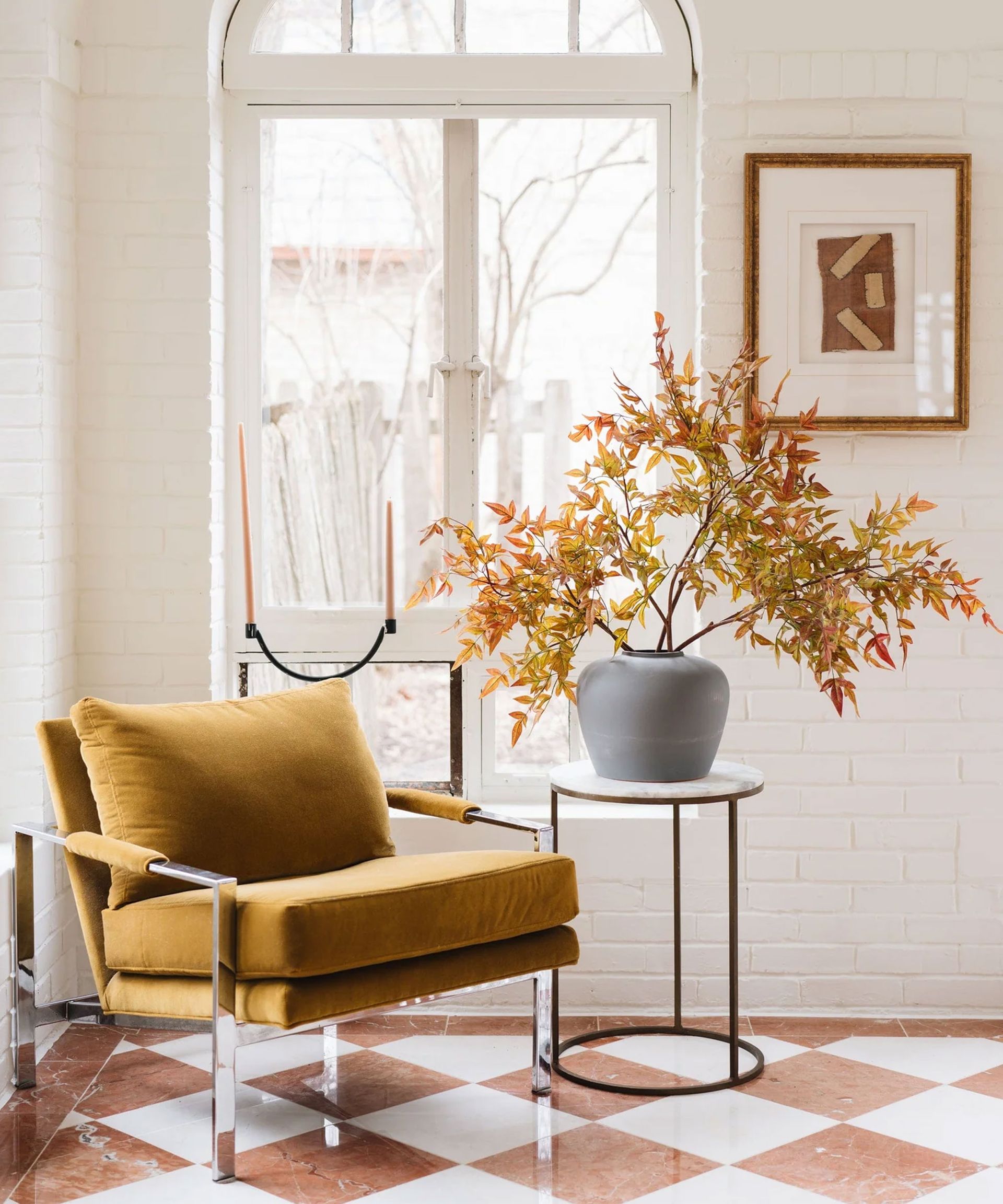 'One creative modern fall decorating idea where you can showcase a beautiful seasonal bouquet is to hollow out a pumpkin, fill it with water and place fall flowers and foliage inside,' says flower expert and florist, Igor Podyablonskiy at My Flowers
'Sunflowers look particularly great against the contrasting orange base. Alternatively, if you have a mantelpiece, why not create a cascading bouquet that includes branches, dried leaves and fresh orange flowers for your fall mantel decor?'
We explore how to make a pumpkin planter in our dedicated feature.
Of course, beautiful fall wreaths and garlands can create a lovely natural display, but choosing a few stand-out stems or a unique flower to place in a vase can establish a wonderfully modern, more sculptural look, as shown beautifully above by Afloral.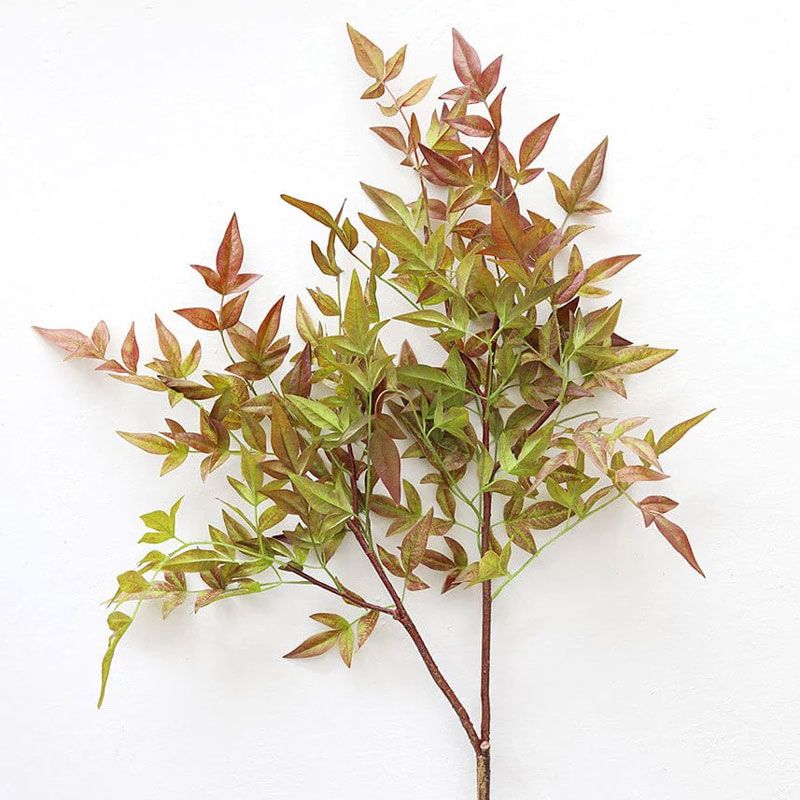 Artificial Nandina Leaf Branch
Also known as Heavenly Bamboo and Sacred Bamboo, this colorful burgundy green fake tropical branch is so simple to style in a tall vase.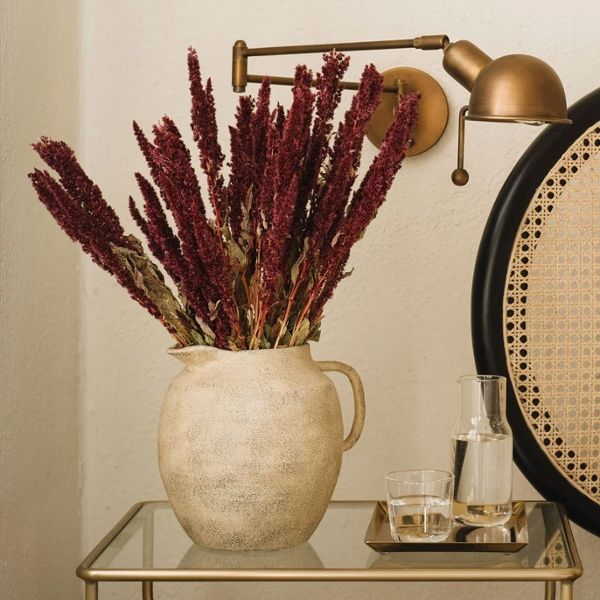 The deep, rich purple hue with burgundy tones of these dried flowers is perfect for creating a moody look for fall.
4. Curate an elegant fall display
As much as we love fall here at H&G, sometimes the smallest, simplest fall displays can have the biggest and most special impact.
Here, a coffee table has been beautifully styled with a collection of decorative designs. From books to candles, flowers, and pinecones, this curated collection of objects makes for a beautiful design feature and focal point for living room fall decor, but of course, the look can also be re-created for fall entryway decor and fall bedroom decor, too.
You don't always have to buy brand-new pieces either, styling existing ornaments and decorations in a new way can still create a fresh display in your space for the season. Bring cozy candles and dried flowers that may have been pushed to one side during the summer months to the forefront, and place them somewhere that they can be seen and appreciated throughout fall and winter.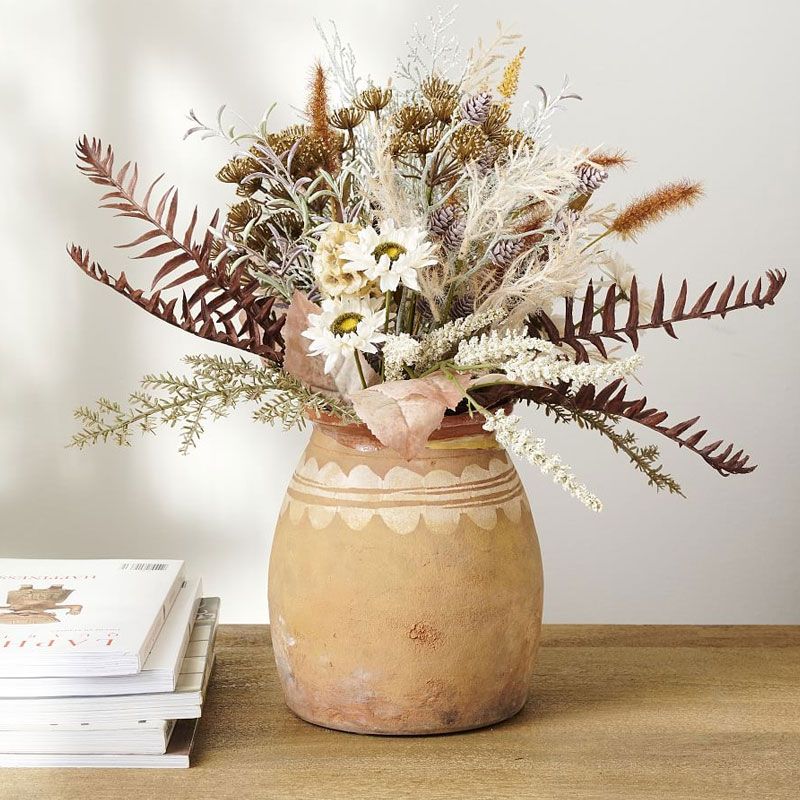 With the soft beauty of mimosa and reed blooms, even one bundle of these botanical blooms can make a beautiful statement, ideal for placing on a dining or coffee table.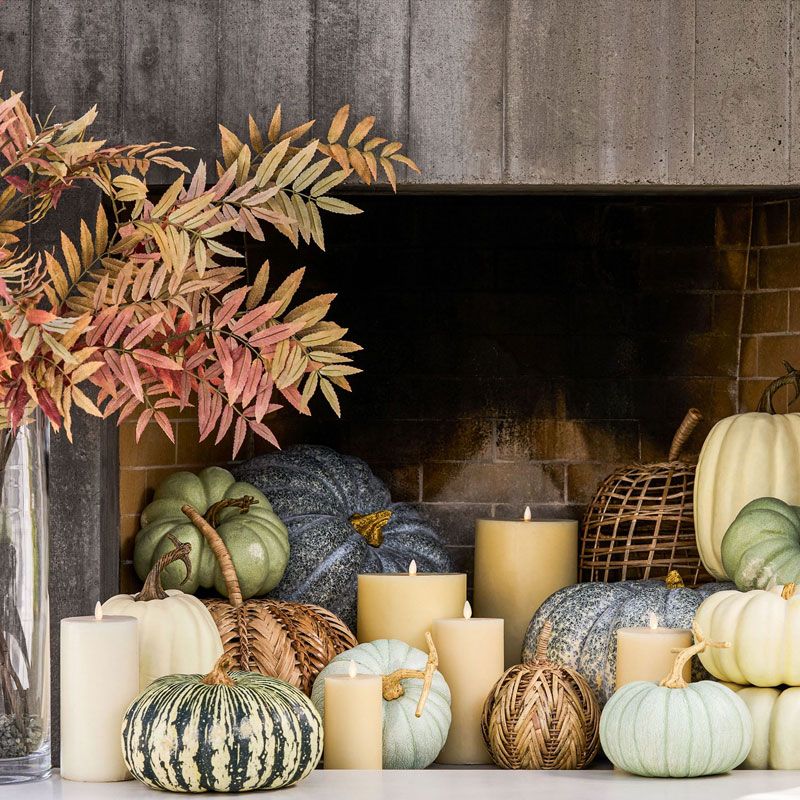 Showcase fall's bounty with these hand-painted pumpkins and gourds, available in a variety of organic shapes and seasonal colors.
5. Embrace rustic natural materials and earthy shades
When many of us picture fall color schemes, we think of rich, tonal color palettes defined by deep yellows, oranges, purples, and reds, but for a more modern, Scandinavian-inspired look, rustic, woody textures and earthy muted tones can work just as well.
Interior designer Tess Twiehaus says, 'I always advise to bring more warming wood elements into the home during fall and to not be afraid of mixing different tones. A lot of people try to stick to one or two wood tones in a single room, but you really miss out by doing so. Mixing woods brings so much interest and warmth to a room, perfect for the fall season.'
We love this rustic, subtle fall porch decor above, and how the central, calming color palette allows for the welcoming colorful rug to take center stage; a beautiful mix of texture, color and pattern.
6. Or, choose more uplifting, bright color palettes
If brighter, more uplifting color palettes are more your thing for room color ideas, then stick to what you know and love and embrace a vivid fall color scheme rich in color and variety – it will make a nice change from a traditional orange, red and brown scheme.
One area where you can really get creative with color and pattern is for Halloween table decor. Above, the tablescape designed by Pottery Barn creates a magnificent statement. Filled with eye-catching patterns, textures, color, and material, the beautiful table makes for the perfect gathering point – and talking point, for a Halloween party, and shows just how colorful and adventurous you can be for fall decor.
Shop some of our favorite pieces from the table below, or explore the full look on the Pottery Barn website.
Piper Floral Bird Dinner Plates - Set of 4
This motif is inspired by early 20th century prints. The artistic plate features Queen Anne edging and a gorgeous palette, perfect for decorating a fall table.
Pheasant Floral Bird Table Runner
This runner takes inspiration from the vivid, life-like imagery of vintage floral and bird prints. Featuring an uplifting color palette that can be enjoyed for all seasons.
FAQs
How do you decorate tastefully for fall?
For tasteful fall decor, create a scheme that has more subtle and sophisticated references to the season, rather than obvious and over-the-top.
From small curated displays of elegant ornaments, flowers and candles, to embracing more modern color palettes that reflect your interior style, tasteful fall decor should create an enhanced feeling of warmth and coziness, and make the inside of your home feel more inviting and special for the season.
Rather than dressing every room in your home with pumpkins, garlands, pinecones and bright yellow, orange and brown accents, (although, who are we to stop you if this is the style you're gravitating towards) think about more unique and creative ways you can celebrate the changing of the seasons, and embrace colors and decorations that coordinate with your own sense of style.
For some similar inspiration, we explore subtle Halloween decorating ideas in our dedicated feature.
---
One other way you can embrace modern fall decor is by swapping out every day, more functional items with new seasonal designs. For example, this Harvest Pumpkin Patch Tea Towel at Geometry will make for an adorable addition to your kitchen fall decor ideas.
You can also refresh your artwork for the season, we think this Autumn Gourds print from Society 6 is perfect.
Sign up to the Homes & Gardens newsletter
Decor Ideas. Project Inspiration. Expert Advice. Delivered to your inbox.