Can you paint grout lines? Professional painters say it could be easier than deep cleaning
Is your grout looking tired? Freshening it up with paint could be the perfect patch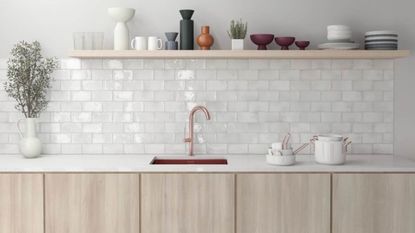 (Image credit: Jack Craven Dunnill)
There is very little that dates a space more than old grout, tired out from years of water splashes, sun exposure, and spills. If regrouting is not in your skill kit yet, then you may be wondering if painting grout is a good alternative.
The good news is that painting grout is relatively simple, and can be done in as little as one afternoon if you do it right, according to the pros.
Here, professional painters have gone into the gritty details of painting grout, from cleaning grout properly to product recommendations and perfecting the prep, so you can refresh your tiled spaces yourself.
Can you paint grout lines?
The short answer is yes, it is entirely possible to paint grout lines so long as you prepare the surface properly first and use the right type of paint – just as when painting kitchen tile or painting bathroom tile.
Painting grout is not limited to just small sections of backsplashes either, adds Tom Laurent, North GA regional director at Bear Mountain Custom Painting.
'It is perfect for walls, floors, and furniture too and it is a much better option than scrubbing the grout to remove stains, as you could spend hours cleaning, only to realize that the original color is never coming back,' he explains. 'Just remember that if your grout is very stained, a light-colored grout colorant won't necessarily hide the stain.'
What's more, the task is pretty inexpensive to do on your own – and is certainly cheaper than hiring a professional to grout tiles again. That being said, there are a few caveats to consider when painting grout lines.
1. Use specialized grout paint
The most important thing to get right when painting grout is the paint – you can't slap on any old paint, after all. There are two options for painting grout, each recommended by professionals:
Grout paint pens: Shlomo Cherniak, professional handyman and founder of Cherniak Home Services, recommends using a grout pen as it allows for easy and precise application to prevent spills and uneven lines. These are best for smaller areas, however, and could prove expensive on large sections of walls or floors.
Amazon sells a wide range of grout paint pens.
Grout paint and a brush: tubs of paint will stretch over larger areas, allowing you to complete full rooms. Andre Kazimierski, professional painter and CEO of Improovy suggests using a small brush to apply the paint into the grout lines, preferably covering an entire grout section at a time.
'Just like regular paint, you'll want to apply grout paint in coats, allowing each coat to dry completely before painting another,' he explains. When using this method, it is important to have a steady hand or tape up small sections at a time to prevent wonky strips.
You can buy grout paint at Walmart.
Andre Kazimierski founded Improovy in 2019 and has developed it into a leading home improvement service. It is his mission to make painting more efficient for all of his clients and uses generations of expertise to inform his work.
2. Clean the grout thoroughly
Although painting grout is a good alternative to deep cleaning grout to restore its original color, you do still need to clean it to some extent to ensure the surface is ready for paint to adhere to evenly.
Consider cleaning with vinegar or cleaning with baking soda pastes to help remove grease and soap scum from the grout, wiping down with a damp clean cloth afterward, and allowing the grout to dry.
3. Clean away paint on tiles immediately
While you can paint floor tiles, or any tile for that matter, spilled grout paint on tiles can dry solid and be difficult – if not near impossible – to remove, muddying your tile permanently, warns Shlomo Cherniak, professional handyman.
'If any of the paint goes outside of the lines, clean it immediately with a damp cloth so it doesn't dry.'
Shlomo Cherniak is a handyman and founder of Cherinak Home Services in Baltimore. He has over seven years of experience in home improvement, with him and his team specializing in everything from installing kitchen cabinets to fixing leaky faucets to hanging pictures on the wall.
4. Always apply a sealant to protect the new color
Once the grout paint is dried, you should apply a translucent sealer to protect the paint and improve its durability, recommends Shlomo Cherniak, professional handyman.
'When the sealer is also dry, clean the area again and enjoy the new appearance of your renovated area!'
We like Amazon's Black Diamond Grout Sealer.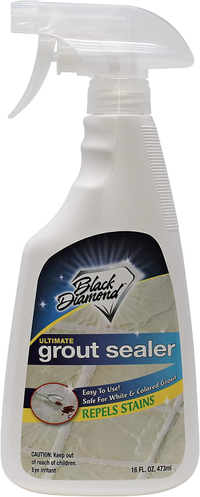 Black Diamond Grout Sealer | $24.98 at Amazon
This highly-rated grout sealer from Amazon is perfect for applying over-painted grout to waterproof the area and protect it from staining and make cleaning easier down the line.
FAQs
Can I paint grout lines in the shower?
You can paint grout lines in a shower just as you can paint grout lines anywhere else in your home. The trick is to prepare the area properly and apply a durable waterproof topcoat to protect it from moisture, staining, and everyday wear and tear.
Can you put new grout over old grout?
If you want a long-lasting grout change, then it is possible to regrout over old existing grout lines. This is not as complicated as regrouting the area as it doesn't involve stripping. Grouting over old grout can also help to strengthen the bond between tiles, making it less susceptible to staining, cracking, and chipping.
To do this, clean the area and grout as normal, making sure to wipe away excess before it dries.
---
While it is possible to paint grout lines, it is better done with sealed or glazed tiles than terracotta or natural stone, warns Tony Adams, home improvement expert at DIYGeeks.
'Natural materials that have not been sealed can easily absorb grout paint, making it difficult to wash off later. If you want to apply grout paint to natural materials, it is recommended to first apply a coat of tile sealer following the manufacturer's instructions beforehand.'
Sign up to the Homes & Gardens newsletter
Decor Ideas. Project Inspiration. Expert Advice. Delivered to your inbox.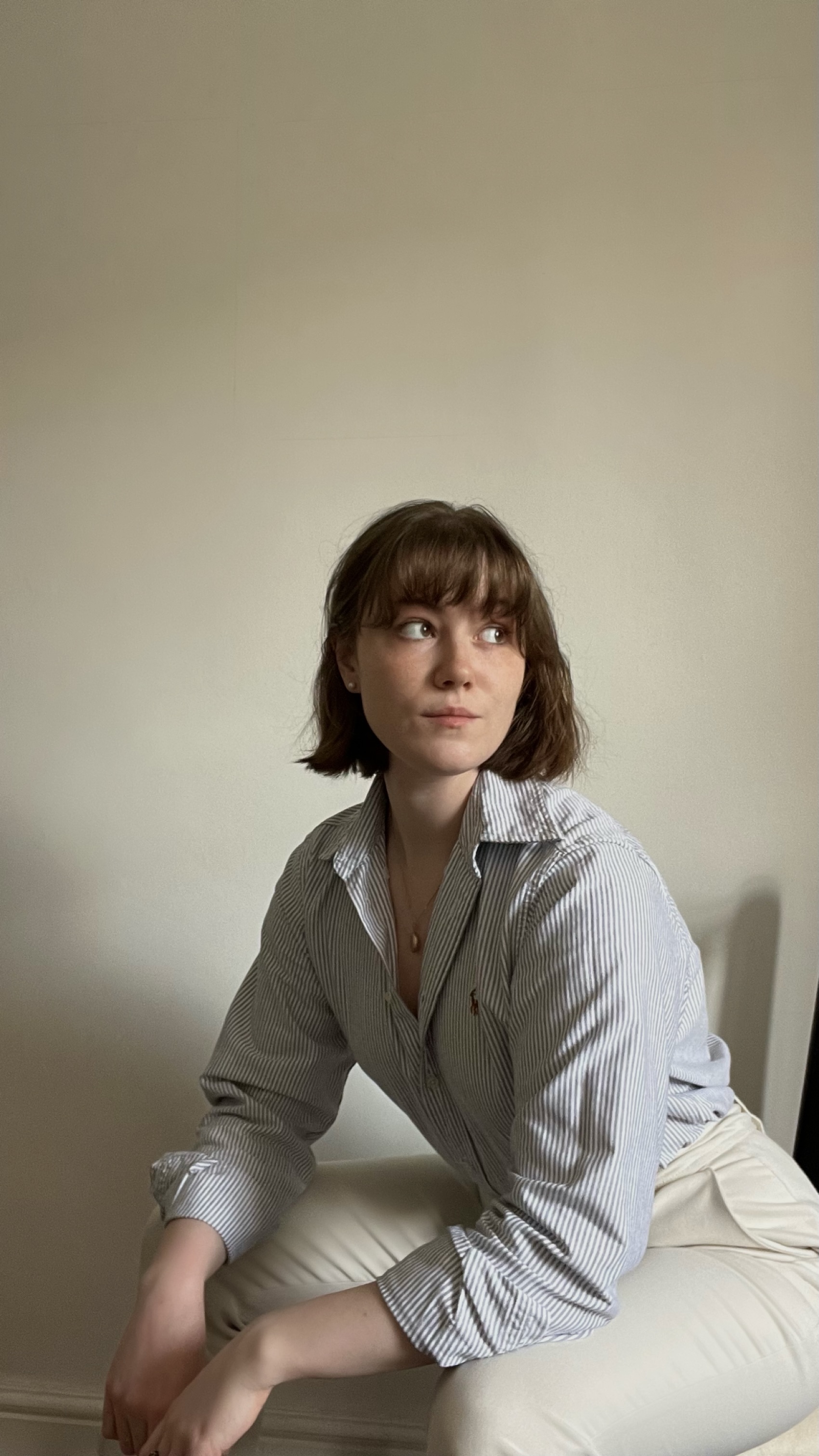 Chiana has been at Homes & Gardens for a year, having started her journey in interior journalism as part of the graduate program. She spends most of her time producing content for the Solved section of the website, helping readers get the most out of their homes through clever decluttering, cleaning, and tidying tips – many of which she tests and reviews herself in her home in Lancaster to ensure they will consistently deliver for her readers and dabbles in the latest design trends. She also has a first-class degree in Literature from Lancaster University.