Can you paint bathroom tiles? Professional painters have their say on floors, showers, and walls
Bathrooms are one of the more difficult spots to renovate yourself but it turns out some paint could do the trick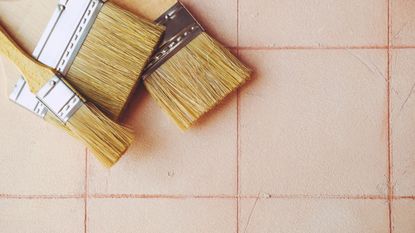 (Image credit: Getty Images)
Bathrooms are notoriously difficult to renovate yourself, especially if you are not looking to do a full remodel. As a result, many of us are left wondering whether or not we can paint bathroom tiles for a quick refresh.
The good news is that painting is the perfect affordable way to freshen up your bathroom tiles if the existing fittings are not to your taste. It is not a simple process, however, requiring a lot of prep work to ensure the paint sticks and stays.
Here, professional painters offer their thoughts on painting bathroom tile, from walls to showers to flooring, and the best technique to use.
Can you paint bathroom tiles?
It is certainly possible to paint bathroom tiles, including the tiles in your shower and on your floor, so long as you use the right technique, use the best paint finishes for bathrooms, and leave it to dry properly before using water in the space, explains Andre Kazimierski, professional painter and founder of Improovy. The two most important things in the process are to use 'a high-quality primer, and a latex or a two-part epoxy paint designed for tiles– these are a must in high-moisture areas since it withstands the rigors of the space a little better,' he explains.
Andre Kazimierski founded Improovy in 2019 and has developed it into a leading home improvement service. It is his mission to make painting more efficient for all of his clients and uses generations of expertise to inform his work.
1. Prepare the surface with cleaning and priming
From there, painting tile is not as simple as painting a wall, but it does follow roughly the same process – just with a little more care and attention.
Just as you clean a wall before painting, for instance, you need to clean the tile, working into the grout lines with a scrubbing brush and stripping the tile of any grease, grime, and water stains, advises Tony Adams, home improvement expert at DIY Geeks. You may also need to use a mold killer such as using vinegar to kill mold.
Afterward, you will need to sand the tile down using rough sandpaper to provide a rough surface on which the primer can adhere. Check the back of the tin to find out how many coats of primer you need – for painting tile, it is best to use the upper end of the recommended amount to ensure a good surface for your paint, Tony adds.
Owatrol E.S.P. Primer | $25.29 at Amazon
This heavy-duty primer comes recommended by Joshua Bartlett, home improvement expert and founder of I'll Just Do It Myself. It will not peel or chip when applied o tile, and provides an excellent surface that is ideal for painting over, he says.
Tony has been a handyman for over 27 years, following in his father's footsteps. He has since opened his own handyman services and has begun sharing his expertise on the DIYGeeks home blog to help those he can't reach with his business.
2. Add your paint, allowing to cure for 24 hours
Once the primer has completely dried, it's time to paint. When working with bathroom floor tiles, start in the furthest corner of the door and work your way back toward the door so you do not trap yourself in with wet paint. For wall and shower tiles, start at the top and work your way down toward the floor so that you can catch and correct any drips as you work.
It is best to opt for a paint specifically designed for painting interior tiles,' advises Shlomo Cherniak, handyman and owner of Cherniak Home Services. 'Paints like these can stand up to constant water exposure for longer than traditional interior emulsion – it also won't scratch if you catch it. I then recommend picking out a gloss finish as this will make your bathroom sparkly, similar to the original tile, and easy to clean.'
It may be best to use a small foam roller or a brush for a task like this if you want to avoid painting grout. Using a large roller will smother the wall and make the tiles look cheap or tacky afterward.
Once painted, it is vital that you do not use any water in the space for at least 24 hours, warns Tony Adams, home improvement expert. 'The paint can take a couple of days to dry completely, and water can slow the process, or ruin the paint completely,' he adds. 'You should avoid walking on any painted floors or using any painted shower spaces.'
Shlomo Cherniak is a handyman and founder of Cherinak Home Services in Baltimore. He has over seven years of experience in home improvement, with him and his team specializing in everything from installing kitchen cabinets to fixing leaky faucets to hanging pictures on the wall.
3. Finish with a durable topcoat
As with painting bathroom countertops, it is important to use a good clear top coat to protect the paint from damage while you use your bathroom, continues home improvement expert, Tony Adams. 'If you don't, water will remove the paint, causing lasting damage within the week.'
When sealing floor tiles, a good option is Sherwin-Williams Porch and Floor Enamel, suggests Nick O'Keere, painting expert and owner of Oak City Coatings. 'This will hold up well in residential spaces and can be cleaned with a variety of household chemicals – perfect for a dirtier space like a bathroom.'
FAQs
Does tile paint peel off?
When painting tiles, the paint may peel off if you do not follow the proper preparation stops, use the wrong paint, or neglect to finish the paint job correctly. Because of this, it is best to avoid cutting corners when painting tiles and follow professional instructions for the best-lasting finish.
That being said, any paint on tiles will eventually wear down over time and is not as long-lasting as if you were to retile the space. No matter how careful you are, the paint will slowly begin to mark, scratch, or bubble – especially in showers, bringing down the overall look of the room.
Should I paint tiles or replace them?
Whether or not you opt to paint tiles or replace them completely will depend on your budget. Painting tiles is quicker and far more affordable than retiling, however, the results do not last as long as a full refresh. It is worth sitting down to determine the cost of each project, and debating if it is a better idea to save the money on primers, paints, and top coats and put it towards investing in the type of tile you truly want for your space.
---
It is worth noting that, while you can paint bathroom tiles, painted tile is not designed to last. Following every step perfectly will create a beautiful finish for the short term, for a long-term look it is still best to actually retile the space, or have the bathroom retiled by an expert. This may be more expensive but can be a better investment in the long run.
Sign up to the Homes & Gardens newsletter
Decor Ideas. Project Inspiration. Expert Advice. Delivered to your inbox.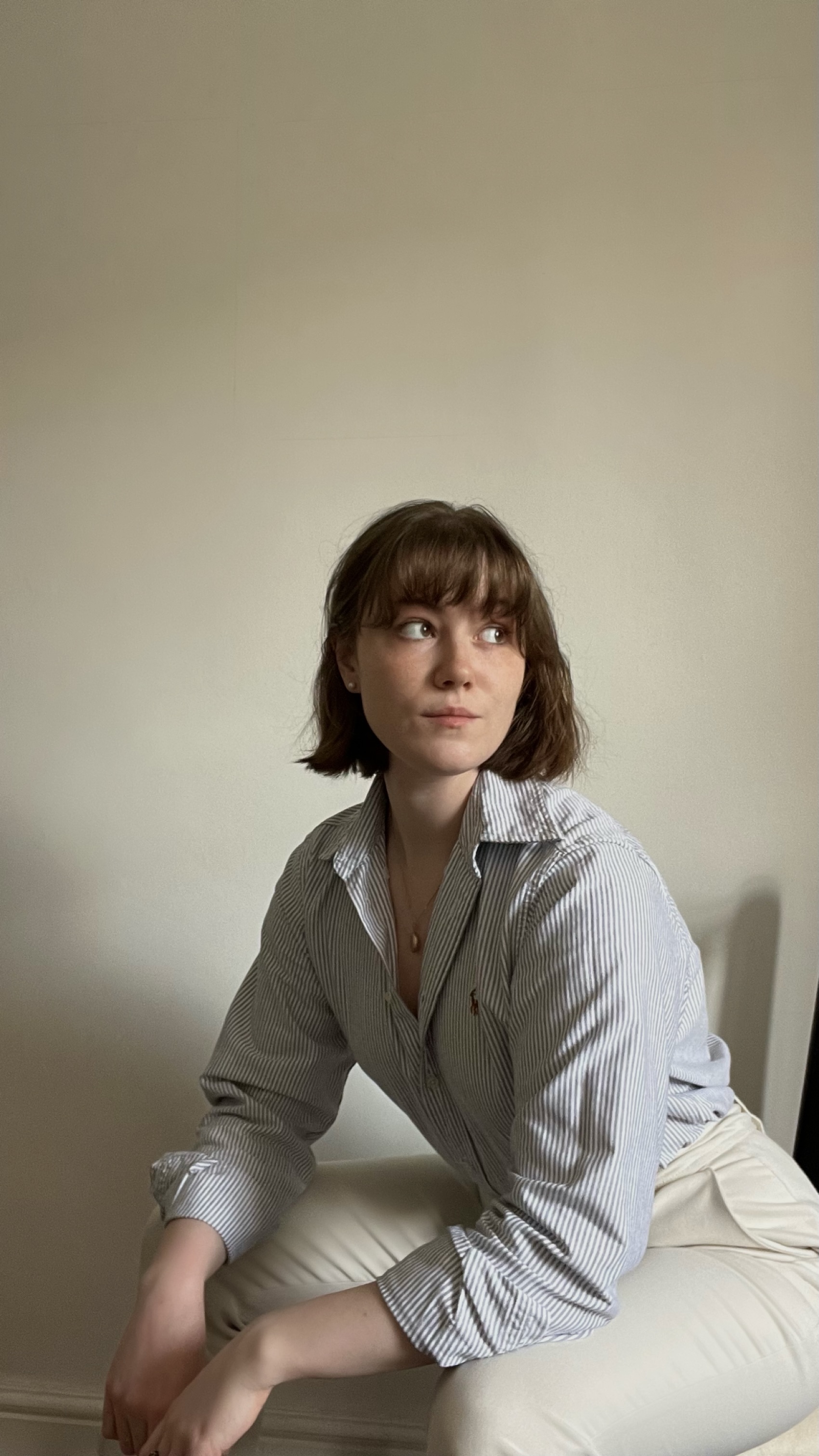 Chiana has been at Homes & Gardens for a year, having started her journey in interior journalism as part of the graduate program. She spends most of her time producing content for the Solved section of the website, helping readers get the most out of their homes through clever decluttering, cleaning, and tidying tips – many of which she tests and reviews herself in her home in Lancaster to ensure they will consistently deliver for her readers and dabbles in the latest design trends. She also has a first-class degree in Literature from Lancaster University.