'Pretty, frilly and floral' – the new decorating trend is set to make waves in 2023, according to designers
Interior design pros reveal their top tips for this season's biggest design trend: all things pretty, frilly, and floral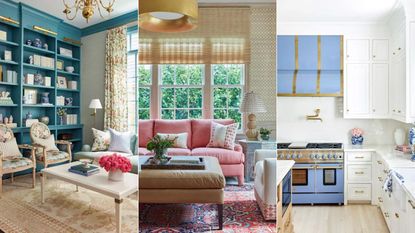 (Image credit: Caitlin Wilson | Caitlin Kah | Caitlin Wilson)
There's no denying that flowers and spring go hand-in-hand. After all, there's a reason we still quote Meryl Streep in The Devil Wears Prada when she sneers, 'Florals for Spring? Groundbreaking.'
But while florals might not be seasonally groundbreaking, they remain extremely on-trend – and this year, according to the experts, it's going to be a coveted interior design trend for 2023. Rather than large-scale contemporary flowers or overly saturated prints that skew retro, this year, everything's coming up pretty, frilly, and extremely feminine.
Flowers, in particular, are in almost every aesthetic that's popular at the moment –maximalist decor, cottagecore, biophilic. With this in mind, we got the lowdown on how to make this decorating idea work in our own spaces this spring.
The new 'pretty' spring decor trend for 2023
As we slowly leave behind the hibernation of winter, it is the perfect time to focus on spring decor ideas, and how you can give your home a joyful refresh for the season.
It's a return to the classics and a spark of joy
As the author of Return to Pretty, product designer Caitlin Wilson wrote the book on the return of frills in the home. According to her, this was an inevitable shift after years of stark minimalism.
'After decades of simple, bland design trends, people are returning to the classics –the traditional philosophies and elements of decoration where more is more and color and pattern are embraced,' says Wilson.
Interior Designer Jennifer Hunter agrees. 'I think the resurgence of pretty decor is a reaction to the minimalist design trend that has been around for so long. People are sick of boring design and looking for more interest, dimension, and joy.'
'All hail the 'Grandmilliennial' for making it official,' adds Roxy Owens, founder of Society Social. 'Traditional design is cycling back into fashion in the most wonderful way. Goodbye, monochromatic neutrals. Now, more than ever, we are seeing gorgeous, layered spaces, a mix of prints, patterns, and colors, as well as bespoke textiles and passementerie galore. What a beautiful and welcome response to years of basic catalog looks void of the aforementioned.'
Caitlin Wilson is an internationally acclaimed interior and product designer, as well as the author of Return to Pretty. Originally from the San Francisco Bay Area, she grew up with a love for beautiful art and design and started Caitlin Wilson Design in 2007. Caitlin designs every product with her team in her Dallas studio and flagship store. Pattern and color are her forte and the foundation on which she designs her signature interiors and home decor products. It is her passion and intention to continue to create timeless designs that span many styles and are accessible to all.
Florals are limitless
While florals do, of course, become ubiquitous in springtime, Wilson assures us that there are actually no limits to this pattern.
'Florals work everywhere – wallpaper, pillows, rugs, and beyond,' she says. 'Lighting and millwork are also fabulous ways to add major impact with lavish feminine details.'
If an abundance of patterns is not to your taste, use real flora and fauna on display shelves, as shown here.
It's important to strike a balance
The real key to leaning into this aesthetic is to keep things feeling current – otherwise, it's very easy to tip the scale into fussy and overdone.
'Keep things feeling fresh with some contrast when needed,' says Wilson. 'One can always benefit from a palette cleanser, so if you have many rooms in a home that are full of pretty elements, it's ok to have some simple spaces and moments to break up the busyness.'
Hunter explains that this can look different depending on the elements at play. 'To avoid it looking like your grandmother's home, thrive to strike a balance,' she says. 'If you have a chair with a frilled skirt, keep the rest of the upholstered pieces in the room more tailored with box pleats.'
When all else fails, add more
If you close your eyes and picture a floral print, it might be small-scale, and in linen or cotton. This is lovely, but be sure to change it up as you incorporate more pieces –and don't be afraid of adding too much! For this style, that is completely appropriate.
'I would say pattern play is key,' says Hunter. 'For example, mix large-scale florals with a smaller-scale geometric print. Also, the addition of details like trims, a ruffle, or a pleat. It is those added elements that contribute to pretty decor.'
Wilson agrees, noting that texture is key for her. 'I love to use texture, whether it's in a wallpaper or with great fabrics,' she says. 'Draperies and pillows go a long way when you're decorating in this style and the concept of 'more is more' never seems to fail.'
Interior designer Jennifer Hunter discovered her love for architecture and design at a very young age, thanks to her design and real estate-focused family. With a degree in Architecture from the University of Texas in Austin and a master's degree in American Fine and Decorative Arts from the Sotheby's Institute of Art in New York City, Jennifer credits her extensive design knowledge to time spent at residential design firms before forming Jennifer Hunter Design. She currently lives on the Upper West Side with her husband and two daughters.
Source stunning vintage finds
Whether you're a pro antiquer or just love to nose around a secondhand shop, this aesthetic is the dream. Now is definitely the time to go all-in on vintage finds.
'When adding pretty elements into a space, I love to look for antiques or vintage finds,' says Hunter. 'Chairsh is a great resource for pretty decorative objects that will add that pretty to any space.'
Start with a statement
If you're not sure how to dip your toe into the world of pretty frills, Hunter gave us a tip.
'I recommend starting with a statement piece that you can work around,' she says. 'This could be an ornate mirror, a lounge chair with a ruffled skirt, or a floral wallpaper. Once you have your focal point, it is all about the balance of elements to create a pretty design.'
In 2011, Roxy Owens proudly launched her very own furniture line, Society Social. Like many founders, Owens launched her brand with herself as the first test audience. Owens began crafting Society Social with a vibrant traditional aesthetic and customization options that were normally reserved for the trade. Tassels, yes. Trim, yes. Blazing hot pink upholstery? Also yes.
Tiny details have a big impact
In terms of pretty and frilly decor, the smaller, sweeter details are as important as the larger pieces. Once you find your statement pieces, pay attention to the extra details.
'Add a tassel or bullion fringe to the bottom of your sofa,' suggests Owens. 'Or swap out a standard lampshade for a pleated or patterned option. You can also incorporate furniture pieces with curvaceous silhouettes, like soft scallops or a beautiful cabriole leg, or opt for a beautiful block print fabric on your main upholstery piece. Then, incorporate smaller pretty accents through playfully printed pillows.'
Sign up to the Homes & Gardens newsletter
Decor Ideas. Project Inspiration. Expert Advice. Delivered to your inbox.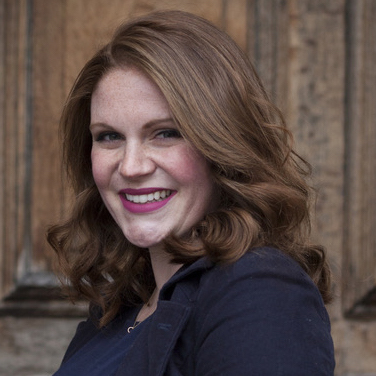 Ashley Chalmers is a freelance writer for Homes & Gardens with over 10 years' experience as a digital writer and content creator. Ashley started her career in entertainment and fashion PR in New York, before moving to the French countryside and taking up travel blogging. Now, Ashley lives in London. Her passion for travelling is only matched by her love of making her house feel like a home, and she loves to include her finds from around the world in her decor.