Designers share the 6 rug colors to avoid – and which colors work every time
To help you choose the perfect rug for your space, learn which colors are in – and which are no longer favored by the design experts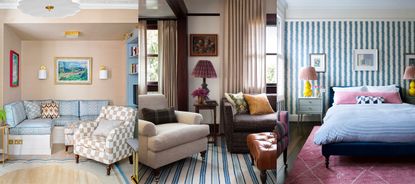 (Image credit: James Merrell | Heidi Caillier Design | Jessica Buckley, Mary Wadsworth)
Many interior designers use a rug's color as the inspiration for a room's interior scheme; changing a rug can alter the feeling of a room instantly. So, choosing the perfect color, and avoid others will undoubtedly help you get your room scheme just right.
If you are exploring how to choose a rug, then it pays to know which colors interior designers avoid, and why.
From impractical, light neutral shades, to block-colored designs that lack personality and flair, these are the rug colors to avoid, say interiors professionals.
Rug colors designers avoid – and what to pick, instead
Ultimately, a rug should work in harmony with the overall color scheme of a room, but knowing which rug colors to avoid will only help you to make a more well-informed decision for your space, and help to create a more enduring and successful scheme.
1. Swap white for an earthy neutral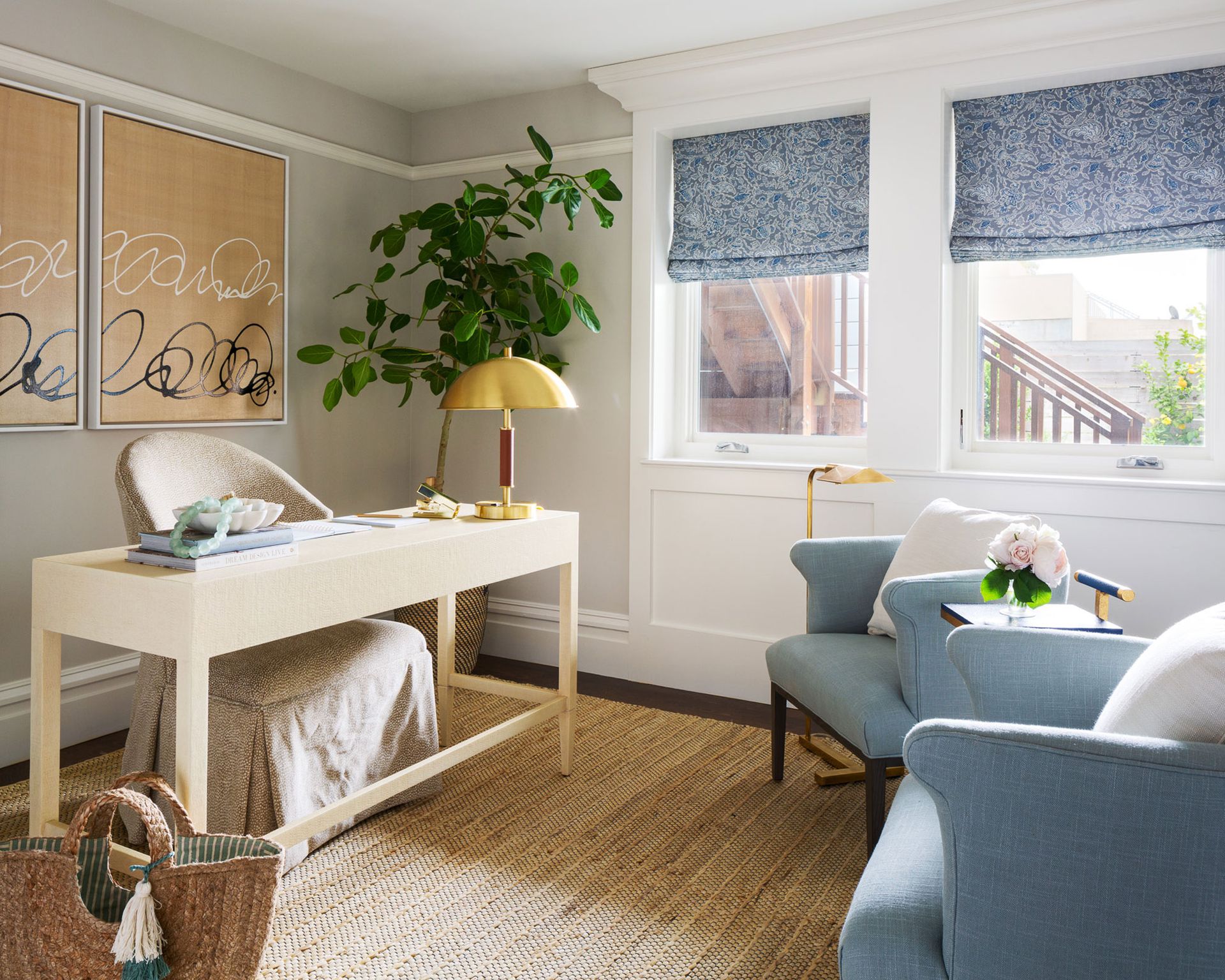 'While a white rug may look chic and stylish, it's also very difficult to keep clean. A white rug will show every little stain or spot, and it's not very forgiving when it comes to spills or dirt. Instead, opt for an off-white or beige color that will still give you the light and airy look you want – but won't be as high-maintenance,' advises interior designer, Erica Davis.
Neutral shades are wonderful choice for rugs, as they can seamlessly coordinate with a whole host of design styles and color schemes, but instead of choosing an impractical white, opt for a more earthy, grounding shade such as beige with a beautiful jute or sisal rug design, as shown in this stylish home office, designed by Margaret Ash Design.
Headquartered in Palm Beach County, Eralyn Interiors was founded by energetic and collaborative mother-daughter duo, Laurie Davis and Erica Davis. Both have been recognized for their interiors that stand the test of time while celebrating the grace, ease, and sophistication of their Floridian heritage and roots.
2. Choose a warm gray over black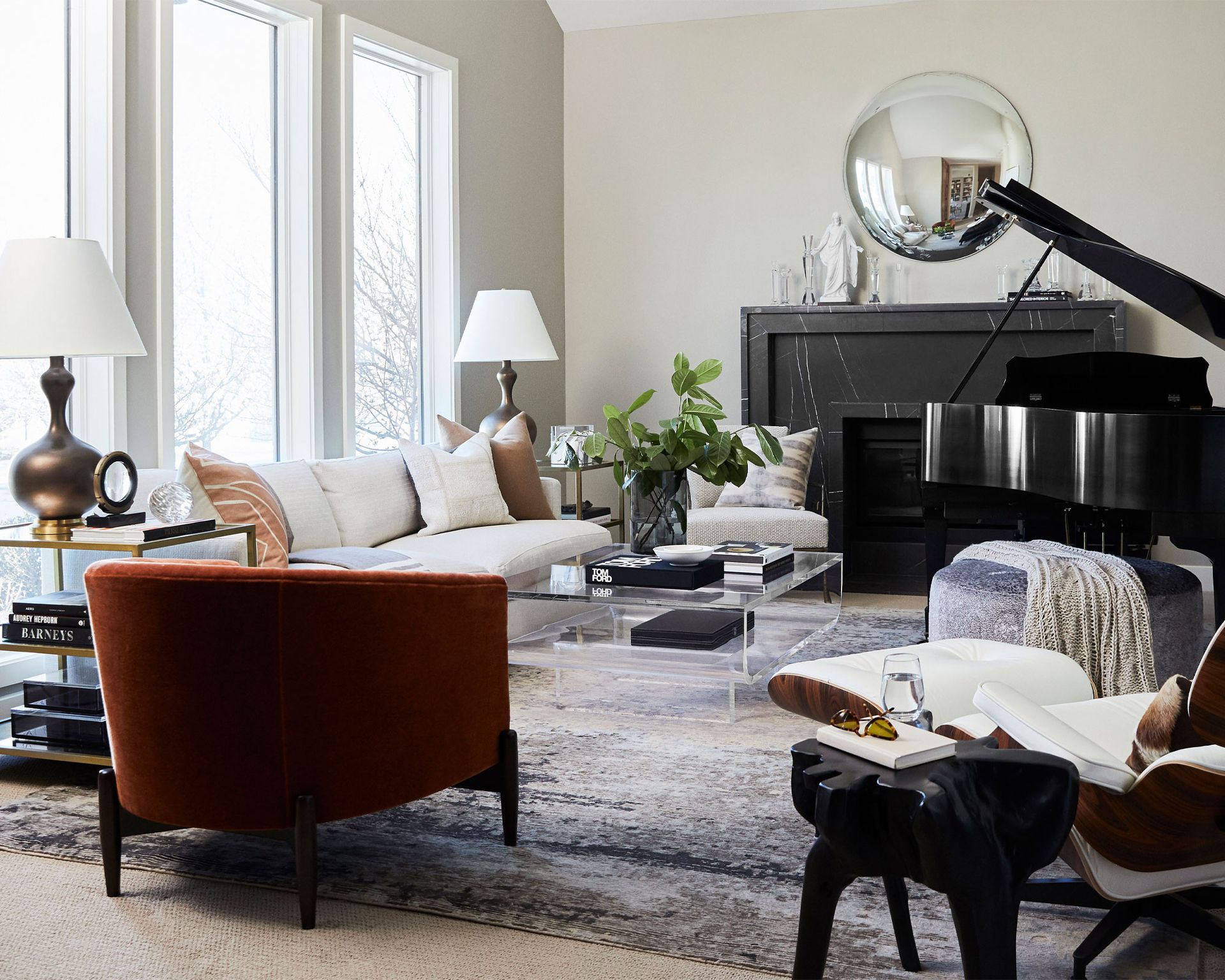 Recent color trends have shown many of us are moving away from cooler tones in favor of more warming and inviting shades, with grounding neutrals, such as brown and beige, being used instead of black and gray.
For the perfect mix of light and dark, instead of choosing a harsh black rug, opt for a warm beige-gray design, instead. This color will still establish a darker accent, but will feel more cozy and homey over a cooler, dark gray or black.
Of course, black room ideas will always prove timeless and wonderfully sophisticated, and if you're thinking of considering a black rug for your space, ensure to choose a design rich in tactile texture, or one that embraces a secondary accent color, as this will add greater depth and help the color feel less intense.
As interior designer Dan Mazzarini advises, 'black rugs act as a base that sets up a dramatic and impactful foundation for your furniture. When choosing a black rug it's good to go with options with texture or pattern. Look for either a barber pole yarn or a woven rug – anything like that is going to go the distance in hiding things like pet hair.'
Dan Mazzarini is an award-winning interior designer, principle director at BHDM Design and founder of Archive by Dan Mazzarini. With an extensive portfolio of residential projects across the US, Dan has also worked with a number of renowned brands such as the Harvard Club of New York, Google, Ralph Lauren, Kate Spade, and Calvin Klein.
3. Switch a block-color rug for one with tonal variation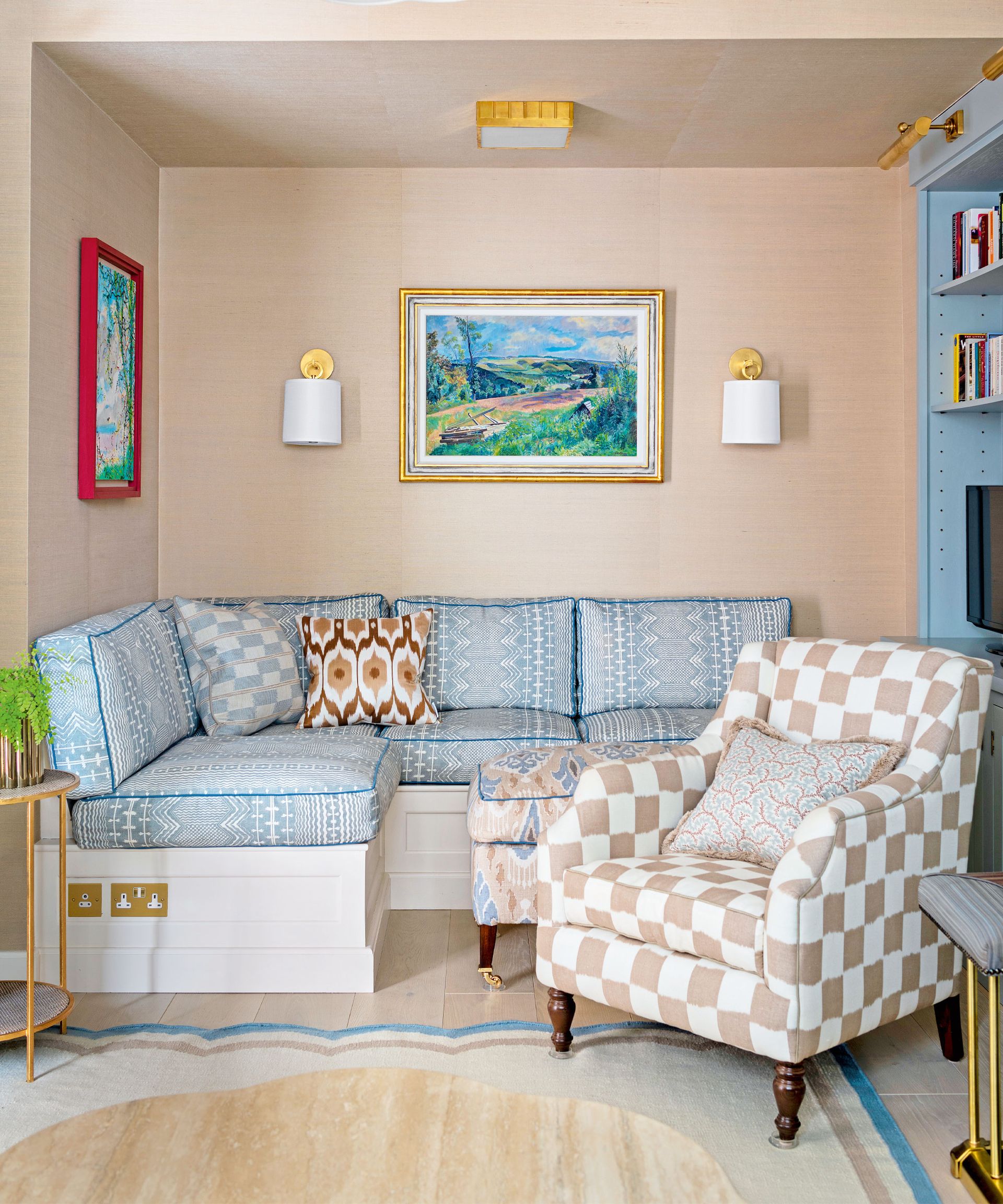 Interior designer Kristyn Harvey says, 'My main rule of thumb for rugs is avoiding machine made, block-colored rugs, as these solid-colored designs can make a room seem one dimensional and less luxurious.
'I try to find rugs with tonal color variation and textures – even if the overall rug is beige or black – with this mix happening naturally in hand knotted rugs and rugs made of natural fibers like jute.'
A rug not only adds soft texture and comfort underfoot, it is chance to make an eye-catching design feature and focal point in a space, and choosing a design rich with color variation and texture will only help a room feel more stylish and visually interesting.
As interior designer, Sarah Barnard says, 'Rugs are increasingly doubling as works of art in many homes, with a focus on more unique and illustrative designs, shapes, and palettes. Many of these statement rugs include more saturated, vivid colors, contributing to the rugs as the room's focal point.'
However, remember that when working with a extensive palette of colors, that balance is always key. 'Rugs with too many colors can be distracting and take away from the rest of your décor. Instead, choose rugs with a few key colors that complement your existing color scheme,' advises interior designer, Erica Davis.
Kristyn Harvey is founder of Kristyn Harvey Interiors, a residential design firm specializing in home renovations and furnishings based in San Diego, California. Kristyn's philosophy is to compose efficient home spaces that also feel like a breath of fresh air, and she is known for creating light filled rooms, filled with warm natural textures.
Santa Monica-based interior designer, Sarah Barnard is an accredited designer and creator of interior environments that support mental, physical and emotional wellbeing.
4. Opt for bold, bright shades over dull mid-tones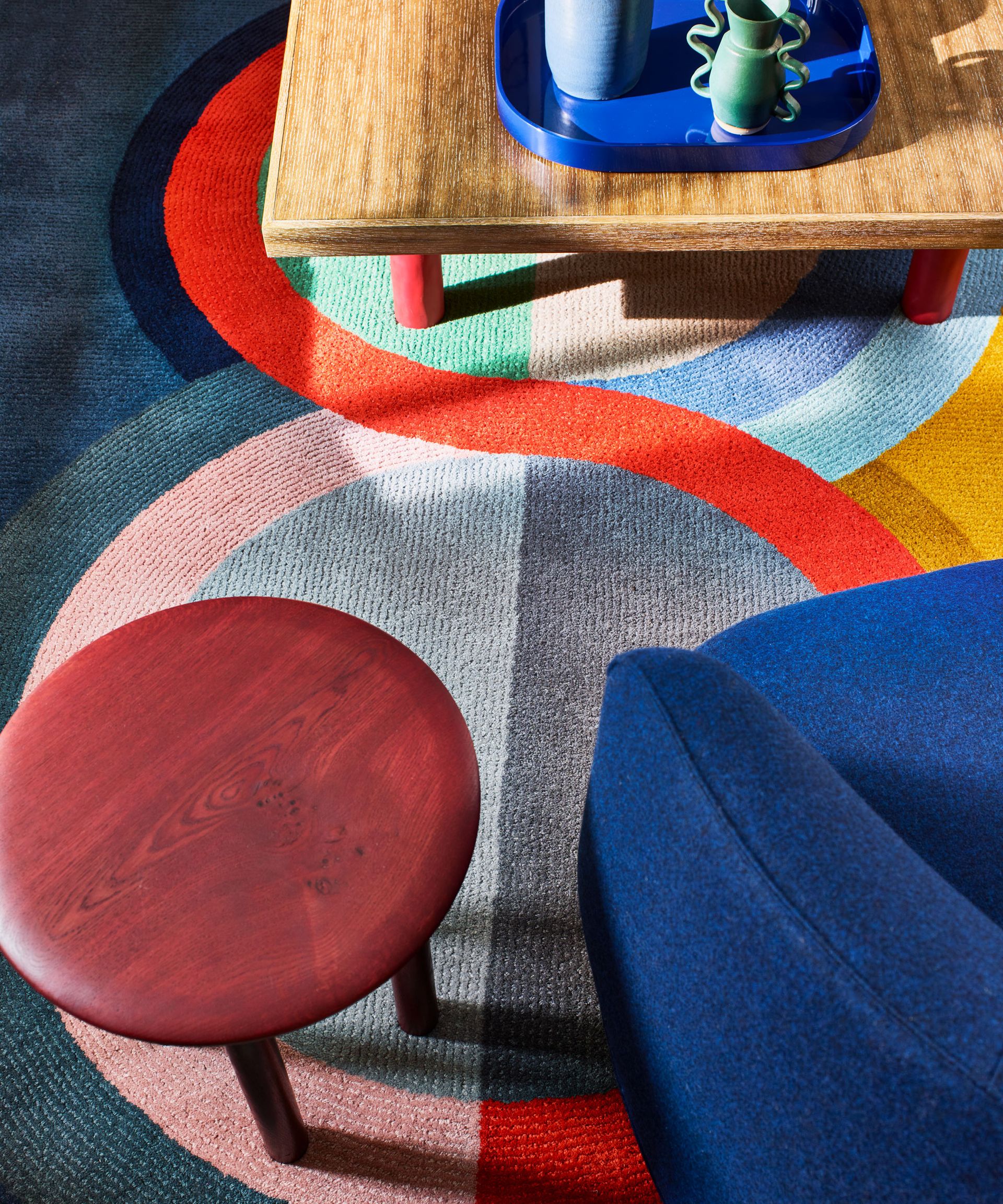 'Recently, rugs have been taking a stronger stance on color, whether committing to a more neutral, earthy palette or leaning towards more bright, saturated colors. Many rugs that have previously felt like the best of both worlds are fading out of favor, with more mid-tone primaries like navy or deeper red hues taking a back seat.
Like with any shifting trends, our homes should be about our personal preferences and personalities, so if a color or style brings the most joy, it's always worth incorporating into the home space,' says interior designer, Sarah Barnard.
If you're wanting to embrace colorful room ideas but are holding off putting a bright shade on the walls, be clever and creative with your use of accessories – a colorful rug can bring just as much energy and character as paint ideas. Instead of using color half-heartedly, be bold and adventurous and embrace the stylish design potential of a stand-out rug.
5. Avoid colors that match your walls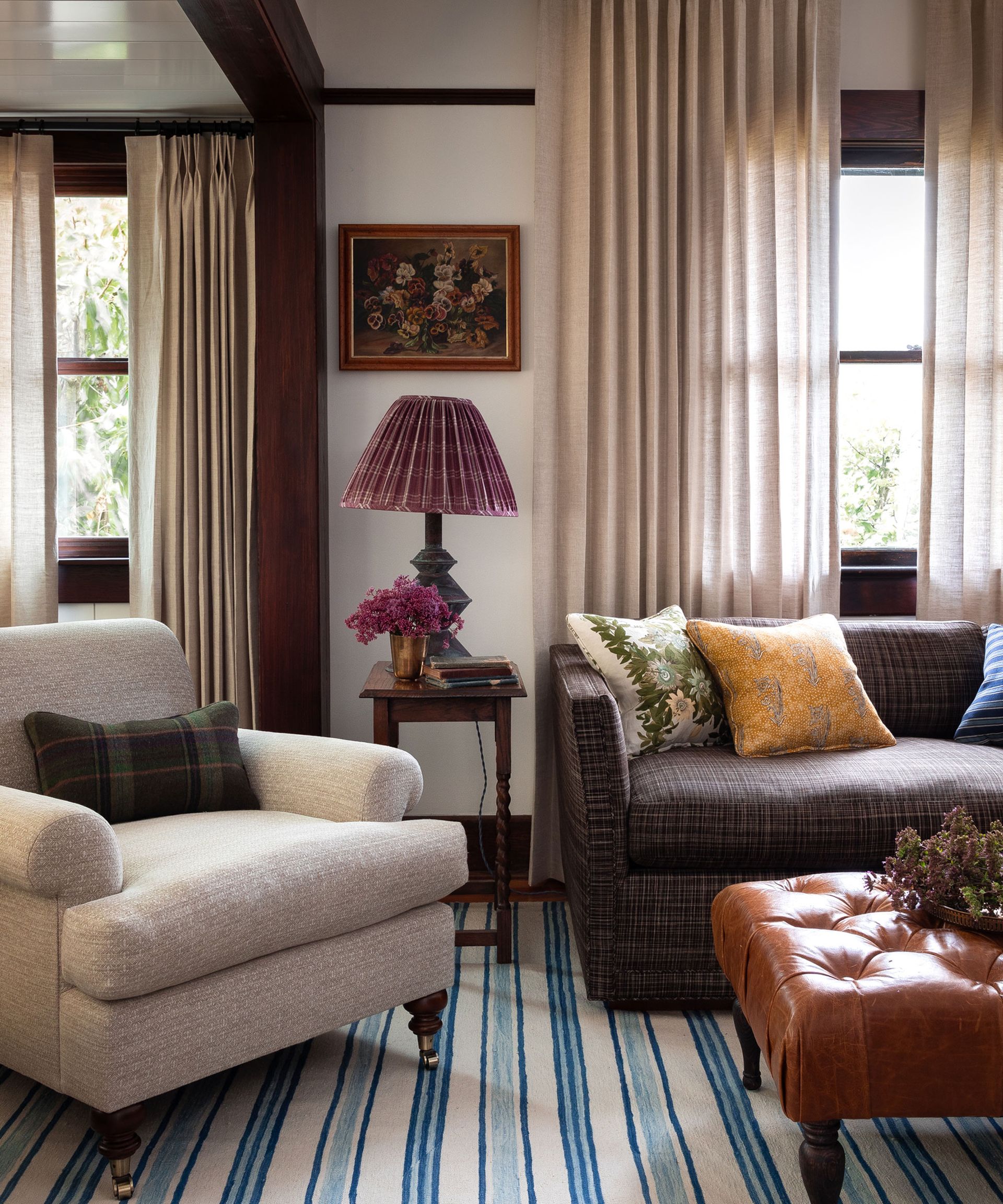 Emily Yeates, principal designer at Urban Revival says, 'The number one rule in design is there are no rules, however, there will always be general guidelines you can follow to expect a great outcome. I prefer to pick colorways with considerable contrast between the flooring and walls, and the flooring and furniture.'
A rug that coordinates with the color of your walls can, of course, create a cohesive and united design scheme – but rugs are the perfect tool for establishing a unique point of difference in a room; and creating these thoughtful moments of contrast will only help your design to feel more unique well-thought through.
Phoenix-based interior designer, Emily Yeates, is the principal designer & CEO of interior design firm, Urban Revival. Through her work she has created partnerships with developers, builders and homeowners by perfecting her designs and being a celebrated leader in the design industry – recognized as one of the 'best of the west' designers.
6. Ditch an overbearing red for a pretty pink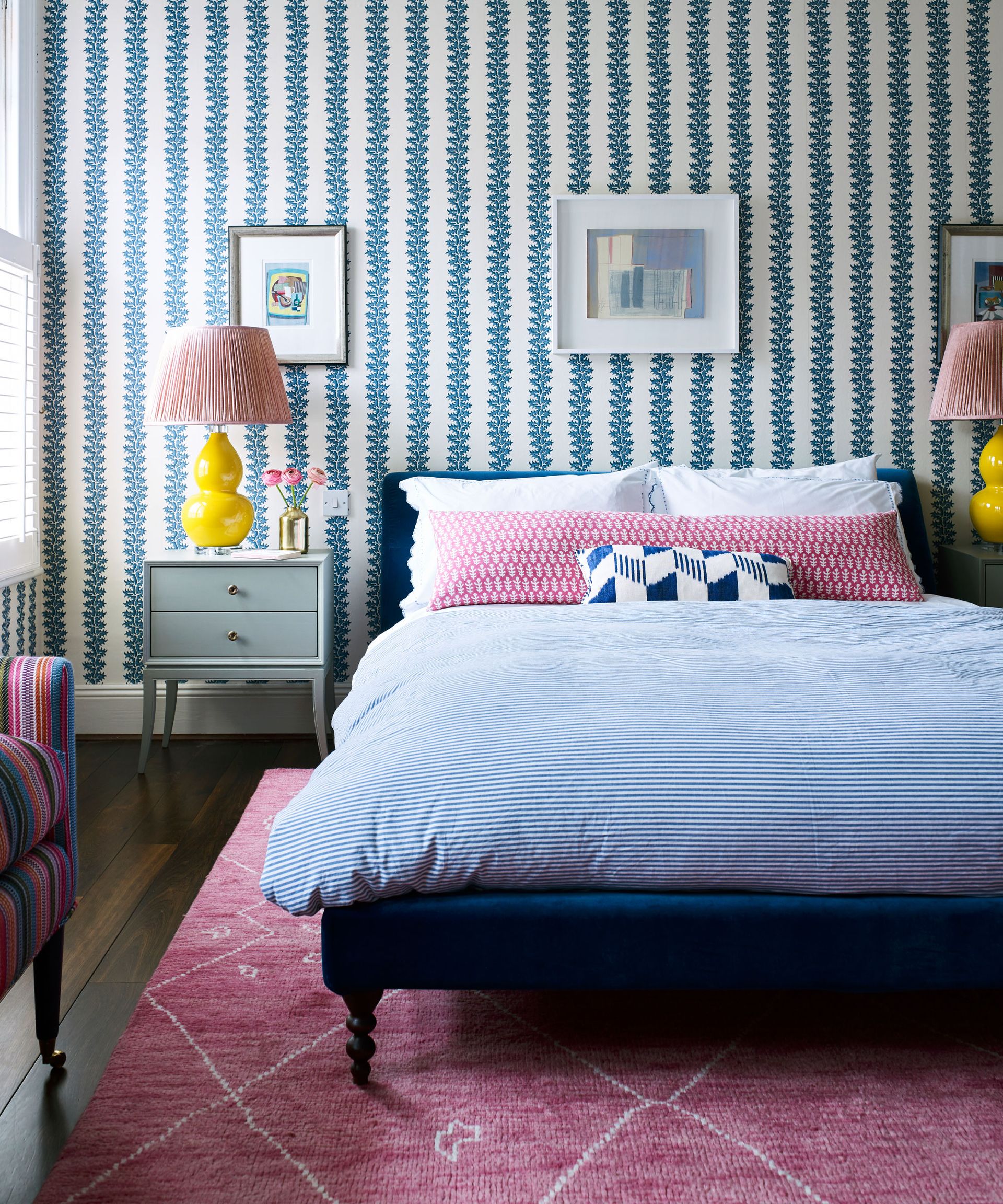 As beautiful and bold as red room ideas can be, decorating with this shade often proves to be more stressful and intense than calming and inviting – especially when used in an expansive way across flooring.
Derin Dündar, founder of Merak Rugs comments, 'colors that are too dark or intense can make a room appear small and heavy. For instance, the color red can be challenging to use in large amounts as it tends to dominate a space. Surprisingly, as a vintage rug collector/dealer, I am not fond of strong colors and try to avoid reds as much as possible.'
If you're looking for a similar color to red for your rug ideas, pink can offer just as much vibrancy and warmth – but in a more subtle way. As shown in this blue bedroom by UK-based interior designer, Jessica Buckley, the pink and yellow accents perfectly balance out the cool blue tones.
We explore red as the most stressful color in our dedicated feature.
After years of traveling for his career in the fashion industry, Derin's life-long love for culture and his discerning eye for art and design in all forms led him to launch Merak Rugs. Based in Istanbul, Derin travels the world in search of one-of-a-kind handcrafted rugs.
Shop our top rug picks
FAQs
How do I know what color rug to choose?
'Choosing the right rug color can be a difficult task as there are so many styles and options available today.
Consider factors like the style and color scheme of your space, and the functionality – such as, do you want a rug made with high-performance fabric? Or, do you have an active family with kids or pets where washable rugs could be a lifesaver? Or the choice between a solid or patterned rug.
'It's always best to consider your lifestyle and the amount of foot traffic the room may see and work your way from there,' advises Rasha Rizwan, interior designer at Mackenzie Collier Interiors.
---
'When choosing colors for rugs, always consider the factors like the size of the rooms, dark color rugs tend to make a room feel smaller and more cramped, for example, as well as taking into account the patterns being used on the rest of your furniture and accessories.
Additionally, if the room has a lot of colors and patterns going on, it's safer to go with a textured rug of a solid color, or a neutral rug that blends well with the room,' says interior designer, Rasha Rizwan.
Sign up to the Homes & Gardens newsletter
Decor Ideas. Project Inspiration. Expert Advice. Delivered to your inbox.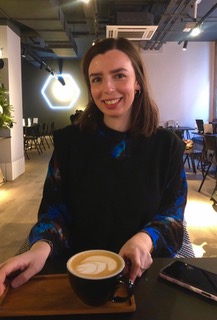 Zara joined Homes & Gardens in February 2022 as a Content Editor. After studying English Literature at University, she worked as an Ecommerce Website Editor, Content Writer and Buying Intern at multiple independent businesses within the luxury retail and lifestyle sectors. Her role at Homes & Gardens unites her love, experience and passion for the world of design and desire to create inspiring written content. She enjoys nothing more than discovering new trends, brands and products, whether that be in fashion, interior design or lifestyle.