Are you making these critical design mistakes in your small home office? Experts reveal 7 they always avoid
Want to know what's wrong with your workspace? Experts reveal the top 7 design mistakes we're making in our small spaces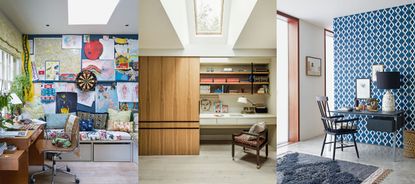 (Image credit: James Merrell | One Represents, Mel Yates | Future)
Sign up to the Homes & Gardens newsletter
Decor Ideas. Project Inspiration. Expert Advice. Delivered to your inbox.
Thank you for signing up to Homes & Gardens. You will receive a verification email shortly.
There was a problem. Please refresh the page and try again.
Over the last few years, our homes have had to cleverly evolve to cater to working from home, with whole rooms and cozy corners transformed into dedicated home offices and workspaces.
As much as many of us enjoy working from home, it can often have its challenges – especially if you are working in a small home office.
From uncomfortable furniture that provides no support, to a lack of storage and no practical lighting, designing a home office takes careful planning, and avoiding these small home office mistakes will help you on your way to a successful and smart small office design.
7 small home office mistakes to avoid
Below, we will guide you through the top small home office mistakes, and what you can do instead to create the perfect home working space that is comfortable, functional, and fitting with the rest of your scheme.
1. Uncomfortable furniture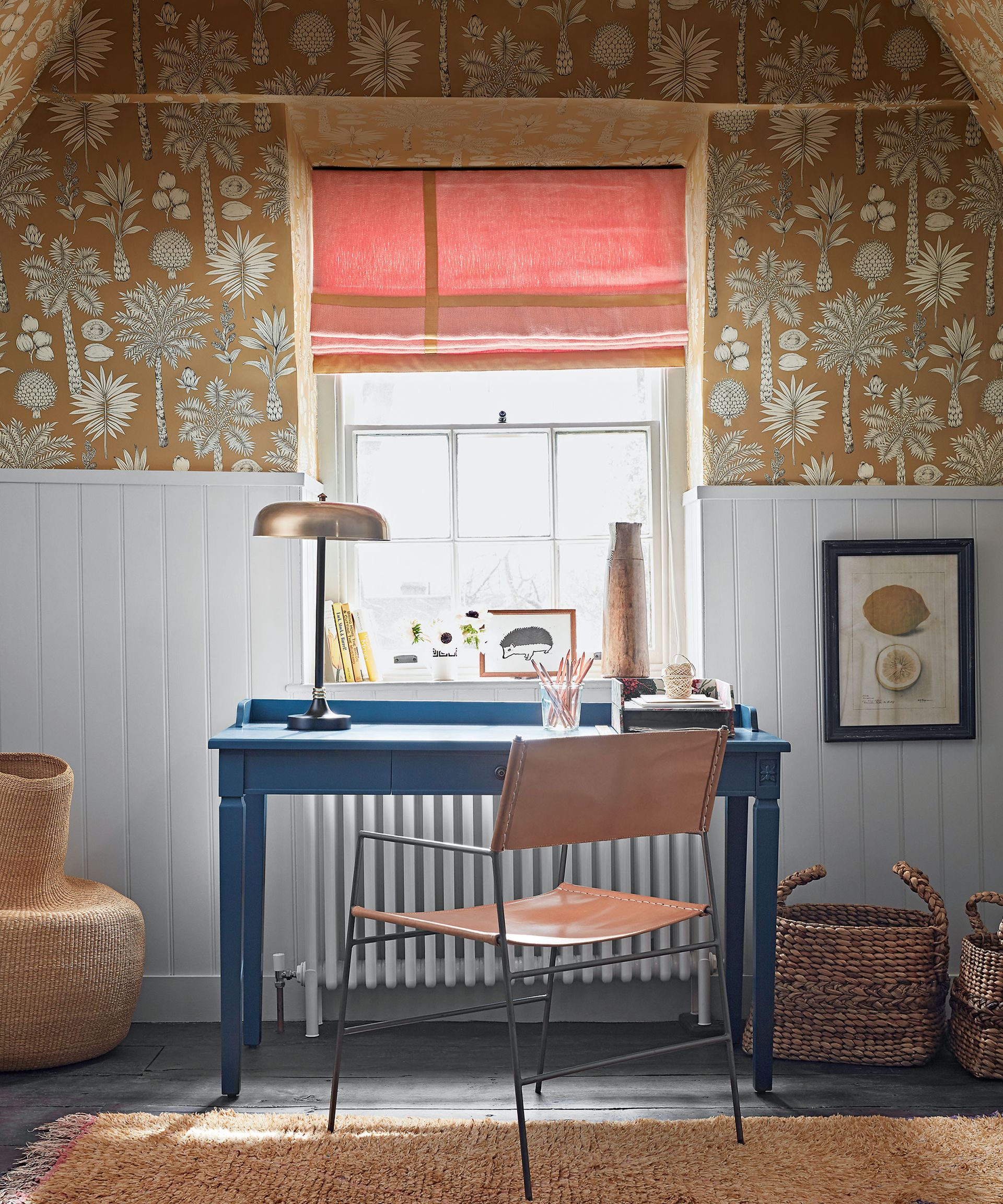 A home office is somewhere that many of us spend hours in each day, and prioritizing comfortable furniture is essential so you have the right ergonomic support and set-up when working.
From a desk that is too small, to not investing in a proper office chair, just because your office is on the small side, it doesn't mean you should compromise on quality.
Buying office furniture that is oversized will make your space feel cramped and designs that are too small will not provide you with the comfort or space that you need when sitting and working for long periods of time.
To avoid these small home office mistakes, you will need to find comfortable, clever and compact pieces that keep your body in a healthy and supportive position – avoid stools or tiny desks!
Multi-functional furniture is also a great option to consider for a small space, for example, a desk in an office in a bedroom can also double up as a bedroom vanity – explore home office desk ideas for some further inspiration.
2. Ignoring the importance of good lighting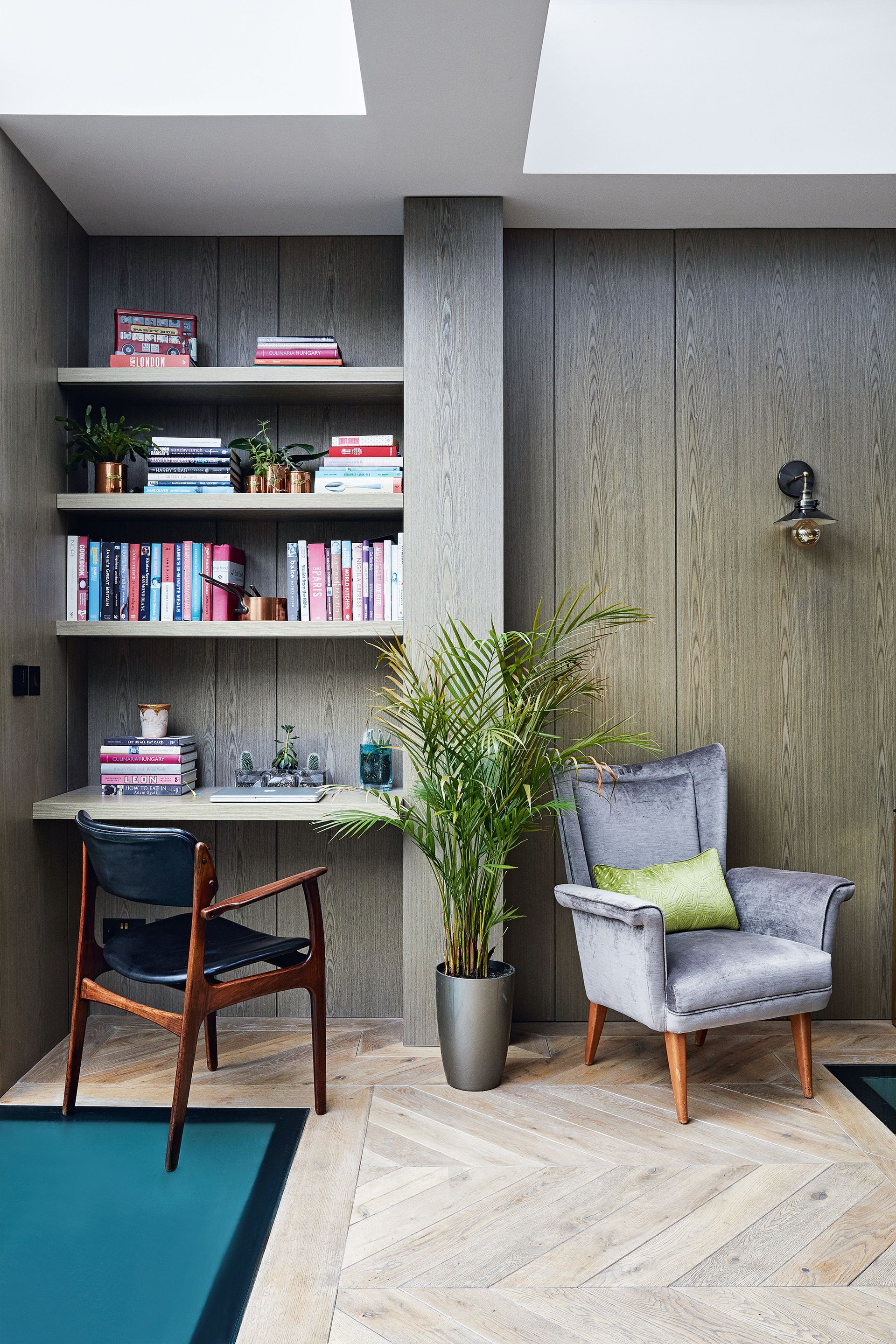 Philipp Nagel, director at Neatsmith says, 'within a home office ensure as much natural light as possible can flood into the room without disturbing the screen. Along with this, a combination of functional recessed LEDs and a reading lamp to supplement is a smart way to decorate.
To brighten up a small home office, as well as LEDs and other lighting, use glass shelves instead of wood and mirrored back panels where appropriate. These open the space and reflect light in the room, really helping to brighten a room as well as make it feel more capacious.'
Lighting is one of the most important aspects to consider when designing a scheme for any room, and for a small home office, having the right home office lighting is key for creating a productive and comfortable working environment.
From positioning a desk in front of a window to bring the outside in, to using a combination of wall lamps and desk lamps with adjustable arms, ignoring the importance of having good lighting will only create a workspace that feels dark and that will affect your mood and energy levels – not ideal for work!
Niki Wright, co-founder of lights&lamps also advises, 'generally speaking, cool white or even daylight bulbs are really good for high task or workspace areas where there is no natural light.'
3. Not enough storage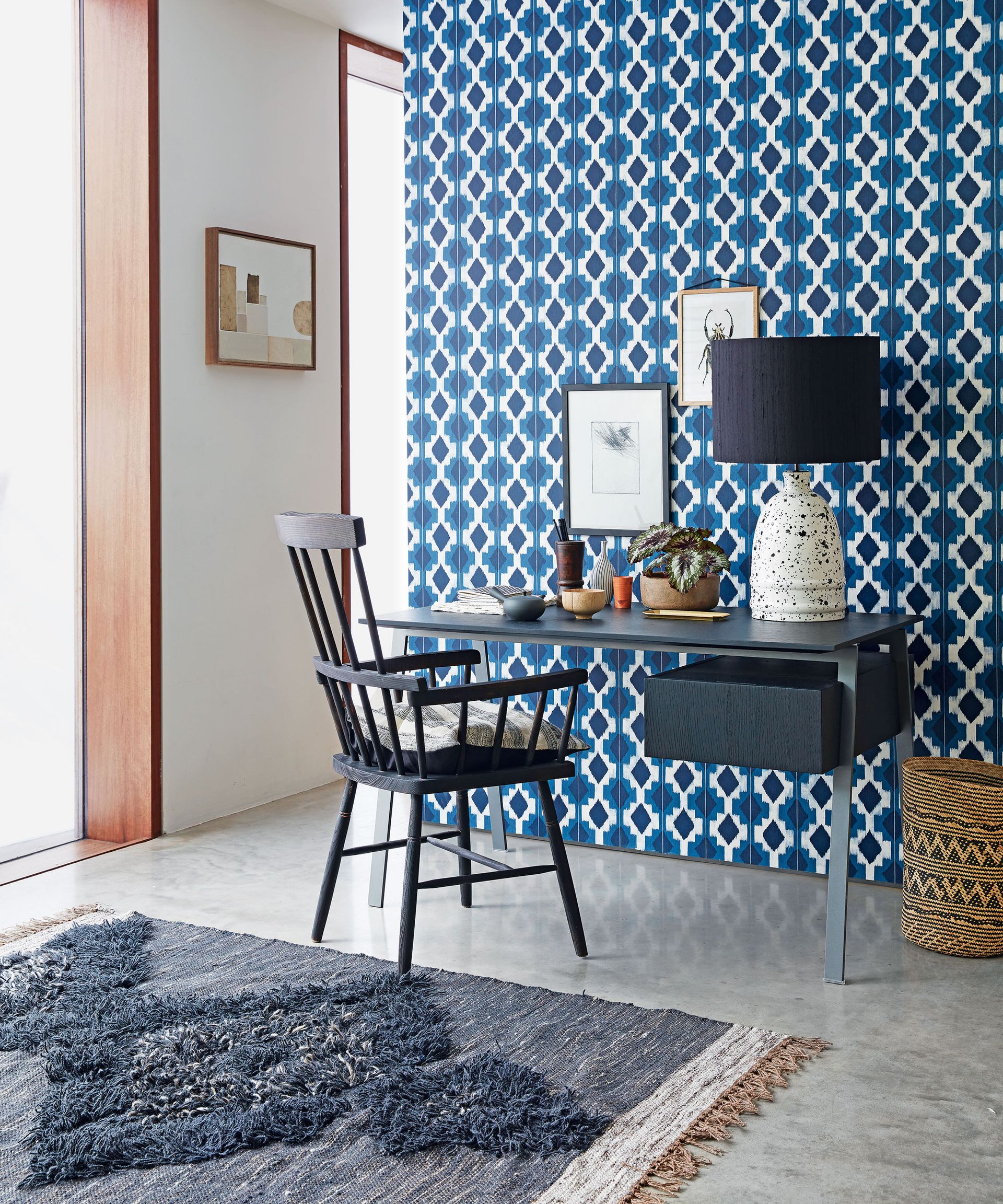 'To maximize storage in an existing office, time spent going through exactly what use you will have for the space is key. A lawyer working from home will have different requirements for a musician's space for example, so work out the physical requirements e.g., screens, charging points, camera positions, filing type, and bookshelf depth and make your design work with the available space you have,' says Philipp Nagel from Neatsmith.
From notepads to printers, books to pens and paper, there are many objects we use when working from home, and the right home office storage can not only help your space feel neat and tidy, helping you to avoid the small home office mistake of having an unorganized and messy space.
Peter Erlandsson, co-owner at String Furniture says, 'generally speaking, in a narrow space, you should make use of the height and wall spaces as much as possible, and modular shelving can be a great option to consider as you can add more or change it around at any time.'
The right storage can also be used to help zone a small home office, offering a degree of privacy, as Martin Waller, founder of Andrew Martin says, 'open furniture, such as cabinets, bookcases, or shelving can be used to create different zones, without making the space feel closed in.'
5. A lack of color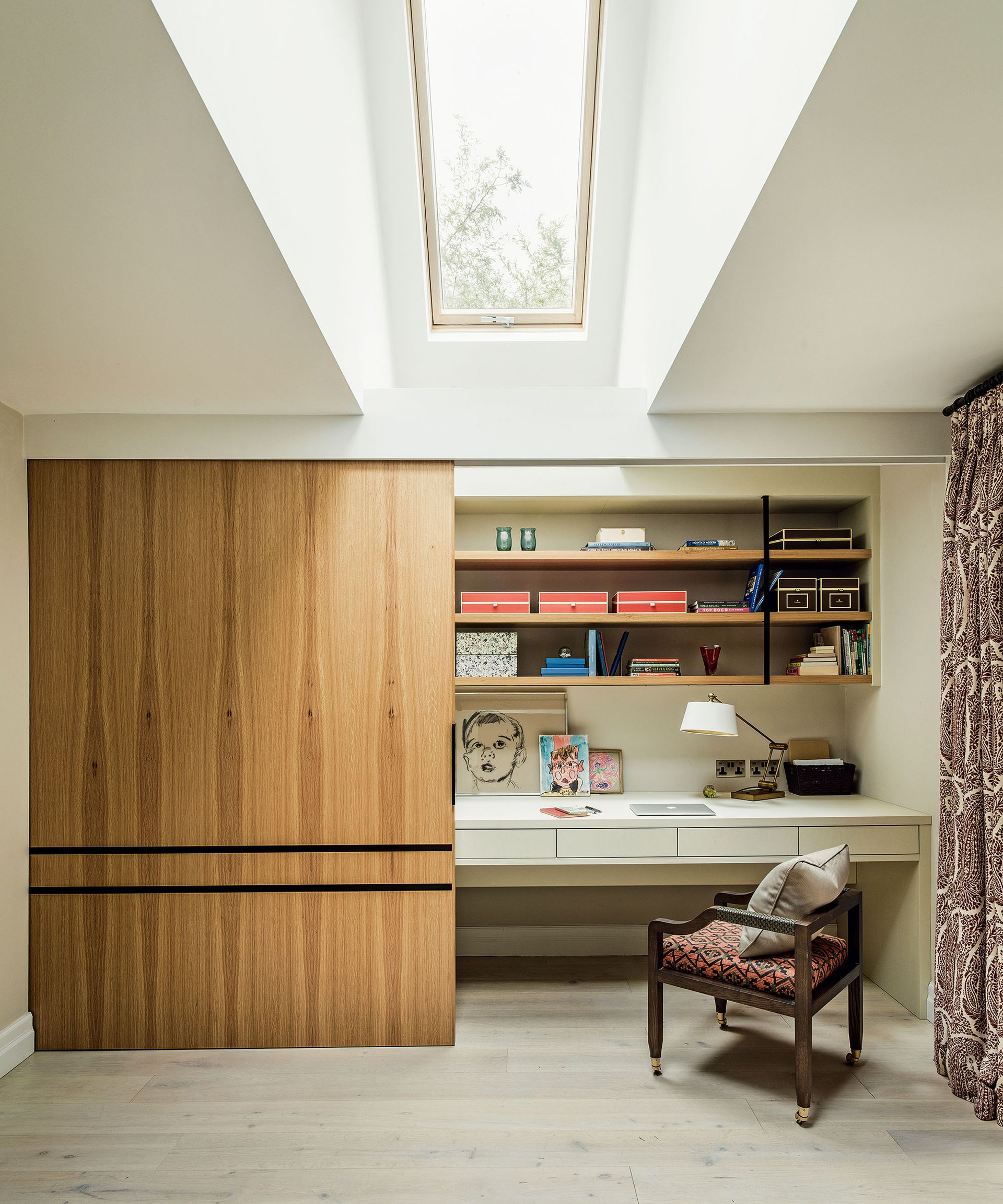 A small home office is a perfect place to go all out with a stylish and colorful design. Interior designers often use the smallest rooms in the home to create the most magnificent, and maximalist of designs, and as a home office is a place where we spend a great deal of time, it pays to create a stylish and characterful space that brings you joy each day.
As interior designer Brianna Untener of Brianna Scott Interiors says, 'have fun with your home office design. It's meant to be a getaway space where you can be most productive. Choose art and decor that inspires you and makes you feel good – plants are also always a great idea in a home office.'
Of course, everyone's style is different, and you may find that a minimalist office creates the perfect working environment for you, however, do not be afraid to go big and bold with paint and wallpaper or to style the space with decorative accessories and ornaments, as this will only make the space feel more personal and connected to the design found in rest of your home.
Office furniture is often seen as utilitarian, bland and boring, but the demand for stylish office furniture has rapidly increased over the last few years as more and more of us work from home, so you will be guaranteed to find furniture designs that can perfectly integrate into the style of your space, start looking at our best places to buy office chairs and best places to buy desks for some inspiration.
6. Not making the most out of awkward spaces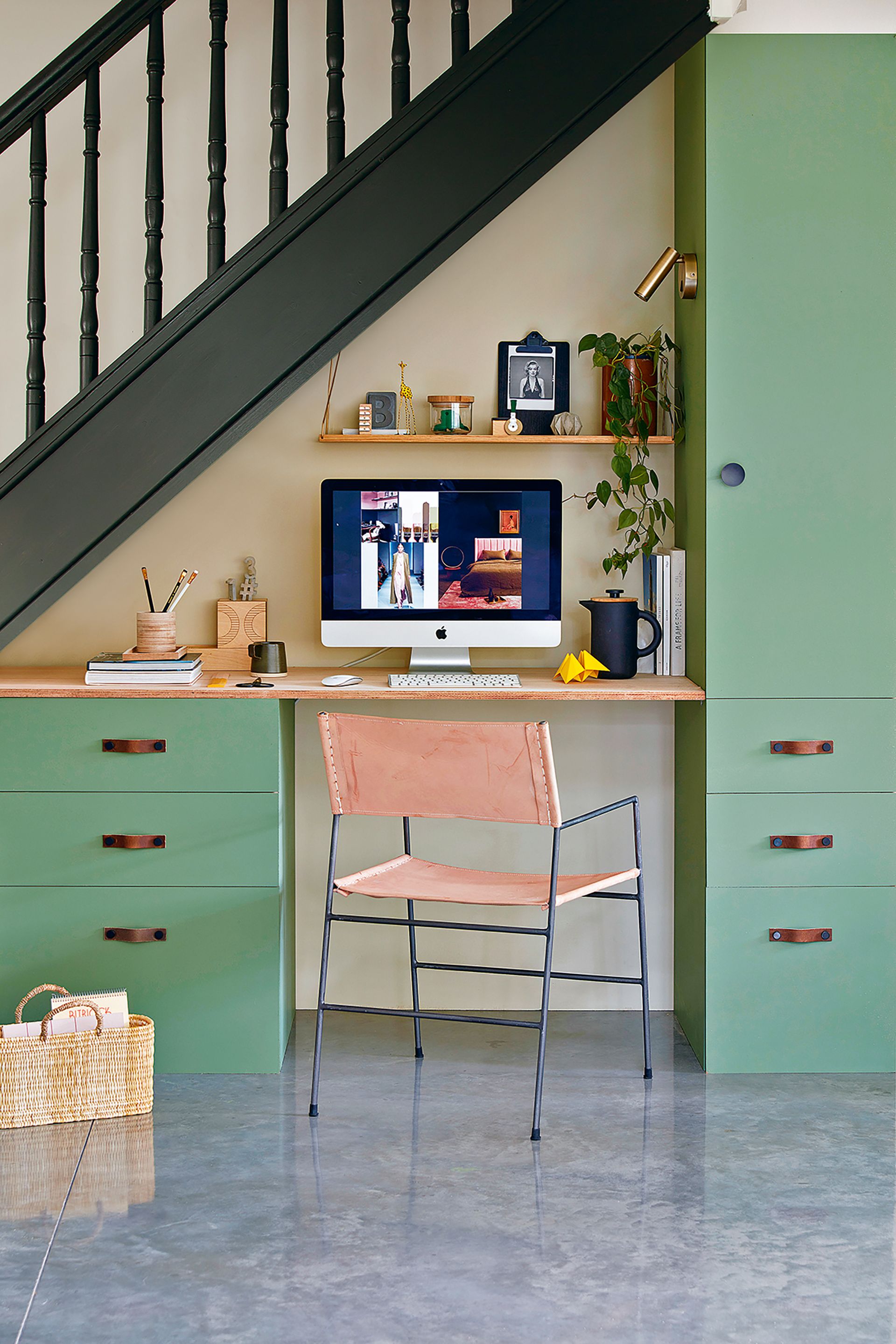 From bedrooms to kitchens and spare rooms, there are no set rules on where your small home office should be, it completely depends on the size and layout of your home, and making the most out of more unusual, awkward spaces can be a great option when choosing the location of a small home office.
'If there is a nook or niche, use it. Make awkward corners a point of interest by adding open shelving and filling with books and accessories,' notes Camilla Clarke, creative director at Albion Nord. '
When deciding on where to place our home office set-up, many of us make the small home office mistake of trying to create a room within a room when there is not enough space. Instead of cluttering your living room or bedroom with office furniture that clearly does not fit, re-evaluate your home office location, and see if there are any other 'wasted space' areas that you can utilize instead.
Peter Erlandsson from String Furniture says, 'if you have space under the stairs, you can design an almost extra small room, with desk, cabinets and shelves,' – an ideal location for a home office.
7. Too much clutter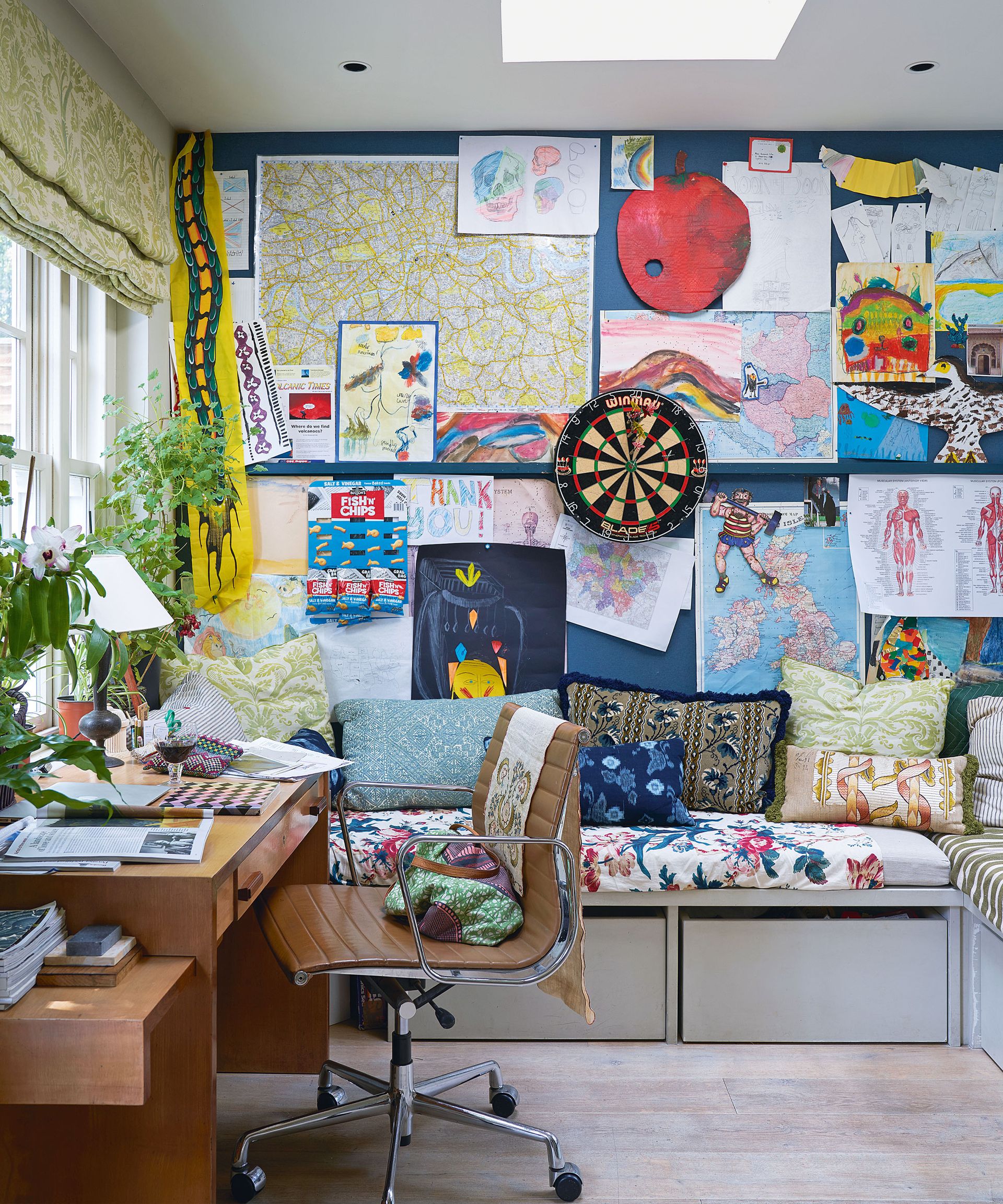 Lisa Sherry, principal of Lisa Sherry Interieurs says, 'let go of the paper trail, laptops are today's file cabinets. Don't clutter your home office with paper or boxy file cabinets, free up surface space and mind space and let your computer do the work.'
Organizing a home office is extremely important, and one of the top small home office mistakes many of us are guilty of is having too much clutter.
Of course, you want to be able to decorate your home office and make it feel more inviting and characterful, but having too much clutter around when working can often serve as a distraction, or leave you without enough space to comfortably sit and work, so be selective with your decorations and think carefully about the essential items you need for work.
How can I get the most out of my small home office?
As we have explored in this piece, there are many things to avoid in order to make the most out of your small home office. Creating a comfortable environment that provides you with enough space to work is key, along with styling the space so it reflects your personality and the rest of the scheme of your home. Do not underestimate the importance of factors such as storage and lighting, as these will only make your work space feel more organized, inviting and efficient.
The five key things to consider when designing a home office include:
Furniture – size, comfort, adaptability
Layout – find the right location for your home office, and give yourself enough space so you're comfortable
Lighting – try to position your office near where there is lots of natural daylight, but also light up the space with practical task lamps
Storage – an essential for storing your work equipment
Personality – get creative with colorful furniture or decorative accessories
Sign up to the Homes & Gardens newsletter
Decor Ideas. Project Inspiration. Expert Advice. Delivered to your inbox.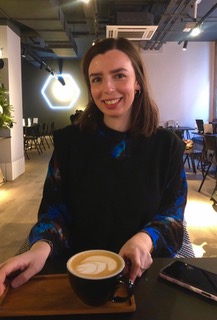 Zara joined Homes & Gardens in February 2022 as a Content Editor. After studying English Literature at University, she worked as an Ecommerce Website Editor, Content Writer and Buying Intern at multiple independent businesses within the luxury retail and lifestyle sectors. Her role at Homes & Gardens unites her love, experience and passion for the world of design and desire to create inspiring written content. She enjoys nothing more than discovering new trends, brands and products, whether that be in fashion, interior design or lifestyle.