Everybody's talking about trailing florals – here's why we love this timeless wallpaper trend
Celebrate the beauty of nature with a stunning trailing floral wallpaper – and learn how best to use this style in the home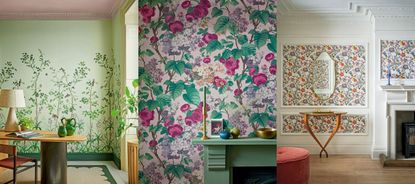 (Image credit: Little Greene | 1838 Wallcoverings, V&A | Osborne & Little)
Whimsical wallpapers featuring ambling branches of flowers are truly captivating and can be used in any room.
A classic wallpaper trend, often used for floral room decor, a trailing floral wallpaper can bring a wonderful sense of movement into space, as well as an eye-catching decoration. Often defined by an intricate, repeated pattern of flowers and leaves, it is a wallpaper design rich with color, shape, and vibrancy.
Although utterly timeless in style, with many designs inspired by prints and patterns of the past, it is fair to say that this style of wallpaper is definitely having something of a moment, with many of us increasingly inspired by the enduring beauty of nature in our interiors.
The trailing florals wallpaper trend
'In 2023, we're going to see wonderfully whimsical and immersive wallpapers transform rooms into escapist sanctuaries filled with mountains, temples, clouds and dense foliage,' says Ed O'Donnell, co-founder of Angel O'Donnell.
We delve into trailing floral wallpaper ideas and explore some of our favorite designs and how best to use and style them in your interior space.
Co-founder of London-based interior design studio Angel O'Donnell with Richard Angel, Ed has a career in design spanning 25 years. He has crafted award-winning interiors for an exciting range of projects – everything from country mansions to Madonna's Mayfair townhouse.
1. Look to classic, romantic florals
There is a romantic fairy-tale quality to this colorful, floral design from the 1838 Wallcoverings' V&A collection.
Based on a Victorian furnishing fabric held at the V&A Archive, the foliage in the original print is dense, but for this modernized reworking, the flowers have been spread out.
To use a classic floral pattern, introduce current design tweaks to prevent your room from feeling too twee – for example, use paint ideas on your woodwork in a strong color. As shown here, the fireplace has been painted in Glass V green by Paint & Paper Library, with this shade of green picked out from the lightest hue of the leaves; establishing a truly colorful and cohesive design.
As Ruth Mottershead, creative director at Little Greene and Paint & Paper Library further explains, 'the past few years have dramatically changed people's approach to their interiors and we are seeing consumers really finding their own sense of color confidence with paint in their homes. There is a move away from white woodwork and skirting in favor of contrasting or coordinating colors on woodwork. This can be seen in the use of wallpapers too, with tonal designs being paired with coordinating colors to create cohesive immersive interiors.'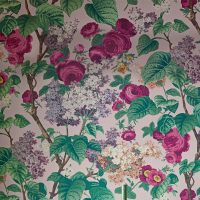 1838 Wallcoverings V&A Floribunda Wallpaper in Blush | $364.00 per roll at Wallpaper Direct
From the 1838 Wallcoverings V&A Decorative Papers Wallpaper Collection, the Floribunda wallpaper in Blush showcases beautiful branches of lilac and rose trees.
Ruth Mottershead is the creative director of the family-run paint and wallpaper businesses Little Greene and Paint & Paper Library, which specialize in creating luxurious paint and wallpaper that represent 300 years of decorative history.
2. Opt for a deep and dark design
Deep and dark wallpapers work beautifully in period properties if you restrict the presence of other patterns. This allows the wallpaper to remain the star attraction but also ensures your space looks contemporary.
This living room has been decorated with a beautiful trailing floral design, Botanical Atlas, by Liberty.
'Liberty has always appealed to the heart and spirit of the collector – those with a passion for unique pieces that transcend the generations. Botanical Atlas is dedicated to those enthusiasts, past and present,' says Genevieve Bennett, head of design at Liberty Interiors.
To prevent living room wallpaper ideas from seeming too cold in this space, lush velvet upholstery in a block color has been introduced, with the tactility of the material helping to create an inviting yet moody living room. The glossy, lacquered occasional furniture in rich red also adds warmth and a unique element of contrast with the traditional wallpaper design.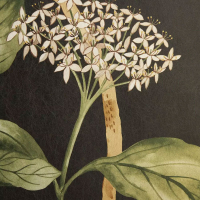 Magical Plants Wallpaper in Jade | $170 at Liberty
Part of the new Liberty Interiors collection, Botanical Atlas, the Magical Plants design features an exquisite illustration of a majestic trailing garden, filled with magnolias, wisteria, lily of the valley, and other assorted florals adorned on leafy branches.
Genevieve Bennett is an award-winning London-based designer and creative director. She is the Head of Design at Liberty Interiors and a widely respected, in-demand creative partner for prestigious international brands. She has collaborated with leading interior designers and brands including Wedgwood, Mulberry, Knoll, and Heals.
3. Choose a more delicate, dainty pattern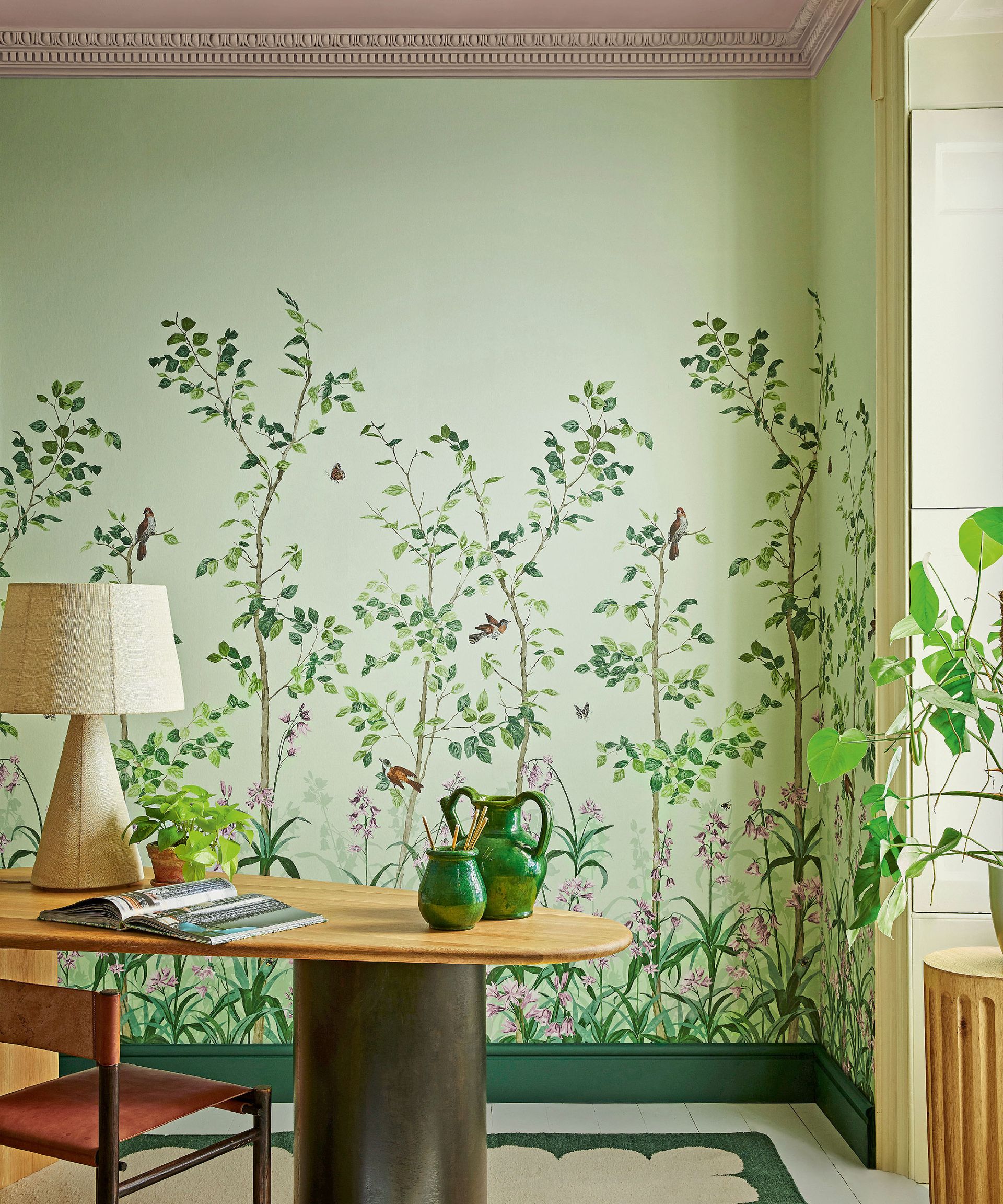 Not all trailing floral wallpaper designs need to be big and bold, there are many delicate and dainty designs to choose from too; ideal for a more relaxed style.
Here, the fine branches of the Little Greene Bird & Bluebell Wallpaper appear as if they are clambering up to the ceiling, while the stems seem to be moving – as if being tossed from side to side in a light spring breeze. Bringing the scene back to reality, a dark green has been used on woodwork to ground the decoration. While a paint color in a lighter hue is used for the cornice and ceiling paint ideas – the general rule is dark colors always work best beneath and light above.
The use of more natural, grounding color palettes and botanical patterns bring the beauty of the outdoors into this home office space, creating a stand-out design that feels wonderfully relaxing and unique.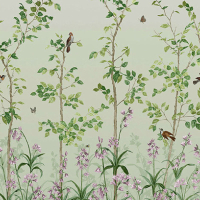 Little Greene Bird & Bluebell Wallpaper in Pea Green | $414 10m roll at Wallpaper Direct
Part of Little Greene's National Trust wallpaper collection, their Bird & Bluebell design was created from wallpaper fragments discovered at Felbrigg Hall in Norfolk, UK.
4. Create an enchanting, artistic display
Instead of wallpapering the whole wall, choose to frame sections of wallpaper with sleek paneling, creating an enchanting, decorative display where each wallpapered section will sit like a beautiful work of art.
This feminine Puzzlewood wallpaper by Osborne & Little is perfectly suited to a dressing room space or for bedroom wallpaper ideas. The Puzzlewood design is named after an ancient woodland in the Forest of Dean, with creeping stems adorned with medieval depictions of flower heads.
Its pale background keeps it looking fresh, with the wallpaper within the paneling making sure it does not overpower the room. Using brilliant white paint for the woodwork allows for the wallpaper to truly take center stage, with the contours of the console table and mirror cleverly reflecting the twists and curves of the branches in the wallpaper design.
British interior designer, Matthew Williamson discusses his time working with Osborne & Little. 'In the 7 years I've been working with British wallpaper manufacturer, Osborne & Little, I've discovered new inspirations, methods of production and even innovative ways of using the wallpapers in my design projects. The longstanding collaboration has been a brilliant platform to experiment with pattern, color and visual references from the annals of design history and far-flung wonderlands on a larger scale.'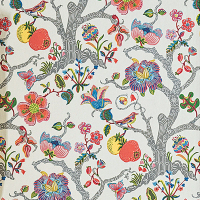 Osborne & Little Puzzlewood Wallpaper in Blossom | $267.00 per roll at Wallpaper Direct
From the Osborne & Little Rhapsody Collection, the Puzzlewood print in Blossom features a bird and a butterfly scene among colorful fruits and flowers that grow along the trailing branches of a tree.
Matthew Williamson is an award-winning, British interior designer known predominantly for his unique use of pattern and color. Alongside his growing residential and commercial design portfolio, Matthew has also launched a series of homeware collections in collaboration with John Lewis, Pooky, Roome London, Obeetee, and more.
5. Embrace a charming, country cottage style
If you're looking to create a charming, rustic country style with country wallpaper ideas, then using a trailing floral wallpaper design is a great way to help achieve this look.
This country bedroom is a beautiful example of how to decorate with pattern. With carefully considered scales of different prints and intensities of color used across the wallpaper, bedding and blinds, the cream wallpaper background, beige carpet and white bedsheets help to break up all the lively design elements, helping the space feel more balanced and calm.
The prints in this scheme are all taken from Sanderson's Arboretum collection, a charming celebration of the English countryside, perfectly suited to a country cottage home.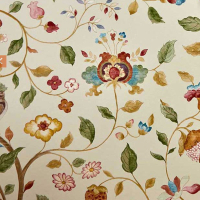 Sanderson Arils Garden in Olive/Mulberry | $272.00 per roll at Wallpaper Direct
Part of the Sanderson Arboretum Wallpaper Collection, Arils Garden in Olive/Mulberry, showcases a colorful bird and floral trailing design.
FAQs
Why choose floral wallpaper?
Floral wallpaper will always prove timeless as it is so wonderfully versatile. From the trailing floral wallpaper trend we have explored in this piece, to modern abstract floral designs and classic ditsy prints, no matter your style, there will always be a floral wallpaper to suit.
Floral wallpaper can also create a wonderful indoor-outdoor feel, enriching space with natural color, shape and beauty.
---
Whether you want to create a statement feature wall or are looking for a more simple and subtle floral pattern, trailing floral wallpaper remains one of the most popular wallpaper styles to embrace in interior design for homes both traditional and contemporary.
Sign up to the Homes & Gardens newsletter
Decor Ideas. Project Inspiration. Expert Advice. Delivered to your inbox.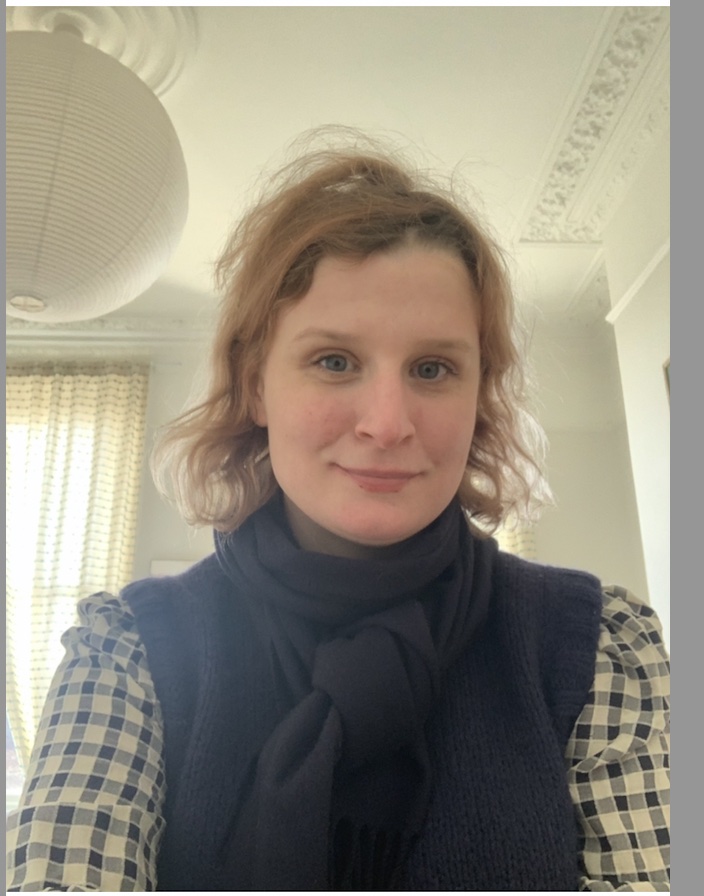 Kiera is a freelance stylist and writer. She has been working in journalism for over a decade. Before embarking on her freelance career, Kiera worked as the Style Editor of ELLE Decoration, the Interiors Editor of House Beautiful, and as Stylist at Homes & Antiques magazine. She loves planning and understanding how a decorating scheme comes together, and has a passion for patterned wallpaper and fabrics.