What are the best dark colors for small rooms? Design experts shed some light
Want to go dark in a small room? We asked the experts for advice on the best dark colors for smaller rooms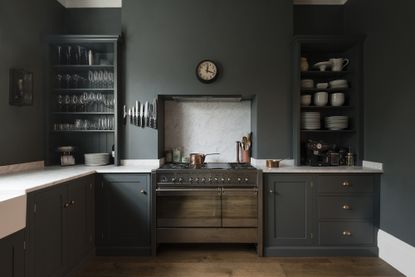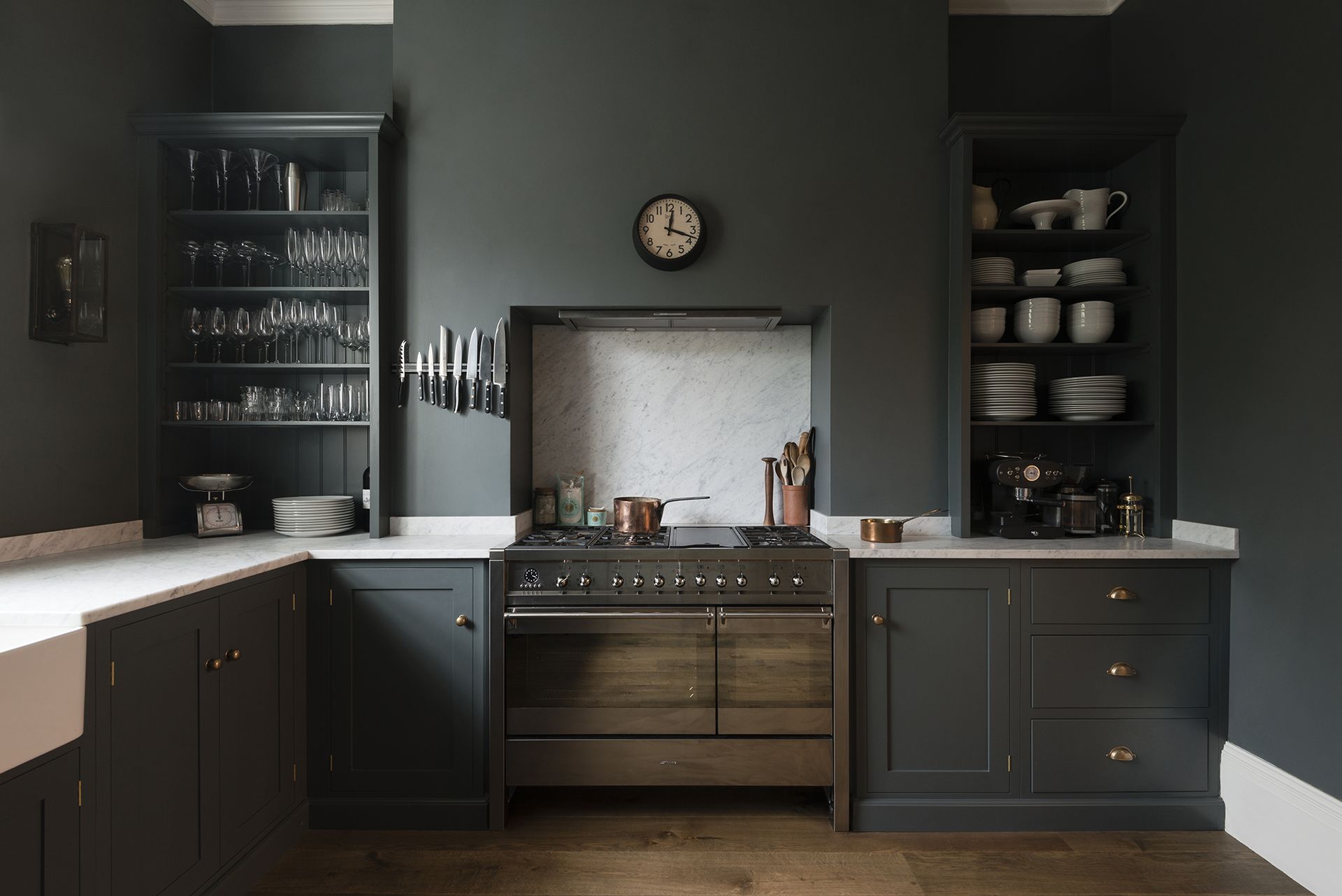 (Image credit: Devol)
If you're about to give a small room a new look and are leaning toward the darker shades of the spectrum, you might be asking: what are the best dark colors for small rooms? There are so many different options for dark colors for small rooms and the choice can be bewildering. To help, we've gathered some great color advice and small room ideas from interiors experts who share their thoughts and tips on the best dark colors for small rooms, plus some of their favorite paint shades.
Let's make it clear from the start, though, we're all going to do our level best to persuade you to move over to the dark side. Choosing a dark color for a small room is a great way to add depth and interest where space is limited, and can create a cozy vibe that stretches way beyond the four walls.
What are the best dark colors for small rooms?
Your room may be small, but it can still make a big impact. Plan your scheme well when you're thinking about how to choose paint colors and it's possible to create a harmonious look full of interest and depth, even in a limited space.
One of the best ways to do this in a small room is by opting to paint the walls in a dark color. This may seem counter-intuitive, in fact, we've lost count of how many times we've been asked the question: can I paint a small room dark? Designer Naomi Astley Clarke is unequivocal: 'Yes absolutely! Don't feel restricted by a neutral palette,' she says. 'You can create a bold statement in a small room with a dark paint scheme. It's a simple and fairly inexpensive way to uplift what might be an otherwise overlooked, underestimated space.'
So what are the best dark colors for small rooms and how come they can look so effective where space is limited?
Paint a small room dark for a dramatic effect
There's something dramatic and intense about dark paint shades that you just don't get from soft pastels, pure whites, and cheerful zingy shades. Interior designer Julia Dempster explains the appeal of the darker tones: 'Dark colors can all be used to create drama and intimacy. If you're feeling adventurous, try Benjamin Moore's Incense Stick, a dark, grayed-out brown that will create a quaint, comfortable vibe. This moody hue pairs well with warm neutrals to create a cozy feel that's perfect for a lounge or TV room.'
Hannah Yeo, Color Marketing & Development manager at paint brand Benjamin Moore, says, 'Dark colors that exude richness and depth can create an intriguing space. Polo Blue, Shadow, and Salamander are some of our most popular dark colors for a small space.'
And as if we needed further encouragement to give dark paint a try in the smaller rooms in our homes, Hannah Yeo adds: 'Explore the endless possibilities with dark colors. From all-black powder rooms to dark navy home office ideas, there are many ways to incorporate dark colors in small spaces. Embrace the dark side and create a one-of-a-kind room in the house.'
Use a dark color to make a small room look bigger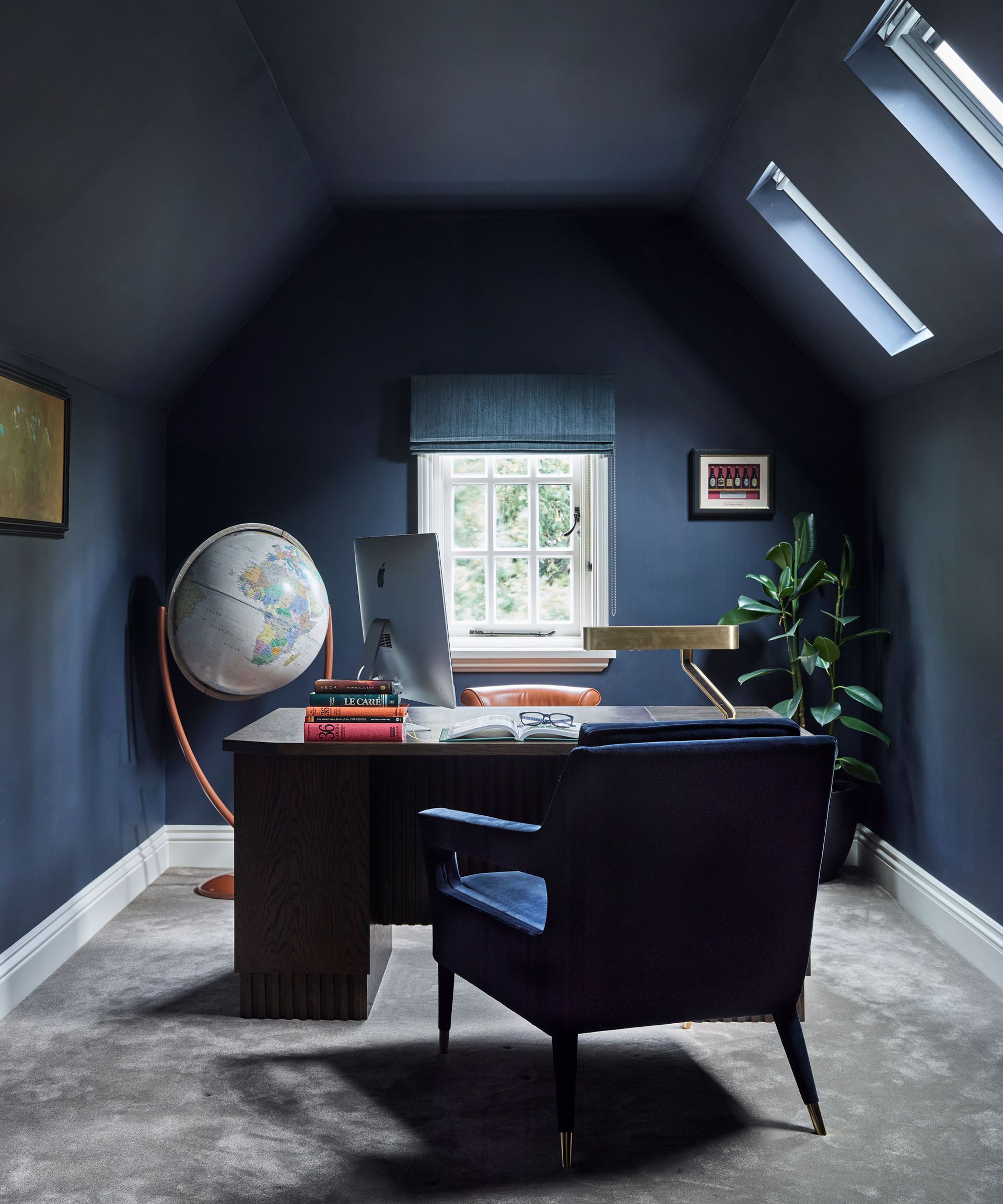 OK, so we've established that dark paint shades can create intense and moody drama in a small space, but how do dark colors make a small room look bigger?
It seems it's all a trick of the light, or rather the dark. Dark colors have a way of blurring the boundaries of a small room, adding extra length and height. Here's what the experts are telling us:
'In contrast to lighter color rooms, dark colors can look sophisticated yet cozy and larger. They blur the edges of the wall, creating an endless space for imagination,' says Hannah Yeo. 'You can also consider extending the wall color to the trim and ceiling. The unity of a single color minimizes the delineation of the surfaces, which instantly makes the room feel bigger and taller.'
Paris-based interior designer Lichelle Silvestry agrees, 'Dark colors may seem intimidating in a small space, however, using dark colors in a small room creates depth,' she explains. 'You visually push away the painted surfaces, adding depth and delivering a sense of expansion, especially as an all-over color for walls, ceilings, and baseboards.'
Indeed, that's exactly what's happening in this attic office space, where a dark, deep shade of blue covers every wall, right up and across the ceiling.
Julia Dempster is a fan of this dark toned blue shade for small rooms, and says: 'For a bolder choice, Farrow & Ball's Hague Blue, is a a rich, velvety blue that makes you feel like you're wrapped in fabric. If you're not willing to paint your walls such a bold color, consider using the shade as an accent, keep the walls neutral but add the color on the trim, it's a beautiful effect and highlights the trim in an unexpected way.'
Discover the benefits of painting a small room dark
What are the benefits of painting a small room dark?
Hannah Yeo of Benjamin Moore thinks the benefits are all about the mood dark colors create.
'A well-designed small space can transform a less desirable room into a jewel box with lasting impression,' says Yeo. 'Dark colors with moody undertones are best in small spaces. The complex undertone evokes a sense of intimacy, creating a sophisticated yet cozy room.
'When designing with dark wall colors, create contrast by bringing in lighter colored accents,' Yeo adds. 'Off-white bedding, cream colored sofas or light pastel accents bring balance to avoid a cave-like room.'
In her living room scheme, pictured above, designer Naomi Astley Clarke does exactly that, introducing lighter color accents with a pale striped sofa, softer colored curtains, a carpet with a light pattern and a fresh green ottoman in her living room ideas to reduce the intensity of the near-black walls in the small room. The result is a characterful and cozy room with interest and depth, with the dark walls adding style and personality but not overpowering the space.
So if you're looking to add drama, depth, coziness, personality and style to a small room, look to the dark side. Those are the benefits of painting a small room dark.
Think about the hue
If you're wondering what colors make a small room look bigger, try this one for size. Farrow & Ball's Down Pipe, described as a dark lead gray with blue undertones. It may take courage to paint a small bedroom in this near-black shade, as above, but see how it appears to push beyond the limits of the room, particularly with the wainscoting to add texture and create interesting shadows. It really is at its best paired with aged wood flooring and furniture, as here, with brass accessories adding subtle and welcome highlights.
Choose these calming colors for small rooms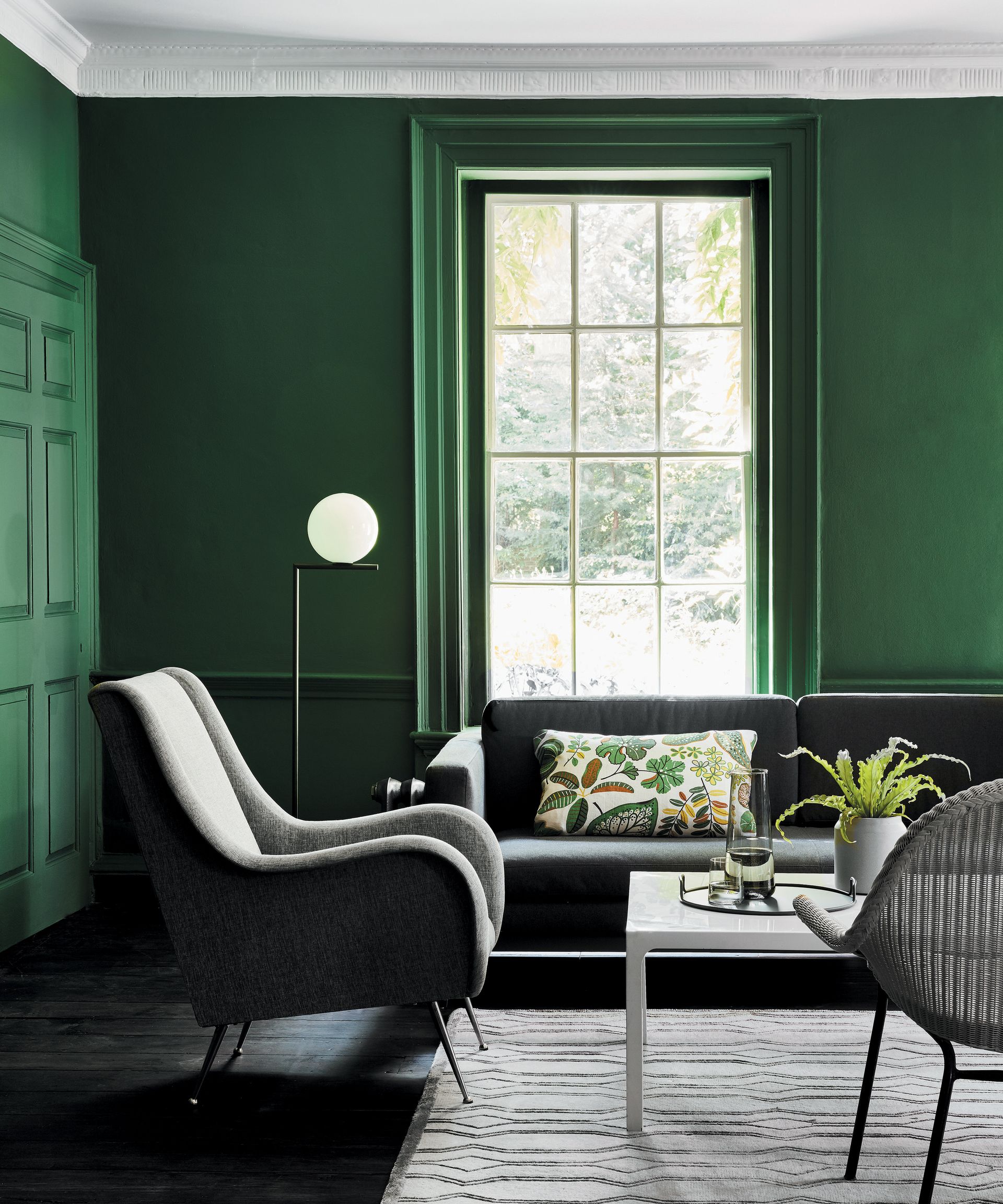 We wondered if there were any calming colors for small rooms among the darker paint shades, and asked our experts for their recommendations. Their suggestions are thought-provoking. It seems it's just as important to consider a color's psychological effects as its visual effects on a small room.
Lichelle Silvestry, says: 'Many beautiful dark colors are relaxing and warm, especially those with green and blue undertones.' And the colors to avoid if you want to create a chill-out zone? 'Intense dark colors with red-based tones tend to be more energizing.'
'For a calming aesthetic go for dark greens and blues,' says Naomi Astley Clarke, 'avoid dark reds or pinks.'
Julia Dempster picks out Benjamin Moore's Steep Cliff Gray, a rich blue-gray, which she says is 'the perfect way to create a soothing atmosphere without settling for true neutrals. I like to use a bold but muted color that provides warmth, and character and draws the eye, and I lean towards cooler shades when suggesting a calming paint color to a client.'
Farrow & Ball's Brassica shade also gets a mention from Dempster: 'This deep and rich color resembles that of lavender, the flowering plant known to help the reduction of stress and anxiety,' she says. 'I'm always finding ways to add this color to a room, whether it be through the paint on the walls, the addition of a throw pillow, or within the art in the room.'
Try bright colors if there's little natural light
What if a small room has little or no natural light?
Designer Naomi Astley Clarke, who put together the deep red scheme for the en suite shower room pictured above, says good lighting is just as important for small bathroom ideas as for any other room. 'I think the key with any room without natural light is to consider the lighting scheme very carefully. Think about soft, warm uplighters and consider how mirrors can be installed, which are a clever way to create an optical illusion of more light within a small room.'
So are dark colors out of the question in small rooms where there's no daylight?
On the contrary, says Hannah Yeo of Benjamin Moore. 'Using dark colors in a poor-lit room can maximize its cocooning effect,' she says. 'Vivid, rich colors like Raspberry Blush and Starry Night Blue can complement artificial lighting sources to make a powerful style statement.'
That's what the interior design experts advise – so now it's time to get the paintbrushes out and prepare for drama, coziness and a surprisingly more spacious-looking small room. All in a day's work for a can of dark paint.
Sign up to the Homes & Gardens newsletter
Decor Ideas. Project Inspiration. Expert Advice. Delivered to your inbox.
Karen is the houses editor for homesandgardens.com and homes editor for the brand's sister titles, Period Living and Country Homes & Interiors, and an experienced writer on interiors and gardens. She loves visiting historic houses for Period Living and writing about rural properties for Country Homes & Interiors, and working with photographers to capture all shapes and sizes of properties. Karen began her career as a sub editor at Hi-Fi News and Record Review magazine. Her move to women's magazines came soon after, in the shape of Living magazine, which covered cookery, fashion, beauty, homes and gardening. From Living Karen moved to Ideal Home magazine, where as deputy chief sub, then chief sub, she started to really take an interest in properties, architecture, interior design and gardening.