What colors make a small room look bigger? These space-stretching shades are what design experts use
Experts share the best colors to visually augment a tiny space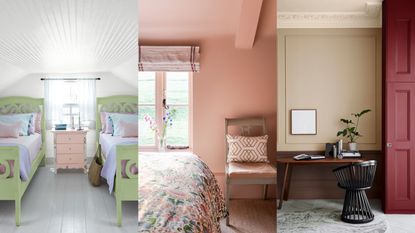 (Image credit: Benjamin Moore / Farrow & Ball/Asger Mortensen - Wester Agency / Little Greene)
Small spaces often present a multitude of design challenges, and knowing what colors make a small room look bigger, and which ones to avoid, can tremendously alter the final look of the room.
Selecting the right room color ideas when trying to make a small room look bigger can make the difference between an inviting space and a cluttered or drab room. While it is often believed that all small spaces should be painted white, some bright and bold options can help create the illusion of space in your small room ideas as well as make your small house look beautiful.
Here, paint experts have shared their expertise on what colors make a small room look bigger, and one of them might surprise you.
What colors make a small room look bigger?
Although neutral shades are a surefire way to make a small room look bigger by making it look brighter and airier, designers and experts are seeing an increase in demand for more creative ways to augment a small room.
Here, we explore why neutrals work so well when making small rooms look bigger, but also consider some bolder options that are sure to enlarge a space and create a statement.
1. Pare back with neutrals
Decorating with neutrals is a common and safe choice when designing a small room, and is often used to make a small living room look bigger while also adding character. It is important to choose the right neutral shade, however, to avoid creating an overly cold space. 'Whilst naturally paler shades will feel lighter and brighter, they can feel rather chilly in a north-facing or poorly lit room, explains Patrick O'Donnell, brand ambassador for Farrow & Ball. 'Make sure it has an underlying yellow or red tone through it – think Wimborne White, White Tie, or Pointing but to really make a room feel bigger, consider how you use color – avoid too many contrasts, and if you have a low ceiling take the color over and even paint your woodwork in the same shade but the correct finish, naturally.' Using color in your neutral room ideas, particularly in neutral bedroom ideas, will help to freshen up the space as well as open it up.
'Many choose to use bright white in smaller spaces assuming white will make the room appear larger, however light neutrals and soft colors used in a tonal scheme will have the same effect whilst not appearing too stark or cold,' adds Ruth Mottershead, creative director at Little Greene. 'Our Color Scales collection is a wonderful solution for creating a light design scheme that gives the illusion of space, 'Masquerade' works beautifully alongside 'Masquerade Mid' and 'Masquerade Light' to create an elegant and welcoming scheme in a small space.
'If you wish to use a white, opt for a well-balanced warm white rather than a stark, bright blue-tinged white. 'Silent White' is a perfectly balanced, neutral-warm white, use with its lighter and deeper versions on other walls, the ceiling, and trim to add softly-spoken depth to the room,' she continues. Adding depth through neutral shades such as ivory and beiges works particularly well in neutral living room ideas as they introduce character while also making a small living room look bigger.
'I would always say pink too. I really lovely soft pink such as Lick's pink 04 wrapped around the whole room gives the room a sort of warm lovely glow.' Tash Bradley director of interior design at LICK says. Decorating with pink is frequently seen as a 'new neutral' with softer shades working beautifully when drenching any space. Pink room ideas can be enjoyed wholeheartedly even in the smallest of spaces.
2. Opt for brighter hues
Bright, bold colors are often used in moderation, however, there are a few exceptions. Colorful room ideas have an energizing effect and can instantly enlarge a small room – the trick is using the right shades so it does not become overwhelming.
'When you've got a small room you want to try to avoid going for a brilliant white. When you paint small rooms in brilliant white you are going to notice the shadows they throw up in each of the corners so what I always recommend to my clients is you go for a color – and I normally try to encourage a mid-tone – in a warmer, brighter shade that really helps to absorb shadow and really give a small room lots of character,' divulges Tash. 'A great color that I love is teal. A teal almost comes into its own with its rich green pigment and rich blue pigment, it really changes throughout the day and can look unreal.'
Decorating with bold shades can take courage but makes an instant statement. Consider using the color wheel to determine the best accent colors to use in bold, bright small rooms so as not to inundate the room with clashing tones.
3. Cocoon a room in deep shades
When picking colors to make a small room look bigger, deep dark shades might not be the first thought. If you are only looking to make a small space appear bigger and not make a dark room look brighter, then deep cocooning shades are a striking and moody option.
'Light colors are not the only option for a small space,' stresses Ruth, 'I love to really embrace a small room and create a dramatic and intimate interior with intense cocooning colors such as 'Mid Azure Green' or 'Chocolate Color' which will create a real design statement.'
Dark shades, especially when applied onto the ceiling as well as the walls, create drama while also providing a calm environment making these colors ideal for making a small bedroom look bigger. Painting in this wall allows the walls to recede into the background, blurring the confines of the room and placing the emphasis on your furniture and decor which, when chosen in proportion to the size of the room, contributes to the visual illusion of spaciousness.
4. Think about paint finish
It is important to consider the right paint finishes when choosing colors to make a small room look bigger as Helen Shaw, director of Benjamin Moore highlights. 'Lighter paint colors like off-whites, light neutrals, pales, and pastels give the illusion of larger, brighter rooms. The right sheen can add light and depth to your room and using a semi or high-gloss will help to enhance your space as higher sheens are more reflective than mat and give the illusion of more light.'
Using highly reflective paint finishes on fittings when making a small kitchen look bigger can add functionality to painted kitchen cabinet ideas as well as help to bounce light around the room alluding to space.
5. Don't forget about the ceiling
'When planning a scheme, consider your ceiling carefully in a small room, a contrasting ceiling color, which many paint white out of habit, can often make a space look smaller, drawing the eye to the shape and scale of the room,' explains Ruth. 'Opt for a tonal color, or consider color drenching, which uses a single shade or closely related colors across everything from skirting to ceiling: walls, window frames doors, and radiators. By immersing an interior in one color and incorporating all elements within the space, you can create a truly engaging scheme that will soften architectural detailing to create a cohesive and enveloping space.'
'Now, if you have got a small room, I again really encourage you to wrap that color onto the ceiling and really give that room confidence. Take that color onto the walls, onto the ceiling – if you're worried about natural light then keep the sitting in a light off-white, add a big mirror and that will help to reflect that light around the room.' adds Tash.
Which color is best for a small bedroom?
When thinking of small bedroom ideas, it is often recommended to use natural shades such as taupes, off-whites, and pale shades such as pastels. Light shades such as these are some of the most relaxing colors according to experts, meaning they will help you to get the best night's sleep as well as optically opening up the space.
What colors make a room brighter?
Bright colors such as yellows, oranges, sky blues, and greens instantly make any room brighter and can often make small rooms look bigger too. These hues are some of the most positive colors too so can lift moods and energize the home.
Sign up to the Homes & Gardens newsletter
Decor Ideas. Project Inspiration. Expert Advice. Delivered to your inbox.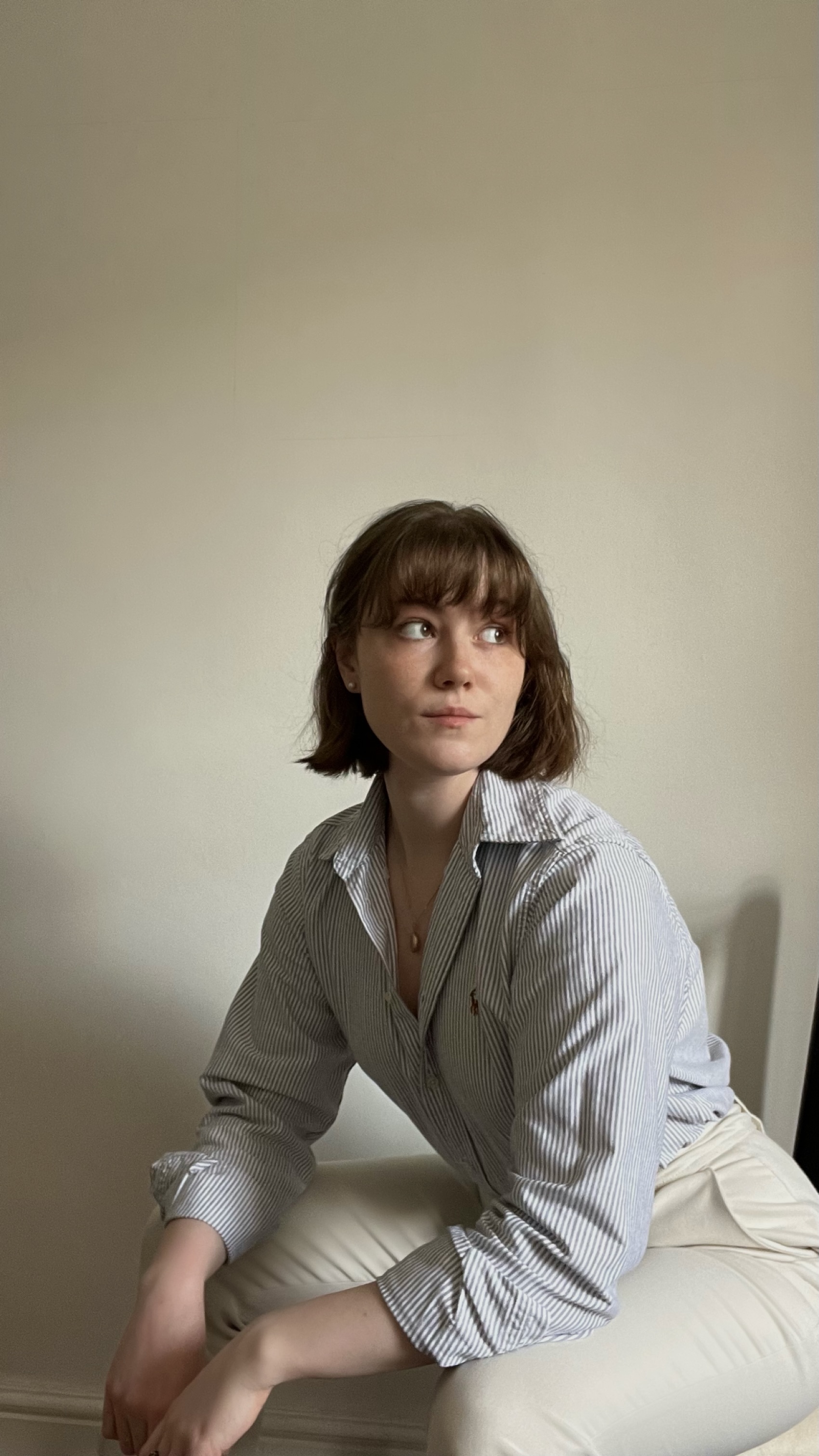 Chiana has been at Homes & Gardens for a year, having started her journey in interior journalism as part of the graduate program. She spends most of her time producing content for the Solved section of the website, helping readers get the most out of their homes through clever decluttering, cleaning, and tidying tips – many of which she tests and reviews herself in her home in Lancaster to ensure they will consistently deliver for her readers and dabbles in the latest design trends. She also has a first-class degree in Literature from Lancaster University.