Where should curtain rod brackets be placed?
Curtain rod bracket position matters. Get in the know with our guide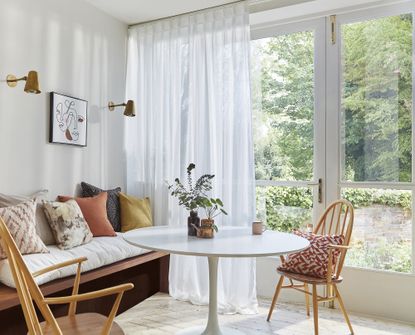 (Image credit: Hillarys)
Sign up to the Homes & Gardens newsletter
Decor Ideas. Project Inspiration. Expert Advice. Delivered to your inbox.
Thank you for signing up to Homes & Gardens. You will receive a verification email shortly.
There was a problem. Please refresh the page and try again.
Understanding exactly where curtain rod brackets should be placed is a must if you're dressing windows around your home.
Fail to get it right and the curtains themselves can look skimpy and block daylight when they're open so the room feels gloomy.
Here, interior designers and curtain experts share their secrets for hanging curtains to enable you to put curtain rod brackets in the right position every time.
What to consider when placing curtain rod brackets
Knowing exactly where curtain rod brackets should be placed is vital to a successful finish for your curtains when you are installing curtain rods yourself.
The position of curtain rod brackets might be influenced by the composition of the wall around the window, though if drilling is impossible, you can hang curtains without drilling using no-drill brackets that tap into the top of the window frame.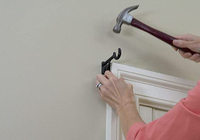 Spark Innovators Black Tap Bracket, $14.99, Amazon.
These no drill curtain rod bracket installs in seconds on any window size and fit all standard size curtain rods. You can expect no damage to your walls with these tap in curtain brackets.
Other factors you'll need to consider when positioning curtain rod brackets are:
Select the right curtain rod brackets
Before you can place curtain rod brackets, be sure that you have the correct design for your needs.
'Curtain brackets come in multiple shapes, sizes, and materials,' explains Kelly Simpson, senior director of design and innovation at experts in blinds, shades, shutters, and drapes Budget Blinds. 'The weight of the curtain fabric and the size of the curtain rod are the two main factors that will influence which type of bracket you should select.
'For sheers or light curtains, a smaller bracket and rod can be used. For drapes or thicker curtains, you'll need a bigger bracket, bigger bracket cup, and a sturdier material, as well as a larger curtain rod.'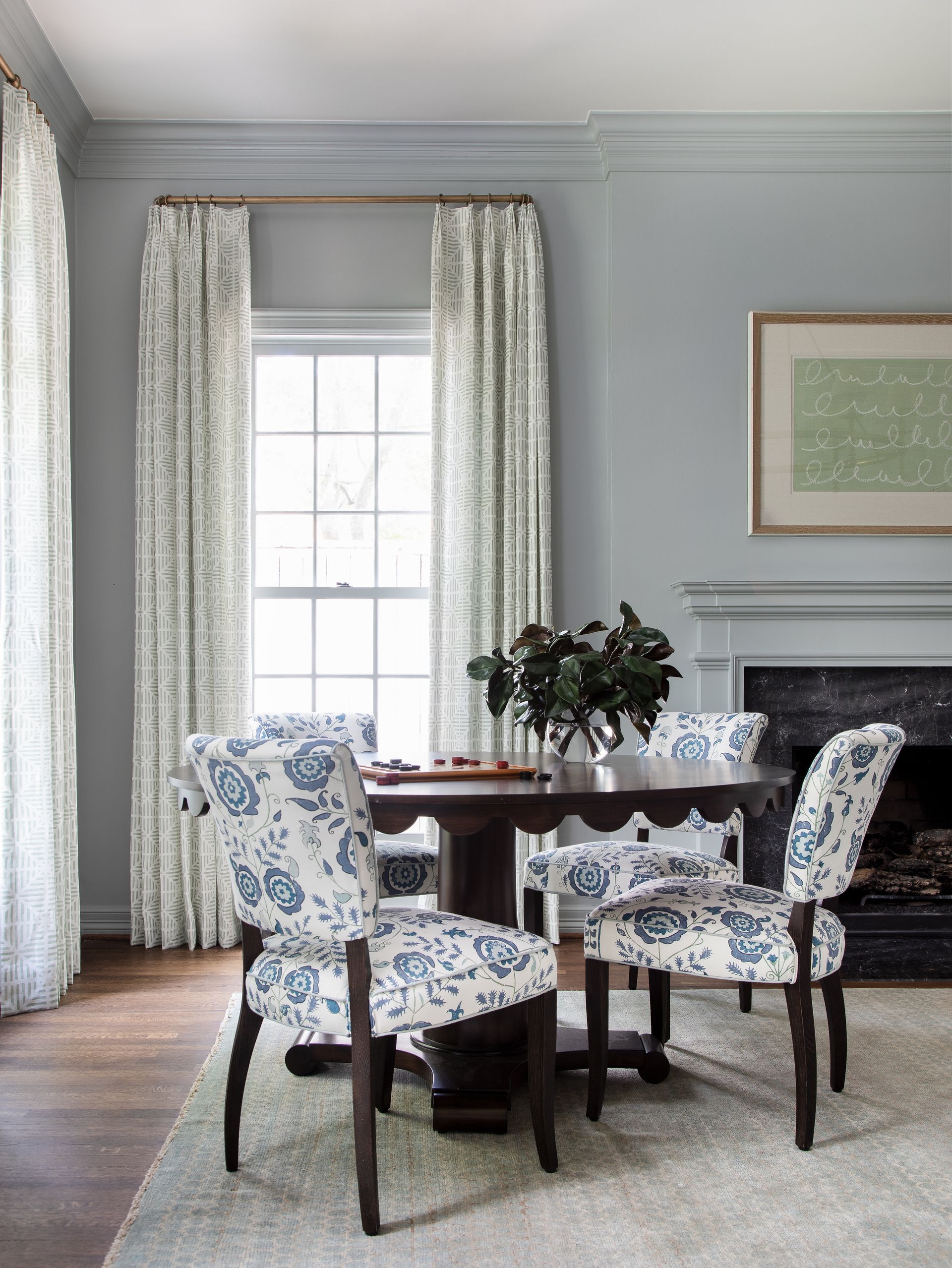 Place curtain rod brackets at the right height
Consider the height at which you will place the curtain rod brackets. Unless the ceiling precludes it, this should be above the window frame.
As a minimum, position the brackets 2 inches above the window, but 4 to 6 inches above the window is better. Alternatively, if there is a distance of between 6 and 12 inches between the ceiling and window frame, position the brackets at a height midway between the ceiling and the top of the frame.
There's a further height alternative favored by many interior designers, which is to place the curtain rod brackets as high as just below the crown molding. Don't do this if the ceiling is very lofty, though; the rod needs to maintain a relationship with the window.
Place curtain rod brackets in relation to the sides of the window
As well as placing curtain rod brackets at the right height, they need to be in the correct position in relation to the sides of the window frame.
At a minimum, allow 3 inches each side of the window, but 4 to 6 inches is preferable as it will allow for opening the curtains fully so as much natural light reaches the room as possible.
Bear in mind that you can exceed these guidelines. 'When installing curtain rods, place the brackets 10 to 12 inches outside on either side of the window for a full look,' recommends Katie Davis of Katie Davis Design.
Place the center bracket
If you are planning brackets for more than a single window, a center bracket will be necessary or you run the risk of a rod that sags under the weight of the curtains.
In this case, it needs to be placed halfway between the brackets on either side of the window at the same height as them. Check with a level to ensure all the brackets are aligned.
Bear in mind that a center bracket does raise additional issues. Typically, curtains stack to both sides of a window, but there may be occasions when this isn't the case.
'If the views outside the windows or sliders are important to maximize, you want to use drapery in areas that have plenty of wall space for stacking,' says Noelle Isbell of Noelle Interiors. 'Depending on the window layout in the space, you can stack drapery off to one side or an equal part down the middle.'
So what's the solution if drapery does need to go on one side only and there's a center bracket?
'If you require the ability to stack drapery all to one side you will need C-rings in order to pass over the center mounting bracket of the rod,' says Noelle.
FAQs
Should curtain rod brackets match the rod?
As a general rule, choose curtain rod brackets that match the rod. In other words, with a wooden rod use wooden curtain rod brackets; opt for metal brackets that match a metal curtain rod; and pick wrought iron curtain rod brackets to go with a wrought iron curtain pole. Always ensure the bracket is correctly sized to the diameter of the curtain rod, too.
Curtain rod brackets may be designed to be barely there, but there are also decorative brackets that can add to the detail of the window treatment.
To pull the look of a room together, consider repeating other details when selecting the curtain brackets and rod – for example a wood tone, or a metal used for furniture legs or a lamp.
What types of curtain rod bracket are there?
Curtain rod bracket types includes single, double, adjustable, and heavy duty. Single curtain rod brackets hold, as you'd guess, one curtain rod, and come in pairs to use either side of the window. You may need a center bracket as well if the window is a larger one. Double brackets hold two curtain rods, allowing you to combine two sets of curtains at a window, such as sheers plus heavier drapery.
Adjustable curtain rod brackets allow you to change the distance from the curtain rod to the wall. For some windows, this is useful to avoid the rod appearing to stick out into the room too prominently.
If you are hanging heavyweight curtains, make sure you select brackets that are sufficiently heavy duty. Ask your supplier's advice.
Sign up to the Homes & Gardens newsletter
Decor Ideas. Project Inspiration. Expert Advice. Delivered to your inbox.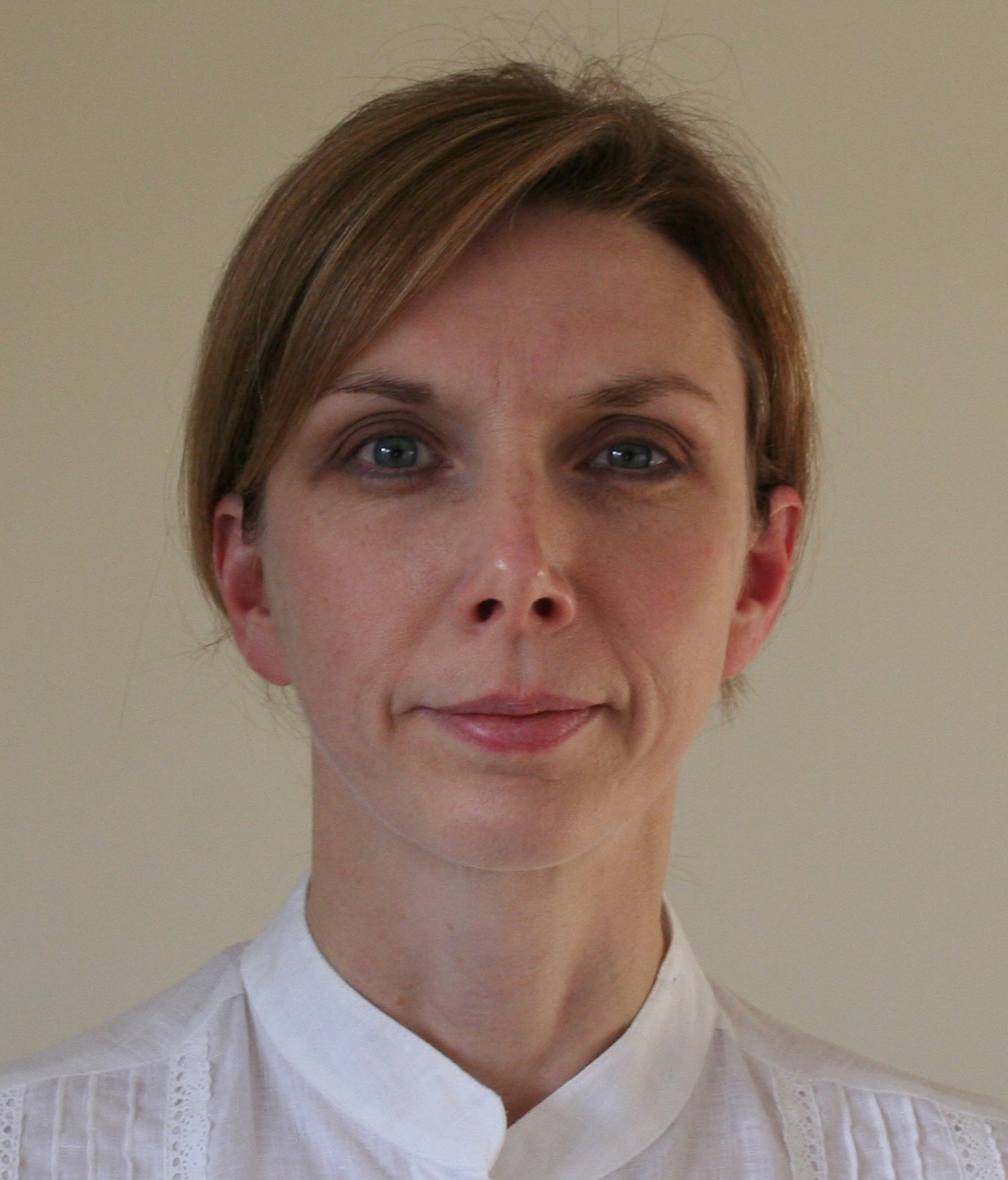 Sarah is a freelance journalist and editor. Previously executive editor of Ideal Home, she's specialized in interiors, property and gardens for over 20 years, and covers interior design, house design, gardens, and cleaning and organizing a home for H&G. She's written for websites, including Houzz, Channel 4's flagship website, 4Homes, and Future's T3; national newspapers, including The Guardian; and magazines including Future's Country Homes & Interiors, Homebuilding & Renovating, Period Living, and Style at Home, as well as House Beautiful, Good Homes, Grand Designs, Homes & Antiques, LandLove and The English Home among others. It's no big surprise that she likes to put what she writes about into practice, and is a serial house renovator.