15 tricks interior designers use to make windows look bigger – and rooms, too
Making your windows look larger not only lets in more light, it can make your rooms look taller and wider, too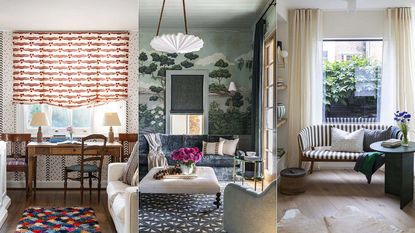 (Image credit: Ben Stevens / Julie Soefer / Kitesgrove)
We are well aware of the effect that light can have on a room. The more light flowing in, the more open and spacious a room feels. So it makes sense to really maximize any natural light coming into a room by making windows look bigger.
There are so many simple hacks that trick the eye, from the type of window treatment you choose, the materials and patterns, and perhaps most importantly, the positioning. For example, simply mounting your drapes a few inches higher than the frame can make your window (and therefore your room) feel instantly taller.
So if you're struggling to dress a tiny window, or decorate a room that lacks square footage, top designers have provided their best tweaks to create the illusion of lighter, brighter, bigger windows, and as a result, tips for making a small house look bigger, too.
How to make windows look bigger
From clever curtain ideas to paint tricks, this is how to make windows look bigger and rooms larger and brighter.
1. Elongate a window with floor length curtains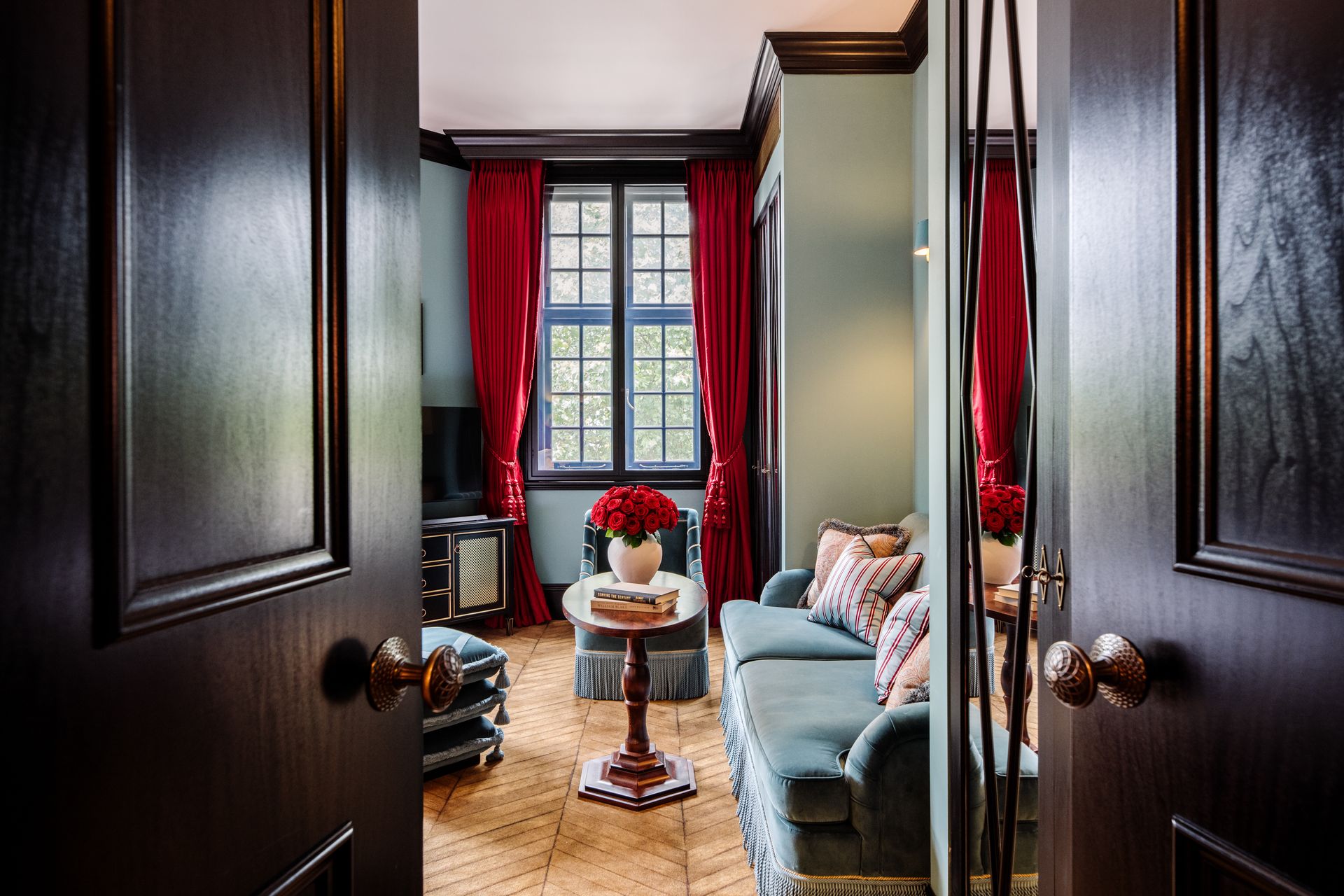 We always recommend taking drapes down to the floor (if it's practical for the space) no matter what size room you are decorating. There's just something so awkward-looking about a curtain that comes to a sudden end as the window frame does. Curtains that fall to the floor add elegance to a room, and softness to a window, and it's an easy trick for making a window look bigger.
'To give the appearance of bigger windows, accent the surrounding space with long curtains,' suggests designer Natalia Miyar. 'Using short curtains will highlight where the window ends, while longer curtains will help to seamlessly blend the space between the windows and wall by acting as a decorative buffer. By utilizing floor length, thicker curtains, you can give the illusion that the window space is bigger than it actually is.'
Louise Wicksteed, Design Director of Sims Hilditch agrees, 'Floor-length curtains frame a window beautifully and lead the eye downward, helping a window to appear larger. This can also make a feature of the window, framing it rather like a piece of art and making it a focal point within the room.'
Now, this approach can look totally different depending on the type of curtain and the fabric. For a really sumptuous, dramatic look that would suit windows in a bedroom or cozy living room, opt for something luxurious like velvet. But bear in mind this will add heaviness around the window, so ensure to extend your curtain pole slightly if you can so that you can pull the curtains right back from the frame so they don't obstruct the natural light. If you like a lighter look, choose linen or a light cotton – you'll still have the same window-enhancing effect but the overall look will be softer and subtler.
2. Extend a curtain pole beyond the window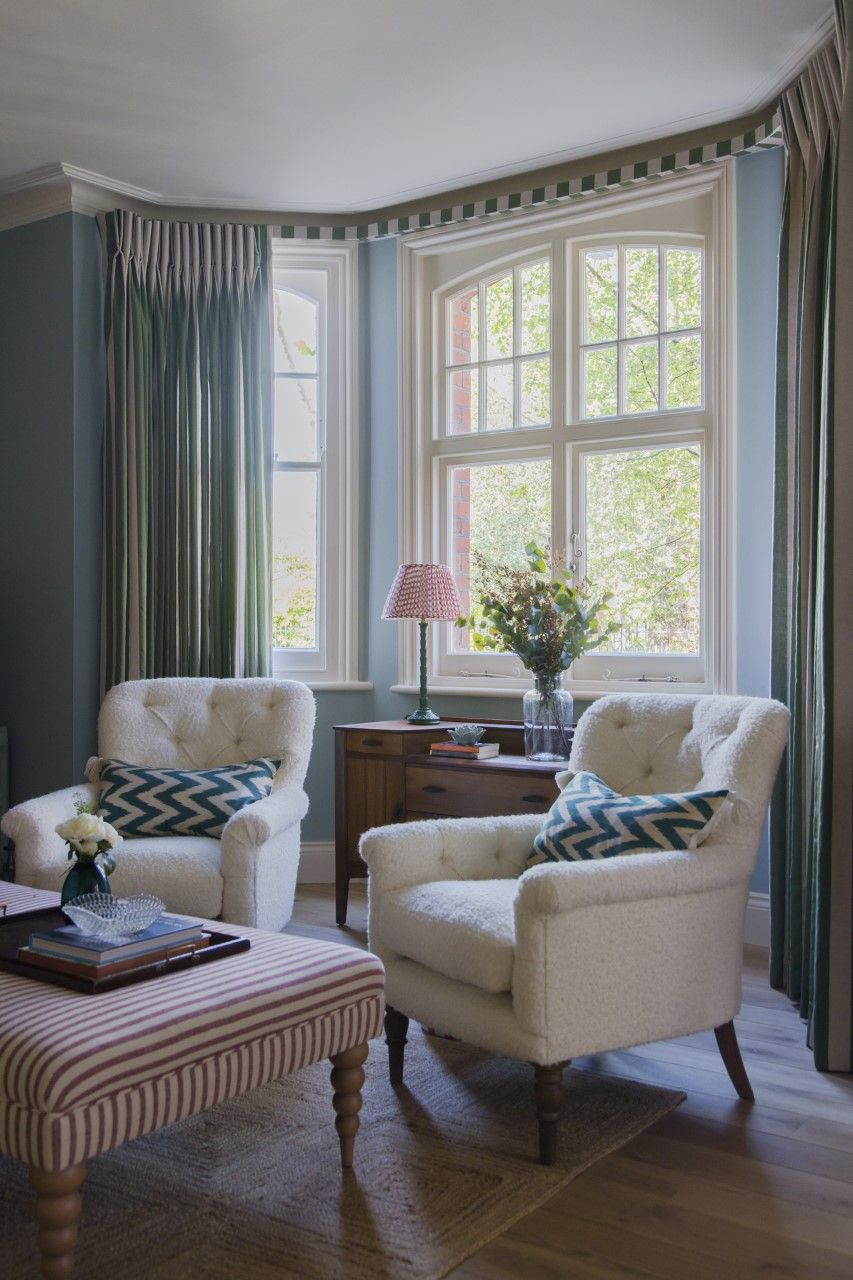 This is such a simple idea for making windows look bigger. Rather than have your drapes floating around the edges of your windows, sapping that all-important light, get them out of the way by extending your curtain pole beyond the frame, so when the drapes are open you get the space-expanding benefits of all the natural light available.
'Where there is space we often extend a curtain pole on either side of the window architrave so that the curtain can stack back to the sides and not cover any natural light coming in from outside,' suggests designer Brooke Copp Barton. 'And we love to include stripes where possible – they are timeless and always look great in any scheme, particularly when mixed with other patterns.
'With this window, we ran the fabric stripe vertically and also featured the stripe on the covered lath which frames the window and covers the track of the curtain. The stripe used in this way has a modern feel and we wanted a way of framing the bay even when the curtains were pulled back,' adds Brooke.
Just be aware if you are measuring for curtains to use the total length of the curtain rod, not the window frame, as your guide.
3. Take drapes right up to the ceiling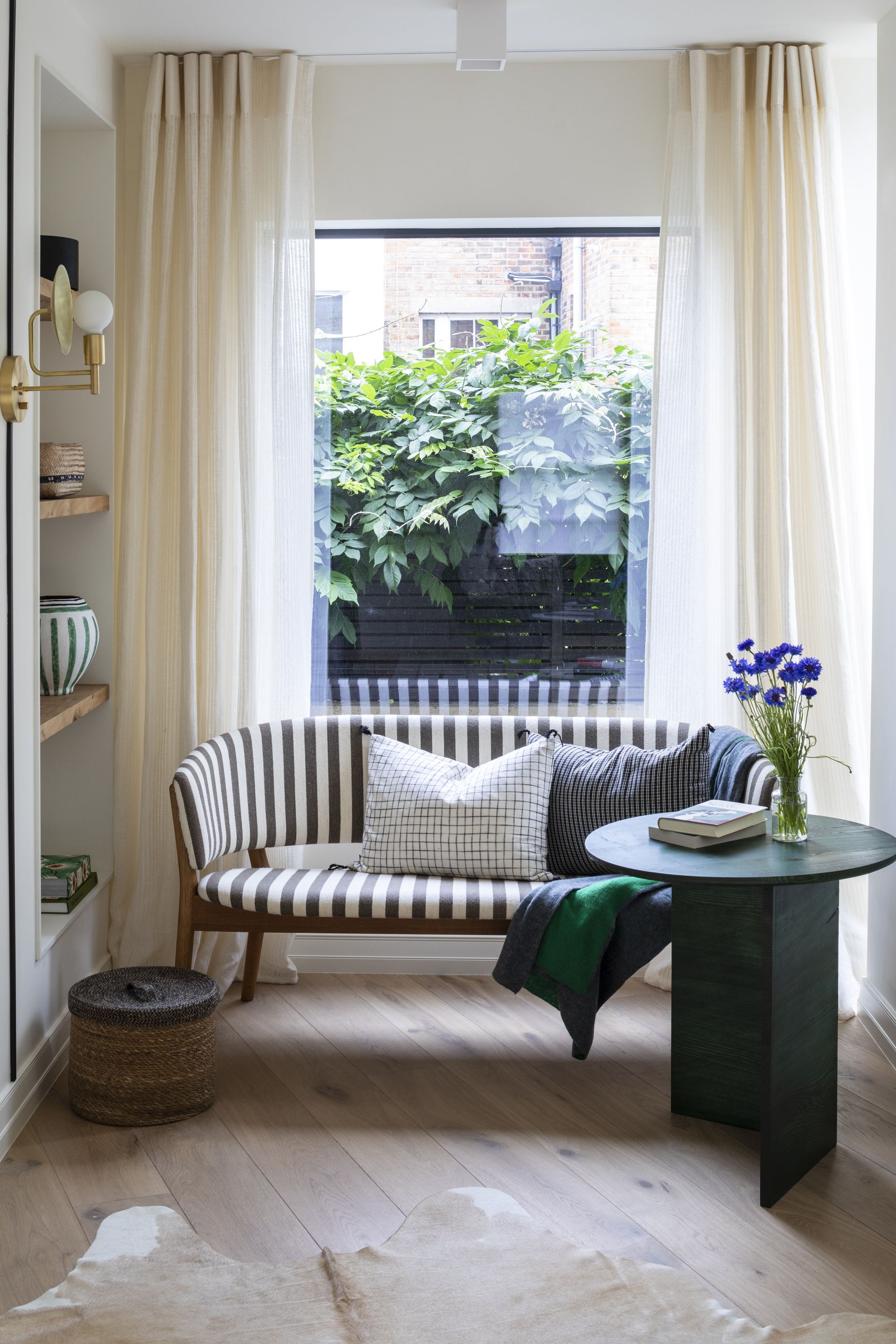 In a room that's lacking in height, the position of your window treatments can make a huge difference in creating the illusion of loftier proportions.
'Whether or not you have high ceilings, there are fool-proof ways to add the illusion of height to a space. First, you always want to give the eye a reason to travel upward,' explains designer Marie Flanigan. 'To dress a window, take your curtain rods up to the crown molding or just below the ceiling and ensure the drapery is long enough to graze the floor. These two easy changes can create the feeling of height and space. Further, to make a window appear larger in size, add a gorgeous trim or molding to the windows. Trim will help make the window feel finished, larger and elevated.'
4. Cover the whole wall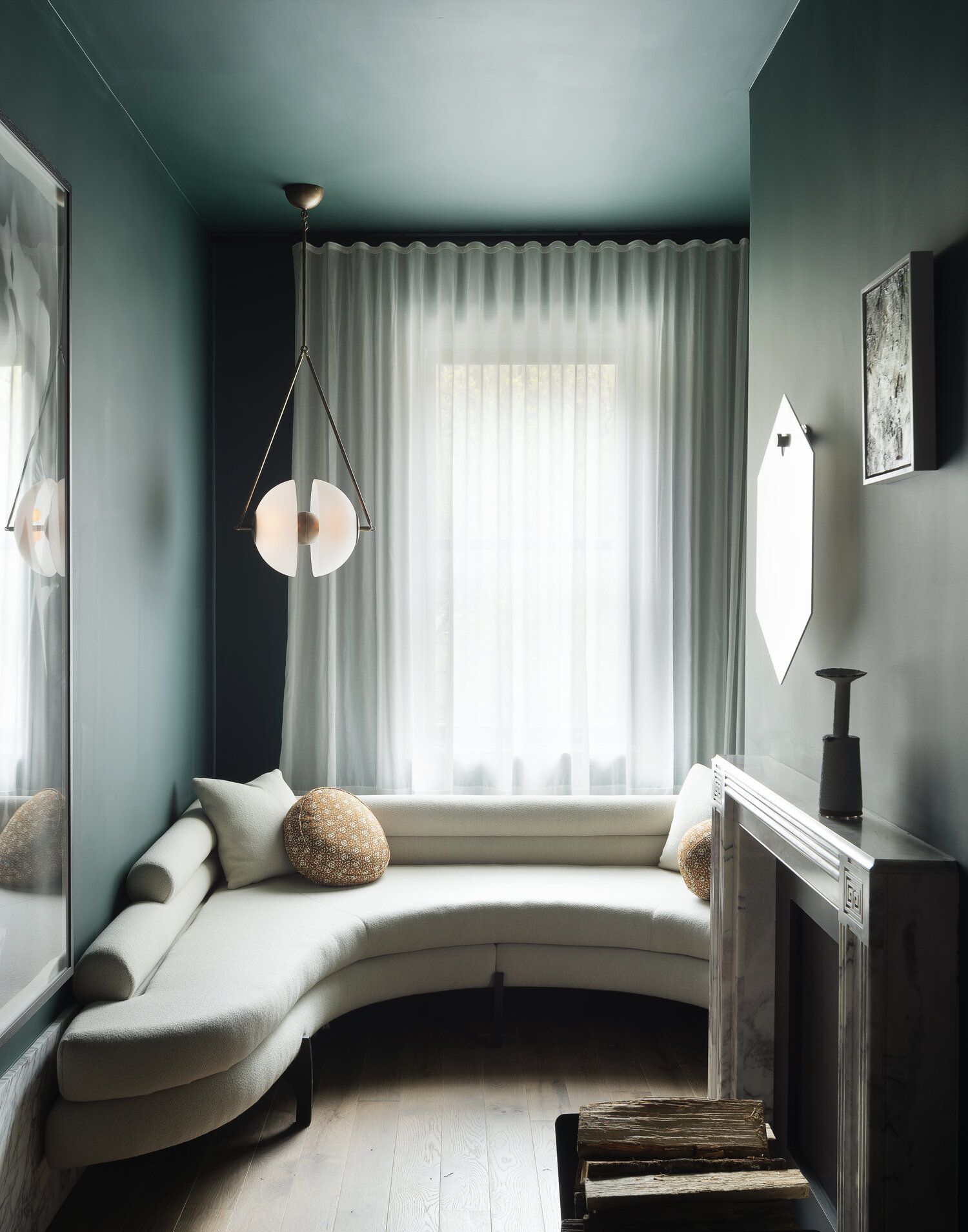 If your window sits on a smaller wall, take inspiration from this small blue living room, and take the curtain all the way across the wall. It really softens a space, as well as making a window look larger. You could stick with something sheer so it doesn't overwhelm the room, or if you want the curtain to be more of a feature, opt for a pattern and treat it almost like wallpaper.
'In this project, we hung sheer drapery in front of the entire wall to make the walls look blown out from the light and to make the window look large. We also used an Apparatus pendant and a large piece of art to accentuate the verticality in the room.' explains Britt Zunino, Principal of Studio DB.
5. Use a single curtain rod for multiple windows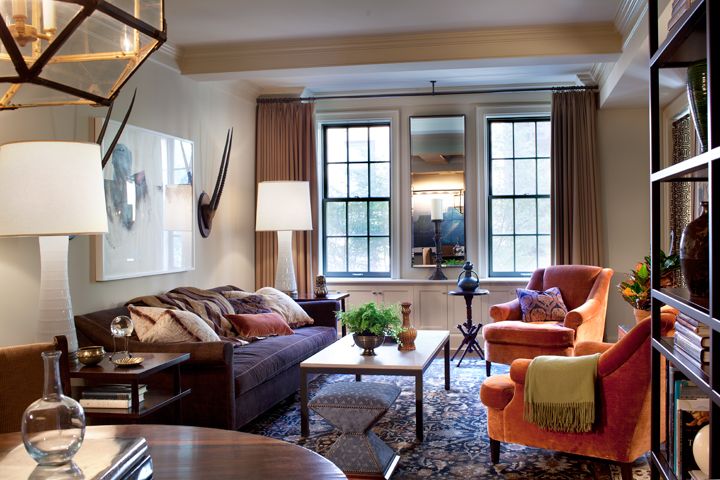 In a smaller room, where windows are likely to be closer together, don't crowd that space with lots of fabric. Instead, run a single curtain pole along the top of all the windows and just have two drapes on either side. This small living room designed by Glenn Gissler Design is the perfect example.
'For this Greenwich Village apartment we used a single curtain rod treating the pair of windows, as "one", and then used a very simple beveled-edge mirror to complete the architecture of the windows, to give balance and depth,' explains Glenn. So simple and so effective.
6. For smaller windows stick to blinds instead of drapes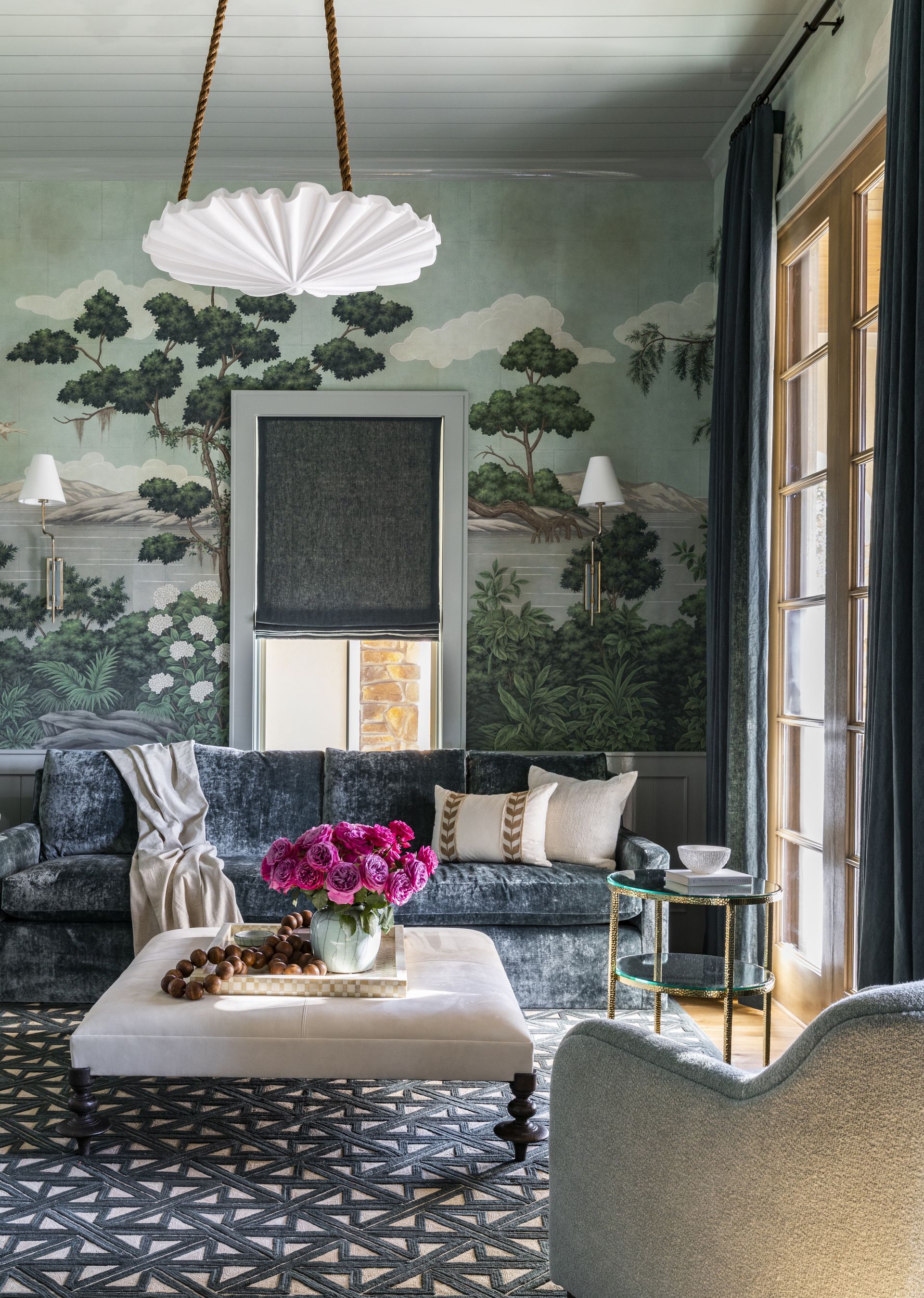 Even though we love the soft, luxurious look of drapes, if a window really is too tiny to handle all that fabric, window blind ideas can be a more practical solution.
'As a general rule, if you have a window that is less than 3ft wide and 3ft tall, go for a blind, as curtains will swamp a small window and look out of proportion. I usually specify Roman blinds because they make the window look more "dressed" than other types of blind – and they're much more attractive when not in use,' says designer and founder of Gunter & Co, Irene Gunter.
Designer Kathy Kuo agrees that 'one easy and chic way to maximize your window and use them to help make the room overall look bigger is to orient your window treatments from the top, rather than the sides.
'Opt for blinds that move up and down instead of curtains that you pull to the sides. This allows for the most possible amount of window, and therefore natural light, to show through when you have the blinds up.'
7. Use patterns to make a window look bigger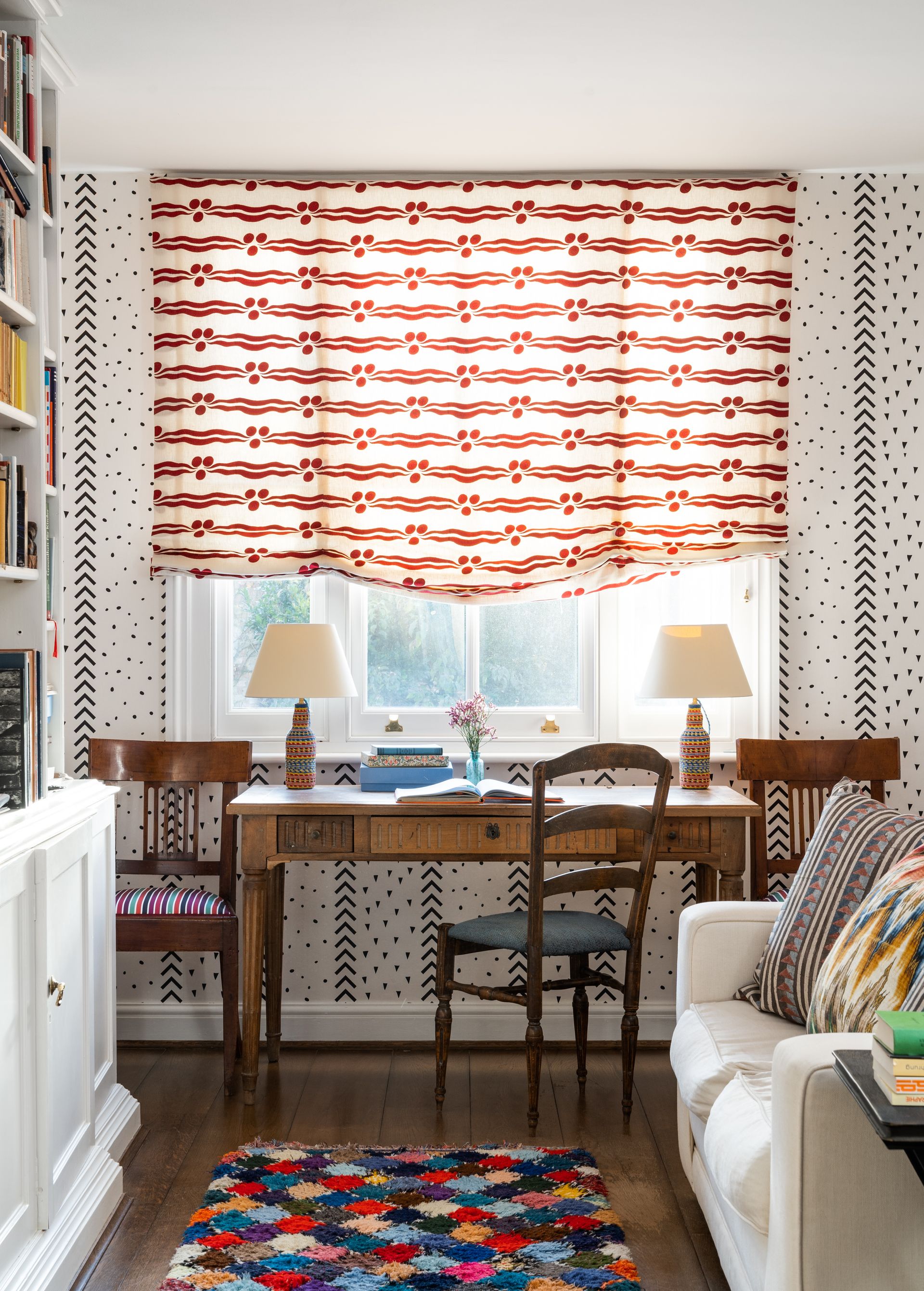 Pattern can often have just as much of an effect as positioning when it comes to making windows look larger. The print of your window treatments, and what's going on on the walls around them can really help to create the illusion of a larger window frame. Case in point: this wonderful mix of pattern by designer Kate Guinness.
'A trick for making a window look bigger is to hang your blind or curtains a little higher and wider than the edges of the window to give the illusion of it being larger,' suggests Kate. 'Using fabrics with vertical patterns adds height to windows as well as drawing your eye upward, whilst horizontally orientated patterns give the impression of width, both of which we used in this small home office to make it feel light and airy.'
8. Position blinds on the outside of the window frame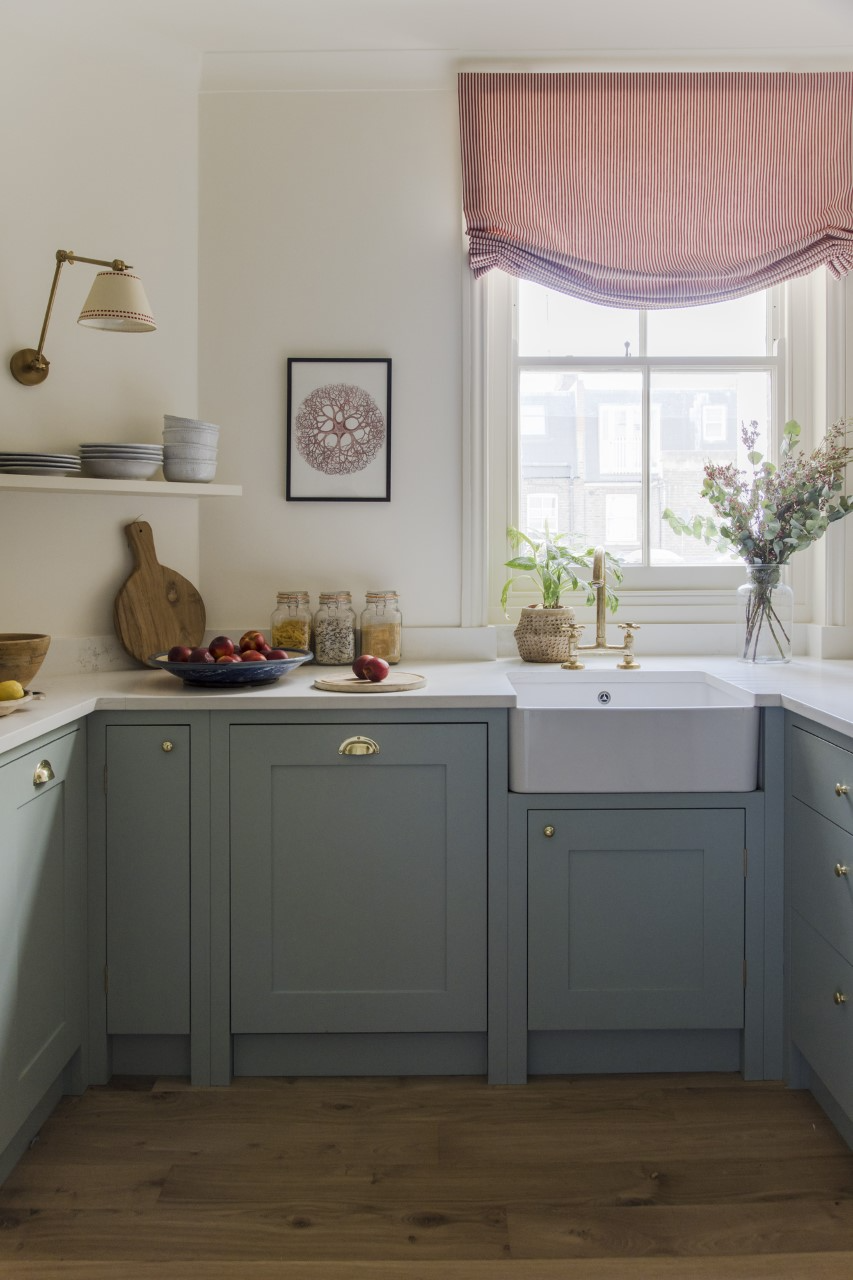 'Where possible, we prefer to sit blinds on the outside of the trim as it has the effect of making the window look bigger and also allows a larger pop of fabric – which in this case was a friendly pop of red and white ticking stripe. Here the stripe is run vertically, which also helps to make the window feel as long as possible, with the curve of the London blind giving softness to the scheme,' explains Brooke Copp Barton, who designed this bijoux grey kitchen.
'If the window is quite short, mount the blind outside the window reveal or you will lose too much daylight. Turn this into a positive by mounting the blind a little higher than it needs to be, as this will give the impression that the window is taller than it is. You will also be able to add a second window treatment inside the window reveal. For example, if you have front-facing windows, you could add a privacy blind that slots perfectly into the reveal.' suggests Irene Gunter.
'When mounting a blind outside the window reveal, ensure it is between 2in and 4in wider than the window on either side, and a little longer. This will minimize any light bleeding in and will also look more proportionate to the window,' she adds.
9. Hang drapes on just one side of the window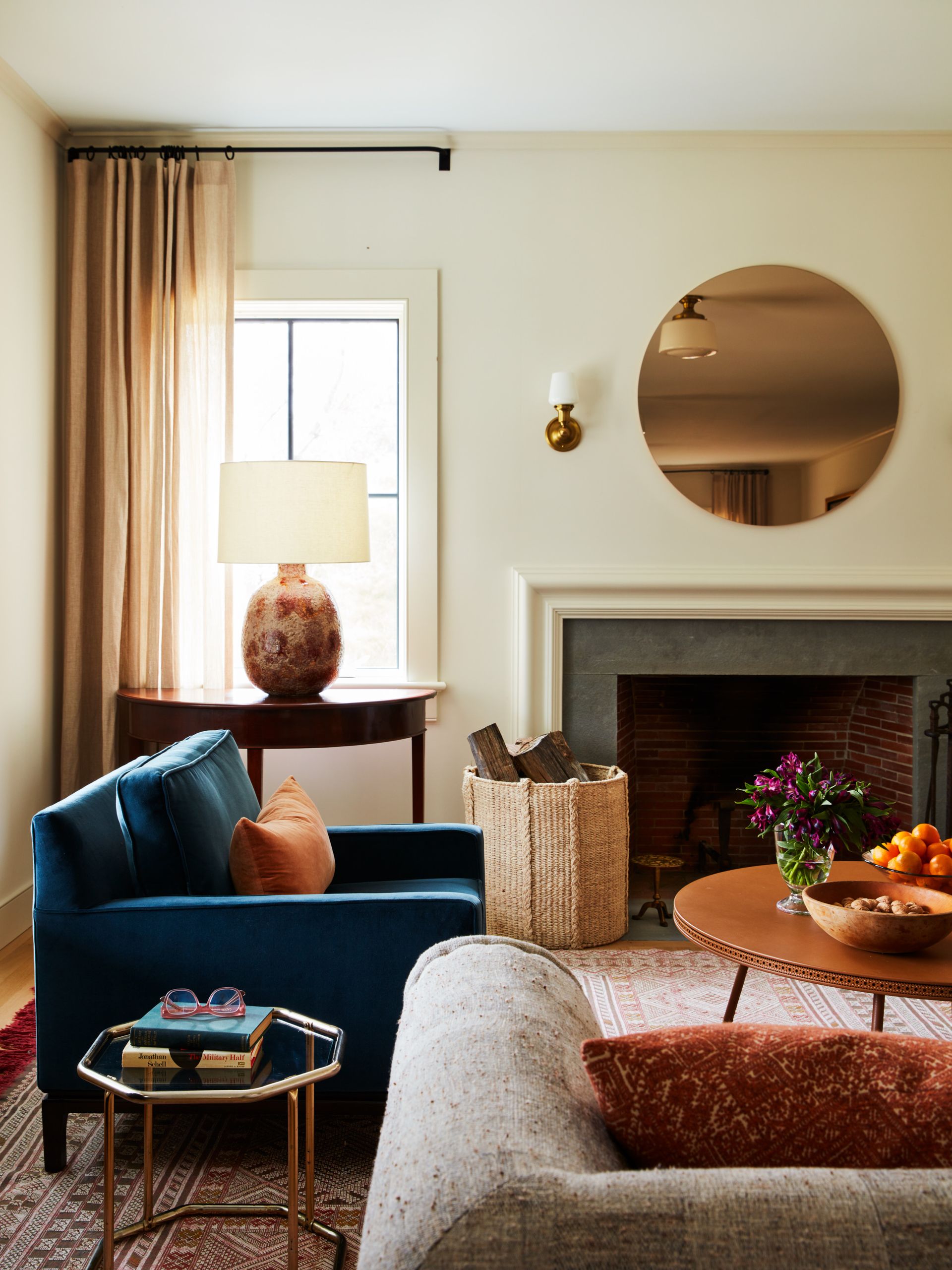 Anyone with an eye for design is a bit obsessed with symmetry, and the thought of having a single drape at one side of a window, may throw you off balance. But just look at it used here in this living room designed by Hendrick Churchill. It works. This window is too tiny to handle a pair of drapes, but it needs something softer than a blind. A single curtain is the perfect solution.
'I always like to off-balance my drapes with only having one stack, hung on one side of the window; this also has an effect of making a room and window look bigger.' says designer Lisa Le Duc. 'And I like to conceal as much of the tracks and hardware as possible, this allows for the least amount of distraction to the eye, which effectively makes the window appear larger too. I always, wherever possible, install concealed roller blinds (blackout or sheer) for maximum window light control and minimal fuss, which again creates more window space.'
10. Consider the proportions in the rest of the room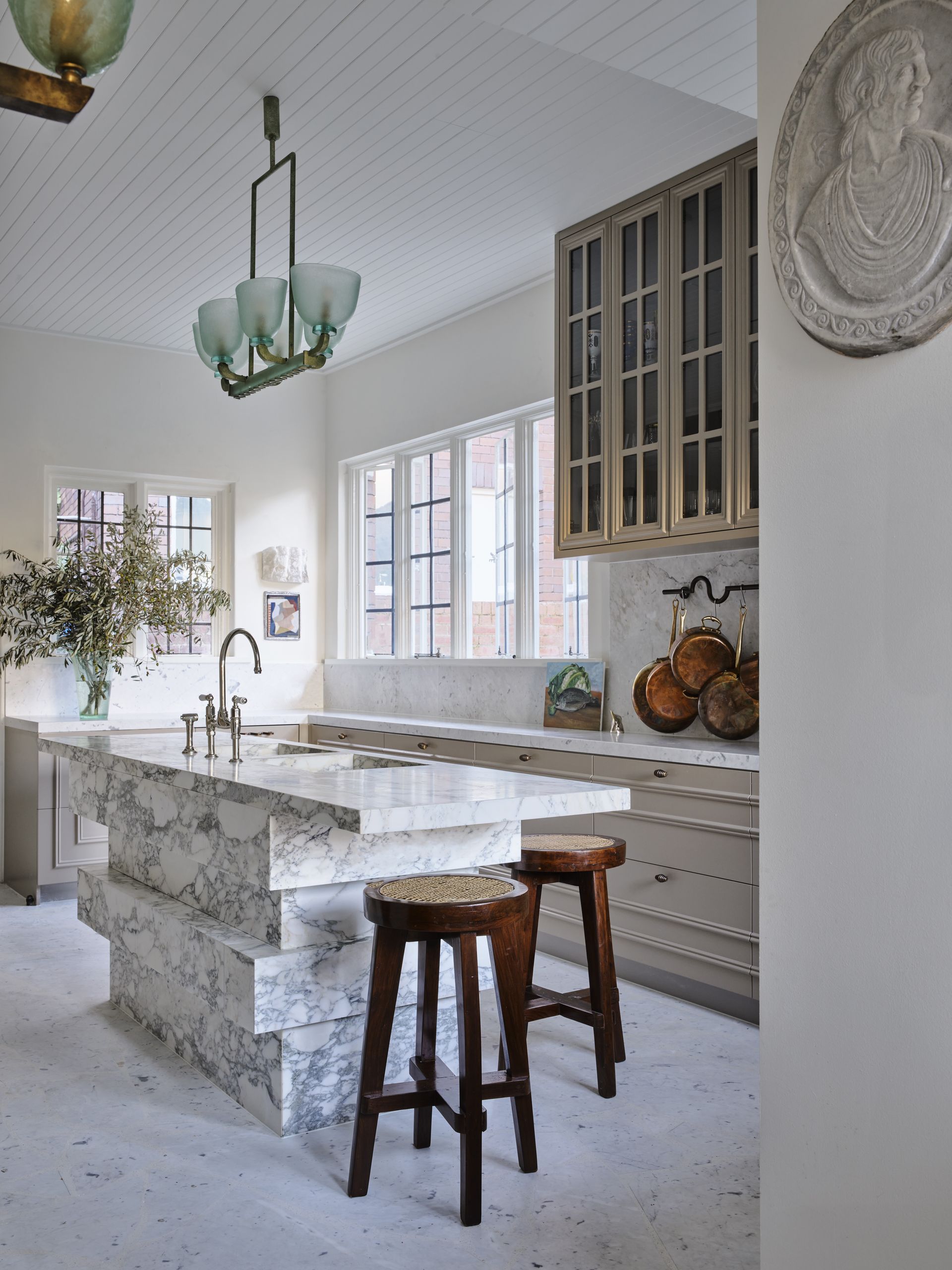 'Making windows look bigger is probably more a product of relative furniture size and placement, and fixture placement (ie, shelves, sconces, or cupboard heights) and just needs to be experimented with. In each case, it will be different so it is difficult to make rules,' explains designer Tamsin Johnson.
'Here, I kept the window frames white like the walls for a crisp and open appearance, yet left the lead divisions black. Ironically the divided window space appears more substantial than if left undivided and helps emphasize its length. The cupboards adjacent I pushed to the ceiling which helps stretch the apparent ceiling height away from the bench. Distractions such as the sconces and artworks break up an otherwise nude wall space between the windows that if left nude might otherwise emphasize its actual size (because it would in fact be more apparent).'
11. Disguise smaller proportions with a valance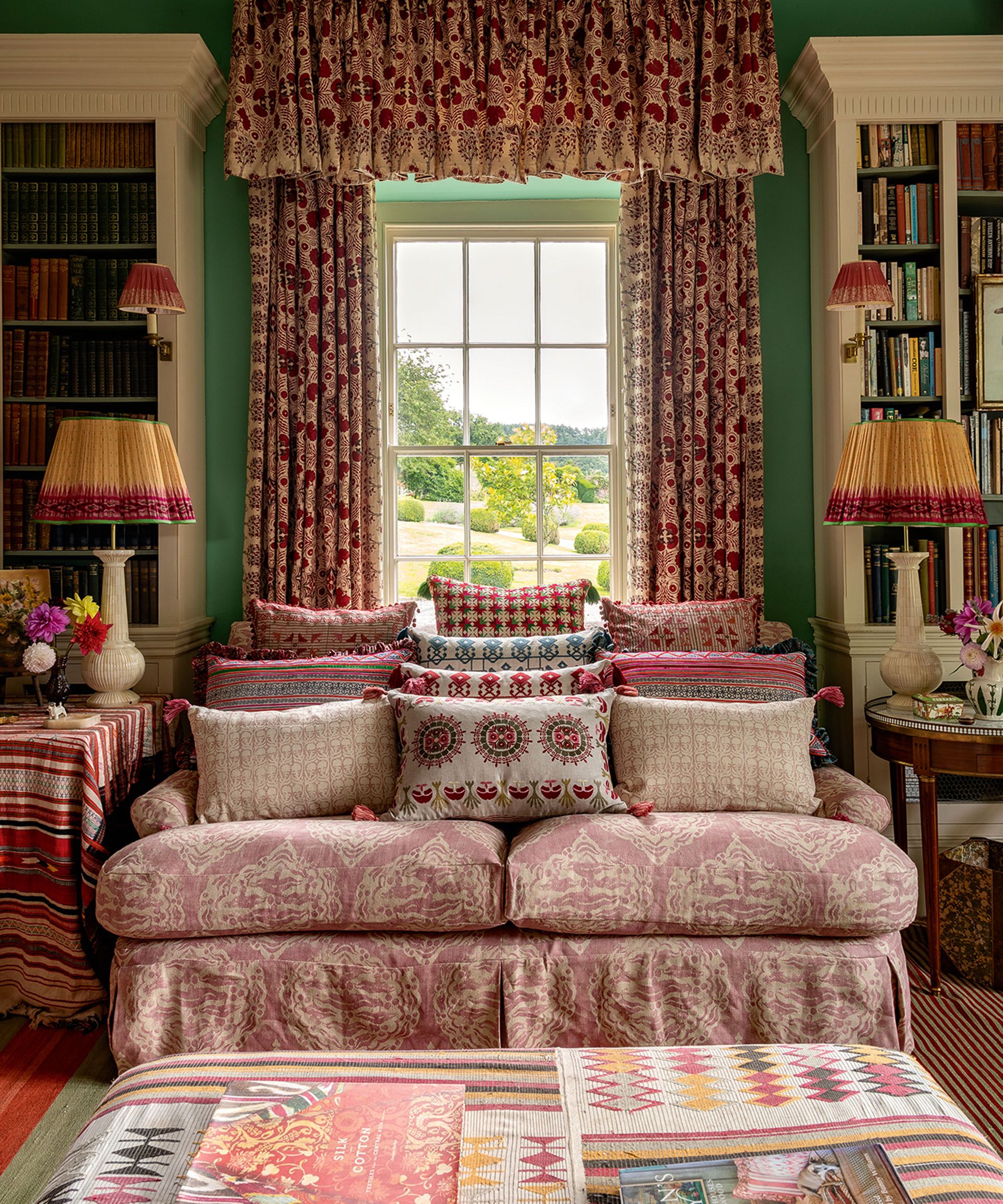 Mounting a valance or a pelmet above a window, rather than intruding on the frame, will add instant height to a window. Much like taking the curtain pole higher, or the drapes further out, it will change the proportions of the window, suggesting that the window continues underneath the pelmet. Note how with this living room curtain idea, the drapes and the pelmet are positioned completely outside of the window frame, allowing maximum light into the room and creating the effect that the window is larger.
'To make a room look bigger, you can use a Roman shade or drapery depending on the window type and if there are any heaters or existing conditions that might affect window coverings. If a room is small, but you want to make the window appear larger, you can create a valance and mount the shade over and above the frame so it appears taller.' suggest Keren Richter Co-Founder and Principal Designer at White Arrow.
12. Paint window frames to match the walls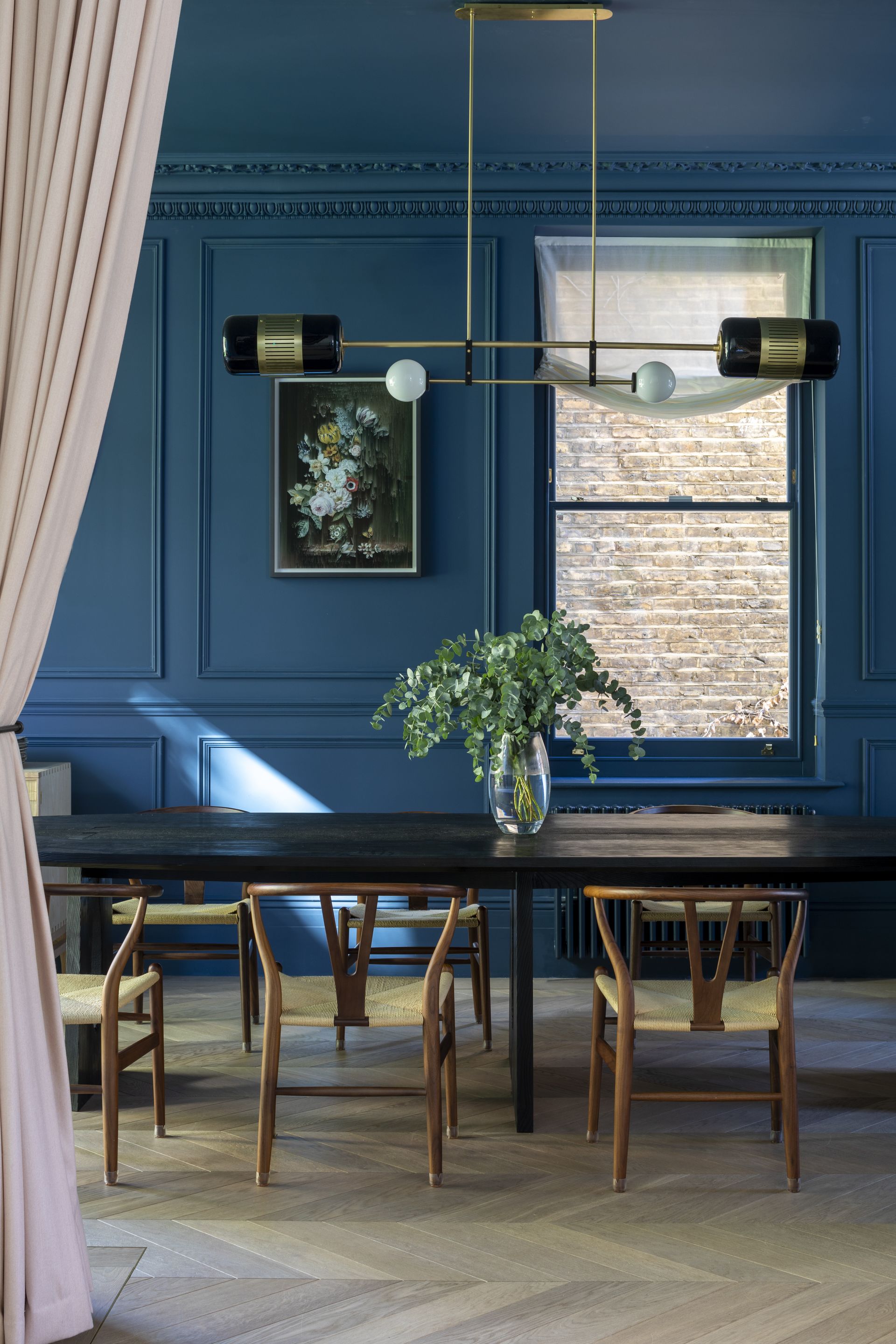 Often what can make a small window look even smaller is that it stands out among the rest of the walls – its proportions are perfectly obvious, framed against a contrasting color. However, as this beautiful blue dining room demonstrates, blending the window frame into the walls makes the dimensions far less obvious, and as a result, the window looks bigger.
'When it comes to finishes, I would paint small windows, frames, sills, and the reveals in the same color as the walls to give the impression of spaciousness,' explains Deborah Bass, founder of Base Interiors.
'We chose a rich blue hue in this space, drawing attention to the light from the window and creating the illusion of the window appearing larger than it actually is,' explains Clara Ewart, Head of Design at Kitesgrove. 'The proportions of the paneling combined with the scale of the framed artwork enhance the impression of a bigger window.'
13. And blend in window treatments too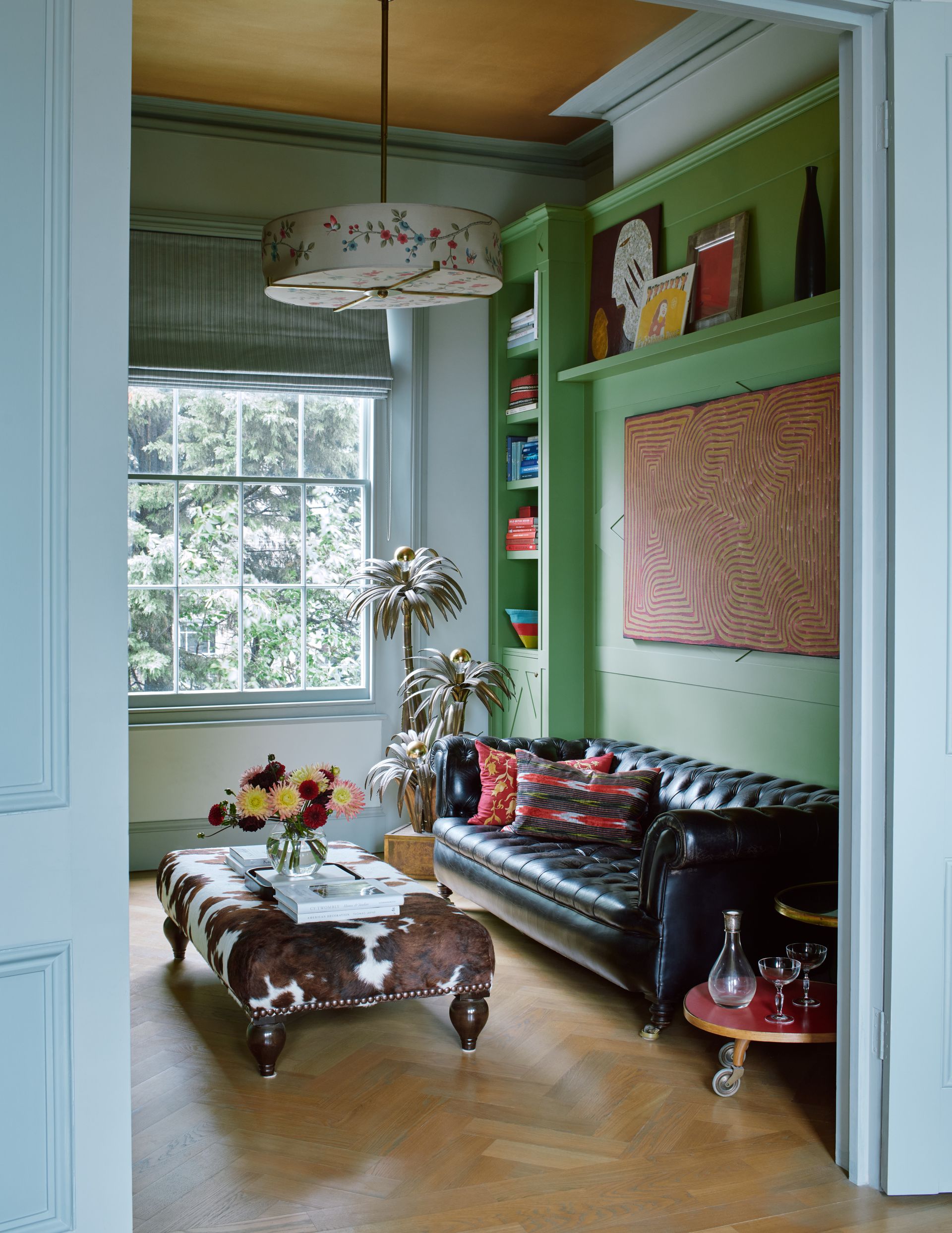 A similar technique is to match your window treatments to the walls so all the lines and dimensions are blurred into one. Color drenching is not only a growing interior design trend but it's a great hack for making small spaces look larger as it blurs the edges of rooms, tricking the eye and creating the illusion of more space.
'For this project, the window was made to feel much larger as the color of the blind blends into the wall giving the illusion of a wider more expansive space,' explains Jo leGleud at Maddux Creative.
Don't be afraid of it looking too one-dimensional: pick a color palette, and add in small variations and different textures. See how in this living room, the woodwork is a slightly deeper blue, with a different paint finish, and the blind has a subtle pattern and texture going on? It's a single color at first glance, but there's depth here too.
14. Enhance light with a darker surround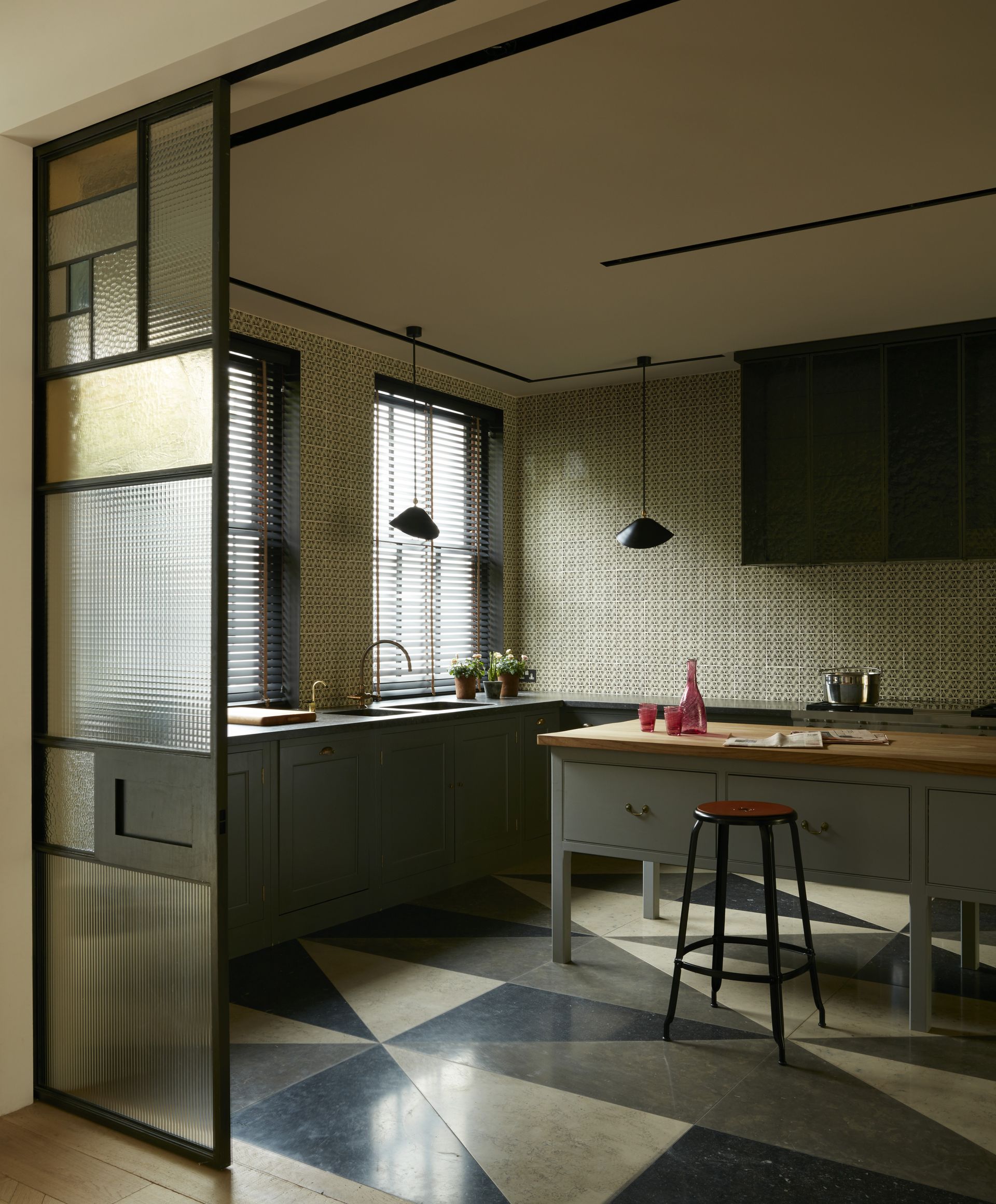 This technique goes against every natural design instinct. We constantly preach that lighter colors enhance natural light, they make smaller spaces look bigger and brighter. But this kitchen window idea proves that sometimes ignoring the rules pays off.
Painting the surrounds of a window in a deep dramatic hue can in fact make windows look larger and appear to bring in more light. As Jo leGleud explains, 'the darker walls and sills allow the light coming in to pop, illuminating the space and flooding it with natural daylight. And using a Venetian blind allows light to hit the floors and walls at different angles allowing for a playful juxtaposition between light and dark.'
15. Opt for subtle and sleek hardware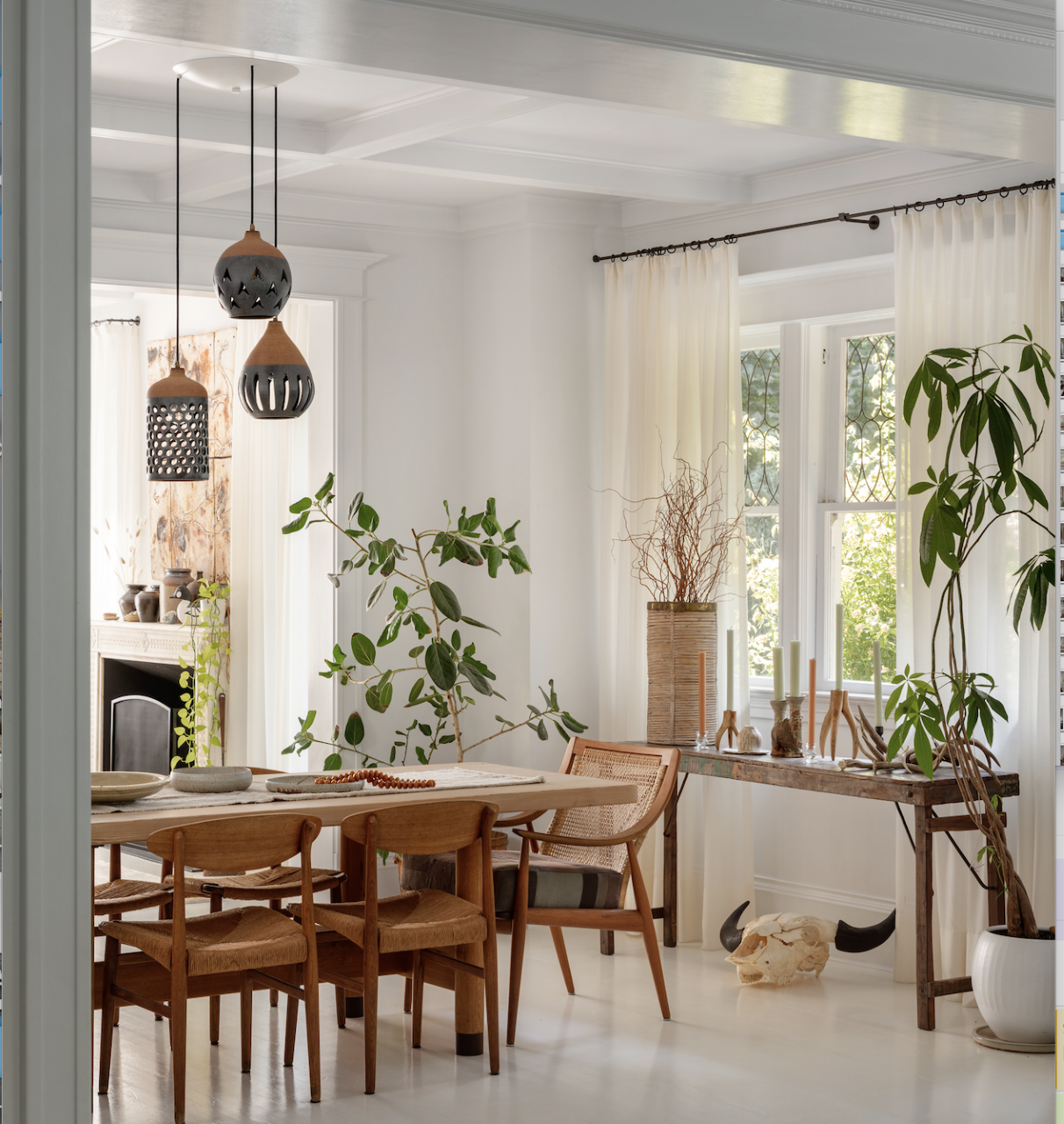 When making a small window look larger, you often want to avoid adding too much visual bulk. Just keep things simple and fuss-free. And that goes for the hardware as well as your window treatment. If using drapes, choose a curtain pole that's sleek and slimline, a design that's going to elegantly frame the window without highlighting its smaller proportions.
'We often use window treatments to frame windows and create an elongated sense of height in a room. Paying close attention to a more tailored drape and a smaller proportion to drapery hardware also gives a room a stronger sense of height and verticality,' explains designer Lisa Staton.
How can you make small windows look bigger without curtains?
We often find that a window kept bare is the easiest way to make a small window look larger. But if that's not an option, and you need the privacy of a window treatment, roller blinds, and Venetian blinds are ideal for smaller windows that can't handle a curtain.
These designs of course don't involve a lot of bulky fabric, and when they are not in use they become almost undetectable. Unlike curtains and fabric blinds, roller blinds and Venetian blinds work best if they are snuggly fitted perfectly within the window frame. And opt for lighter colors, or match them to the color of your frames, to blend them into the background.
What window treatments make a room look bigger?
Most window treatments have tricks to make a room look bigger and it depends on the space and your personal style. For example, for a small window in a kitchen, your best option for making it look larger is going to be either no treatment at all, or a subtle blind. However, in more cozy lived-in rooms like bedrooms and living rooms, curtains are going to be the go-to.
With curtains, you probably have the most tricks to play with. The positioning and style can really help make a room feel loftier. By going floor to ceiling with the length and hanging them higher than the window frame itself you instantly create the illusion of more height and larger windows, while choosing a vertical or horizontal stripe for them can also exaggerate the proportions of a space.
Sign up to the Homes & Gardens newsletter
Decor Ideas. Project Inspiration. Expert Advice. Delivered to your inbox.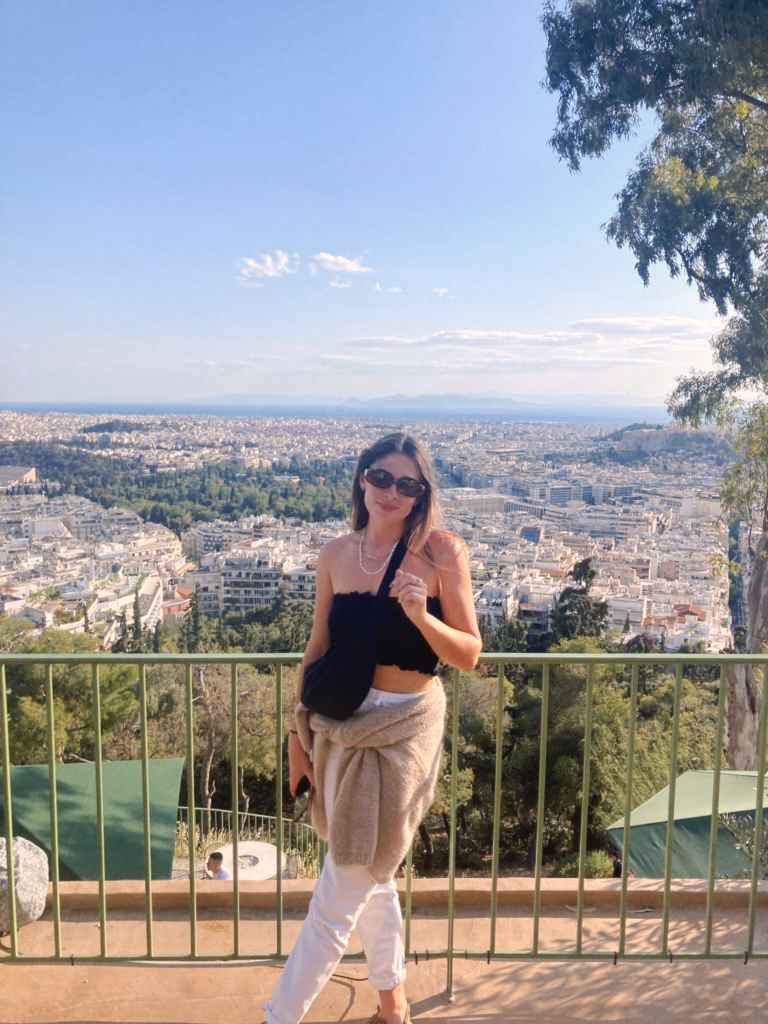 I am the Head of Interiors at Homes & Gardens. I started off in the world of journalism in fashion and luxury travel and then landed my first interiors role at Real Homes and have been in the world of interior design ever since. Prior to my role at H&G I was the digital editor at Livingetc, from which I took a sabbatical to travel in my self-converted van (not as glamorous as decorating a home, but very satisfying). A year later, and with lots of technical DIY lessons learnt I am back to writing and editing, sometimes even from the comfort of my home on wheels.