Can you fit an island into a galley kitchen? Interior design experts share their advice
Love an island but have a narrow space? We ask the experts if you can fit an island into a galley kitchen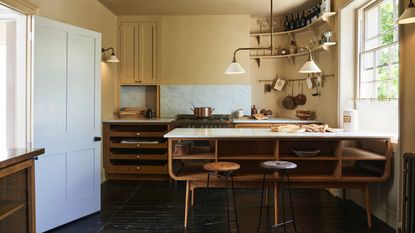 (Image credit: deVOL)
Sign up to the Homes & Gardens newsletter
Decor Ideas. Project Inspiration. Expert Advice. Delivered to your inbox.
Thank you for signing up to Homes & Gardens. You will receive a verification email shortly.
There was a problem. Please refresh the page and try again.
A galley kitchen is a long narrow kitchen, once the standard for narrowboats, canal boats, yachts, and ships kitchens, this type of design has been incorporated into domestic kitchen settings to maximize the use of space in a kitchen with limited room.
However, galley kitchens are not confined to small spaces, this efficient kitchen design style is often chosen in larger areas as well as smaller ones and offers a wealth of storage and workspace options for a contemporary kitchen. We spoke to interior design experts to answer the common question – can you fit an island into a galley kitchen – to see what their top advice is.
Could you fit an island into a galley kitchen?
Many homeowners want to have a kitchen island no matter what the size of their kitchen. The big question is whether you can you fit an island into a galley kitchen – we talk to interior and kitchen designers to get the low down, read on to find out more.
1. Create a peninsula kitchen island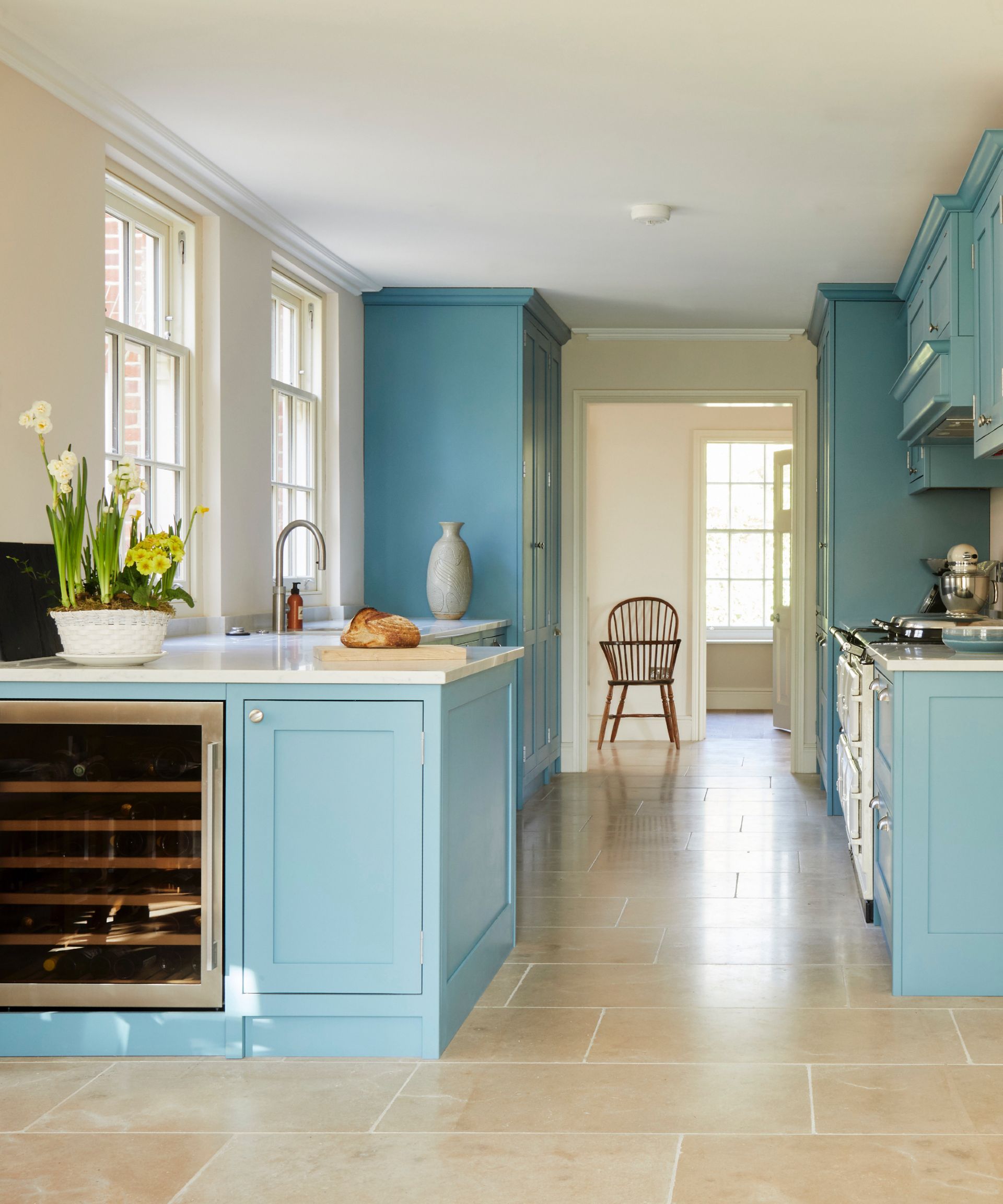 If you have a long, thin, galley-shaped kitchen design then a kitchen island is not an appropriate piece of furniture to add to the middle, it will not leave enough space for you to move around freely, which is key in a well-designed and thought-out kitchen.
'What you can do instead is add a peninsula at one end of the kitchen – this can be used to create additional workspace for food preparation, allow for extra appliances, such as a wine fridge, and create a space for a couple of bar stools,' says Al Bruce, founder of Olive & Barr.
2. Measurements are vital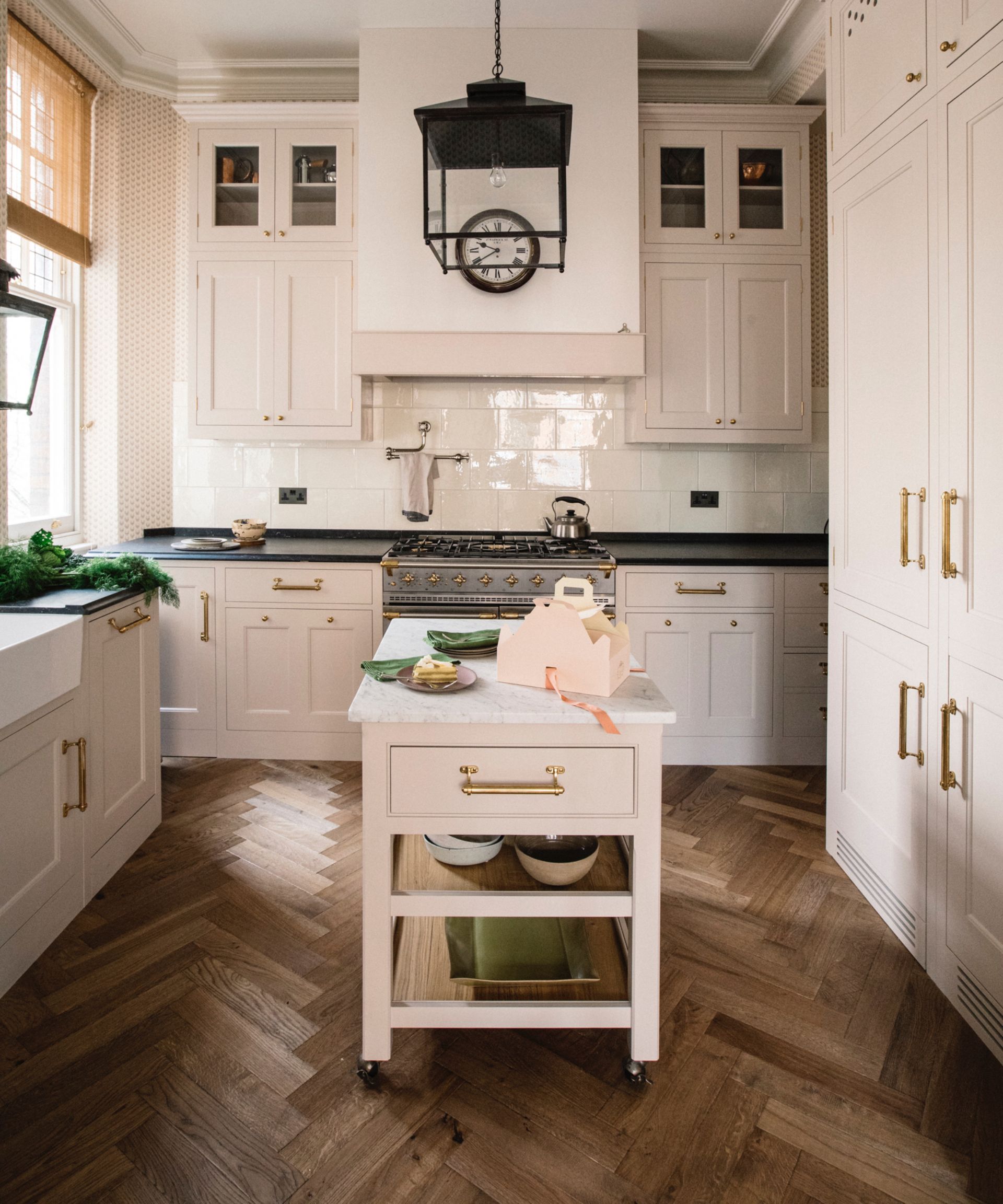 'The balance between space to move easily around a room and adding additional worktop and storage area needs careful consideration,' says, designer Merlin Wright, from Plain English. For Merlin, this measurement is vital to success. 'A walkway of 900mm to one meter around an island works well and in smaller rooms, this could potentially be reduced if a small workbench or movable island can be incorporated.'
Merlin advises creating a temporary structure, for example using cardboard boxes or a table, to experiment with the size of an additional piece of furniture in the middle of your kitchen, before you commit to buying and installing a fitted island in a smaller galley space.
There are distinct advantages to an island, there is a space to pull up a stool, rest roasting dishes and it gives you a link between the sink and the stove to serve.'
Having an island that is totally movable is a brilliant solution for a smaller space, allowing you to move it in and out as you need the extra workspace.
3. The beauty of an extension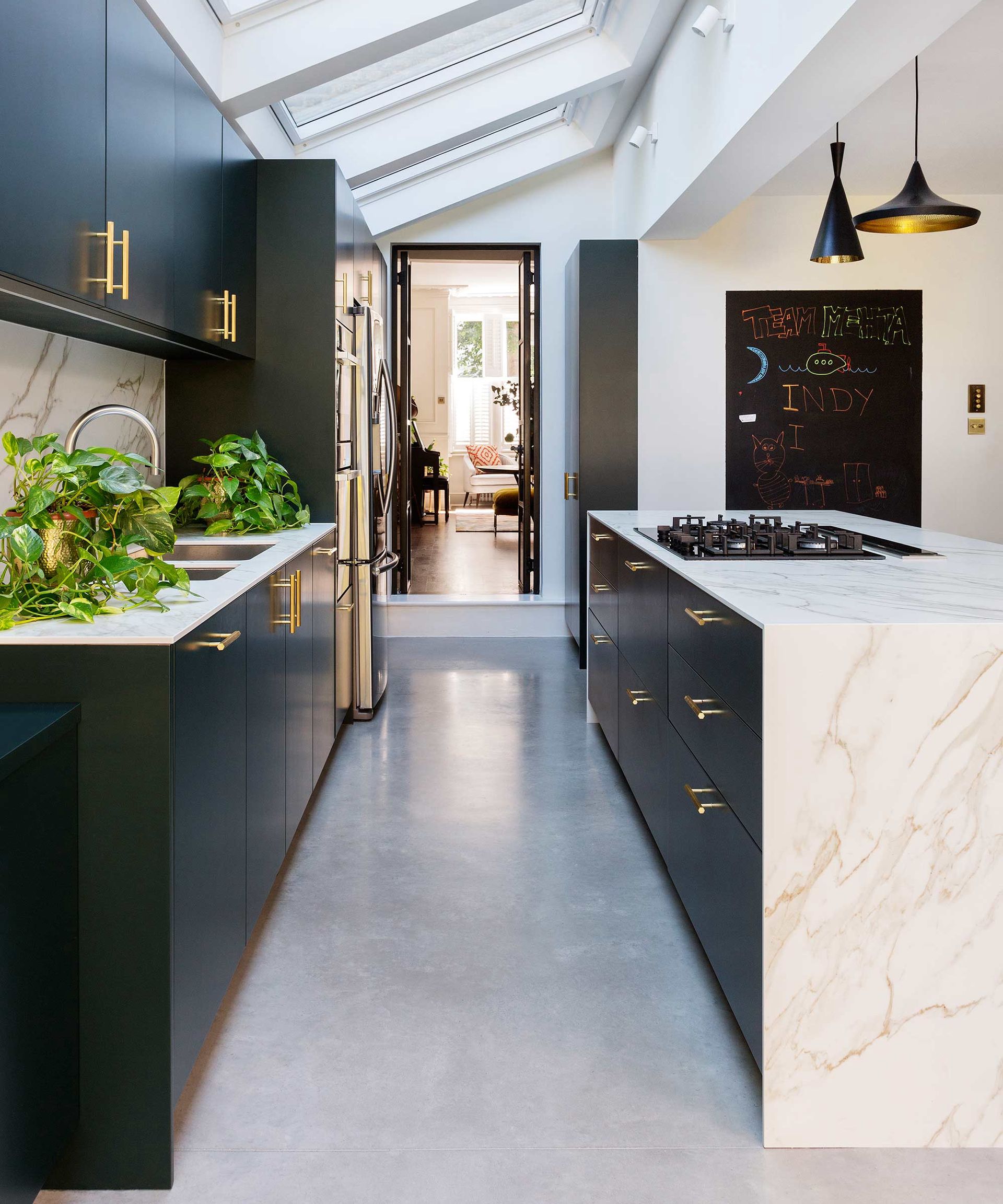 For a much more radical approach to a long, narrow kitchen, designer Reuben Ward at Blakes London suggests knocking through the galley kitchen wall entirely, to remove the galley kitchen design and create one much larger room from what was once two smaller ones.
He explains: 'Open plan living has moved us away from the well-loved post-war kitchen, dining room hatch concept. Developers and owners of period homes now tend to design open plan kitchen, dinner, and lounge spaces as one larger multipurpose room.'
'By knocking through, a galley kitchen can swap one wall run and replace it with a wider kitchen island where the wall would have been. This helps to zone the space between the living and kitchen spaces while still offering the galley style kitchen experience.'
4. Give your island a double use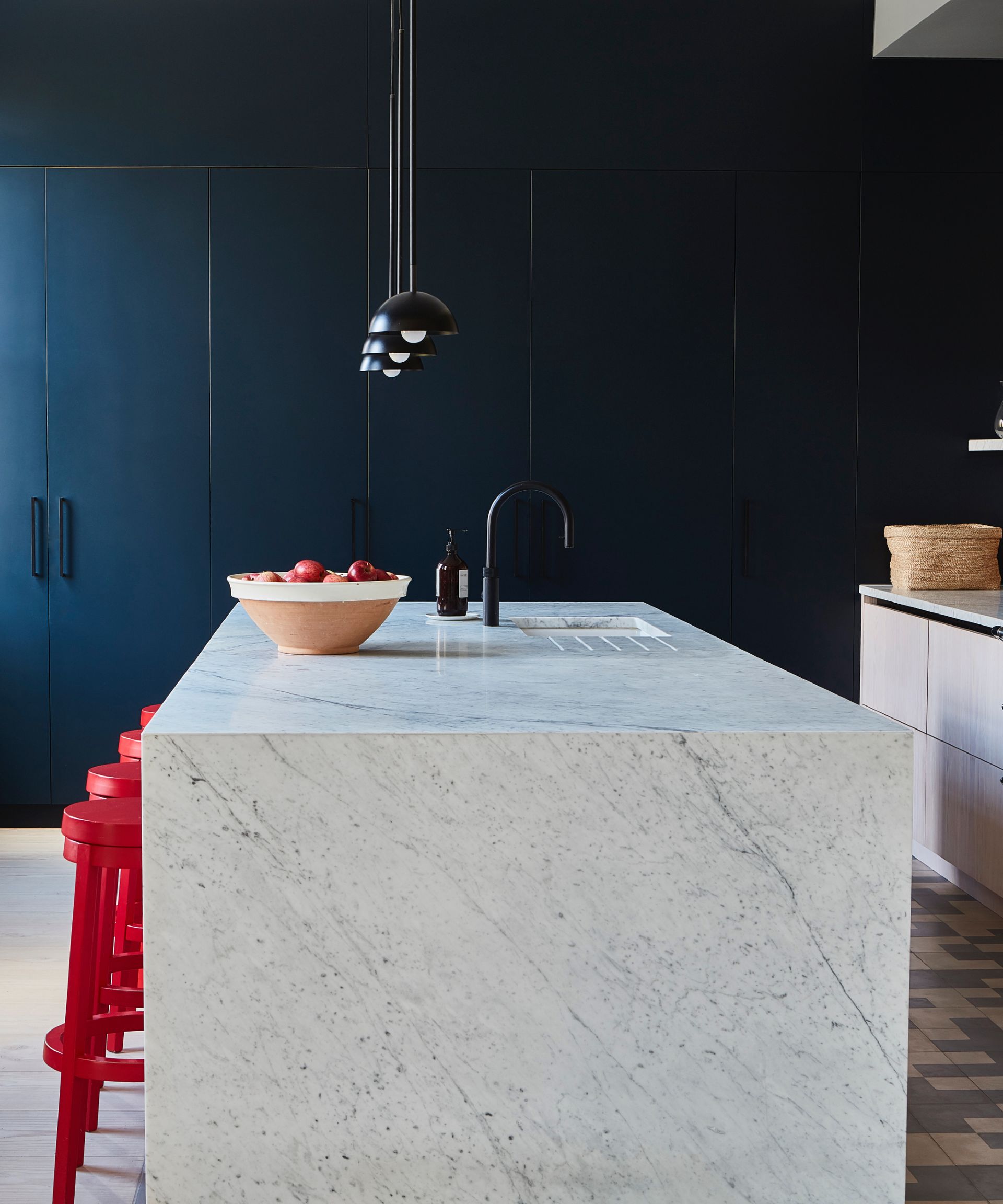 Space is often the central reason for not including an island in a kitchen plan, so coming up with solutions for smaller spaces is key. If the room is tight then consider using the kitchen island as the dining table. You could include a set of counter stools and an overhang from the counter to create a seating area in your galley kitchen.
Reuben Ward, designer at Blakes London, says: 'If there is a little more space available then a banquette seat can be incorporated into the island so that the formality and sense of occasion of a dining table can still be retained. Or a hybrid version of the two is to place the island on different levels to demarcate the taller functional aspect of the kitchen island from the lower dining area.'
5. Introduce a show kitchen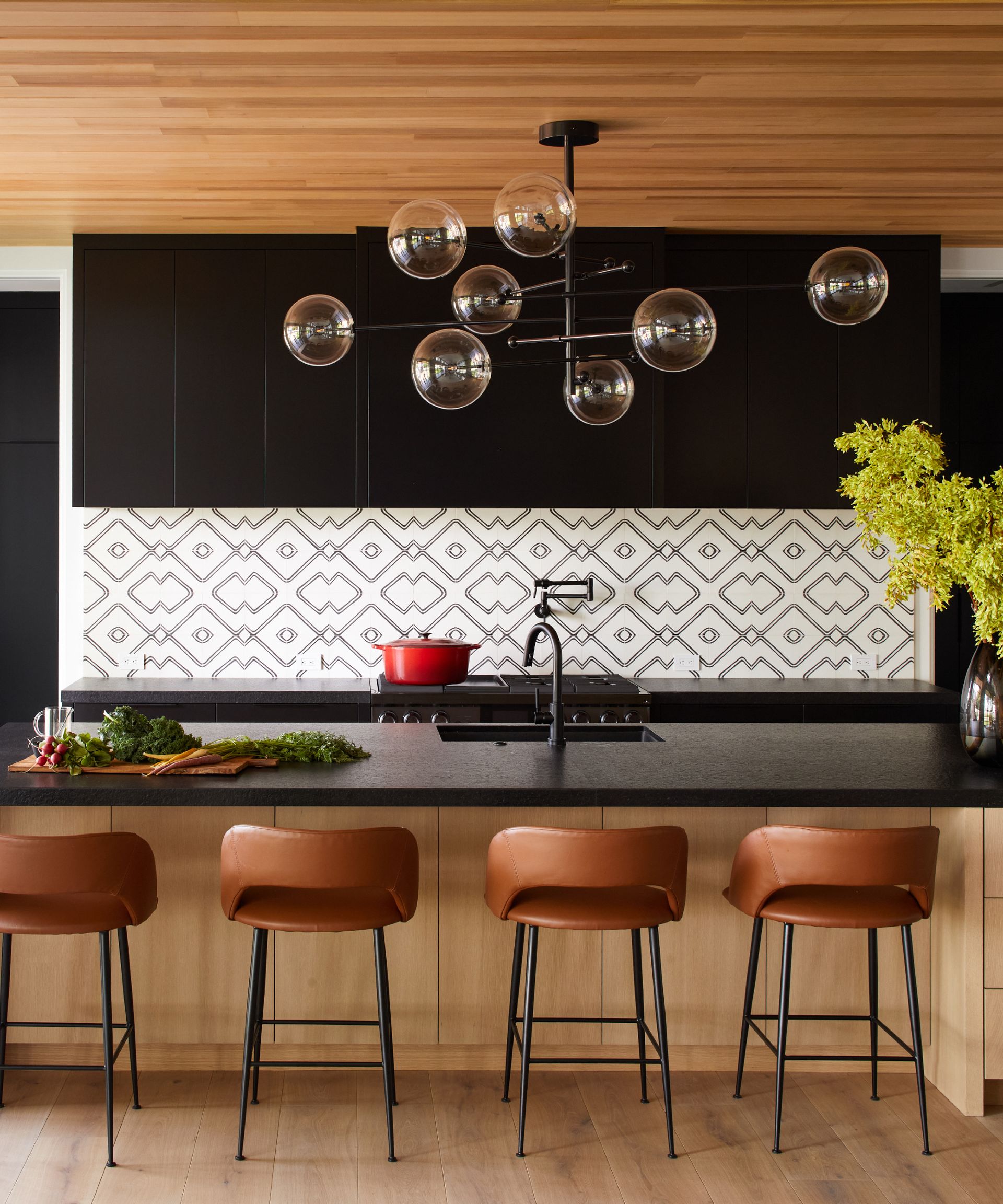 Whether you can fit a kitchen island into a galley kitchen depends on the amount of space available. By design, a galley kitchen is an efficient use of space intended to maximize counter space, appliances, and cabinetry within a small footprint.
The kitchen is the heart of the home and designers and architects often introduce unique features to get around physical problems. Ryan McDaniel at Brandon Architects has an exclusive solution for houses with a galley kitchen.
'Rather than force an island into a galley kitchen, we often consider adding a show kitchen with an entertaining island, this enables homeowners to entertain while cooking and hide the mess of dirty dishes, pots, and pans in the galley kitchen.'
6. The benefits of a large galley kitchen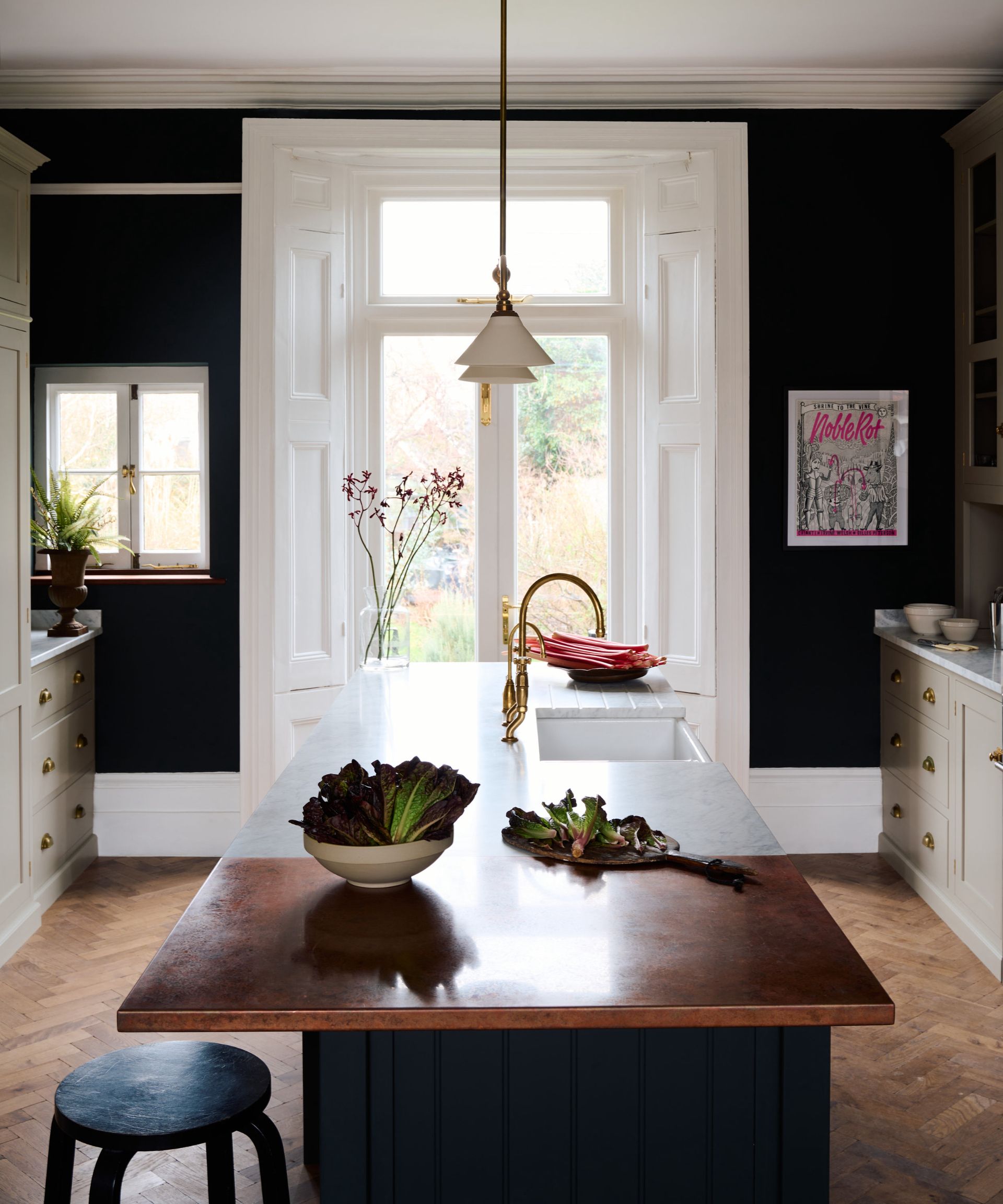 If you are fortunate to have a large room, a galley layout still provides an efficient and beautiful design for a kitchen, size is not a determiner for this style of kitchen and of course, within this style and size of kitchen an island will fit seamlessly. The island can be utilized to provide seating space, a large extra work area, and storage.
In this kitchen, the island countertop is demarcated into two distinctive sides using different materials. The copper surface has been clearly created as an area for socializing and eating with the inclusion of a stool beneath.
7. Consider an oval island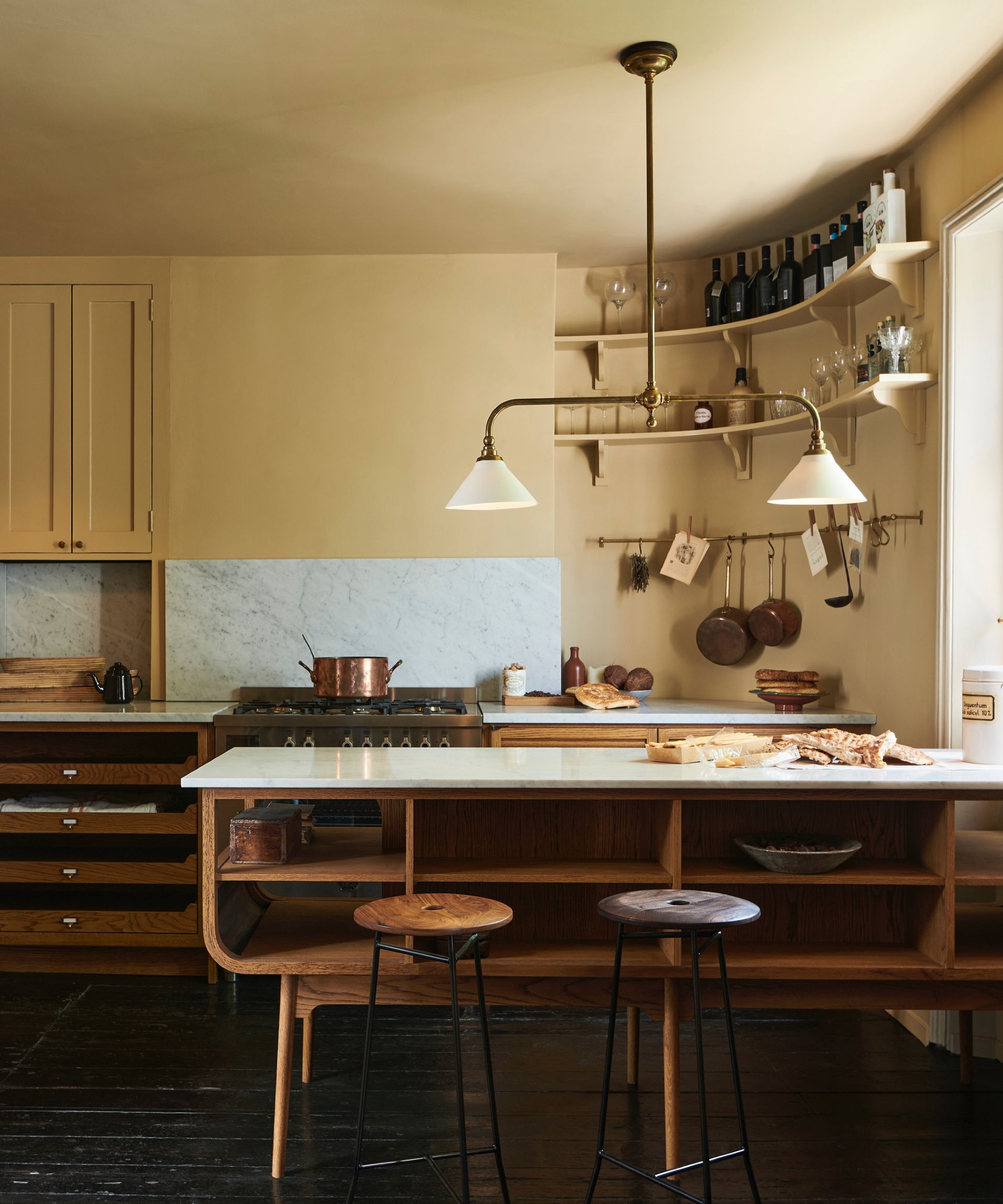 Traditional rectangular kitchen islands are considered unsuitable for a narrow galley kitchen. However, do consider freestanding options that may have a more unusual or bespoke shape, for example, an oval island could be an alternative option. The tapered and softer edges will allow for a smoother and narrower flow in the workspace.
FAQs
Is a kitchen island right for a galley kitchen?
To maximize your galley kitchen design, clever ideas about the introduction of a kitchen island will help you to make the decision. A smaller peninsula island is the perfect solution for a small galley kitchen, or the introduction of a movable island that can be pulled in and out of the kitchen when you need extra space and storage.
For some designers, the solution is much more radical, for example removing one wall of the galley kitchen to create an open-plan living, to realize your dreams of a kitchen island immediately, but will, naturally cost more money. Rounded edges or oval-shaped islands could be an effective solution for a narrower kitchen but make sure to create a model, to scale from cardboard, to ensure the size and location can be tested before it is installed.
An island that can function as both storage, social, and dining space is a clever way to include a kitchen island in a galley kitchen.
Sign up to the Homes & Gardens newsletter
Decor Ideas. Project Inspiration. Expert Advice. Delivered to your inbox.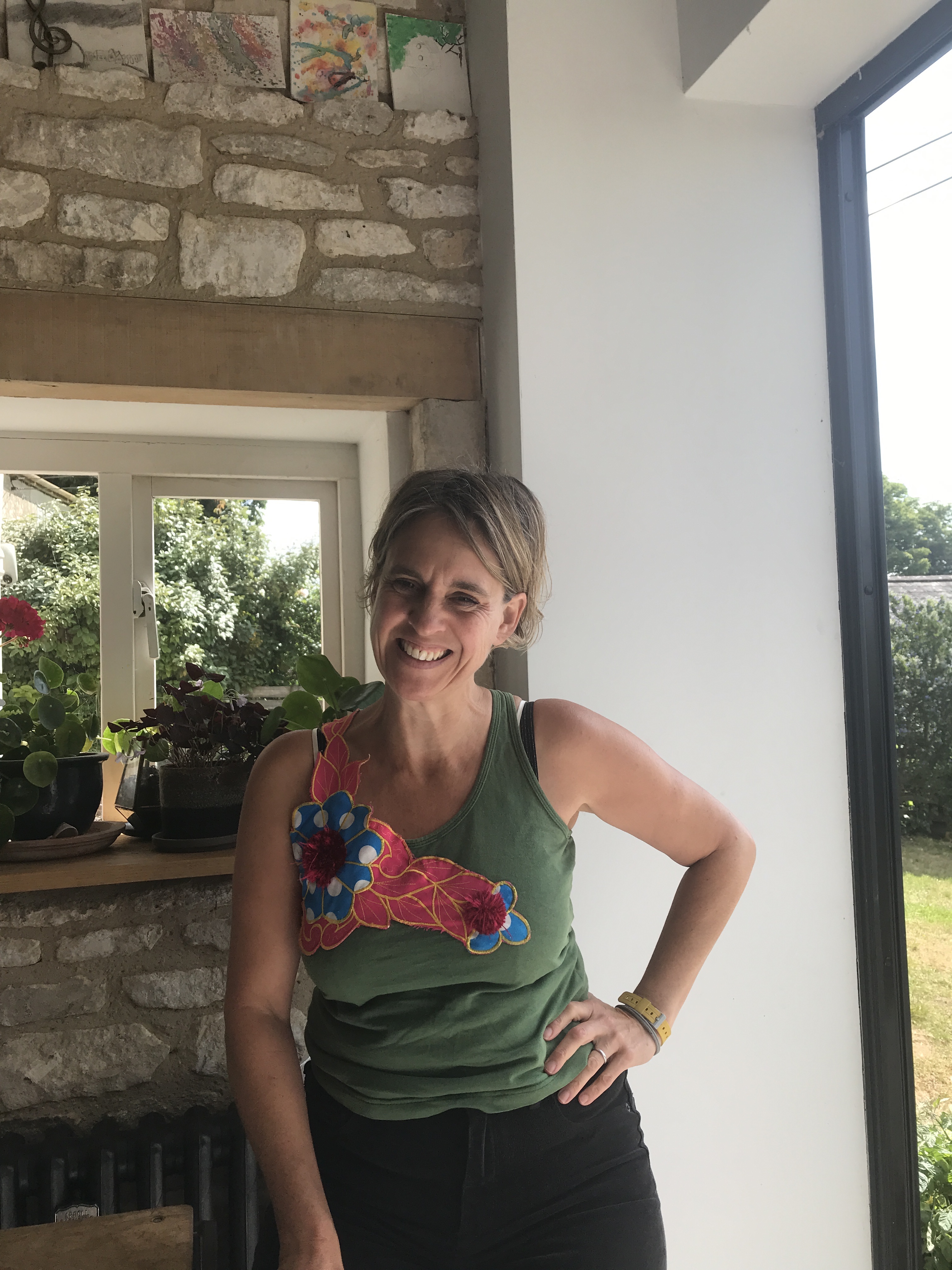 Hannah Newton is a lifestyle, interiors, travel and design journalist and editor who has been writing for the past two decades, she has written for national newspapers including The Times, The Telegraph, The Guardian and The Observer as well as interiors titles Elle Decoration and Architectural Digest in the UK and across Europe, South Africa and Australia.