Why closing down my kitchen after dinner makes for a more organized cook space – and fewer late-night snacks
This is why you should do like restaurants and clear up counters and dishes every night, even if it feels like a chore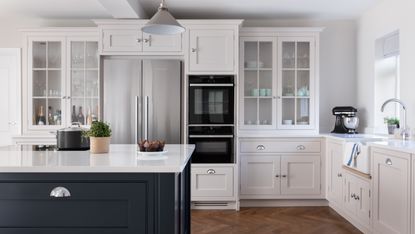 (Image credit: Drew Forsyth)
Sign up to the Homes & Gardens newsletter
Decor Ideas. Project Inspiration. Expert Advice. Delivered to your inbox.
Thank you for signing up to Homes & Gardens. You will receive a verification email shortly.
There was a problem. Please refresh the page and try again.
'Closing down the kitchen' is what restaurants do at the end of the dinner shift. Leftover food is put in the refrigerator, pots and utensils are washed and put back in place, and countertops are wiped clean.
Most of us will clean up our cooking and dining space after dinner – I'd always clear the table, load the dishwasher and rinse out the sink each evening. And that was that. The idea of taking my clean-up to the next level felt like too much of a chore – until I heard about 'closing down' the kitchen, and not using so much as a teaspoon until the following day.
When it comes to organizing a kitchen, this one is genius as both a cleaning system and a healthy lifestyle hack. And it's transformed the way I operate after dinner. And it's not just the evening it affects. Getting the kitchen organized and closing it down will mean it's ready for you to hit the ground running the following day.
Why closing down the kitchen works – according to the pros
She may be my go-to exercise guru and intermittent fasting pro-in-the-know, but I hadn't credited fitness hall-of-famer and NYT best-selling author JJ Virgin with home decor and interior advice – until I heard her tip about closing down the kitchen after dinner each night.
'This is a hard and fast rule. In fact, if I could have a padlock and an armed guard at the door of the kitchen, I would probably do it,' she says on her YouTube channel. 'The big thing I teach people is to shut that kitchen down after dinner and get the heck out of there,' she told fellow fitness pro Kathy Smith. 'Go sit in your bathtub. Don't go back in there.'
I followed JJ's advice because I'm a fan of time-limited eating a few times a week, where I fast between dinnertime and breakfast, with no snacks or glasses of wine in between. But when I saw the effects of 'closing down' the kitchen each night, it became more about a lifestyle choice for me.
The results? With no mess on the surface, I'm more in control of my home organizing, which saves me time when deciding what groceries to buy and prepping meals.
I feel calmer and happier in my space because it's clear and decluttered.
And I can invite friends over to hang out around the kitchen table without needing to do a deep-dive into cleaning before they arrive – when you close down the kitchen daily, it's easy to keep on top of any mess.
And yes, I'm less tempted to snack in the evenings – if a breadboard already has crumbs on, who will notice a few more? If it's clean, wiped, and put away, there's no way I'm getting it out onto the counter again.
Here's my 'closing down' routine for the kitchen. See what difference it could make to you…
1. Clear the table and countertops
I have an eat-in kitchen where my family sits down together to eat dinner around the kitchen table – and we take it in turns to clear the plates when we've finished. If you have a kitchen diner or a kitchen island with space to eat, then clearing them is the first step to closing down the kitchen.
At the same time, I'll clear the kitchen countertops and wipe them clean, ideally with an eco or natural homemade kitchen cleaner so I know I'm not introducing toxins into the space.
From experience – and a lot of experimenting with where to put small appliances such as kettles and stand mixers, I know this is easier when I'm on top of my game with organizing kitchen countertops.
2. Clean-up pots and dishes
Next, put dirty cooking pots and utensils in the dishwasher or sink, ready for washing. Did I mention that my dishwasher is my favorite appliance because it takes the graft out of cleaning crockery? If you agree, return the love by knowing how to clean a dishwasher, so it stays super-effective and efficient.
'Growing up, my kitchen was the only room in the house that was cleaned daily. Every morning when I came downstairs, the kitchen was always tidy,' remembers professional organizer Dilly Carter, founder of Declutter Dollies and author of Create Space: Declutter Your Home to Clear Your Mind.
'Even now, before I go to bed, I always make sure my kitchen is clean. Seeing greasy pans in the sink from the night before is so depressing. At home, the washing up always had to be done before bed.'
I'm with Dilly, so as well as my trusty dishwasher, when I started my kitchen close-down routine, I made sure to I knew how to clean a kitchen sink like a professional. And I've been sure to design a kitchen sink area that makes clean-ups easier.
3. Sweep the kitchen for mess
Little and often is my mantra here. I've learned from experience that knowing how to clean a kitchen, including cleaning stove burners so they don't get food dried on, is key to a good kitchen close down.
As well as the sink and countertops, I'll whizz the vacuum over the floor and if it looks in need of a mop, I'll get to work cleaning the kitchen floor.
If it sounds like a lot, believe me, I'm a lazy housekeeper and it's really not. I like to keep cleaning time as efficient and minimal as possible, so I'll also wipe down and clean kitchen cabinets while waiting for the kettle to boil. And once a week, I'll clean my refrigerator before I stock it up with my next grocery delivery.
4. Put dry dishes away
Okay, I don't unload my dishwasher until the morning – that would mean breaking my rule of not returning to the kitchen after it's closed down. But I do make sure anything left on the drainer is dried and put away.
'Don't leave things in the drainer. This is just another delaying tactic, the habit we are trying to break,' rules Debora Robertson, author of Declutter: The Get-real Guide to Creating Calm from Chaos.
'Dry the dishes and put them away. Rinse out the sink. Flick a damp cloth over the surface. Future You will be so grateful – there's nothing more heart-sinking than starting your day doing yesterday's work.'
Present Me, looking back on the experience of Past Me, agrees with Debora. Future You, take note!
5. Make sure everything has a place
Restaurants have turned organizing pots and pans into a fine art, so closing down the kitchen is as smooth as the chef's roux sauce. The same principle applies at home.
When you know exactly where all your kitchen kit, utensils, and tableware are kept, then tidying up the kitchen is so much quicker – and you'll always be able to find that whisk when you need it.
And that's it. Close down the kitchen, turn off the light, and shut the door – just don't forget to fill up a flask for drinking water before you do. When you step back inside the next morning, you'll be greeted with a clean and sparkling space, and not dirty dishes or the telltale crumbs of a sneaky late-night snack.
Sign up to the Homes & Gardens newsletter
Decor Ideas. Project Inspiration. Expert Advice. Delivered to your inbox.
Andrea has been immersed in the world of homes, interiors and lifestyle since her first job in journalism, on Ideal Home. She went from women's magazine Options to Frank. From there it was on to the launch of Red magazine, where she stayed for 10 years and became Assistant Editor. She then shifted into freelancing, and spent 14 years writing for everyone from The Telegraph to The Sunday Times, Livingetc, Stylist and Woman & Home. She was then offered the job as Editor on Country Homes & Interiors, and now combines that role with writing for sister title homesandgardens.com.