Experts reveal the biggest kitchen cabinet cleaning mistakes – and what to do instead
Professionals share the ways in which we sometimes risk damaging our cabinet fronts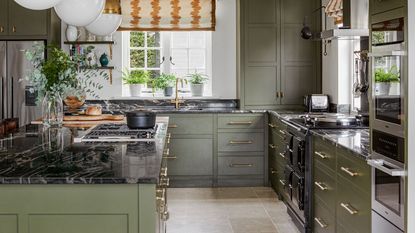 (Image credit: Future PLC)
Whether we have the kitchen of our dreams or a 'work in progress', sparkling clean cabinets go a long way. Clean, clutter-free surfaces make coming downstairs to make a morning coffee all the more enjoyable, as well as the obvious hygiene benefits.
Cleaning experts claim there are various kitchen cabinet cleaning mistakes we should swerve if we want to clean them properly – and keep them looking their best for years to come.
When cleaning a kitchen, it really helps to have a few pro cleaning tips and tricks up our sleeves and to know the errors to avoid.
Kitchen cabinet cleaning mistakes
From applying too much pressure to forgetting commonly overlooked areas, here are the things cleaning professionals advise against. The fronts of kitchen drawers and cabinets are fairly durable, but using the right products, and a gentle touch, will prevent marks from ruining your beautiful kitchen cabinets.
1. Drenching the cabinets
'One mistake is using too much water or cleaning solution, which can damage the finish on the cabinets,' cleaning professional Andrii Gurskyi observes. If the cabinets are dirty, it's tempting to go overboard and bathe them in too much cleaning spray, but this will often make life harder as it leaves you with sticky residue.
Instead, we recommend spraying your cleaning solution onto a cloth rather than directly onto the cabinet. This will avoid streaks or pools of product that might get missed when wiping.
Andrii is a serial entrepreneur who runs two of the most successful home services companies in the New York and Miami areas, Mr. Glazier and HomeClean.
2. Using abrasive products
They're great for cleaning oven racks, but abrasive scouring pads and kitchen cabinets don't mix. Although cabinets are fairly hardwearing, rough sponges and harsh chemicals can damage them.
A scourer or dish sponge could leave permanent marks, and potent cleaning chemicals such as bleach can also damage the surfaces of the cabinets. 'Instead, use a mild, non-toxic cleaning solution, such as a mixture of vinegar and water or a gentle dish soap,' recommends Andrii.
Kitchen staples like vinegar and dish soap are often all you need to clean a kitchen sink, too. Not a fan of the smell? Try a vanilla vinegar cleaner instead.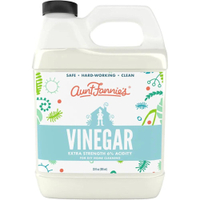 6% Distilled White Cleaning Vinegar | $11.99 at Amazon
This white vinegar with cleaning strength at 6% acidity lifts grime and breaks down grease, mineral deposits, lime scale, and built-up film for a clean space with no residue left behind and no rinsing required.
3. Applying too much pressure
Tackling kitchen cabinets is a big job, especially if it's not been done for a while. But too much haste and too much pressure when scrubbing can damage the finish of your cabinetry. Andrii says that even using a dry cloth or paper towel can leave marks, and suggests cleaning with a soft cloth instead, or a microfiber cloth, at Amazon. Go in gentle, circular motions.
4. Forgetting to clean hidden spots
There are a few hidden areas of the kitchen we forget to clean, resulting in odors and bacteria, which aside from making our kitchens far less pleasant to be in, could even lead to illness. Out of sight, out of mind – and the tops of our kitchen cabinets are arguably the most overlooked of all, along with the vent hood.
Andrii comments that the inside of the cabinet doors often gets missed too, as do the handles or knobs. These are touch points we reach for every day, so make sure to clean these areas regularly to ensure that your cabinets are thoroughly clean.
Get inside nooks and crannies with an attachment on your best vacuum cleaner for a truly crumb-free cabinet.
5. Not cleaning regularly enough
Audrey Schenkel, the owner of Practically Perfect Cleaning & Organizing says our cabinet fronts are actually an area that we often forget to clean, despite being in plain sight. And if neglected, they can collect grease, dust, and debris, which could attract pests.
'Cabinet faces have small grooves or ledges where dust can accumulate,' says Audrey. 'Around the stove, it's common for grease to also build up on cabinet doors.'
So she says it's a good idea to set up a schedule where bigger items are rotated each month. For example, one week each month can be dedicated to the following: fridge, oven, bleach trash cans, and wipe-down cabinet fronts.
In terms of how often should you clean kitchen cabinets, Andrii says 'at least once every few months, or more often if you cook frequently or have a busy kitchen.' Organizing kitchen cabinets properly will make cleaning the inside much quicker.
FAQs
What causes cabinets to feel sticky after cleaning?
One reason why cabinets might feel sticky after cleaning is if the cleaning solution wasn't rinsed off properly. When using a cleaning solution, make sure to rinse the cabinets thoroughly with clean water to remove any residue, says Andrii Gurskyi. Make things easier with the white vinegar solution linked above which doesn't need to be rinsed.
Sign up to the Homes & Gardens newsletter
Decor Ideas. Project Inspiration. Expert Advice. Delivered to your inbox.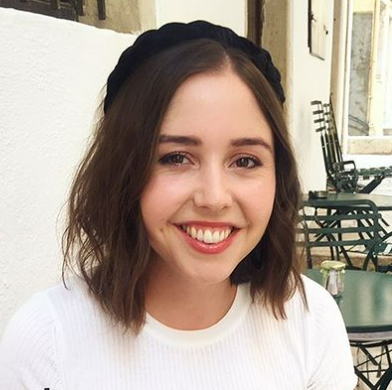 Millie Hurst is the Solved Section Editor at Homes & Gardens. She has six years of experience in digital journalism, having previously worked as Senior SEO Editor at News UK in London and New York. She then gained experience writing for women's magazines before joining Future PLC in January 2021. Millie has written for an array of homes brands including Livingetc and Real Homes and was formerly Senior Content Editor at Ideal Home before taking on the position of Section Editor with Homes & Gardens. She has written and edited countless features on home organization, decluttering and interior design and always hopes to inspire readers with new ways to enjoy their homes. She lives in Sheffield, South Yorkshire and loves to weave nature-inspired decor and nods to time spent in Italy into her own home.