8 small pantry mistakes you can make when adding one to your kitchen – and how to avoid them
Adding a small pantry to your kitchen? Before you get carried away with the thought of all that extra storage, just be aware of these obvious mistakes and know how to avoid them...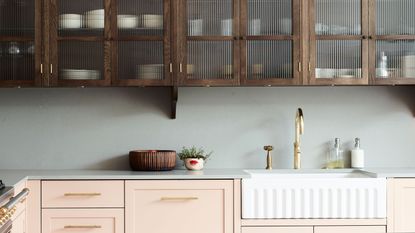 (Image credit: Future PLC)
A pantry is a bit like the new kitchen island, once an element that every homeowner dreamed of becoming essential when designing or remodeling a kitchen. This means pantries are getting smaller and more clever in their designs, making it possible for them to squeeze into a kitchen with limited square footage.
And much like with an island, you can get carried away with the thought of having all this extra storage space and bypass some of the important considerations. Size, positioning, and layouts all need to be spot on to make this addition to your kitchen worthwhile, especially if it's going to be on the smaller side. Pantries aren't cheap and even with small designers they do take up space, so you need to ensure you are getting all of your pantry design right.
So before you start solely focusing on how you are going to arrange your ever-growing pasta collection, we spoke with kitchen designers about the small pantry mistakes that are really easy to make – and how you can avoid them.
Small pantry mistakes to avoid
Explore how you can make a small pantry work in your home with our collection of small pantry ideas below; from helpful organization tips to the best pantry shapes and styles recommended by our experts.
1. Ignoring the smaller details
Small pantries can be ideal for doubling up as a coffee station to hide away all your appliances and keep your surfaces elsewhere clutter-free (especially handy in a small kitchen). Designs with pocket doors are perfect for this as you can slide them out of the way when the area is in use and then hide the storage away when you need to. But one thing that's obviously key to this setup working is plug sockets. You need to be considering them in your design right from the beginning.
'When designing your pantry, think about the smaller details before you start designing the cabinetry,' advises Alex Main, director, of The Main Company. 'What do you want to use the pantry for? For example, someone homeowners may decide they want to use it as a coffee and tea station but didn't include plug sockets within the electrical plans. Plan how you'd like to use the space and factor these details in when designing the space.'
Reuben Ward, Lead Designer at Blakes London agrees, 'Don't leave your appliance planning till the end, decide which items are going where and make sure that you have suitable power and even water or waste available to serve them. Lighting also needs to be considered at the outset, we recommend LED strips underneath shelves so that all items are clearly visible and you don't end up with dark forgotten corners where items go to die.'
2. Going too small (or too deep)
You can go too small with a pantry, to the point when it just becomes a redundant addition to your kitchen and you might as well use the space for standard cabinetry instead. But how small can you go with a pantry?
'You can specify a pullout pantry that is only 12" wide and create tremendous storage for a smaller kitchen space,' suggests kitchen designer and founder of Thyme & Place, Sharon Sherman. 'I personally have a walk-in pantry which is 8' Deep and 6' Wide. I can walk into it and that is where most of our larder storage is found, bulk items like rice, oversized stock pots, serving platters and large bowls, etc. I also have a countertop which holds a few small appliances.'
And consider how deep your pantry is. A common solution with a small pantry is to go narrow but deep, however, as Sharon points out, there comes a point when adding space backwards just creates an opportunity for you to shove in clutter that will be forgotten about as it's not easily accessible.
'Any cabinet pantry deeper than 24" really does not give you additional space. The deeper the shelves, the easier it is to lose things at the back. Shelves that pull out to gain access to whatever is in the back of the cabinet makes sense but not above eye level as you cannot see those items either.'
And ensure you have enough room to actually move around the space, not just reach in the hope you grab the right item. As Allison Lynch, Senior Design Consultant at Roundhouse says, 'One of the biggest mistakes made when designing a small pantry is not allowing enough room for moving around when putting groceries away and bending down to reach shelves at the base level. It's essential to consider what items will be used regularly and sort them accordingly for ease of access.'
3. Breaking up the golden triangle
The positioning of a pantry, no matter how small, is so important to get right, and the easiest way to ensure you do is to consider how you use your kitchen. Where does it make sense for the pantry to be? When it comes to kitchen layouts, we are still big fans of the golden triangle approach. That's having your three main work zones (fridge, stove, and sink) all within an easy-to-move-around, triangular formation. What you want to avoid is your pantry breaking up that flow, so position it outside of that working triangle.
'One of my biggest nos when it comes to pantries is placing them directly in the middle of the work zones. I am not sure who decided this was a good idea and I see it in many architects' plans. Clients have often been advised this is a good idea, but absolutely not,' says Sharon Sherman.
Alex Main, director at The Main Company agrees, 'As larders are often used regularly throughout the day, we'd advise not placing it in a part of the kitchen with high foot traffic, for example, within the kitchen triangle consisting of the fridge, sink and hob. To take things in and out of the pantry requires opening and closing the door, so positioning it within this area isn't the most effective use of space and means you will often be in the way. Instead, pantries work well in the corner of the kitchen for example.'
'The most ideal pantry location varies from kitchen to kitchen and also depends on the client's needs. What works for one person may not work for another. Every kitchen layout is unique. However, when designing your kitchen it's best to locate the pantry away from the direct cooking area to avoid temperature changes impacting your dry goods. You also want to leave ample countertop space around the cooktop and sink for regular kitchen activities but have the pantry somewhat close by for easy access,' adds Bianca Betancourt, senior designer at FORM kitchens.
4. Adding too much closed storage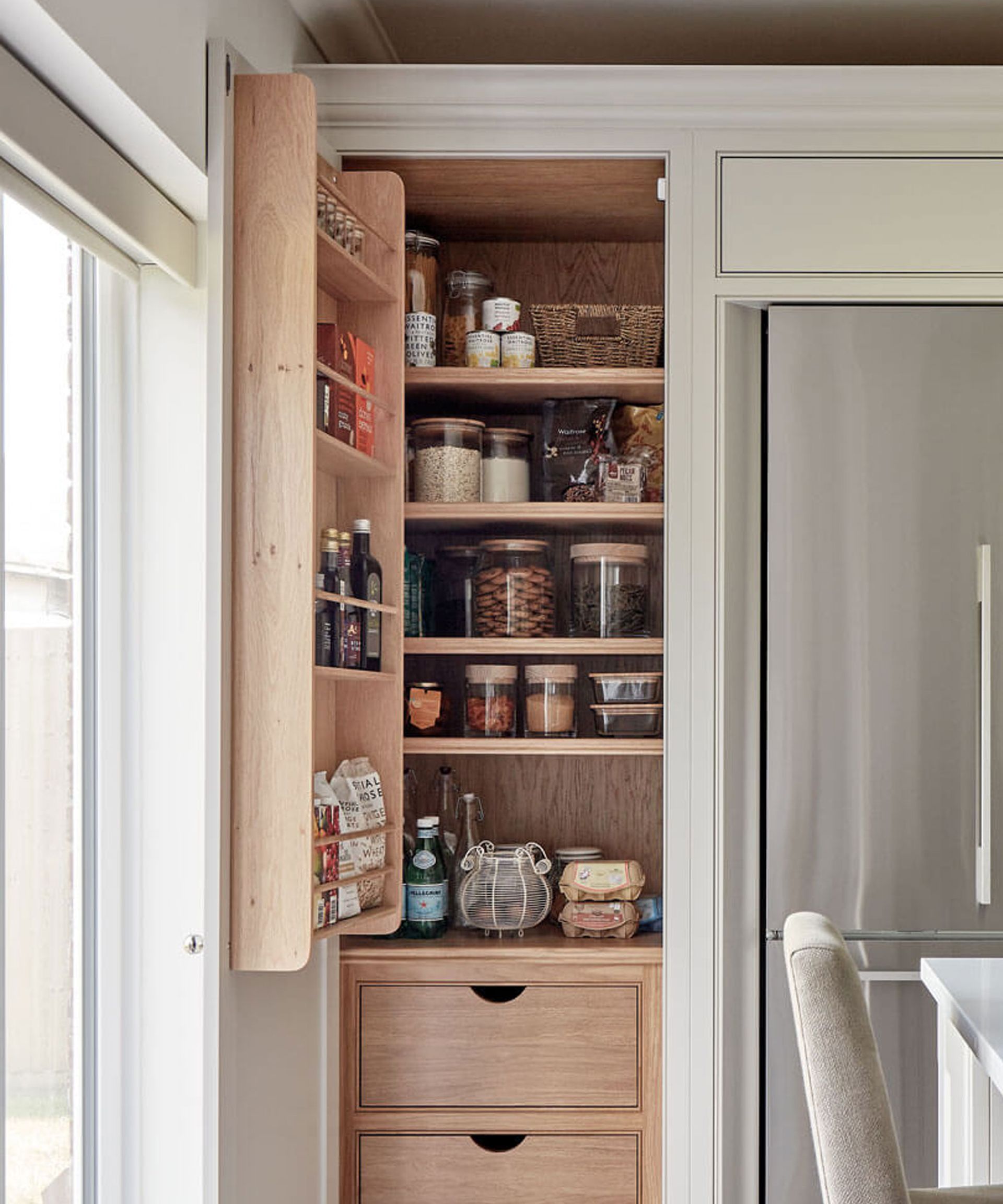 'When designing your pantry you want things to be easily accessible, therefore we often recommend avoiding all closed storage units. Having items in view provides a practical solution, particularly in a small space to ensure things are easily reachable - features such as a bottle or spice racks and floating shelves offer easy access without it becoming a cluttered space,' suggests Elizabeth Sherwin, creative director at Naked Kitchens.
If you do need to corral any clutter, consider adding drawers instead of cupboards, or baskets. Although baskets might look aesthetically pleasing, they aren't ideal for strong heavier items. 'If you are wanting to store a significant amount of food and beverages, avoid having all-basket storage. Ideally, a combination of drawers and shelves is preferable, particularly with some solid drawers as these have a better weight limit and storage capacity,' advises Elizabeth.
5. Not planning out the size of shelving
This is really key to a successful small pantry, and a mistake you want to avoid because it can result in your pantry shelving being totally useless. 'It is important to consider the essentials that need to be stored as there is nothing more frustrating than finding out your favorite cereal or new mason jars don't fit on the shelves where you envisioned them. Having those items in mind means you can determine the shelf heights or drawer heights required,' says Elizabeth.
And consider the positioning and layout of the shelves too. In a small pantry, the seemingly obvious option is to stick with a wall of shelving, but if you have the room to add a little depth to create wrap-around shelving this makes for a more ergonomic space. 'Make sure you have enough height between your shelves for your preferred jars and storage containers (we advise decanting most food into these for a tidier look and maximizing space). Ideally, your shelves would be horse-shoe shaped to give you headroom when organizing/working in the pantry, nobody wants a painful bump or a crick neck!' advises Lois Riley, designer at Mowlem & Co.
6. Not making use of vertical space
If you are blessed with small proportions in your kitchen, you should already know the importance of vertical space. But here's your reminder, don't let any of that space above eye level go to waste when designing a small pantry.
'Make sure to utilize all your kitchen's space, especially height. Even at a very high level, you can have thin wrap-around shelves which are a great way to maximize storage space, especially in smaller kitchens. Designate zones in the pantry at the design stage for different types of items. For example, it's best to store food higher than your appliances and crockery to avoid attracting mice,' advises designer Naomi Astley Clarke.
'And don't place all your shelves at the same height just because it looks good,' adds Reuben Ward, lead designer at Blakes London. 'Consider what items you will need to store at what level and set your shelves accordingly. Breakfast cereal boxes need more height and people often place these up high as they are light and unattractive, but if you have children in the home, you might want to future-proof where you store them lower down so that they can become self-sufficient at breakfast time.'
'Consider the depth of your selves too, if they are too deep you'll never find items at the back so consider drawers instead. U shape shelves also work particularly well in pantries. If your pantry has doors, spice drawers work well on the backs, as do dish towel hooks or paper towel, or foil and cling film reels.'
Make those top shelves even more of an asset by adding in a ladder or at least having a step to hand. 'If you want to maximize the full ceiling height of a walk-in pantry, make sure you can easily reach the tops shelves! We would add a sliding ladder and rail. If you plan to use your pantry as a baking cupboard, or even just for placing heavy shopping until it's put away, make sure the worktop is cool to the touch, tough and appropriate, so preferably stone or quartz.' suggests Lois.
7. Not considering lighting
Think about it, you would never have a fridge that didn't light up when you opened the door, and the same should be the case with a pantry. 'Poor lighting is a mistake to avoid, there should always be good lighting in the pantry. Lighting built into shelves makes finding things so much easier, especially in a walk-in pantry,' says Sharon Sherman.
Allison Lynch agrees that 'not introducing enough light is another mistake often made. Lighting these small spaces properly is key so you can use them effectively.' So plan lighting in early and ensure it's purely functional – this is not the space to be getting creative with kitchen lighting. Spotlights in the ceiling and LED under-shelf lights will ensure the space is lit effectively and you can easily find what you are after.
8. Adding a pantry in a space that changes temperature
Underfloor heating is a dream in a kitchen, but if you are adding a tiny walk-in pantry be sure not to take it under that section of the room. Food + heat is obviously not a good combo.
'Ideally one would avoid laying underfloor heating into a walk-in pantry area so that it maintains a slightly cooler temperature than the rest of the kitchen. You can even take it one step further and chose not to insulate walls, and even include a cold shelf made of natural stone for foods such as cheeses to sit on.' suggests Reuben Ward.
And in a similar vein be sure not to add your pantry into areas of the home or kitchen that fluctuate in temperatures. 'One of the biggest storage mistakes is putting a pantry in somewhere that tends to be very hot – like next to a boiler.' says Naomi Astley Clarke. And same goes for having a pantry near the oven too. 'Avoid spaces that are warm as food can easily spoil – good ventilation and light are needed, however lots of direct sunlight isn't good either as it increases the temperature in the room.'
---
Kitchen designer, Tom Howley, says, 'there are no hard and fast rules when it comes to kitchen ideas for a small pantry, but by avoiding any of the above small pantry mistakes, you can make yours more efficient, streamlined and beautiful.
Sign up to the Homes & Gardens newsletter
Decor Ideas. Project Inspiration. Expert Advice. Delivered to your inbox.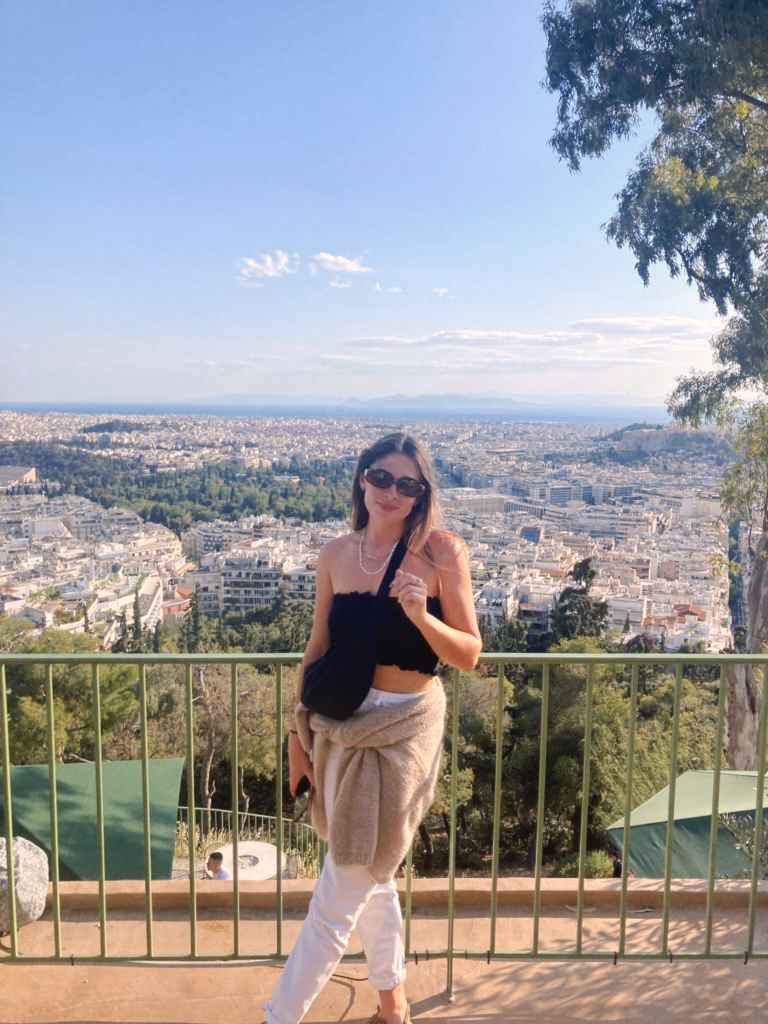 I am the Head of Interiors at Homes & Gardens. I started off in the world of journalism in fashion and luxury travel and then landed my first interiors role at Real Homes and have been in the world of interior design ever since. Prior to my role at H&G I was the digital editor at Livingetc, from which I took a sabbatical to travel in my self-converted van (not as glamorous as decorating a home, but very satisfying). A year later, and with lots of technical DIY lessons learnt I am back to writing and editing, sometimes even from the comfort of my home on wheels.