Where to store spices in a small kitchen – 9 space-saving places to stash spices in style
Go big on flavor in your small kitchen with these savvy ideas for where to store spices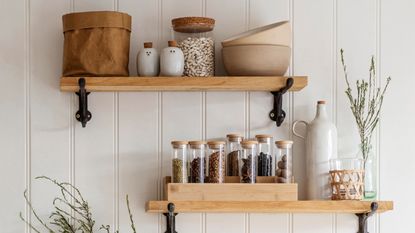 (Image credit: Garden Trading)
Notoriously space-consuming, working out where to store spices in a small kitchen so they (and the rest of your cooking space) remain neat, tidy, and well-ordered is no easy task. The good news is that it absolutely can be done, and – without the luxury of plentiful space – you're more likely to maintain a clutter-free collection, too.
Organizing a small kitchen by activity makes it much easier to navigate in general, so, as some of the most often-used ingredients, you'll want to locate your spice storage ideas as near to the stove or cooktop as you possibly can, whether they're stored in drawers or cabinets, wall-mounted racks or countertop caddies.
Whether you're an experimental cook with jars aplenty, or you're looking to house just a few flavorful favorites, we've put together a shortlist of where to store spices, so your small kitchen ideas remain as tasteful as possible.
Where to store spices in a small kitchen
Streamlining essentials is important when organizing a kitchen of any size, but if you're particularly limited on space, there's simply no room for clutter. Small kitchen storage ideas should play host to essentials only, so organizing spices before you rehome them is job number one.
'Get out all of your spices and check the use-by dates. I did this exercise with my mum a few years ago and we actually found a jar of cinnamon from the year of my birth! If you come across any duplicates within the date, think about whether you're really going to use them. If not, consider donating extra stock to a food bank or donation center in your local area', says professional organizer Katrina Hassan of Spark Joy London.
Only once you've successfully streamlined your spice collection, you're in a position to make decisions on how best to store it.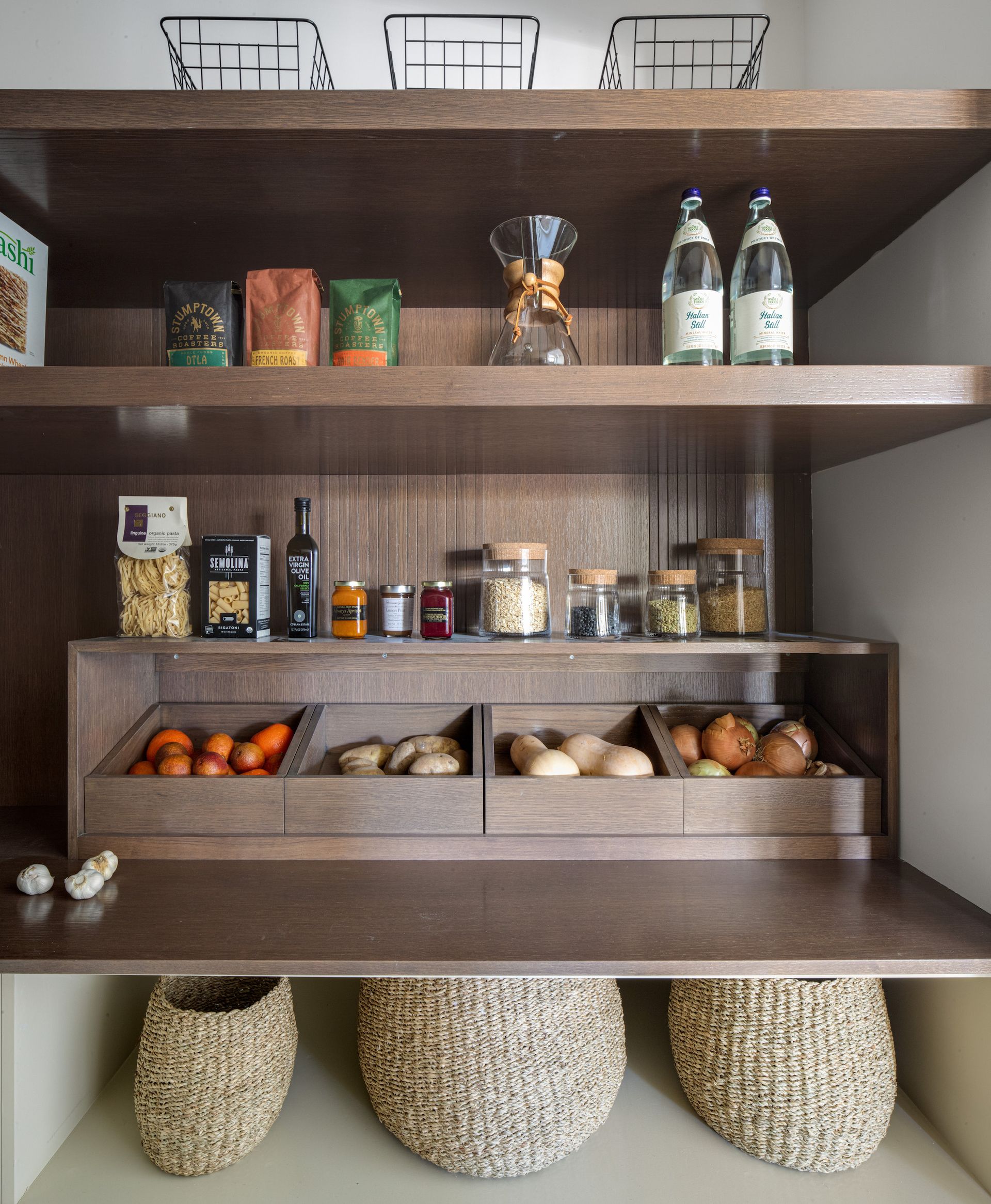 1. Dedicate a spice drawer
Organizing kitchen drawers in such a way that they can successfully hold a spice collection is becoming increasingly popular. The trick is to invest in the best drawer organizers to maximize the space you're working with.
''They can be tailored to your exact specifications, allowing easy access rather than delving into the back of bulging kitchen cupboards. Not only is this more efficient when cooking but storing them in a cool, dark drawer can extend the life and flavor of your spices', says Tom Howley, design director at Tom Howley.
Inserts and inlays or even a tilted spice rack, available at Amazon, work well in narrow, shallow drawers, while vertical dividers or high-sided containers are ideal for making deeper, wider drawers fit for purpose. Be sure to position labels so you can clearly see them, whether that's on the lid or on the side, and invest in non-slip liners to stop jars from falling over as the drawer opens and closes.
2. Load up a Lazy Susan
Whether it's on a countertop, in a cabinet, or on a shelf, you can't afford to let awkward corners go under-utilized in a small kitchen. Despite what the name may have you believe, a Lazy Susan is one of the most hardworking organizational tools you can employ to make the most of them, and as luck would have it, they lend themselves brilliantly to spice storage.
'They keep jars in place and rotate so you can easily access what you need without having to rummage around and knock things over,' says home organizer Emma George of Declutter with Emma.
A double-tiered design, like this one from Target, takes advantage of taller spaces, worth noting if you're organizing deep pantry shelves.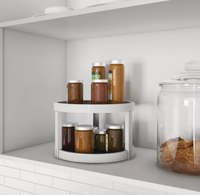 Double-tiered Lazy Susan | $19.95 at Target
The smooth rotation and compact size make this Lazy Susan great for small spaces.
3. Add another level of storage
If you've got vertical room to play with when organizing kitchen cabinets, consider adding in another shelf dedicated solely to spices, or installing a pull-down spice rack underneath wall-mounted cabinets.
You could also try these expandable 'pull and rotate' racks, available at Amazon, which not only utilize vertical space but also the depth of the cabinets, so jars don't wind up lost at the back, never to be seen again' suggests professional organizer Shannon Krause of Tidy Nest.
Shelf risers offer a more simple, less costly alternative. Position them towards the back of the cabinet with spice jars lined up on top then use the cubby hole underneath to store other pantry staples.
Shannon Krause is a Certified Professional Organizer who holds a specialist certificate in Brain-Based Conditions from the National Association of Productivity and Organizing Professionals (NAPO) and is a Certified Reiki Master which she incorporates into her work with clients. Tidy Nest has helped dozens of clients bring order into their lives and has won local awards recognizing their work.
4. Rack up a door or two
The back of a door, whether it's a pantry, kitchen, or cabinet one, is a great spot to store spices without taking up precious surface space. Depending on how big your collection – and the door – is, you could install a series of racks and order herbs and spices in a way that makes the most sense to you, whether that's by cuisine, type, or alphabetically.
'I'm a big fan of this storage solution in smaller kitchens; not only is it space-saving, but it also forces you to be mindful of how many spices you buy going forwards. If it doesn't fit in the rack, ask yourself whether you really need it. If the answer is yes, swap it out for something that you haven't used in a while', suggests Katrina Hassan.
5. Create a spicy wall display
Whether you opt for purpose-made racks or integrate them as part of your kitchen shelving ideas, storing spices on a wall keeps them close to hand, frees up space in cabinets and drawers, and – when organized well – makes for stylish focal points, too.
Decant them into good-looking glass jars with uniform labels and treat them as you would if you were organizing a pantry, arranging by size and use for a neat, orderly feel.
'While wall-hanging spice racks can look lovely, rarely are the jars big enough to house the contents of all the spices you own. Unless you have a minimal collection, bear in mind you'll need to assign more space elsewhere to hold the rest of your spices – this may not be beautiful, but it will be useful', says home organizer Bonnie Borromeo Tomlinson, author of Stop Buying Bins.
Bonnie Borromeo Tomlinson
Bonnie Borromeo Tomlinson is the author of Stop Buying Bins & other blunt but practical advice from a home organizer. She was the principal of Bonnie Lia Interiors, a home organizing and interior decorating firm with clients in MD, VA, and DC. She has also held positions as a senior national media buyer, museum store retail buyer, and home decor account manager. Since 2020, she has focused her attention on writing full-time.
6. Go bespoke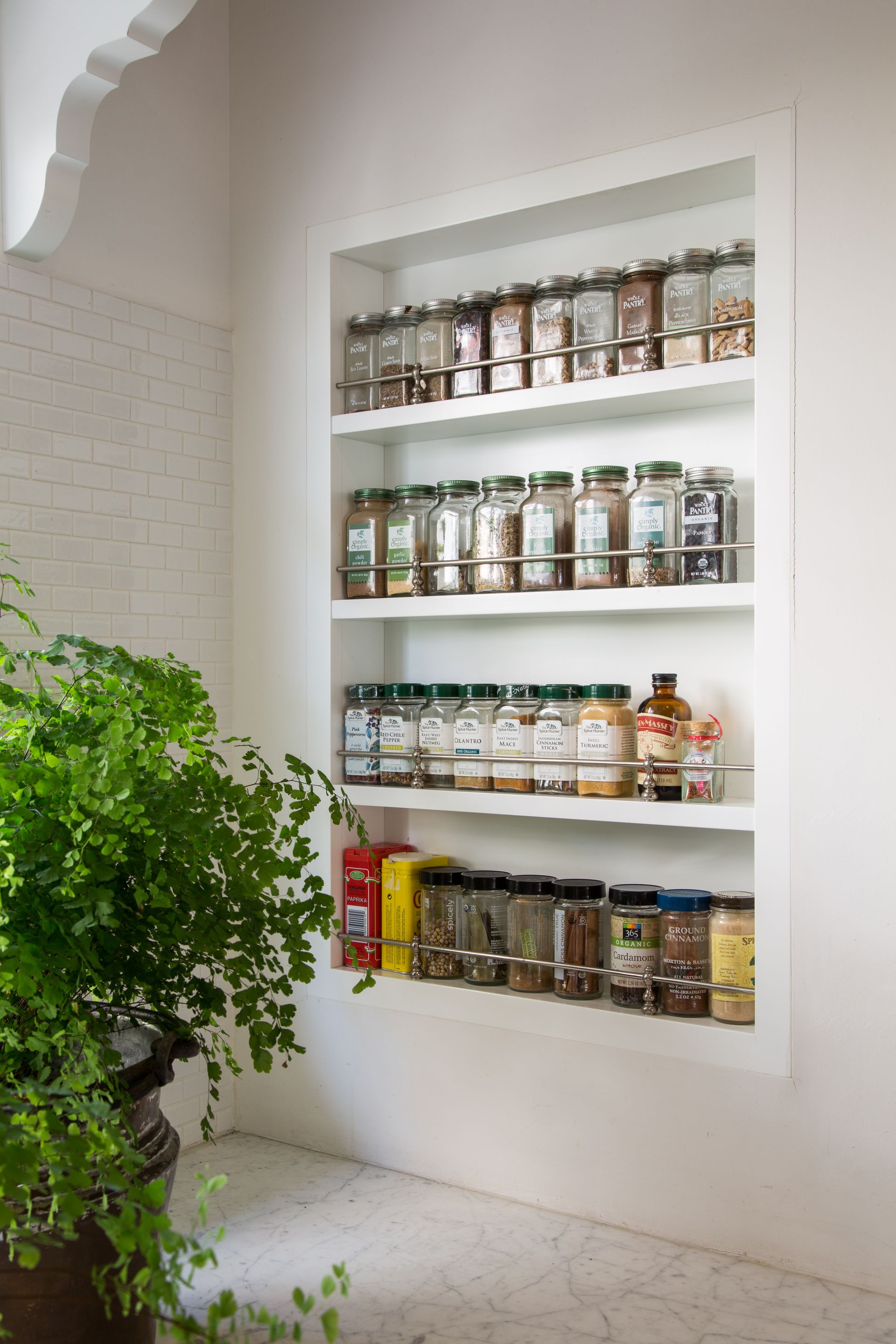 Even the smallest of kitchens will likely have spaces that aren't being realized to their full potential. If you're in the planning stages of your small kitchen layout, going bespoke opens up all manner of spice storage opportunities, whether it's a neat little alcove ripe for shelving, or a narrow gap between appliances, perfect for a slimline pull-out rack.
'Taking a bespoke approach allows you to choose from a variety of sizes, with a range of boxes, trays and other inserts designed for bottles and jars; perfect for positioning beside the hob for quick access to herbs and spices', says Graeme Smith, head of retail and design at Life Kitchens.
7. Kit out a cabinet
When planning spice storage as part of organizing a small kitchen without a pantry, integrating additional storage solutions inside cabinets is a great way of maximizing space to its best potential. Depending on how you choose to organize your spices, there are plenty of options available, from baskets and bins to risers and carousels.
'Slide-out shelving systems are invaluable – so often we pull out food that has expired years ago because our clients had no idea it was hiding in the back! For shelving that's higher up, we recommend using long bins, from Amazon that can be pulled out and set on a counter, almost like a removable drawer', says Ann Lightfoot, co-founder of Done & Done Home.
Always comforted by an organized home, Ann was thrilled when her daughter, Kate, called for help with a decluttering and inventory job. As one job followed another, their business, Done & Done, was born.
8. Make use of a portable countertop caddy
If you've got a vast collection, or you're struggling to find space near the stove, consider curating a smaller group of your most-used spices to store close to hand. Place them together in a portable spice caddy or carousel-style organizer. That way, you can move them around easily as you're cooking, or remove them altogether when decluttering and organizing kitchen countertops.
9. Store refills outside of the cooking zone
If you buy spices in bulk to decant, you'll need to dedicate somewhere to store any leftovers, ready for when you next need them. Prime storage space should be reserved for day-to-day essentials only, so unless you have a pantry, you'll need to think outside of the main cooking zone altogether – on top of kitchen cabinets, or in a nearby sideboard, for example.
While spices don't go off, they can lose their flavor if not stored correctly. Whether you're storing them in containers or packets, ensure they're kept air-tight and positioned away from direct heat and sunlight. Placing them in a basket will keep them neatly corralled, and means you can pull the whole lot out in one go to find what you need.
10. Keep it simple with a magnetic spice rack
If you're living in a rental, or organizing a small apartment, you're perhaps looking for a less permanent storage solution – or at least one that can grow and move with you over time.
'Magnetic spice racks are great for smaller kitchens – they free up both counter and cabinet space, and they don't need any permanent fixtures', says professional organizer Michelle Hansen, founder of Practical Perfection. 'Simply attach the magnetic rack to your refrigerator or metal backsplash, and store your spices in small magnetic tins or jars'.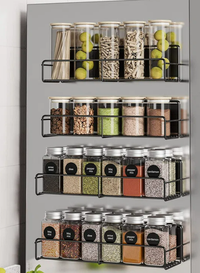 Magnetic 40 Jar Spice Rack (Set of 4) | $61.99 at Wayfair
A space-saving magnetic spice rack, like this one, will attach to your refrigerator easily, with no assembly required.
FAQs
Where is the best place to store spices in the kitchen?
The best place to store spices in a kitchen of any size is as close to your cooking area as you possibly can – ideally the stove or hob, but within easy reach of a work surface at the very least.
Space-efficient and easy to access, a well-located drawer or pull-out rack is an expert-approved top spot, but in smaller kitchens where space is at a premium, you may need to get a little creative if you want to keep them close to hand; think wall-mounted or door-hung racks, open shelving displays or even a portable spice caddy that you can move around with you as you cook.
Wherever you decide to store them, one of the best space-saving (and sustainable) spice storage tips we can offer is to buy bags of measured quantities and decant them into uniform glass jars. Not only does this look great, it makes for more available space and there's less chance of things falling over. Opt for designs with rubber seals to maintain freshness and remember to label with the expiration date.
---
Ultimately, where you store spices in a small kitchen is really up to you. As you can see, size is not a problem – you've got options aplenty. Our advice? Choose the solution that you know you can keep neat, tidy, and well-ordered if you want to keep your seasoning on top form.
Sign up to the Homes & Gardens newsletter
Decor Ideas. Project Inspiration. Expert Advice. Delivered to your inbox.
For 10 years, Tara King worked as a Content Editor in the magazine industry, before leaving to become freelance, covering interior design, wellbeing, craft and homemaking. As well as writing for Ideal Home, Style at Home, Country Homes & Interiors, Tara's keen eye for styling combined with a passion for creating a happy – and functional – family home has led to a series of organization and cleaning features for H&G.