Organizing a small kitchen without a pantry – 10 ways to stop storage overspill
No pantry in your small kitchen? No problem. Here's how to make the most of the space you've got, according to the pros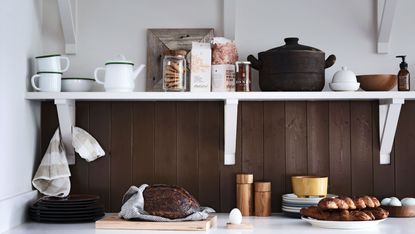 (Image credit: Future PLC)
There's no doubt about it, organizing a small kitchen without a pantry requires a little extra planning if you want to keep it neat, tidy, and clutter-free. While packing tins and jars at random into every spare inch of space may feel like the most sensible (and easiest) solution, it's certainly not one we'd recommend.
Of course, a lovely, spacious pantry would make organizing a small kitchen easier to achieve, but just because you don't have one doesn't mean you can't draw inspiration from some of the best pantry organization ideas. Get a little creative with your small kitchen layout and storage ideas, and you'll reap all the same benefits, albeit on a slightly smaller scale.
'Good storage takes on a new priority when the kitchen is small. From deep, wide drawers and pull-out shelving replacing standard cupboard interiors, to cleaning cupboards becoming pantries for tinned goods, open shelving for jars, bottles, and spices, even the smallest of kitchens can be well organized with some clever thinking,' says George Forsyth, Director of Drew Forsyth & Co.
Organizing a small kitchen without a pantry
We've quizzed the experts on the best space-saving ways to organize a small kitchen without a pantry; from helpful decluttering tips and organizational systems to steal-worthy small pantry ideas, find their suggestions below.
When organizing a kitchen without a pantry, an efficient and well-ordered food storage system remains key. Whether you store your staples in cabinets, drawers or somewhere else altogether, good structure, regular decluttering, and a few space-saving pantry storage ideas can make all the difference to how smoothly your kitchen runs, and how tidy it remains, too!
1. Be ruthless with decluttering
When organizing a small kitchen without a pantry, decluttering is the best place to start – you simply don't have the luxury of wasting storage space on items you don't need. Go through every tin, packet, jar, and bottle and get rid of anything past its sell-by date or that you're unlikely to use (ensuring you recycle/donate what you can). Do the same for other kitchen items, too.
'As with all decluttering, it's crucial you consider every item and ask yourself if you really need it – ingredients included. Unless you're regularly cooking huge feasts, it's surprising how little you actually need to run a well-functioning kitchen. It's about getting rid of those things you might use once in a blue moon, and making do with a smaller range of essential kit,' says professional organizer Laura Price of The Home Organization.
Craig Hoareau, APDO member and owner of A Tidy Mind London agrees, and adds; 'look into collapsible tools such as bowls, colanders, cutting boards and mixing bowls that can be stored flat when not in use, giving you more space to store other things.'
Laura Price's goal is to help others experience the benefits of living an organized life after discovering that organized homes brought her peace when raising three children in a hectic home. Hence the birth of The Home Organisation, a dedicated team of professional organizers.
2. Kit out a 'pantry' cabinet…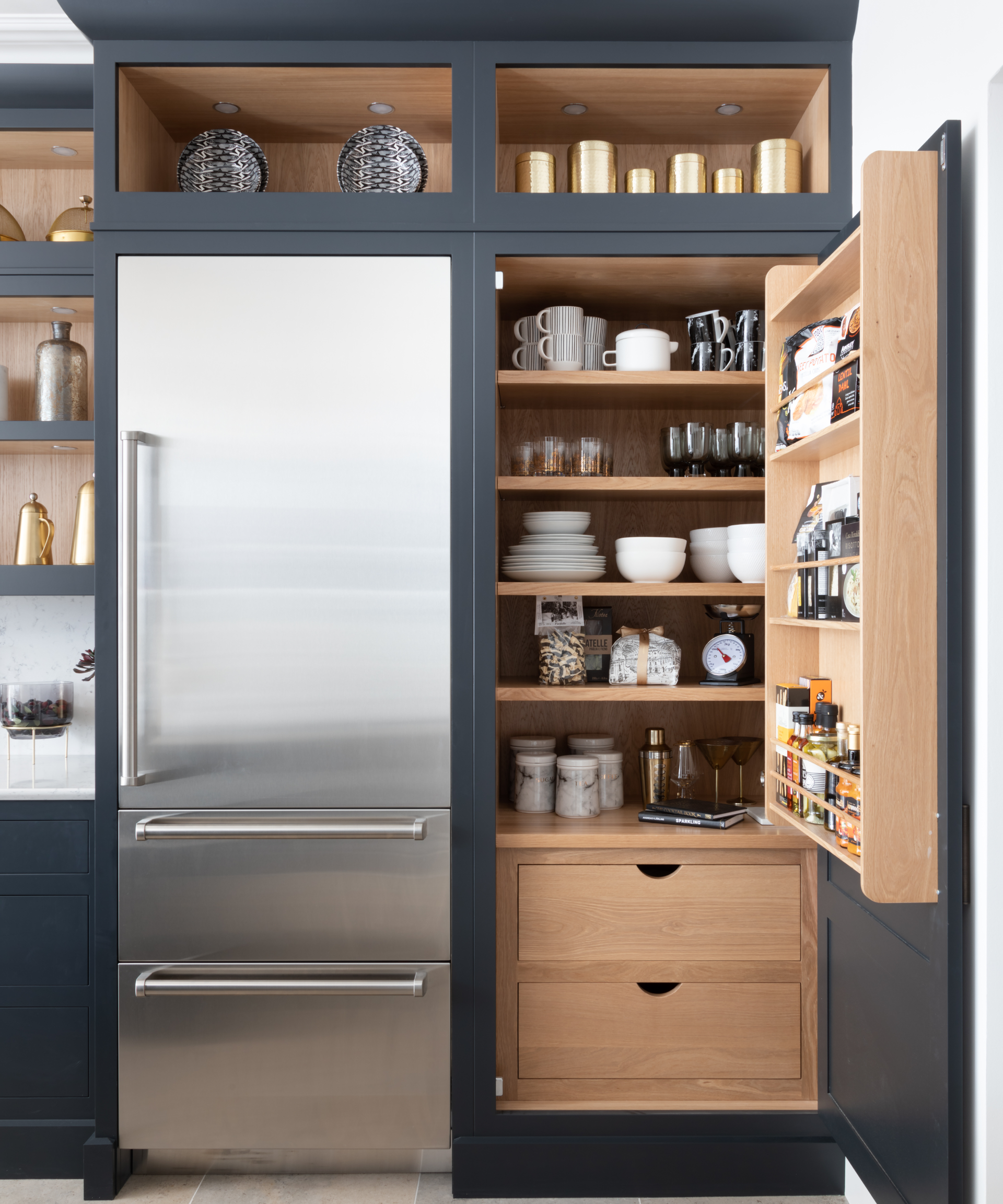 If it's without a pantry, chances are your small kitchen will include cabinets, so designate one or two of these specifically for food storage. Using pantry organizers is the best way to maximize their usefulness. To decide which ones will work best for you, make a list of what you want to store. Consider purchasing door racks, or an inexpensive Lazy Susan, at Target; they're great space-saving storage ideas for jars, tins, and bottles, while pull-out shelving is perfect for pots, pans, and small appliances.
'When recreating pantry-style storage, slide-out shelving systems are invaluable – so often we pull out food that has expired years ago because our clients had no idea it was hiding in the back! For shelving that's higher up, we recommend using long bins, at Amazon that can be pulled out and set on a counter, almost like a removable drawer,' says Ann Lightfoot, co-founder of Done & Done Home.
3 …or use a drawer
If your cabinets are already full to bursting, think about using drawers, instead. Understanding how to organize kitchen drawers properly will help utilize the space to the best effect. Look at the sizes you have available and dedicate them appropriately. Tea towels, table linens and spices sit well in slim drawers, while deeper drawers suit larger items such as decanted dried foods, small appliances and overflow cookware.
4. Store vegetables in baskets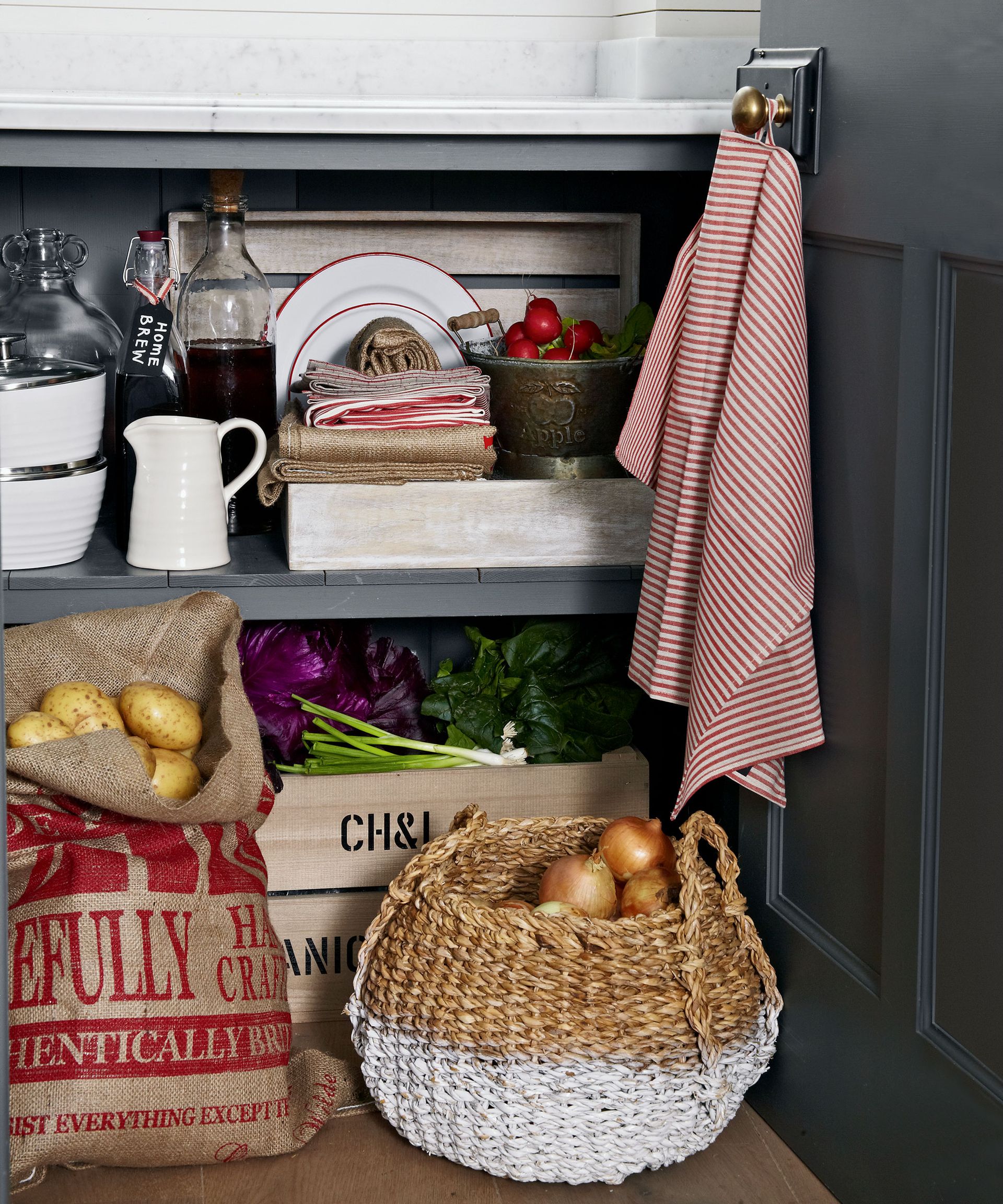 Keen cooks will know that fruit and vegetables store better outside of the fridge, so if you're lacking a pantry, you'll need to get a little creative. For items not to store in the refrigerator, wooden, crate-style drawers that slide into open cabinet shelves will keep things fresh and well-ventilated, but if all your shelves are already in use, an open wicker basket works just as well. Positioned neatly on the floor, it looks stylish, and you'll be able to see what you're running low on.
5. Utilize the tops of cabinets
If you had the luxury of pantry shelves aplenty, then of course you would store everything behind closed doors, but otherwise, storing lesser-used items on top of kitchen cabinets is perfectly acceptable, and will free up space in cabinets and drawers for everyday staples.
Using stylish baskets – ideally with a lid – will keep items contained and protected, whilst also making for an attractive display. If you're storing linens, it's worth using air-tight containers, at Amazon to prevent cooking smells from permeating the fabric.
Bear in mind that storing items of any kind on top of the fridge is not recommended. Fridges release heat from the top which can affect your items, plus it has to work harder which can have an effect on your energy bills, too.
6. Compromise countertop space (within reason)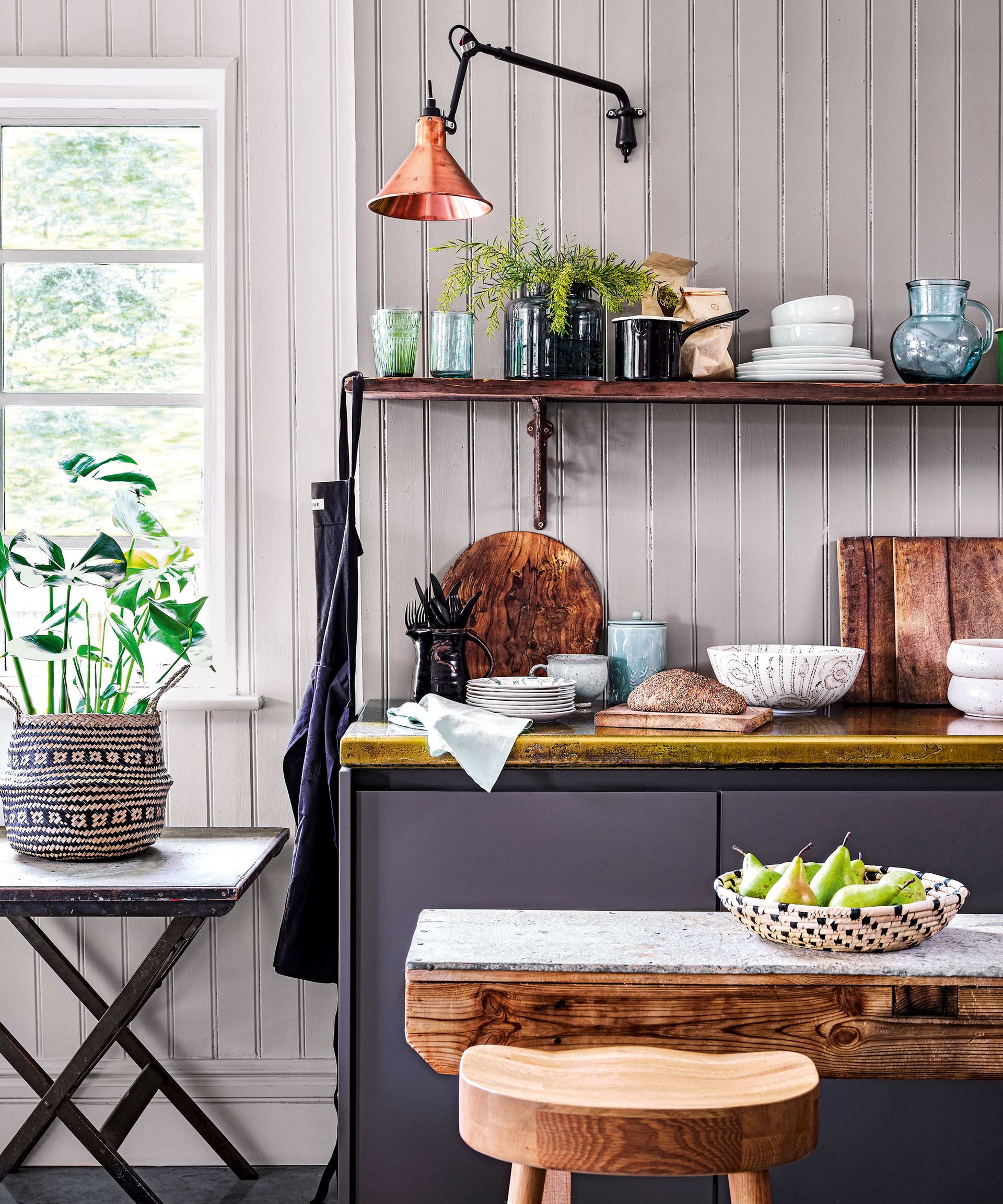 In an ideal world, you wouldn't need to store anything on your countertops, but let's be realistic – organizing a small kitchen without a pantry requires a few compromises. While we wouldn't recommend leaving open bags of flour or unsightly cereal packets lying around, a few stylish canisters on your countertops can be useful for storing often-used pantry staples.
If you are going to use countertops as storage, it's essential that you familiarize yourself with how to declutter countertops so you can keep on top of kitchen counter organization.
7. Find space for spices
If you're a keen cook with lots of them, organizing spices can be one of the more tricky items to store in a small kitchen with no pantry. However, the beauty of spice jars is their petite proportions, meaning they can fit nicely into spaces that might otherwise go unused.
'One way to gain space in a cramped kitchen is by storing spices in pull-out drawers. Not only is it a great use of space, but it makes searching through them a cinch. If you're looking for something more inconspicuous, rolling spice racks, at Walmart, are great too; these fit easily under any counter or cabinet so you can simply pull it out as and when you need,' says Andra DelMonico, lead interior designer at Trendey.
Ann Lightfoot recommends purchasing matching square glass bottles, at Target, 'not just because they look great, but because they fit together neatly, resulting in more available space. If you'd rather store spices behind closed doors, I'd recommend expandable step shelves or shelf risers so you can see what's at the back – you can store items underneath, too.'
8. Remove bulky packaging – and decant into clear containers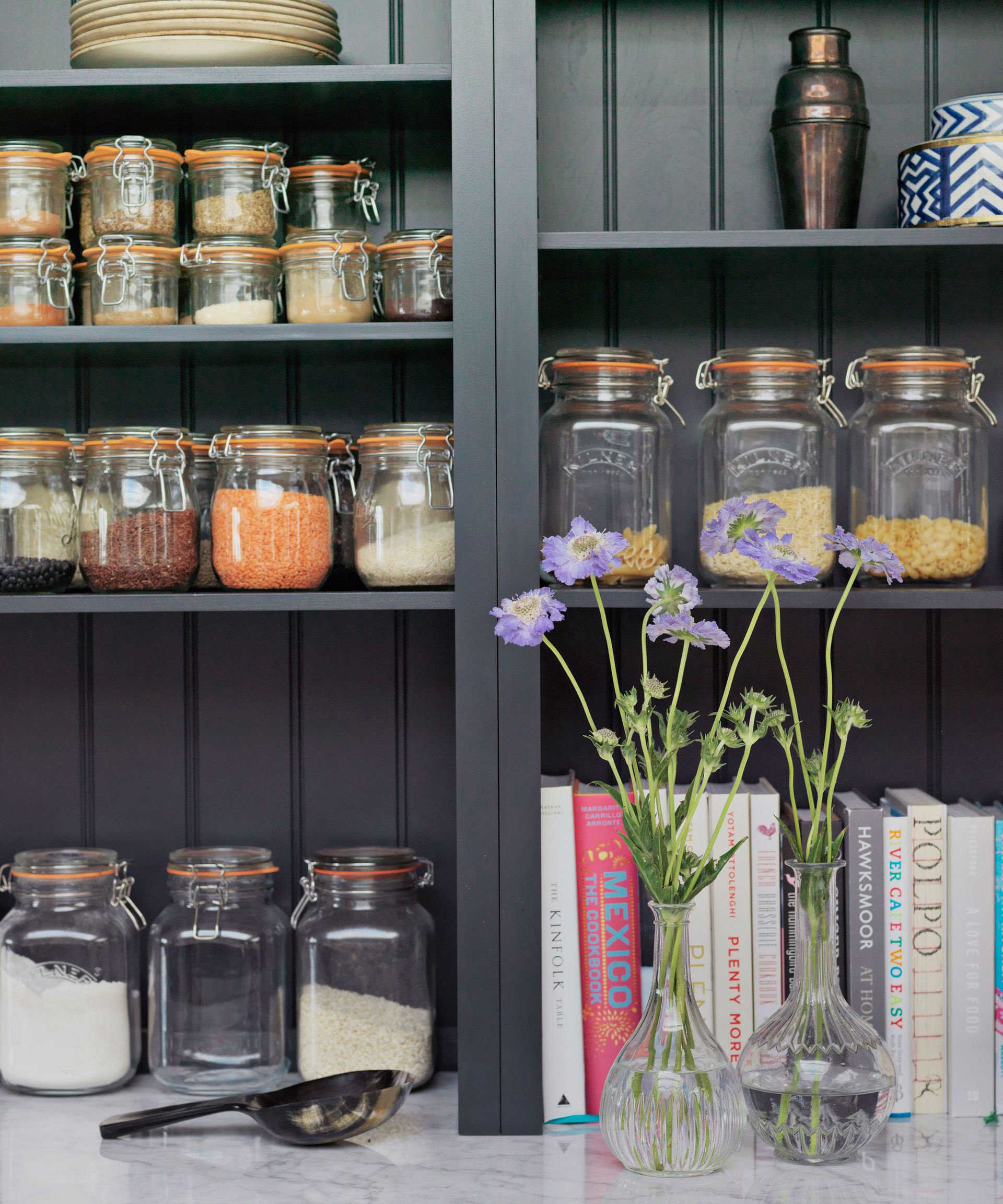 Removing (and recycling) packets and jars where possible is a great space-saver, and decanting where you can into neat, airtight containers will keep ingredients fresh. Opting for clear versions will make it much easier to locate what you need, plus you'll be able to see clearly when essentials are running low.
'When you're short on pantry space, it's crucial you maximize every inch of space; use the full height of your shelving by investing in square-based, stackable canisters. Work out how many containers will fit into your cabinets, and always keep that in mind when shopping. If you buy more food than will fit into your cupboards, overspill is inevitable, resulting in a cramped and cluttered feel,' says Laura Price.
Arrange by type and add labels with the best-before date listed so you know what's where. If you're storing dry ingredients as part of a kitchen shelving idea, bear aesthetics in mind; mason jars are a functional choice, yet still look lovely and stylish when filled with nuts, sugar, flour, coffee and the like.
9. Bring in portable storage space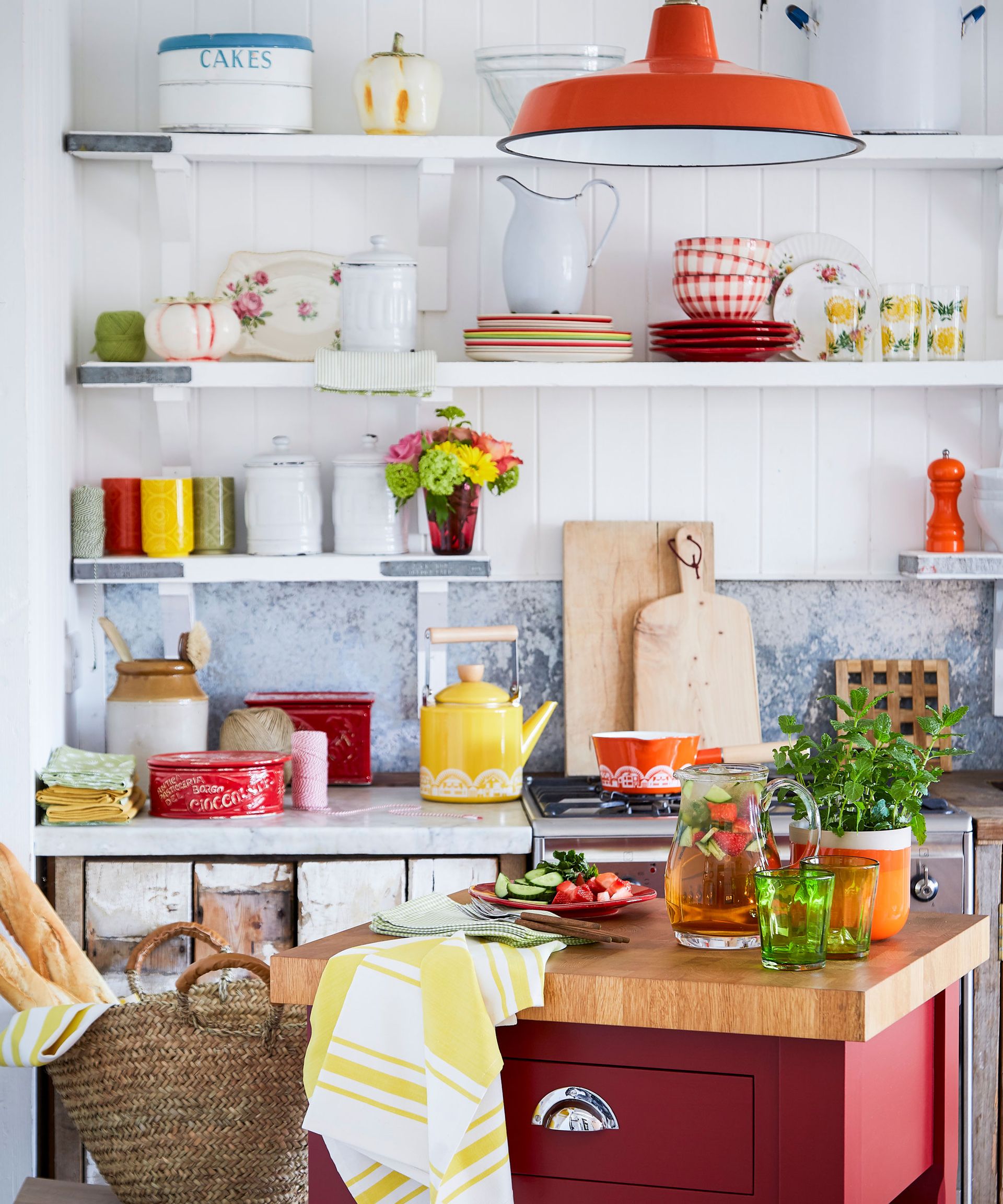 'A rolling kitchen cart or island is a great way of increasing storage while also providing an additional surface for cooking and preparation – particularly handy in small kitchens. Look for designs that offer a mix of drawers, shelves, and racks to maximize the storage potential for a variety of pantry items,' advises Louie Lavec, lead interior designer for All Barndominium Plans.
10. Avoid buying in bulk
Without the luxury of plentiful storage, you'll need to be cautious about how much you're bringing home from the store going forwards if you want to avoid clutter from building.
'While it's great to save money on those things you use often, but if you don't have the space to store them, the kitchen quickly becomes unmanageable. Having a really good understanding of the amount of things you can physically fit in your kitchen is key to keeping things in shape,' says Laura Price.
FAQs
What can I use instead of a pantry?
While it may not be the spacious, walk-in pantry you've always dreamed of, there are plenty of ways you can create pantry-style storage without compromising on floor space. With the right pantry organizers, a kitchen cabinet can be just as effective at storing tins, jars and dried goods, similarly a deep drawer, if you have one.
Open shelving can play host to stylish food canisters, cook books and crockery, while hooks, rails and racks are great for hanging utensils, tea towels and aprons, freeing up space in cabinets for less aesthetically-pleasing items. While you need to keep it neat and tidy, on-show pantry storage ideas like these offer up an opportunity to add personality and style to your small kitchen.
If you have the budget for bespoke, look around for unused alcove ideas that could be transformed into useful storage, the slim space next to the refrigerator or oven for example. You could also consider incorporating pull-down shelving underneath cabinets for storing spices, or customize corner cabinets with pull-out versions.
---
So, while there's no getting around the fact that every kitchen require spaces to stock pantry staples, rest assured, you don't need a 'proper' pantry to do it. As we've demonstrated, with a little creative thinking, even the tiniest of kitchens can become functional, well-organized spaces.
Sign up to the Homes & Gardens newsletter
Decor Ideas. Project Inspiration. Expert Advice. Delivered to your inbox.
For 10 years, Tara King worked as a Content Editor in the magazine industry, before leaving to become freelance, covering interior design, wellbeing, craft and homemaking. As well as writing for Ideal Home, Style at Home, Country Homes & Interiors, Tara's keen eye for styling combined with a passion for creating a happy – and functional – family home has led to a series of organization and cleaning features for H&G.