How to clean jute rugs at home to remove even the deepest of dirt
With their tightly woven natural fibers, jute rugs require more careful care than you may think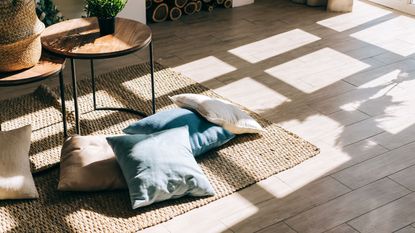 (Image credit: Getty Images)
Jute rugs are not the softest or highest-piled floor covering on the market, but they are one of the most resilient, thanks to their tightly woven natural fibers. This weave comes at a cost, however – that being their ability to hold onto dirt.
Cleaning rugs generally can be difficult due to their size and delicate materials, with jute rugs posing the additional challenge of not responding well to getting wet. As a result, these stylish decor pieces are hard to clean yourself.
Hard, but not impossible. Here, professional cleaners have shared their tips for cleaning jute rugs effectively to pull even the most embedded dirt to the surface.
How to clean a jute rug
Unlike cleaning carpets or other area rugs, you cannot run a carpet cleaner over a jute rug without permanently damaging the fibers. Instead, it takes a little more manual labor to get them looking new again.
'For DIY cleaning, we'd strongly advise against wetting your jute rugs to any degree, as this can cause irreversible staining and discoloration,' warns Ali Hafezi Mashhadi, vice president and rug specialist at Babash Rug Services. 'Instead, opt for a dry cleaning compound. I recommend Capture all-in-one solution.'
Here is how to use the compound to clean jute rugs at home.
Ali Hafezi Mashhadi is an IICRC Certified Carpet Cleaning Technician & WoolSafe Fiber Care Specialist who has been working for his family business for over seven years.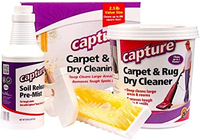 Capture all-in-one solution | Was $35, Now $28 at Amazon
This dry compound cleaning kit makes dry cleaning your rugs and carpets at home simple, containing everything you need to achieve an expert finish yourself.
1. Start with simple vacuuming
A good vacuum cleaner is the best way of removing any surface-level dirt from a jute rug and avoiding needing to deep clean, says Paulo Filho, cleaning expert and owner of Celestial Cleaning Service.
'Where possible, use vacuums with a brush attachment to gently clean any loose particles on the rug,' he says. You may have to run over the rug a few times to remove all of the dirt, as well as vacuum the underside of the rug to help pick up the loose or broken fibers we so commonly associate with jute floor coverings.
2. Apply the pre-stain solution
Pre-stain solutions often come with dry cleaning kits for rugs and are a great option for working with delicate natural fiber rugs like cleaning wool rugs or jute. The best way to approach cleaning the jute rug is to test the stain solution on the reverse of the rug first, says Ali Hafezi Mashhadi, rug specialist.
'If you notice no adverse effects, then apply a gentle mist to stained areas, bearing in mind that you shouldn't use this stain solution on fresh stains, only ones that have set in,' she explains.
Spray the solution over the stained areas only in even coatings, and allow it to sit for the time specified in the manufacturer's manual.
3. Apply the dry compound powder
Once the stain spray has been left to sit, you can apply the dry compound to the surface of the rug. As with the previous step, you should test the compound on a small corner of the back first to make sure there are no adverse effects, Ali recommends – a common cleaning tip that should be applied whenever testing a new cleaning method around your home.
'You should use a small, gentle brush to gently work the compound into the fibers of the rug,' Ali recommends. 'This ensures that the compound reaches deep into the rug to effectively remove dirt and stains.'
Let the dry compound sit on the rug for the recommended duration according to the manufacturer's instructions. Typically, this will be around 15-30 minutes, allowing the compound to absorb dirt, stains, and odors, she advises.
4. Vacuum the dry compound away
Finishing as you started, vacuum the jute rug thoroughly to release the dry compound out of the fibers, making sure to work across the entire rug two to three times for a thorough clean.
'Once the cleaning process is complete, allow the jute rug to air out for a few hours to ensure any remaining dry compound residue dissipates,' Ali Hafezi Mashhadi recommends.
How to remove a fresh stain from jute rugs
Given that dry compound is not effective on fresh stains, it is important to learn how to treat spillages before they have the chance to stain. Jute fibers will rot quickly, so removing any liquid and avoiding using water is essential to keeping your rug in good condition.
'If you have any stains or spots that need cleaning, use a mild detergent and damp cloth to gently blot the affected areas. Do not scrub the fibers as this can damage them,' advises Paulo Filho, a cleaning expert.
Once you have spot treated with detergent and a damp cloth, it is important to allow it to dry completely to prevent dark brown spots from remaining. For this, it's important to avoid direct sunlight or heat, as it can cause the rug to 'shrink or fade,' warns Ahmad Jamal, cleaning expert at Cleaners Advisor.
'Instead, lay the rug flat on a clean surface, preferably in a well-ventilated area, and allow it to air dry naturally,' he says.
FAQs
What happens if a jute rug gets wet?
A jute rug will turn brown when it gets wet and can take a while to dry leading to stains and dark discoloration. If your rug does get wet, try to get it dry quickly, lifting it from the floor where possible and placing it in a naturally warm spot such as over a strong washing line in the sun where it can dry naturally.
Why is my jute rug so dirty?
Jute rugs get dirty because they are made of natural fibers that are both prone to shedding and also holding tightly onto dust and dirt. The tight weave can prove difficult to vacuum too, allowing dust and debris to hide for long periods of time without being sucked up. One solution is to beat your jute rug outside every once in a while, and vacuum underneath the rug regularly to collect any shedding.
---
A jute rug may not be the most low-maintenance of floor coverings, but they are certainly a hard-wearing option for busy areas. These four steps to cleaning a jute rug will ensure they continue to look its best and stand the test of time.
Sign up to the Homes & Gardens newsletter
Decor Ideas. Project Inspiration. Expert Advice. Delivered to your inbox.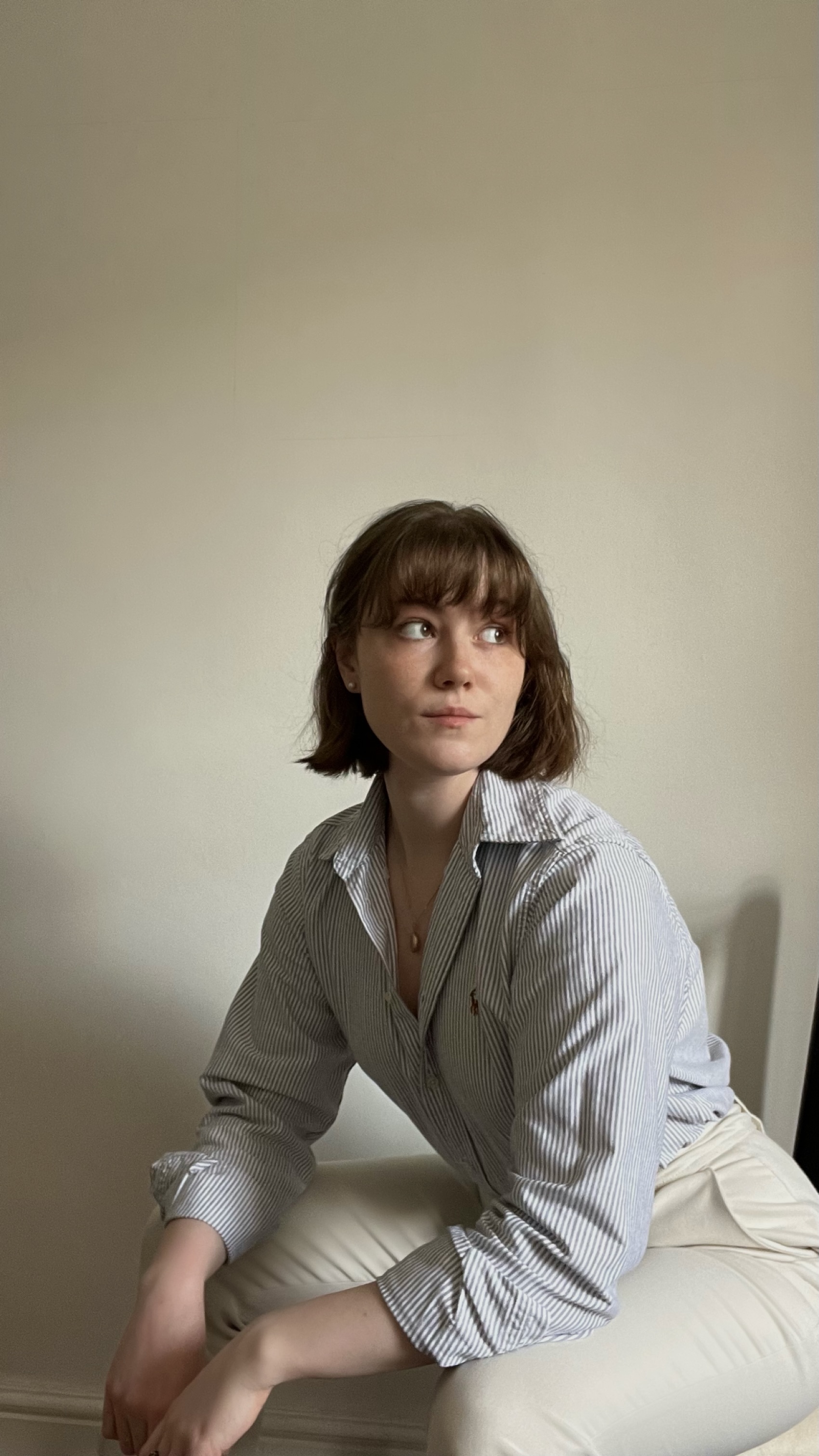 Chiana has been at Homes & Gardens for a year, having started her journey in interior journalism as part of the graduate program. She spends most of her time producing content for the Solved section of the website, helping readers get the most out of their homes through clever decluttering, cleaning, and tidying tips – many of which she tests and reviews herself in her home in Lancaster to ensure they will consistently deliver for her readers and dabbles in the latest design trends. She also has a first-class degree in Literature from Lancaster University.