How to manage laundry when you have overnight guests – 4 expert tips from a fabric care scientist
Extra washing and new allergy considerations make laundry for overnight guests tricky – here's how the experts manage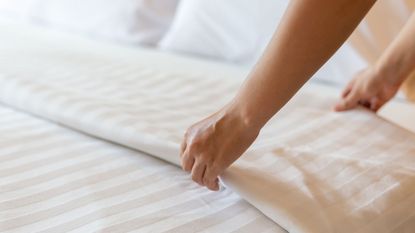 (Image credit: Getty Images)
Sign up to the Homes & Gardens newsletter
Decor Ideas. Project Inspiration. Expert Advice. Delivered to your inbox.
Thank you for signing up to Homes & Gardens. You will receive a verification email shortly.
There was a problem. Please refresh the page and try again.
From laundering the right things before guests arrive to dealing with extra washing, having overnight guests can drastically change up your laundry routine.
When doing laundry in anticipation of overnight guests, it pays to know what to wash before they arrive, which products are best for possible allergies, and how to cope with the extra additions to your washing.
Here, principal P&G fabric care scientist, Jennifer Ahoni, explains how to manage laundry when you have overnight guests, with their favorite products to help make the process smoother.
How to manage laundry when you have overnight guests
Picking up some laundry hacks to save time can be helpful if you are expecting a lot of sudden extra washing, however, it is important to pick methods that don't risk damaging your guest's laundry. Consider ways of pre-sorting laundry, such as putting a pre-sectioned laundry basket, like this from Amazon, in your guest room to help guests pre-sort for you, or stocking up on your laundry products before they arrive.
From there, it is about nailing the actual laundry routine itself.
Jennifer Ahoni is P&Gs NA Fabric Care Scientific Communications Director. For 12 years she has contributed to products like Tide Laundry Power PODS and Tide Infinity, and overseen P&G's laundry partnership with NASA. She also has a B.S. In biomedical engineering.
1. Pick a light fragrance
Everyone loves the smell of freshly washed laundry, with around 80% of washers loving some degree of fragrance when doing the washing, according to P&G. That being said, however, it certainly helps to ask your guests what kind of scent they prefer before you start washing their clothing, Jennifer Ahoni, fabric care scientist advises as, while there is a good chance they will want a nice scent a strong fragrance can be irritating to some.
'I'd recommend washing guest linens and towels in Tide PODs Light detergent, from Amazon, to provide a good clean without heavy perfumes and using Downy Light scent booster beads to provide long-lasting that isn't overpowering,' she recommends.
'If you have guests who prefer no fragrance or have skin sensitivities, I recommend using a laundry regimen free of perfumes. Use Tide Free & Gentle detergent, available at Amazon, which provides a powerful clean that is gentle enough for sensitive skin, along with Downy Free & Gentle liquid fabric softener, which you can find at Target for fabric protection and softness.
Using fragrance-free products is also a good option if you can't ask your guests their preferences in advance, Jennifer adds.
For certain laundry, such as towels, you can even opt to use white vinegar in laundry if you want to deodorize and soften the fabrics without any kind of lingering fragrance at all.
2. Ensure all towels and bed linens are pre washed
After you have picked your products, washing towels and washing bedding are your next steps, Jennifer says. In guest spaces, these are typically left out on display to get dusty on display or musty in storage.
You should freshen them up with a light detergent on a gentle wash to help provide a deep clean to remove odors and invisible soil that leads to dinginess and odors on bedding – Tide Hygienic Clean from Amazon is a good option for this, she recommends.
To keep your guest linens fresher for longer between washes, you can then double up with Downy Unstopables, also from Amazon, placing them directly into the drum of your washing machine before the wash cycle, Jennifer adds. These are ideal for guests that may not be staying longer than a week to help keep your linens fresh when you won't be rewashing while they stay.
3. Check your washing machine's maximum load, and avoid overloading
When you have guests staying for a longer period of time, it is natural to feel a little overwhelmed by a sudden increase in laundry, Jennifer assures. This is where understanding your washing machine's max load can help in getting everything done a bit quicker. Just be sure not to overload your machine to ensure your clothes are not packed too tightly and fail to launder correctly.
From there, it is important to know how much detergent you need for your increased laundry load.
'More laundry means more dirt. If you have an increase in laundry you want to make sure you are dosing properly to have enough cleaning power to rid your laundry of stains and odors,' Jennifer says. 'Always check your detergent label for the proper dosing guidance for your load size. I recommend using Tide Power PODS, from Amazon, which have 85% more Tide in every pac vs. regular Tide PODS to tackle the larger loads you have with guests.' Using a pod can also help speed up your laundry and prevent you from using too much detergent and ruining your clothing.
If you are concerned about doing more laundry more frequently and its impact on your energy bills, then turning your washing machine settings to cold can help save you money at home without compromising on your cleanliness, Jennifer adds. High-quality laundry products like Tide are designed to work just as well if not better in colder temperatures – and it is better for the environment too.
4. Sort laundry carefully so as not to damage guests' clothing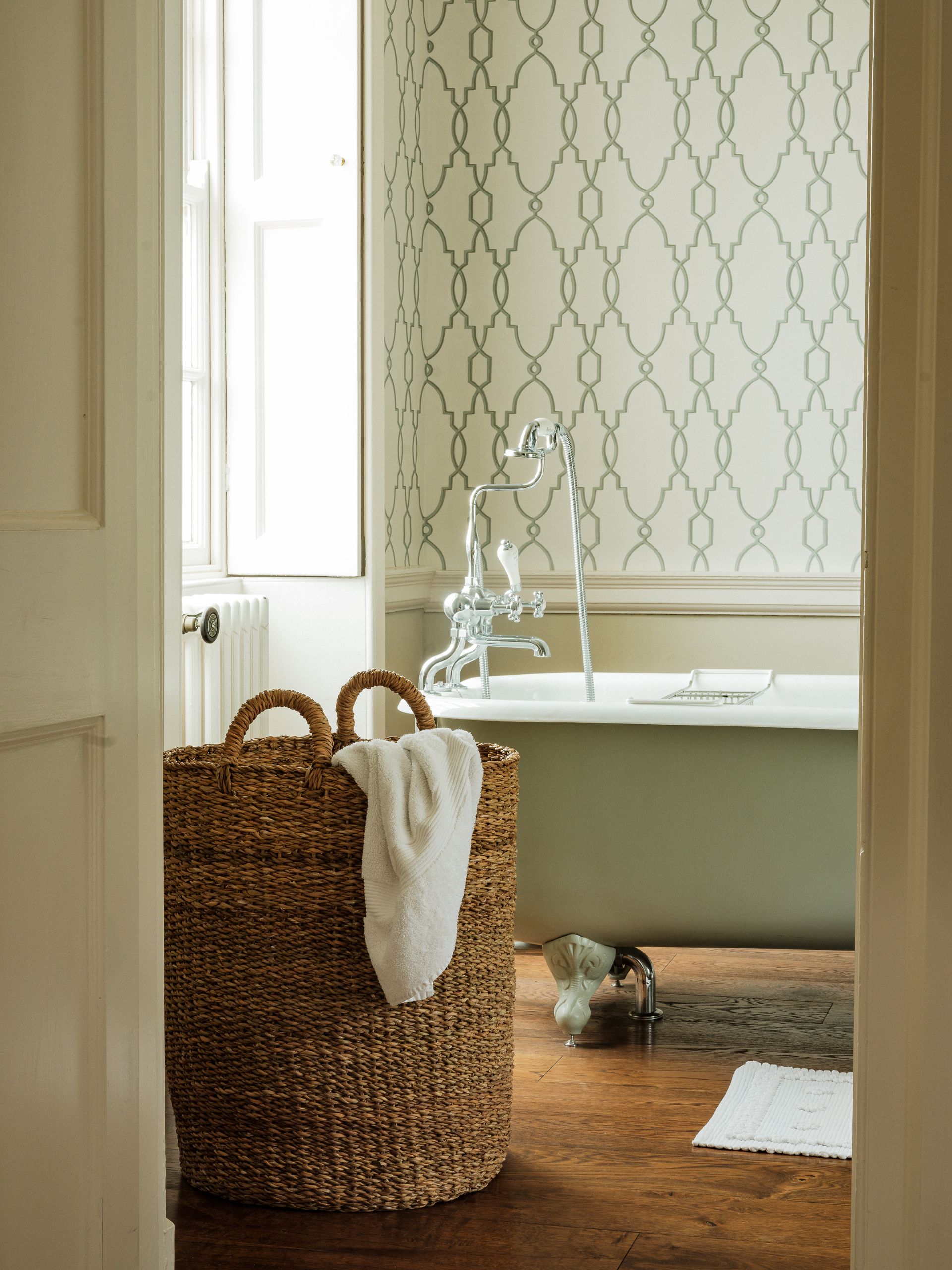 When overwhelmed with laundry, it can be tempting to throw everything together. However, it is vital that you continue to sort your laundry correctly, especially when you are dealing with garments that are not your own, Jennifer says.
'Sorting laundry is important to prolong the life of garments. You don't want to be responsible for ruining your guests' laundry while they are staying with you! Always check the garment laundry symbols for the best guidance on washing recommendations and what items to watch separately. In general, you want to sort and separate your laundry by fabric type, color, and soil/odor level. Here are some more detailed tips on sorting your guests' laundry:
Sort by color into whites/lights, brights and dark colors. This is important because many dyes are not stable and can transfer onto other clothes (especially lighter-colored ones) in the wash. Wash heavier items, like towels, separately from lighter-weight clothes to prevent abrasion and damage to finer fabrics. Separate clothing with zippers and buttons from knits and lingerie. If an item sheds lint, wash it separately from microfiber, corduroy, or other fabrics that attract lint. Wash delicate items separate from your regular wash following the garment care labels. For the best results, it may be best to wash these items in a mesh garment bag or wash them by hand.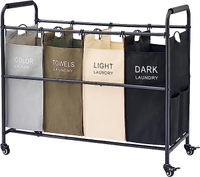 Tajsoon 4 Bag Laundry Sorter Cart | Was $59.99, now $47.99 at Amazon
This four-bag laundry sorter helps separate colored, towels, light, and dark laundry to make putting everything in the washing machine super simple. The individual bags mean you can pick up any sorter to take to your laundry room without having to lug all your laundry around the house.
FAQs
How often should you wash guest room sheets?
How often you wash your guest bedroom sheets will depend on how often they are used. It is a good rule of thumb to wash guest sheets at the end of a guest stay if they are staying less than one week, and every week if they are staying longer. When the guest room is unused, it can help to shake out the bedding regularly to allow it to air, perhaps laundering and changing the sheets when a guest comes to stay after a period of disuse for ultimate freshness.
Should I strip the bed after staying at someone's house?
After being a guest at someone's house, it can be helpful to strip the bed after your stay and leave the bedding and linens folded neatly on the bed for them to collect. This paints you as the perfect guest and can encourage them to invite you to stay again in the future. That being said, if your host has a cleaner or maid, it is best to leave the bed as is.
---
Getting your guest laundry right is a great way to make a guest bedroom inviting and make your guests feel welcome – especially if you are hosting guests without a guest room for that extra caring touch. To make your guest's experience more relaxed, make sure your guests know where your laundry basket is for them to use, especially if you hide your laundry baskets for a more streamlined scheme and understand when it is anti-social to do laundry to avoid waking your guests up first thing or keeping them up at night.
Sign up to the Homes & Gardens newsletter
Decor Ideas. Project Inspiration. Expert Advice. Delivered to your inbox.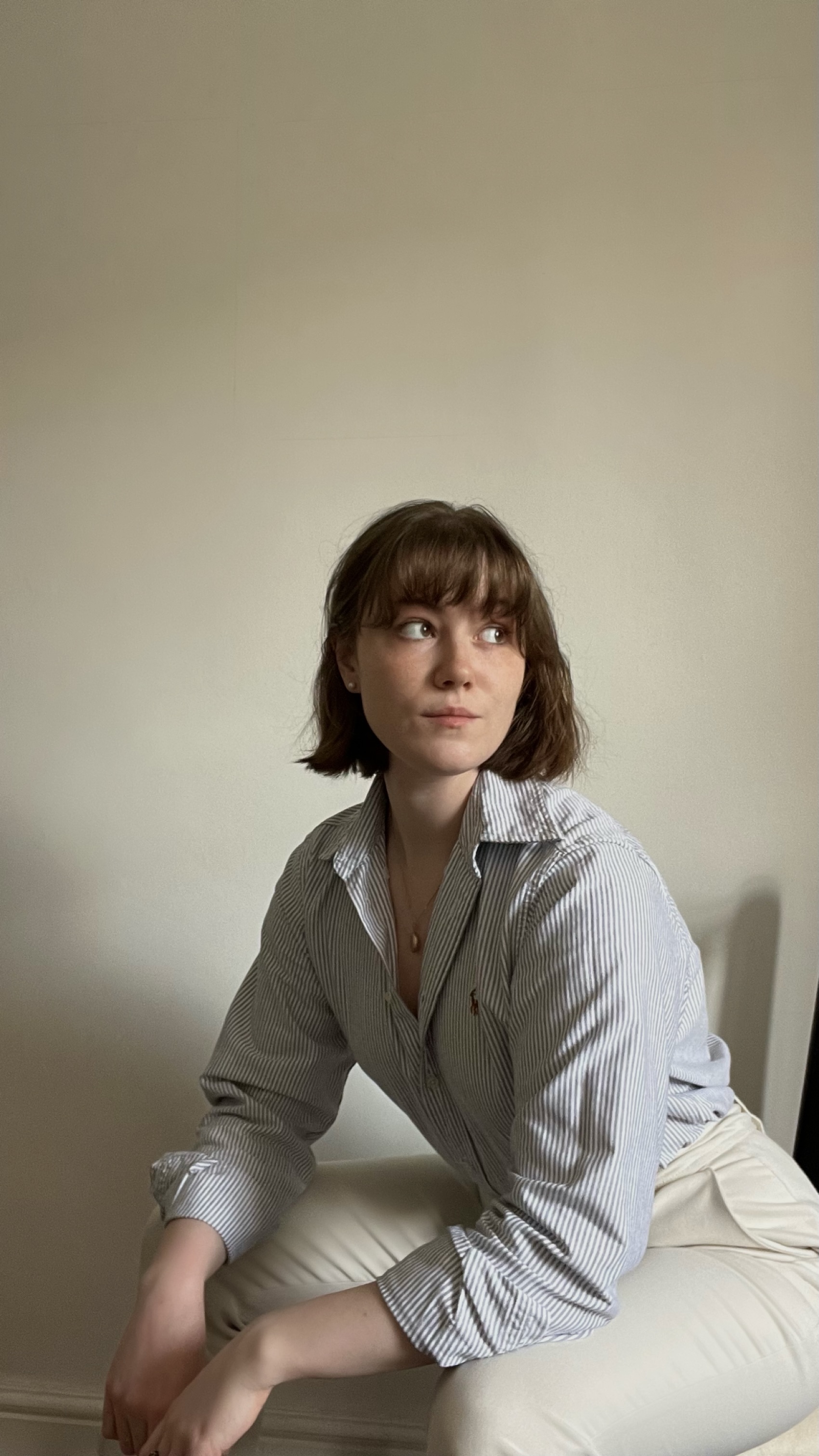 Chiana has been at Homes & Gardens for a year, having started her journey in interior journalism as part of the graduate program. She spends most of her time producing content for the Solved section of the website, helping readers get the most out of their homes through clever decluttering, cleaning, and tidying tips – many of which she tests and reviews herself in her home in Lancaster to ensure they will consistently deliver for her readers and dabbles in the latest design trends. She also has a first-class degree in Literature from Lancaster University.