I tried the 'scary hour' productivity technique – and my to-do list is finally empty
This TikTok productivity tip has helped tackle my most avoided home chores – and it only took one hour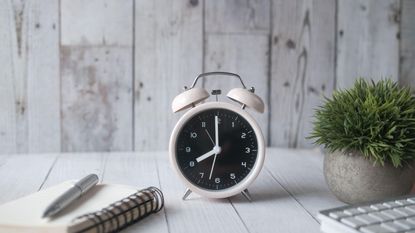 (Image credit: Alamy)
We all have things on our chore lists that we would rather forget, whether it is making an important phone call or cleaning our ovens. I had a series of these tricky tasks piling up when I discovered the concept of a 'scary hour' – a TikTok trend designed to get all of those tasks ticked off in under 60 minutes.
The scary hour method is a great way of tackling those tasks we keep procrastinating. The idea is to set a timer for one hour and dedicate the time to doing the things that may be causing you anxiety or weighing you down. Most of the time those items are not as anxiety-inducing as we think they are, or take less time than we imagined when overthinking.
I tried a scary hour to help clear out my to-do list and decluttering checklist, and it wasn't as horrifying as I thought it would be. Here is how I got on.
What is the scary hour hack?
The spooky-sounding productivity task can be adapted to any of your to-do items, from life admin and work tasks to cleaning and organizing. The idea is that this time is dedicated specifically to those daunting tasks that you have been avoiding for more than a few days – especially those that are important.
TikToker and writer Laur Wheeler has been credited with starting the trend on social media, having used the hour to help her get through a series of work tasks and life admin that had been causing her stress. The creator mentions that starting with the 'easiest' hardest tasks first and ramping up through the hour further helps to create momentum to make those final tasks a little easier.
How I used my 'scary hour'
I switched up the scary hour and used it to help me declutter sentimental items I had been avoiding, clean the oven (one of the few kitchen cleaning tasks I truly hate), and make an important phone call among a few other tasks. I wrote these down to help me visualize my goals and prevent me from becoming sidetracked by completing side missions to procrastinate the scary tasks even further.
Following Laur's lead, I started with the simpler task of cleaning out my oven and putting on some music in the background to help me focus on the task without my mind wandering. Having popped the oven cleaner in to soak, I used the time to make the phone call I had been avoiding for over two weeks. It was over in less than ten minutes and I felt a little daft for putting it off for so long.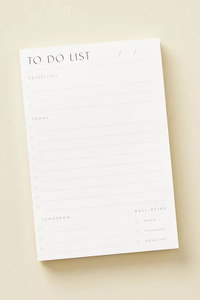 To-Do List Pad | $16 at Anthropologie
This To-Do List pad is a beautiful yet minimalist way to keep track of your chores. It also promotes well-being, with reminders to hydrate included in the layout. I like to write my chores down physically to help me stay on target and not get distracted by my phone.
I then used the motivation I gained from completing my first difficult tasks to help me get a start on decluttering. I had been struggling with decluttering my closets as I faced removing clothes that did not fit me anymore, clothes I had never worn, and clothes that no longer suited my style. This was a mentally draining task as I immediately thought of the negatives around these clothes, partaking in negative self-talk about things that didn't fit how they used to, or concentrating on the fact I would, in some way, be throwing money away.
Rather than trying to declutter clothes fast, I spent the remaining time in the hour changing my mindset to think more positively, focusing on the fact that the unworn clothes weren't making me any money sat in the back of the closet and the money was already spent, and that getting rid of things that no longer suited me only made space for things that did and I was grateful for having had them up until now.
This is something I was only able to do having set a chunk of time aside to focus on this one task specifically. To complete the challenge I had to work for one hour so there was no point trying to rush the job and make myself more stressed in the future. The scary hour helped me to slow down and overcome my anxieties surrounding household chores.
My verdict
Getting started on the scary hour was certainly more daunting than starting out on any of the other decluttering tips and challenges I have tested in the past – but I suppose that is the point. I also think that avoiding taking a break where I could begin to procrastinate again and planning a reward at the end was the key to motivating me to clean and declutter without giving up halfway through.
While this challenge can certainly provoke some stress or overwhelm, starting with the smaller tasks like cleaning out the oven and working up to decluttering the important items gave me a dopamine boost as I completed each task, helping me power through. It also helped me to realize that these tasks I had been putting off weren't so bad in the first place. Reframing my mindset to focus on the idea that 'once it is done it's done' also helped me to check the items off once and for all (or at least until the oven is dirty again!)
It is certainly something I can see myself doing again should I continue to procrastinate big or overwhelming tasks.
FAQs
How can I make scary hour easier?
One of the best ways to make the scary hour hack easier is to plan a reward at the end that gives you something to look forward to. Writing this task down, or putting a physical plan into your calendar will allow you to visualize your goal, and give you the assurance that after an hour you will have an opportunity to reset and relax after the stress.
Does a scary hour have to be exactly 60 minutes?
Despite its name, the scary hour hack can be as long or short as you need it to be. The concept of one hour is to help you tackle multiple challenging tasks you have been procrastinating at once, however, if your list is longer or shorter then you can easily extend or decrease the hour to fit your needs.
If your tasks run significantly over one hour and you are growing increasingly overwhelmed, consider adding another hour into your schedule later in the week to tackle the rest of the list to avoid burnout.
---
The scary hour hack is a brilliant productivity tip to help you tackle tricky to-do lists – even if it can be a little overwhelming at times. Creating a physical list and plan of what you want to achieve, and keeping the mindset that once the tasks are complete you will be making your life easier for yourself will help you to achieve your goals and slowly overcome your habit of procrastination.
Sign up to the Homes & Gardens newsletter
Decor Ideas. Project Inspiration. Expert Advice. Delivered to your inbox.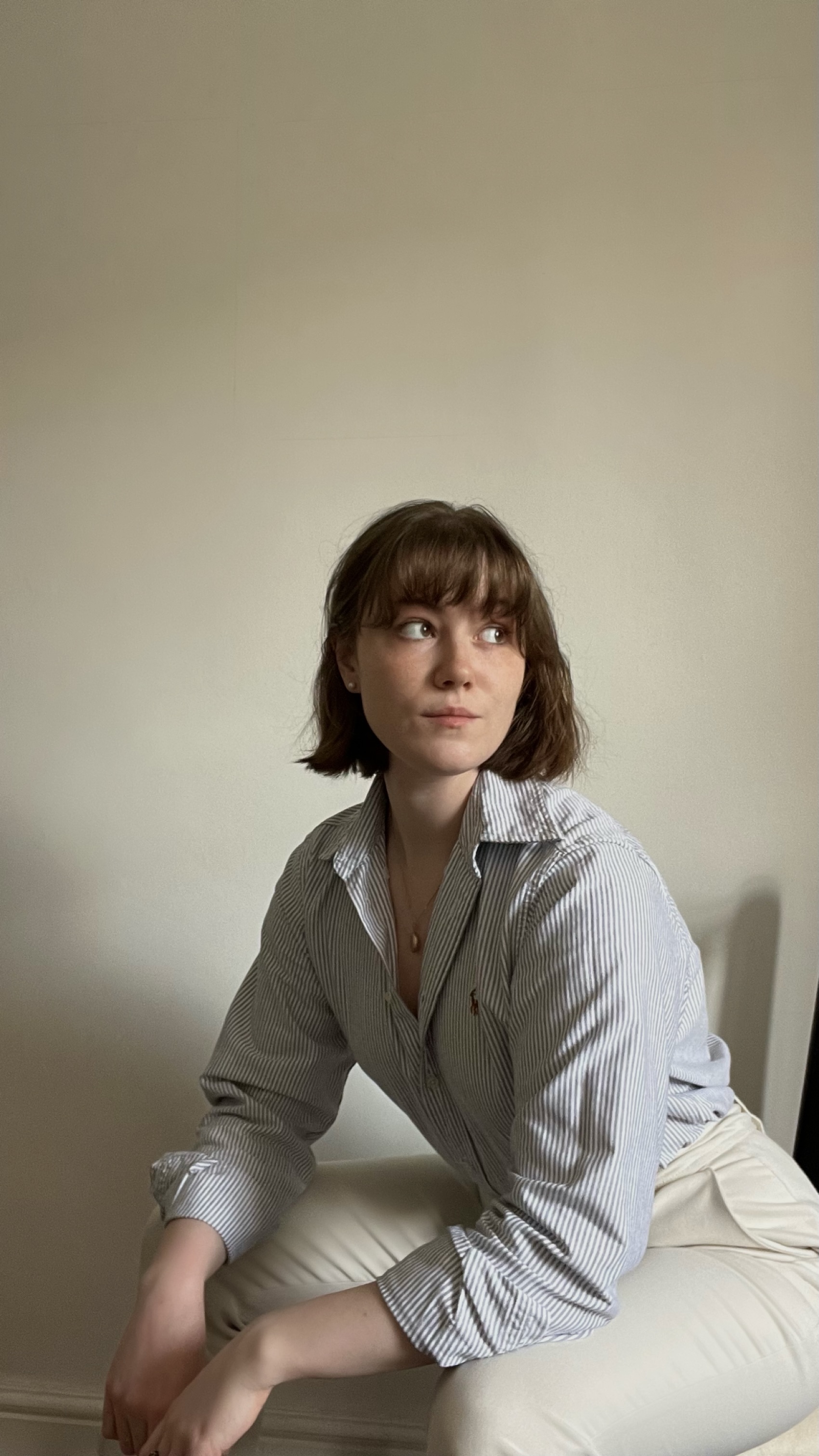 Chiana has been at Homes & Gardens for a year, having started her journey in interior journalism as part of the graduate program. She spends most of her time producing content for the Solved section of the website, helping readers get the most out of their homes through clever decluttering, cleaning, and tidying tips – many of which she tests and reviews herself in her home in Lancaster to ensure they will consistently deliver for her readers and dabbles in the latest design trends. She also has a first-class degree in Literature from Lancaster University.