1stDibs showcases 1st21: a not-to-be-missed list of 21 extraordinary designs
1st21 celebrates the history of 1stDibs with their top 21 objets – and these are our five favorite pieces from the list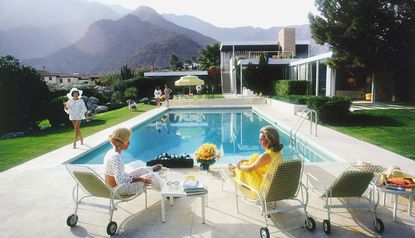 (Image credit: © Getty Images / Courtesy Staley-Wise Gallery, New York)
For antique furniture enthusiasts, 1stDibs changed the shopping game 21 years ago. To honor its 21st anniversary the online antique marketplace has curated a list of the most beautiful 21 objects currently on the website to celebrate the brand's history.
1stDibs was launched by Founder Michael Bruno at the start of the millennium. It aimed to bring the magic of the Paris flea markets online and revolutionized interior design for many. A great example of what he has achieved is in Michael Bruno's New York home – a historic property that makes a wonderful backdrop for typical 1stDibs' finds.
The brand has evolved over the last two decades, starting as a marketplace focusing on furniture, it has branched out to include jewelry, fashion, and fine art. In 2016, it made a dramatic change and even started selling new and custom designs alongside its antique pieces.
From a small-knit community of sellers, The brand now hosts pieces from over 4,200 sellers around the world.
1stDibs 21 objects
To document this history, 1stDibs has tapped its network of sellers, artists, and curators to create a list of 21 objects – 1st21. 'To mark each year from our founding to today, we looked inward at our own milestones and outward to some of the notable happenings that inspired and shaped the global design community,' explains Karen Silveira, Creative Director at 1stDibs.
'Our 21st anniversary gave us the opportunity to appreciate 21 stellar objects currently available on the site across the spectrum of collecting categories: from a 150-million-year-old fossilized dragonfly to a Tiffany Studios luminous dragonfly chandelier from the turn of the last century,' adds Tony Freund, Editorial Director at 1stDibs.
As well as a lovely retrospective, we'll be using this list as the ultimate cheat sheet for the iconic design pieces we're looking to collect for our homes.
You can view the full list of 21 objects in the 1st21 campaign on the website. But, here are just a few of the objects that have already captured our attention.
1. 2001 - Georges Jacob Louis XVI-Style Armchair, ca. 1775-95
No other piece of furniture could sum up the first year of 1stDibs as well as the Georges Jacob Louis XVI-Style Armchair. This chair sold as a pair reupholstered in vintage fabric epitomizes the Parisian roots of the company.
The bergère is a perfect example of a piece of antique furniture that fits seamlessly into living room ideas.
The chair was designed in the 18th century and focused on comfort and relaxation. It features ample lines and padding. It is a chair that has been created to be moved about and to lounge in.
'French antiques always work and always look beautiful. Those pieces help places remain classic. And they pair well with modern sensibilities because they're comfortable,' explains Melissa Morgan, M Interiors.
'Louis XVI bergères and fauteuils are comfortable because they're human scale. They don't take up a lot of space on a floor plan.'
2. 2002 - Tiffany Studios Dragonfly Chandelier, ca.1900
This beautiful Tiffany studios Dragonfly Chandelier is one of many treasures by Louis Comfort Tiffany, a leader of the Art Nouveau movement, on 1stDibs. The award-winning chandelier is actually attributed to his colleague Clara Driscoll who shared his artistic vision.
The stunning item perfectly sums up 2002, as that was the year that the Metropolitan Museum of Art opened a permanent exhibition devoted to the world of Louis Comfort Tiffany. This piece could easily sit in a museum but would look lovely as an accent to existing living room lighting ideas.
3. 2003 - Art Deco Railing from NYC's Waldorf Astoria, 1930
2003 marked the year that 1stDibs introduced New York sellers onto its website. What better way to mark the East Coast expansion than with an item that sums up a key piece of New York history.
This Art Deco railing comes from the Starlight Lounge in the Waldorf Astoria hotel. The supper club was named for its retractable roof, so guests could sit under the night sky listening to jazz greats such as Duke Ellington and Ella Fitzgerald.
The railing is a testament to the power an antique can have when added to your staircase ideas. Every time you pass it, it becomes a magical talisman transporting you to the roaring '20s in New York's heyday.
4. 2004 - Slim Aarons Poolside Gossip, 1970
Since its early days 1stDibs has championed mid-century design and California modernism. In 2004 the marketplace cemented this connection by expanding to the West Coast of the US.
What better way to sum this historic moment up than with Slim Aarons Poolside Gossip photograph print? The print embodies the effortless glamor of the '70s, and will look stunning hung above a mantlepiece. Alternatively, it is the perfect starting point for brainstorming dining room ideas for your next soiree.
5. 2014 - Faye Toogood Roly-Poly Chair
The iconic Roly-Poly chair was selected to embody 2014, the same year that Faye Toogood launched the collection at Salone di Mobile. Since its launch, the pieces have become a favorite among collectors.
Faye Toogood said of her 2014 collection that it 'reflects my journey of becoming a mother and seeing the world through the eyes of a child.'
This selection of the chair celebrates not just this iconic collection but highlights the important role of female makers and artists on the platform. Faye Toogood is just one of the notable female makers with a powerful presence on the website.
We don't imagine that these 21 objects will be on the website for long. However, as Tony Freund, Director of Fine Art at 1stDibs points out, treasures appear on the website all the time.
'We never know what remarkable item one of our eagle-eyed dealers is going to put up for sale on 1stDib, opening a new world of discovery, knowledge, and appreciation for us.'
Sign up to the Homes & Gardens newsletter
Decor Ideas. Project Inspiration. Expert Advice. Delivered to your inbox.
Rebecca is the News Editor on Homes and Gardens. She has been working as a homes and interiors journalist for over four years. She first discovered her love of interiors while interning at Harper's Bazaar and Town & Country during my Masters in Magazine Journalism at City, University of London. After graduating she started out as a feature writer for Women's Weekly magazines, before shifting over to online journalism and joining the Ideal Home digital team covering news and features. She is passionate about shopping for well-crafted home decor and sourcing second-hand antique furniture where possible.