I'm a product tester – the best stand mixer in the world is on sale for Prime Day
There's some great mixer deals, but the very best is on markdown.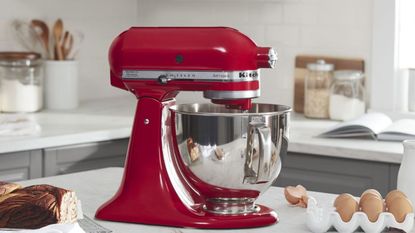 (Image credit: KitchenAid)
I wasn't expecting to see this until Black Friday, but there's an $80 discount on the KitchenAid Artisan, which I'd argue is the best stand mixer in the world. In a surprise move, the price has dropped 17% for Amazon Prime Big Deal Days.
KitchenAid deals are rare, and while I love the Artisan, I have to admit that it's pretty expensive. The usual $449.99 price seems like a lot to spend on a pretty simple machine, so any discount is worth considering. However, because this is sold on Amazon, you can't get KitchenAid's services, like free laser engraving.
That's why it's also worth considering some of the other mixers on the market. We've been covering all of the best Amazon Prime Day deals, and while this is a pretty good offer, there are still some better-value options that might be a better fit for your kitchen.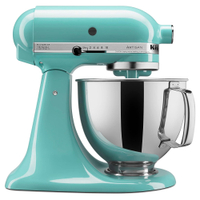 KitchenAid Artisan 5 Quart in Aqua Sky | Was $459.99, now $281.06 at Amazon
We've just caught the lowest price all year on the KitchenAid Artisan. It doesn't apply to every color - this price is only available in Aqua Sky. However, it's a deal that will save you nearly $180 on the best stand mixer in the world.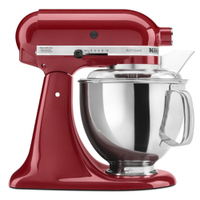 KitchenAid Artisan 5 Quart | Was $459.99, now $379.95 at Amazon
The best stand mixer in the world is now on sale. On test, it excelled at mixing cake batter, dough, and whipped cream. It looks great in any kitchen style. 23 colors are all on sale and it also comes with a pouring shield to stop your countertops being covered in flour as you mix.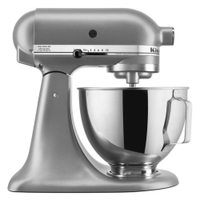 KitchenAid Deluxe 4.5 Quart Stand Mixer | Was $399.99, now $259 at Walmart
This is the cheapest KitchenAid deal I've seen over this sales period. The Deluxe is a little smaller, less powerful, and in fewer colors than the Artisan, but it's a great way to reduce the usual price of a KitchenAid buy hundreds of dollars.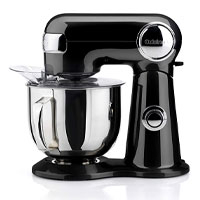 Cuisinart Precision Stand Mixer, 500W, Black, SM50BU | Was $210.58, now $162.35 at Amazon
We've argued for years that the Cuisinart Precision is almost as good as the iconic KitchenAid Artisan. It's usually hundreds of dollars less than the Artisan, and this deal makes it an unbelievable bargain. This study machine kneads bread with ease, and the controls are easy to use.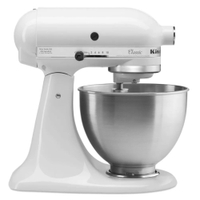 KitchenAid Classic 5 Qt. Stand Mixer KSM150PS | Was $329.99, now $279.71 at Amazon
The KitchenAid Classic is the predecessor to the KitchenAid Artisan, and a smart choice if you want a KitchenAid without the price tag. It's not quite as good, but it looks identical. It's rare to see a KitchenAid under $300, so it's well worth considering.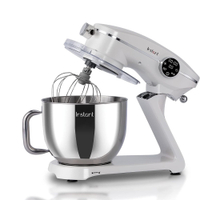 Instant Stand Mixer Pro | Was $299.99, now $199.95 at Amazon
We were incredibly skeptical when the makers of the Instant Pot brought out a stand mixer, but this held up on test. It's not the best stand mixer in the world, but it's light and easy to store and inbuilt scales can weigh your ingredients as you add them to the bowl.
What are Amazon Prime Big Deal Days?
Prime Big Deals Days are two day of discounts for Amazon Prime members running October 10th-11th. Our product testers have found some Amazon Prime Day deals that can save you hundreds of dollars.
Why is the Artisan so good?
The Artisan is so good because it simply makes better food than everything else we've tested. Every time we've tried it - and we've tried it several times when covering various KitchenAid color of the year stand mixers - it makes better cakes and cookies than anything else. The cakes in particular are outstanding. Even a simple sponge has a light but coherent crumb. It makes excellent whip cream, too. Even better, we found that none of our cake batters needs to be scraped down, saving on a little effort and washing up.
When we looked into KitchenAid vs Cuisinart we found that its only weakness is mixing bread. Weak is too strong of a word - we think the Cuisinart Precision barely beat it when it comes to mixing dough, because it's slightly sturdier and needs less supervision, but on the taste test there was almost no difference.
The KitchenAid also looks much better, and comes in a huge range of different colors with almost as many attachments and bonus features.
If it's important to you, the KitchenAid Artisan mixers are all assembled in the USA, too. Most of the parts are also American-made, but some are made in China, so they can no longer claim to be wholly American-made.
What are my other options?
If the Artisan is still too expensive, you have some other options. By far the best value is the Cuisinart Precision at Amazon. A narrow runner-up to the Artisan, this stand mixer is hundreds of dollars less even outside of sales periods. It also has a slightly bigger capacity than the KitchenAid and makes better bread.
If you know you want a KitchenAid, I'd opt for the Artisan Classic at Amazon, which is the predecessor of the Artisan. When we ran Artisan vs Classic tests we found that it's not as powerful, and the cakes and bread are worse. What's more, the Classic is only available in black and white, unlike the dozens of colors available with the Artisan. However, unlike the Artisan, you can buy it for less $300, which is an even better deal.
If you aren't a Prime member, you can get the same deal on the KitchenAid Artisan at Best Buy, too.
FAQs
Why are stand mixers so expensive?
The first reason is the motor. A good stand mixer needs a powerful motor to handle strong, repetitive movement through resistant doughs and mixes. You might be able to get away with a cheaper stand mixer for a couple of years, but one day the motor will give out on a stiff dough and you'll have to buy another one, costing you more money in the long run. Top-line stand mixers from KitchenAid, Cuisinart, Smeg, and other iconic brands are reliable kitchen companions that last for decades, if not generations.
The other reason is attachments and functions. KitchenAids and other stand mixers aren't just for baking. With the right attachment, you can grate, spiralise, grind meat, mill, make pasta and much more. You're not only buying simpler, faster baking but better cooking no matter the dish.
Can stand mixer parts go in the dishwasher?
It depends on the stand mixer, so dishwasher-safe parts are a great feature to look out for. It's usually the case that attachments are dishwasher safe, but the bowl has to be washed in the sink. Some food processors are entirely dishwasher safe, so keep an eye out for those if you dread washing up.
---
While Amazon has some good stand mixer deals, it's not the only game in town. You can also grab stand mixer deals at Best Buy, though the discounts aren't as large.
Sign up to the Homes & Gardens newsletter
Decor Ideas. Project Inspiration. Expert Advice. Delivered to your inbox.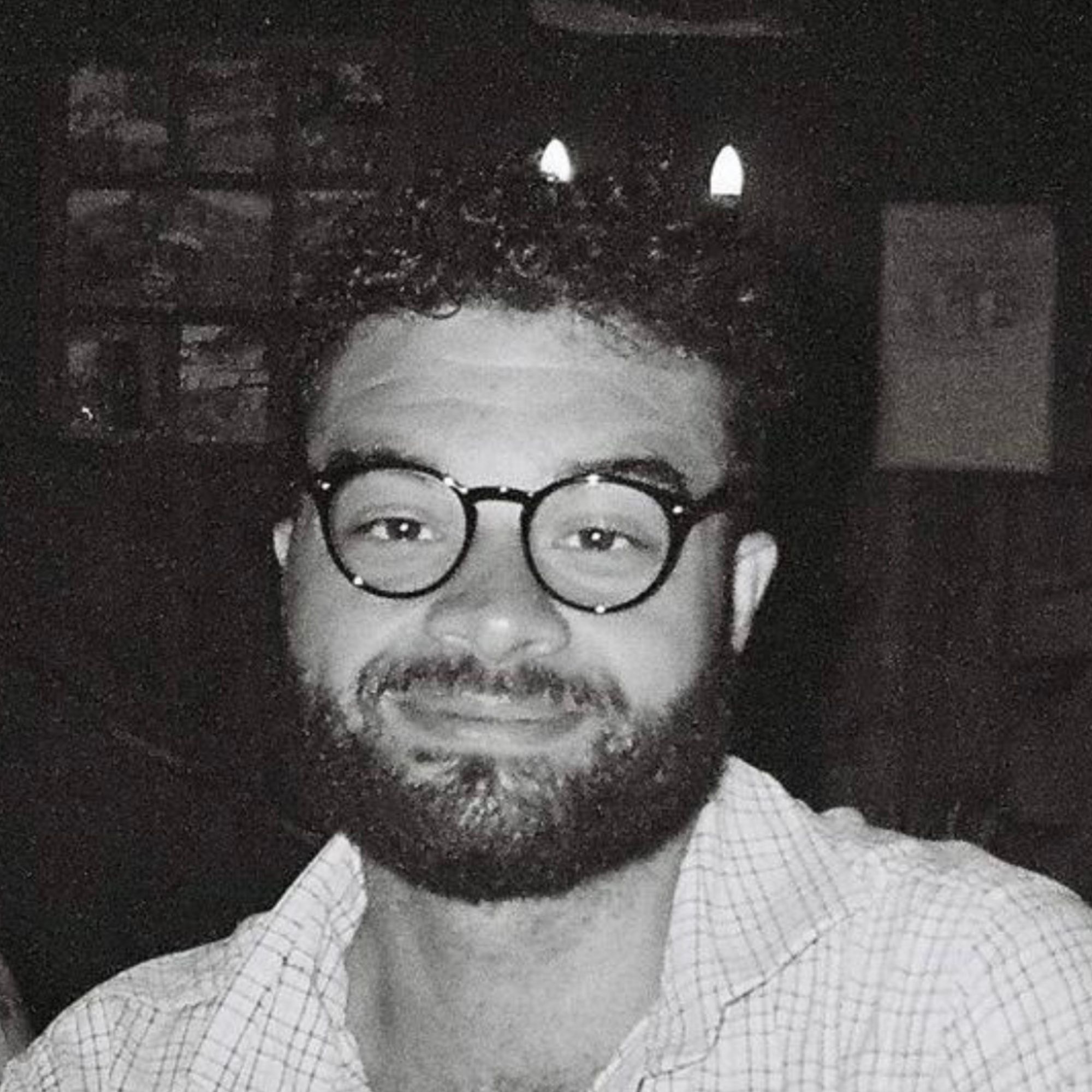 As Head of eCommerce, Alex makes sure our readers find the right information to help them make the best purchase. After graduating from Cambridge University, Alex got his start in reviewing at the iconic Good Housekeeping Institute, testing a wide range of household products and appliances. He then moved to BBC Gardeners' World Magazine, assessing gardening tools, machinery, and wildlife products. Helping people find true quality and genuine value is a real passion.