The 5 bedroom features that add value to a home – real estate experts name their favorites
These bedroom features will add value to a home – and give your bedroom a luxury look and feel in the process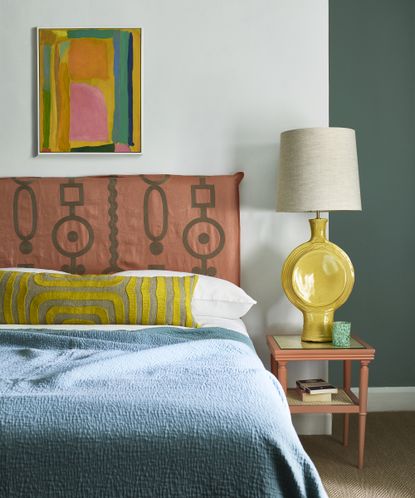 (Image credit: Polly Wreford / Claudia Bryant)
If you're looking for bedroom features that add value to a home, you are thinking about home selling along the right lines. Enhancing a bedroom is one of the best ways to add value to a home, and there are many options, whether you want to go for a complete structural remodel or just change the bedroom style to make it more appealing to buyers.
We've asked real estate agents and interior designers with decades of experience flipping and selling homes under their belts – here are the top value-adding bedroom features they recommend investing in.
1. Walk-in closets are the top value-adding feature in a bedroom – the bigger the better
There is one bedroom feature that nearly all of our real estate experts named as the one that's at the top of every buyer's list – a large closet, preferably a walk-in. Walk-in closet ideas are worth exploring in almost any bedroom, so long as there's space to build them in.
Larger bedroom really should have one, and if you are able to splash on a hers and his walk-in closet, your buyers will want your home even more.
Rick Abbiati, owner of Colony Property Investments and ColonyBuysHouses.com, said: 'Walk-in closets with his and her space are a feature that will add certain value to a home. Having the dedicated space to organize your personal wardrobe is attractive to almost everyone.'
Hillary Landau of The Hillary's Homes Teams at Compass, seconds this view: 'if you can have two for a his/hers, hers/hers or his/his, you can start counting your money! No amount of custom built-ins are too many – of course shelves, drawers and hanging space are essential but add in a pull-out valet bar, jewelry drawer with a lock, special shoe storage, laundry hamper, island counter with drawers/counter, and a sitting bench, and you've just upped your resale!'
Brian Babst, a Licensed Associate Real Estate Broker with The Babst + Herzberg Team at Compass in NYC, also points out that bigger closets are by now a necessity: 'People have more clothes and shoes than ever, especially with the rise of fast fashion brands. Building out storage capacity is a huge value-add.'
2. Bigger is always better – as are generous square bedrooms
A bigger bedroom with bigger windows adds more value to your home – it's that simple. A small bedroom isn't necessarily a problem, but it has to be large enough to comfortably fit in a king-sized bed. Again, this is no longer a nice-to-have – most buyers need to be sure that a king-size will fit, says Hillary: 'space for a king sized bed is a must! The days of cozying up in a full or queen are long gone, as the master bedroom has morphed into the family bedroom for most. My buyers will often measure to be sure they can fit night tables on both sides and greatly prefer to not block a window with their bed frame.'
In fact, if your bedroom is long and narrow, it may even be worth your while remodeling it to achieve a more square dimension. Ben Neely from Riverbend Homes, explains: 'Sizing of the bedrooms can be tricky if budgets are tight, but generally keeping a spare bedroom at least 12x12 should be okay. The more square you can make the space the more spacious it will feel, there's nothing worse than too rectangular a bedroom because a bed will pinch down your usable space.'
3. Big windows in a bedroom are a value-adding must
DFinally, don't underestimate the value-adding potential of large windows, which for many buyers are an absolute must. Emily Waldmann, a realtor in Austin, TX, with DEN Property Group, a luxury boutique brokerage based in Austin, singles out big windows as crucial to seller success: 'buyers are wanting large windows in bedrooms to allow natural light – if you have an opportunity to add a large picture window, go for it.'
4. A fireplace adds focus – and appeal to buyers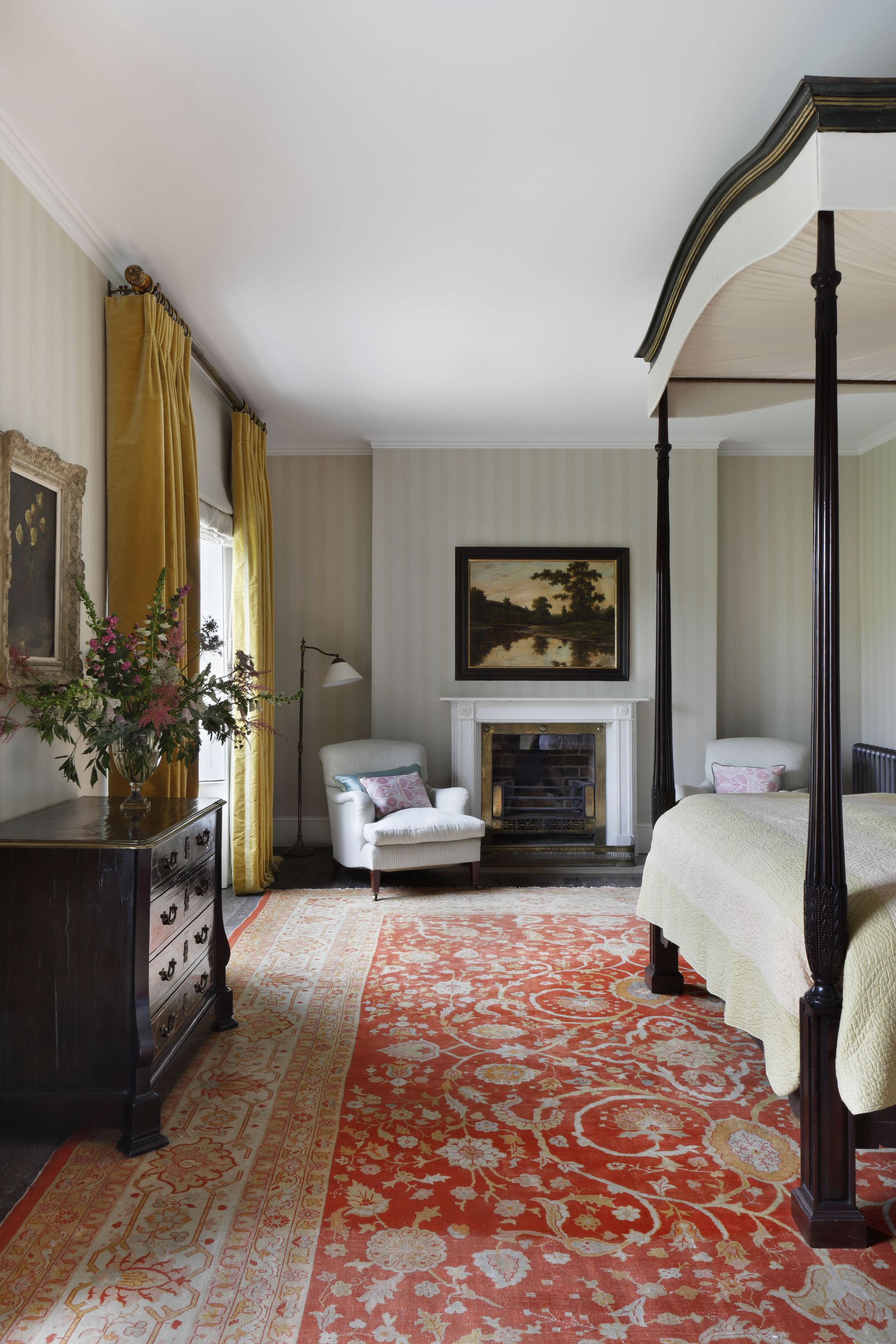 Particularly suitable as part of traditional bedroom ideas, fireplaces are hugely appealing to buyers who want a cozy and luxurious space. Hillary says that unlike cove lighting and tray ceilings, which 'are often seen as unnecessary fluff', the value of a fireplace is not to be underestimated.
You might want to consider a gas fire instead of a proper fireplace, however: 'Although many buyers love the full-sensory experience of woodburning, gas fueled fireplaces are preferred in the bedroom as the idea of flicking a switch or using a remote feels more secure than trying to stay up to be sure every ember has turned to ash.'
Interior designer, Esther Dormer, agrees, saying that fireplaces are 'so beautiful to look at and can really warm up the space.' In one of her projects, she completely transformed an abandoned building into a chic home, and one of the ways she did this was adding a fireplace to the bedroom that worked very well with the high ceilings.
5. Don't neglect the smaller details
Not ready for a complete remodel or selling soon and need to make easier changes that will make a difference to your home value? There's good news for you. Many of our real estate experts concur that often small bedroom changes can make a dramatic difference to the value of your home.
Trey Van Tuyl a real estate agent and owner of Discover Homes Miami, a boutique residential real estate firm in Miami, even goes as far as to say that 'a major bedroom overhaul probably won't add significant value to a home. However, small upgrades can definitely make the home more attractive to potential buyers.'
He recommends swapping out light fixtures, repainting, and replacing 'old and tired carpet' with new hardwood flooring. It 'will definitely add some value to the home, while refinishing existing wood floors will end up being a solid investment.'
Esther also recommends paying attention to bedroom lighting ideas and even new bedding – she really likes to focus on the lighting and incorporating stunning fixtures, especially when it comes to a bedroom and accessorizing with crisp bedlinen.
Ben also emphasizes the importance of lighting fixtures and modern electrics: 'the two most requested thing in bedroom electrical are incorporating bedside switches for reading lights, and USB plugs behind the bedside tables to charge all our devices.'
Finally, simply swapping out an old carpet for a trendy new one will make a world of difference. 'Whether that means a tighter berber or an overdyed kilim 5 x 8 offset under a bed on hardwood flooring, it's a contemporary yet comfortable touch', concludes Brian.
Complete remodel, a walk-in closet, or small, luxury detail? The choice is yours – all of these features will help you sell your home faster and for a better price.
Anna K. Cottrell is now a freelance writer, having previously been a Content Editor for Future's homes titles. She writes about interior design, property, and gardening. On H&G, she specialized in writing about property – buying, selling, renting – sustainability and eco issues.