The best place to buy a vacation home in Florida – it's not where you think it is
These are the best places to buy a vacation home in Florida, and they're not all in Miami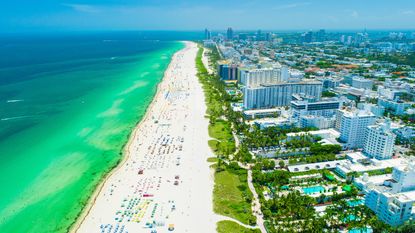 (Image credit: Sergey Chernyaev / Alamy Stock Photo)
Sign up to the Homes & Gardens newsletter
Decor Ideas. Project Inspiration. Expert Advice. Delivered to your inbox.
Thank you for signing up to Homes & Gardens. You will receive a verification email shortly.
There was a problem. Please refresh the page and try again.
If you're looking for the best place to buy a vacation home in Florida, you're spoilt for choice. Florida is an old-time favorite with vacationing families and wealthy retirees, and it has some of the most beautiful beaches and scenery anywhere in the United States. And Disneyworld, of course. And awesome food. We could keep going.
Ultimately, however, as every other state, Florida is experiencing changes in where the best places to buy a vacation home are, partly to do with the pandemic, and partly with how far people want to travel to get some sun.
We've asked local real estate experts to name the spots that will deliver on rental income – and be worth staying at yourself.
See: How to buy a house – a first-time buyer's guide
1. Best place to buy a vacation home in Florida: Kissimmee
And the best place to buy a vacation home in Florida is... nowhere near a beach. However, the beautiful historic city of Kissimmee is next to plenty of other attractions. UpNest's CEO, Simon Ru, who has over 8 years of experience in the real estate industry, including helping sell thousands of homes, including in vacation spots in Florida, said: 'Kissimmee is always #1 on my list, due to its affordable homes and proximity to Disney World and Universal Studios.'
Kissimmee is also right next to Lake Tohopekaliga and has its own waterfront park. Trey Van Tuyl, a Miami-based realtor, seconds Simon's view: 'With a median listing price of around $250,000, Kissimmee is another destination that's great for a vacation or second home. There's a charming old town, pleasant atmosphere, and plenty of nearby attractions.'
See: Best ways to cut house moving costs – as revealed by consumer experts
2. The runner-up: Panama City Beach
Simon also recommends Panama City Beach as an 'affordable beach location with high rental income possibilities. You're aiming for a high return on investment, where hopefully your mortgage is covered (or almost covered) by your rental income.'
'Affordable' isn't the first thing we associate with Florida homes, so looking for the less obvious, but equally beautiful locations pays off: 'Ultimately, in Florida, you want to look for locations where you can earn a great cap rate – in many beachfront properties, this can be over 4%. You can have fun at the beach and make money, too.'
Trey also recommends Panama City Beach as a great value-for-money option: 'For a destination with a much more reasonable median listing price, Panama City Beach is a fantastic option. It's relaxed, family-friendly, and continues to draw visitors. A spacious condo here will be easy to rent out to vacationers.'
Jonathan Sanchez, a real estate investor and co-founder of Parent Portfolio, adds that there's another reason locations like Panama City Beach are becoming more popular: 'These spots are great for people trying to get away from the cold seasons in the Midwest wanting to save some travel time compared to driving an additional four for five hours to Orlando.'
3. Miami Beach, Miami – a favorite that will never go out of fashion
This option will surprise no one, but Miami Beach remains one of the best places to buy a vacation home, because you just can't beat the miles of white sand. The typical value of a median-priced home in Miami Beach is $384,688, and you will never be out of rental income there.
See: Lake Tahoe is the best place to own a second home in the US – here's why
Trey sums up: 'In my opinion, Miami Beach will always be a solid investment. Visitors continue to flock here, and there will always be plenty of opportunity to create rental income. I see North Beach, in particular, becoming more and more desirable.'
Sign up to the Homes & Gardens newsletter
Decor Ideas. Project Inspiration. Expert Advice. Delivered to your inbox.
Anna K. Cottrell is now a freelance writer, having previously been a Content Editor for Future's homes titles. She writes about interior design, property, and gardening. On H&G, she specialized in writing about property – buying, selling, renting – sustainability and eco issues.