7 chic kitchen styling tips that cost (nearly) nothing – from the experts at Havenly
Whether you are a renter or simply looking for a quick revamp, this is how to freshen up a kitchen like a professional stylist – for next to nothing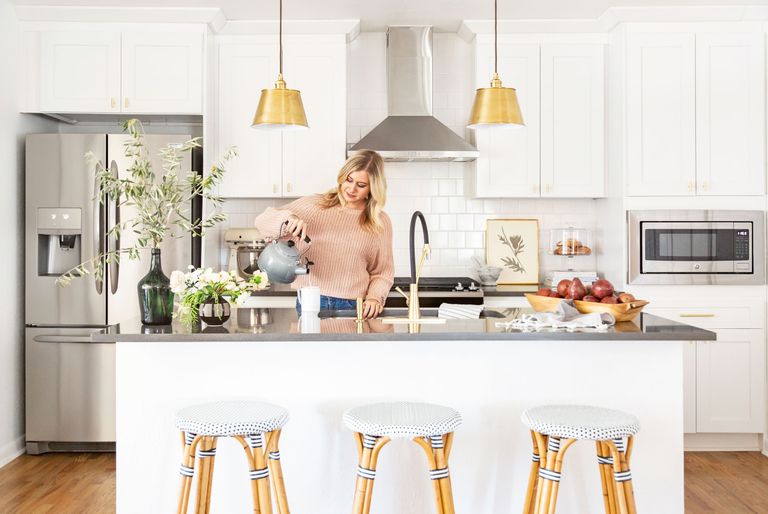 (Image credit: Lee Mayer and Emily Motayed/Ten Speed Press, an imprint of Random House, a division of Penguin Random House LLC)
By Lucy Searle
Lee Mayer and Emily Motayed are the design gurus behind online interior designer agency Havenly. Renowned for their stylish, liveable interiors, they have just published a book – Design The Home You Love. Packed – as you would expect – with essential advice, it covers every aspect of design. 
See: Kitchen ideas – decor and decorating ideas for all kitchens 
The room we asked the duo for tips for? The kitchen – and we were especially fascinated with their take on quick, chic but inexpensive revamps that would suit not just homeowners who want to refresh their kitchens quickly and easily but renters who are keen to do so without spending on fixtures and fittings.
'Not all of us are Martha Stewarts in the kitchen, but there's no reason your kitchen can't look just as well designed as the rest of the house. Similar to bathrooms, sometimes it can be hard to do renovations to get a kitchen upgrade, so think about using styling elements to create an inexpensive upgrade,' says Lee. Read on for her seven essential tips to styling a kitchen.
1. Create vignettes
'For me, the key to kitchen styling is the countertop vignette. If you follow any home accounts on Instagram, you've probably seen a lot of beautifully styled kitchens, and you probably also know that you can really use the functional as decor in a kitchen.
'Find a few items with varying heights and materials. I love displaying large, rustic wood cutting boards together with earthenware in odd number combinations. Make sure you place pieces of different heights in front of one another, to create some dimension with your everyday items.'
See: Kitchen countertop ideas – worktop inspiration in marble, granite and composite materials
2. Go simple
'I personally don't think you need to display fancy china, and, in fact, I prefer the simpler or more rustic pieces in my kitchen vignettes. These days, we're finding more people avoid the heritage bone china in favor of simple but interesting dishware. 
'I personally like to mix and match whatever I have that's clean. My favorite items to display include a wooden bowl from Amazon, near a marble cheese board, with a couple stacks of my favorite every day white dishware.'
See: Tips for displaying china – to create the perfect vignette
3. Use the food
'I also love that in the kitchen you can use food as styling props. I peel the stickers off my lemons and place them in a bowl for a pop of yellow or place my weekly parsley stash in a mason jar to add in some inexpensive color (and bonus, it's also delicious to eat).'
4. Books as props
'Another item that you are guaranteed to have in your kitchen that can double as a styling item? Cookbooks. I have a ton of beautiful hardcover cookbooks. Arranged on floating shelves or at the ends of counters, the books can be within reach when you want to make a roast chicken but add a bit of functional decoration as well.'
5. Kitchen towels
'I love kitchen towels! I have a whole drawer full of them in various shades of blues and grays. I use them a lot when I'm cooking (I challenged myself this year to cook at home at least 4 days of the week), and kitchen towels are great for quick clean ups while I'm whipping up something (mostly) delicious. 
'Towels are an inexpensive but an easy way to make the kitchen feel lived in, and add softness to the overall space. Buy a bunch of clean kitchen towels from Target in your favorite color palette for an instant upgrade to your kitchen. Fold them and hang them over the handles of your dishwasher or oven, or just leave them on the counter by your vignette for an artfully lived in look.'
6. Lighting
'When a major kitchen remodel is not doable — either because it's not in your budget or your landlord doesn't have it on the radar — lighting can be a big opportunity to inexpensively change your kitchen's look and feel. In fact, I've used lighting to rescue a few very sad rental apartments, buying inexpensive stick-on under-cabinet lighting and adding some hanging pendants (or changing out your rental pendants). 
'In each case, the added lighting softened up the horrible fluorescent lighting and created some design detail that helped the eye keep moving vertically. It was also cheap to replace and easy to remove when my rental contract was over. (Yay, security deposit!)'
See: Kitchen lighting ideas – to set the scene for cooking, eating and entertaining
7. A Le Creuset
'Yes, yes, I know: there are less expensive versions of these kitchen essentials. But I use my white Le Creuset (previously, I used a red one in a kitchen that needed a pop of color), as art. It really can be a great decorative item that breaks up the monotony of a stovetop. Added bonus: staring at it every day is a good way to get inspired to cook delicious braised meals.'
See: Best Le Creuset buys – the H&G tried and trusted edit

Design The Home You Love by Lee Mayer and Emily Motayed.
This piece was adapted from Design The Home You Love. You can buy the book at Amazon now. 
Copyright © 2021 by Lee Mayer and Emily Motayed. Published by Ten Speed Press, an imprint of Random House, a division of Penguin Random House LLC.View Deal