Forget Christmas tree skirts – this tree collar is 2020's most wanted – but it's a rare find
We love it – and if you do too, you need to shop now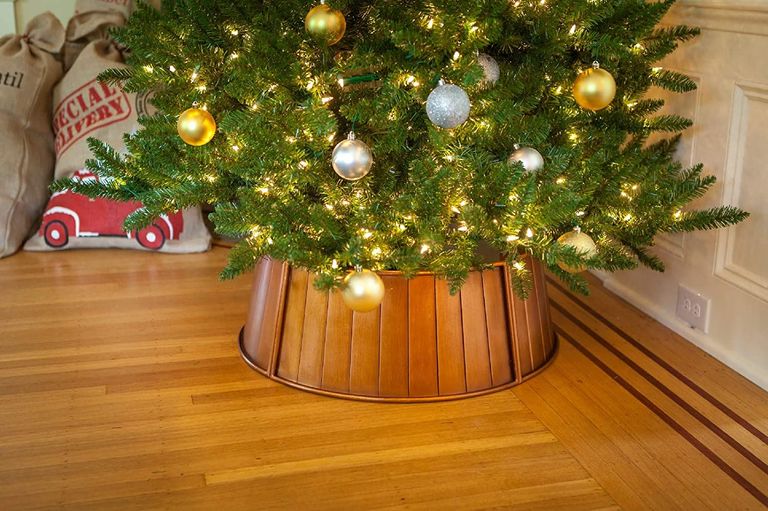 (Image credit: Amazon)
By Lucy Searle published
You heard it here first: the latest, and some would say loveliest of Christmas tree trends emerged today. Yes, copper Christmas tree collars are 2020's big look. Trends come and go, but we can see this one sticking about – copper is a wonderful color for Christmas, it's effortlessly elegant and unlikely to go out of fashion.
But... copper Christmas tree collars aren't actually that easy to find – and those we are finding are selling out super fast. So be quick!
Christmas tree collars have been popular buys for as long as we've bought artificial Christmas trees rather than real homes, and are a must-have for any style-conscious homeowner as they are the best – and smartest – way to cover the legs and fixings that your tree stands on. If you have a real tree that's fixed to a base, rather than potted, a Christmas tree collar is a must, too.
It needs to be big enough to hide the base of your tree – more on that below – but small enough to allow plenty of room for gifts.
Our advice? Complement your copper Christmas tree collar with decorations to match. Once the gifts are gone, they will help your tree look smart rather than lonely.
Below, we've picked out our favorite copper Christmas tree collars. We'd advise buying early rather than later – they will sell out fast.
See more: Christmas trends: how we're decorating – and spending – Christmas 2020
Our favorite copper Christmas tree collar
Copper tree collar: $87.97 at Amazon US
This copper tree collar measures 23.25in across at the top and 27.5in across at the bottom and is 10in high. You need at least 12in clearance for the ground to the lowest branch of your tree for this to work. Fits around most standard size Christmas tree stands, it is made of a washable, waterproof, heavy gauge metal material. It comes in four pieces that you can put together – then take apart again – in minutes. 
And more Christmas tree collars and skirts we love...
Basketweave Christmas tree collar, $39.97, Amazon
After a farmhouse look? This tree collar is the same size as the one above and although it has a basketweave look, it is actually plastic, so it is just as durable, washable and waterproof. Also available with a smooth with snowflake pattern decal, it is easy to assemble – the our pieces connect together by magnets. It breaks down for compact storage throughout the rest of the year.
Wooden tree collar box, $89.99 at Amazon
Love farmhouse style? Add it to your living space with this Christmas tree collar is the perfect replacement for your average or traditional Christmas tree skirt. Its four-sided with hook and loop strips for easy installation and storage. Each side measures 22.5in by 14.5in tall. Made from geniune recycled wood. 
Handmade Forest Scene Tree Skirt, was $249, now $203.99, Joss & Main
How beautiful is this tree skirt? Bambi-eyed green reindeer and pretty blue birds at home in their fantasy habitat, surrounded by happy embroidered flowers and plants adorn this lovely piece. Blue edging lends a neat, tailored appearance to the rustic jute burlap fabric, as does the row of wooden buttons that keep the skirt snug around the tree. 
Shop copper Christmas decorations to match
What is a Christmas tree collar?
A Christmas tree collar is designed to hide the bottom of your tree – and particularly artificial Christmas trees that stand on ugly legs. They can be made of fabric – these are usually called tree skirts – that you simply drape around the tree's foot from front to back – or solid, which are known as tree collars.
Can you use a tree collar with a real tree?
Yes, although you will need to choose either your collar carefully or your tree carefully to ensure that they complement each other.
What size tree collar do I need?
It's a fine balance when choosing the size of your tree collar, and much of your decision will depend on how large your tree is. Your tree collar needs to be large enough so that it covers the diameter and height of the legs of the tree, but not so large that it makes the tree look like it's sitting in a pot.
Ideally, it ought to be just shy of the width of the middle of your tree.
My first job was writing a DIY column for a magazine for the over 50s (which seemed a long way off back then). I then moved to a DIY magazine as deputy ed, then freelanced my way around the homes departments of most women's magazines on the market before working on Your Home and Family Circle magazines as homes editor. From there, I went to Ideal Home magazine as associate editor, then launched 4Homes magazine for Channel 4, then the Channel 4 4Homes website before going back to freelancing and running a social media business (you can see where I had kids from the freelancing gaps!). I was tempted back to the world of big business by the chance to work with the great team at Realhomes.com, where I was Global Editor-in-Chief for two and a half years, taking it from a small website to a global entity. I've now handed the reins of the website to our American managing editor, while I take on a new challenge as Editor-in-Chief of Homes & Gardens.