Donald Trump's property portfolio – the staggering real estate collection of the former US president
Known for his affluence and extravagance, Donald Trump is not shy about owning masses of property – we take a look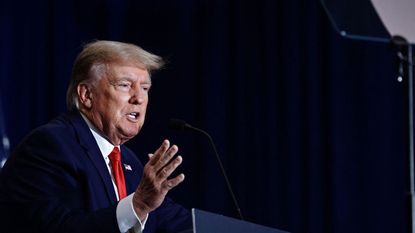 (Image credit: Alamy)
Donald Trump is, and forever will be, a controversial figure in the world of politics however his presence is not limited to the business sphere, with the billionaire also proving to be a formidable name in the world of real estate.
The businessman-turned-politician has never been shy about his abundant property portfolio, from his infamous Mar-a-Lago home to his numerous country golf clubs scattered across the world, Trump has had a long-standing habit of flaunting his wealth through his houses.
Here, we take a look at some of his private properties, from his childhood home to his more extravagant mansions.
Trump's Childhood Home, New York
Although situated in a rather affluent sector of Queens, New York, Trump's childhood home is the most humble property on the list. Built by Trump's father, Fred Trump, the home has quickly become outdated by today's standards and struggled to sell when it went to auction in 2016.
At 2,500 square feet, the brick-and-stucco house resembles many of the others in the area with its mock Tudor facade. The smaller home has five bedrooms but 15 beds in total, with smaller divided rooms a testament to the age of the home. On that note, the kitchen ideas are original, having been barely touched since it was fitted.
The home was listed on Airbnb for $725 a night in 2017 but came off of the site when the current owner looked to sell in 2019, with the house once again struggling to find a buyer.
Trump Tower Penthouse, New York City
Perhaps the most famous of all of Trump's homes is the penthouse of Trump Tower, New York. The luxury suite has been said to be a favorite of the family, with Trump previously discussing with advisors how much time he could spend at the tower despite winning the White House during his presidency.
Located on New York's Fifth Avenue, amongst some of the world's best homes, the glistening gold penthouse is decorated with real 24-Karat gold fixtures and marble pillars in the style of Louis XIV. Valued at an eye-watering $100 million, the property's value comes from the luxurious large chandeliers, plush rococo furnishings, and white gold trimmings that line the space from floor to ceiling.
The penthouse also comes with a series of other benefits for the Trumps, including a private elevator to Trump's office, expansive art collections that compete with family portraiture, and unparalleled views of Central park.
Much like its owner, the space has come under significant controversy in recent years, however, with Forbes unearthing the secrets of the penthouse's true size. In an article (opens in new tab) in 2017 (republished in 2020), Forbes writers revealed that the penthouse is significantly smaller than Trump espoused, coming in at approximately 22,004 square feet less than the businessman claimed.
Mar-a-Lago, Palm Beach
If mansions and penthouses were not quite enough, Trump's real estate jewel is the Mar-a-Lago resort in Palm Beach, Florida.
The resort is classed as a U.S. National Historic Landmark, having been gifted to the trust in 1973 by the original owner and businesswoman Majorie Merriweather Post. Trump then bought the home in 1985 for $10 million, using the mansion as his main residence for eight years before converting it into the current resort – a membership for which costs around $200,000, with an annual fee of $14,000.
Despite its transformation into yet another business empire, the Trump family maintains private quarters in a separate area of the resort grounds, with Donald using the space to host several world leaders during his presidency – making mar-a-Lago one of the world's most expensive homes. The resort is a splendid 20-acre estate with over 128 rooms in total, it is so large, in fact, that it spans the entire width of the island Palm Beach is located on, making Mar-a-Lago the second largest mansion in Florida, succeeded only by Versailles, and the 24th largest mansion in the US. With an approximate value of $160 million as of 2018, it is now often referred to as Trump's opulent playground.
The property has been the focus of international attention as of late with the revelation that Trump had allegedly moved classified documentation to the property during his time as President.
The Trump National Golf Club, New Jersey
It is no secret how much Donald Trump enjoys golf, with multiple golf clubs and resorts scattered around the world. One of his most frequent, however, is the Trump National Golf Club in Bedminster, New Jersey.
While the club features a 43,000-square-foot clubhouse, the family owns five multi-bedroom cottages on the property, one of which was gifted to Donald Trump's daughter Ivanka and her husband Jared Kushner, and 11 suites for members and guests to rent out.
Donald's personal cottage is located beside the resort's 15-yard-long pool ideas and was recently expanded by 500 square feet, adding a second-floor balcony and porch to the property. The home is also situated close by the club's hot tub and spa, tennis courts, riding trails, and heliport amongst other luxury amenities.
Seven Springs, New York
Bought initially in 1996 for $7.5 million to turn into yet another 18-hole golf course, the Trump's Seven Springs mansion now stands as an isolated family retreat. The family's failure to get the approval needed for the greens, however, does not make the space any less luxurious.
Built in 1919 by Italian artisans, the mansion contains 60 rooms (15 of which house excessive bedroom ideas), and three pools, and the indoor pool is cased entirely in gorgeous white Italian marble. The home also benefits from a much more modern bowling alley, a barn complete with stables, and numerous hiking trails.
Elsewhere on the 213-acre grounds is a more modest Tudor-style home known as Nonesuch, also built in 1919, that is surrounded by secluded woodland isolating the home away from prying eyes.
The Trump Winery, Virginia
The Trump winery has been shrouded in mystery for several years, with Trump managing to purchase the 1,100-acre vineyards and home for only $8.5 million as opposed to the property's full estimate of $170 million. Although the property technically belongs to Donald's son, Eric Trump, the businessman still vehemently declares the winery belongs to him.
The winery is home to a 23,000-square-foot, 45-room main building, affectionately named Albemarle House, and has become a part of the Trumps Hotels brand.
The Albemarle Estate is one of the most prestigious pieces of architecture in Virginia, located in the middle of the Monticello wine trail.
Inside the property, luxury amenities are front and center, with a sprawling library complete with home bar ideas, private dining room ideas, and a tasting room all topping the laundry list of features available for exclusive hotel guests.
The grounds house not only the vineyards and wine processing center, but also multiple finishing ponds, an outdoor pool and hot tub, and expansive garden ideas designed specifically for unwinding and relaxing in the Virginian countryside.
How many buildings does Trump own?
While Trump himself currently owns six private residences, the Trump Organization owns a staggering 500 businesses and properties around the world, many of which are his prized golf clubs.
How much is Donald Trump Worth
As of 2022, it is estimated that Donald Trump is worth approximately $3.2 billion, making him one of the richest men to have ever been President of the United States.
Chiana is a junior writer for Homes & Gardens having joined Future plc as a new graduate in 2022 after achieving a 1st class degree in Literature at university. She first became interested in design as a child after spending her summers helping her parents redecorate her childhood home. As a long-time reader of Future's homes titles, Chiana is constantly finding new inspiration at work as she focuses on emerging trends, how-to's, and news pieces.