Farrow & Ball's Christmas decorating tips – Joa Studholme shares her favourite festive traditions
Joa Studholme, Farrow & Ball's Color Curator, reveals the Christmas decorating secrets that bring her cheer throughout the holiday season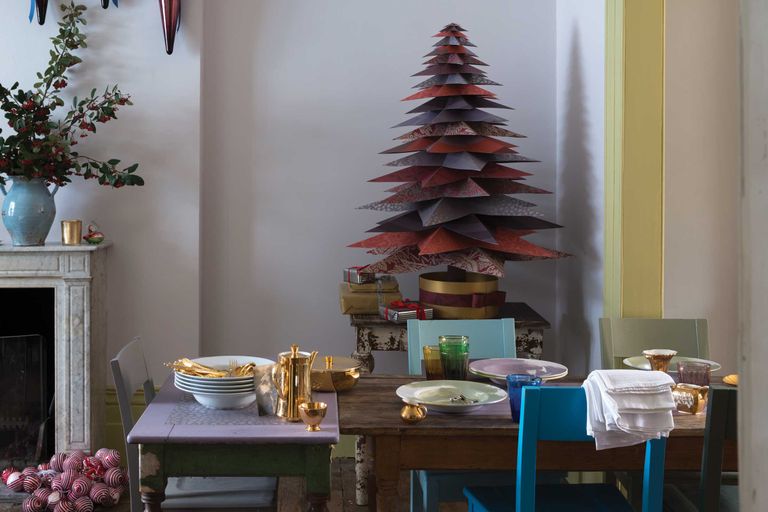 (Image credit: Farrow & Ball)
Joa Studholme is Farrow & Ball's color curator and the author of two books on the subject: How To Decorate and Recipes for Decorating. 
She has worked with Farrow & Ball for over 25 years, developing new color ranges, advising architects and interior designers all over the world on a variety of projects, as well as helping homeowners choose the right shades for their schemes through the company's color consultancy service. 
We asked her how she decorated her house for Christmas each year and persuaded her to share a few of her secrets to creating a colorful festive scheme for the holidays. Here's what she said...
How do you decorate your home each Christmas?
'Ever since I got married my husband and I have collected nativity scenes. We now are the proud owners of over fifty of them, gathered not only by us but by kind friends from all over the world.'
'They range from a tiny salt nativity from Bolivia, through to exquisite examples in glass domes, to a Barbie and Ken tableau made by my children. They appear all over the house.'
'This year, I am trying my hand at drying some enormous cardoons grown in our garden. These huge artichoke-like plants could be sensational at Christmas if they retain their color – and if not, I will cheat and paint their thistle-like tops with a sample pot of Brassica!'
'As for decorating flowers, I would look no further than Kitten Grayson Flowers. Her winter chandeliers are things of whimsical beauty.' 
'Made from flowers that she has dried and preserved over the past year, they are the perfect sustainable decoration, as well as the most stylish addition to hang over your Christmas table.'
How do you decorate your Christmas tree?
'We used to pride ourselves on extraordinary trees – sometimes hanging them and often two mounted, in frames, either side of the fire.'
'But since moving to an old school house - the inspiration behind Farrow & Ball's color, School House White - the ceiling height is so huge that for ethical reasons I just can't bear to waste such a tall tree. So last year we had a honeycomb tree which came from The Conran Shop.'
What is your festive focal point?
'I always decorate the table on Christmas Eve with a cornucopia of Father Christmas figures. Favourites include a barefoot Santa from Sri Lanka and a swaying Hawaiian version in a grass skirt.'
'I love the ying and yang of using lots of vivid color on Christmas Eve and then having something altogether more tasteful in the form of treasured silver and fresh foliage from the garden on Christmas Day.'
What is your favorite Christmas scent?
'There is only one contender for me: Feu de Bois by Diptyque. With its dense and smoky scent, it is literally Christmas in a candle for me!'
Do you have a go-to interiors destination at this time of year?
'I am loathed to share my secret destination, but a huge amount of my Christmas gifts come from a store called Universal Providers in West London.' 
'It's a treasure trove of exotica gathered from all over the world, ranging from Balinese wedding headpieces and African lip plates to the contents of a cabinet of small curiosities perfect for stockings. I particularly like the primitive Indonesian totems which sit so perfectly with our Color by Nature range.'