The best Black Friday KitchenAid sales and deals 2022
KitchenAid Black Friday sales are live. We bring you the latest and best deals, plus food processors, blenders, toasters and more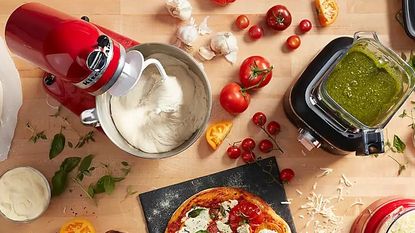 (Image credit: KitchenAid)
Black Friday KitchenAid sales are happening right now and it's the absolute best time to invest in a new mixer.
With some of the best stand mixers on the market, KitchenAid appliances are often a more expensive option, but having tested and reviewed many of their designs here at Homes & Gardens, we can definitely say they are worth it – and have hunted down the best deals so you don't have to.
Our Black Friday KitchenAid page doesn't end with mixers. We've also found deals on blenders, toasters and more, so that you can shop for your entire kitchen.
Whether you're looking to treat yourself or a loved one this holiday season, these are the very best KitchenAid Black Friday savings.
KitchenAid sale retailer quick links
Best Black Friday KitchenAid stand mixer deals
It's no secret that KitchenAid consistently tops our guide to the best stand mixer and Stock is limited on the available Black Friday KitchenAid mixer options, and known to sell out, so we've included a number of retailer options, and a breakdown of the differences between the KitchenAid Artisan vs. Professional, the two models frequently on sale for Black Friday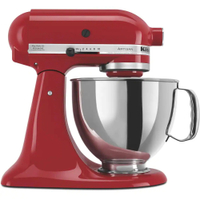 (opens in new tab)
KitchenAid Artisan® Series 5 Quart Tilt-Head Stand Mixer| was $449.99, now $349.99 at KitchenAid (opens in new tab)
The Artisan Series 5-quart is our all-around favorite, well suited for everyone from the occasional holiday bakers to pastry chefs. Purchase directly from KitchenAid to have the most robust color selection (24 colors). You can customize it with a free laser engraving on the rim for a special touch. Accessories include a Coated Flat Beater, Dough Hook, 6-Wire Whip, and Pouring Shield.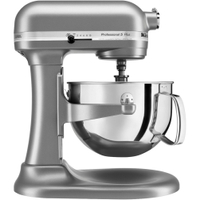 (opens in new tab)
KitchenAid Professional 5 Plus Series 5 Quart Bowl-Lift Stand Mixer |Was $449, now $249 at Best Buy (opens in new tab)
For the lowest price KitchenAid Mixer we can find, Best Buy still holds stock in all four colors: red, black, silver and blue.
The Professional differs with its bowl-lift design, as opposed to the tilt-head of the Artisan, and provides better stability. It also offers more power, 525 watts, compared to the Artisan's 325 Watts. It does not come with a pouring shield.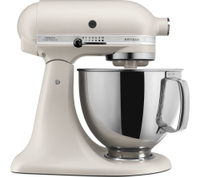 (opens in new tab)
Artisan Mixer |Was $449.00 now $349.99 at Best Buy (opens in new tab)
The KitchenAid Artisan is a favorite with home and celebrity chefs, and it's got the perfect size for making multi-layer cakes while still fitting neatly under kitchen counters.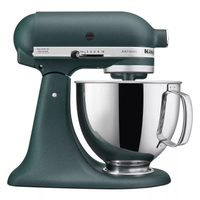 (opens in new tab)
KitchenAid Artisan 10-Speed Stand Mixer - Hearth & Hand with Magnolia |Was $449.99 now $349.99 at Target
(opens in new tab)This exclusive Joanna Gaines KitchenAid comes in a stunning matte sage green called Pebble Palm for anyone looking for a color that's more unique.
Best Black Friday KitchenAid hand mixer deals
The best hand mixer is more affordable option, and space-saving too. Most should cost under $100.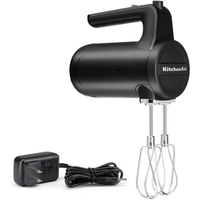 (opens in new tab)
KitchenAid Cordless 7-Speed Hand Mixer | $99.99 now $79.99 at Amazon (opens in new tab)
In our review, we love how the cordless KitchenAid hand mixer (opens in new tab) doesn't tie you down and is handy for quicker jobs where you don't want to drag out your stand mixer. This small but mighty hand mixer can whip enough dough for 200 cookies on a single charge.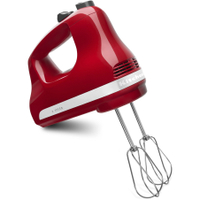 (opens in new tab)
KitchenAid 3 Speed Hand Mixer| was $41.88, now $34.88 at Walmart (opens in new tab)
Simple and basic, yet effective with three speeds if you're after a low-cost option.
Best Black Friday KitchenAid Blender deals
Whether after the best blenders to whip up nutritious smoothies or an immersion blender to mix up soup and sauces by hand, discounts can be found on KitchenAid blenders of all types.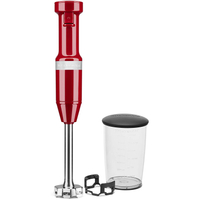 (opens in new tab)
KitchenAid KHBV53ER Variable Speed Corded Hand Blender | Was $59.99 now $39.99 at Amazon (opens in new tab)
One of KitchenAid's smartest products on the market, this simple hand blender is perfect for making soup.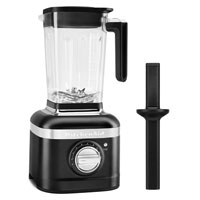 (opens in new tab)
K400 Variable Speed Blender with Tamper KSB4028 | Was $279.99 now $219 at Macy's (opens in new tab)
This powerful blender has a 3-part blending system and a unique asymmetric blade that cuts at four distinct angles, ensuring all types of ingredients are thoroughly blended. The blender can be controlled by the 5-speed variable speed dial or the 3 Preset Recipe Programs.
Best Black Friday KitchenAid Food Processor Deals
Another sharp category to not miss from KitchenAid, a number of the best food processors for shredding, dicing, and splicing veggies to proteins.
Best Black KitchenAid Coffee deals
KitchenAid has it own line of coffee makers, espresso machines, and grinders, too.
Best Black Friday KitchenAid toaster deals
KitchenAid offers both traditional toasters and toaster ovens with air frying capabilities that feature in our guides. These are the best savings we've found.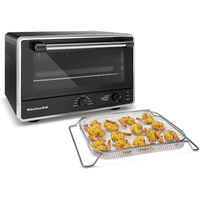 (opens in new tab)
KitchenAid Digital Countertop Oven with Air Fry| was $219.99, now $189.99 at Amazon (opens in new tab)
The complete kitchen in a countertop oven can dehydrate, proof, air fry, bake, broil, keep warm, and toast six slices with a bagel setting option too. Our favorite part is how it can air fry without having to flip food.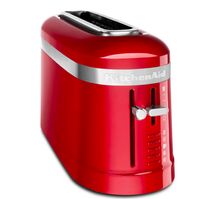 (opens in new tab)
2-Slice Empire Red Long Slot Toaster| Was $89.99, now $74.99 at The Home Depot (opens in new tab)
A high-lift lever makes bread easier to achieve and there's a 'Little Longer' button if you like your toast well done.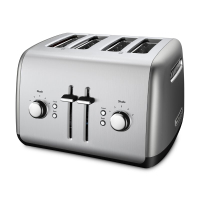 (opens in new tab)
KitchenAid 4 Slice Toaster | $79.99 now $74.99 at Wayfair (opens in new tab)
Did you know that KitchenAid made toasters, and very good ones at that? This one is made from stainless steel and has an auto shut-off function, as well as preventing your toast from getting burned if it gets jammed inside. And it's a breeze to clean thanks to the pull-out crumb tray.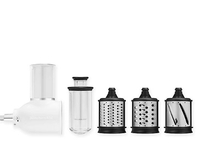 (opens in new tab)
KitchenAid® 5-Piece Fresh Prep Slicer/Shredder Attachment Set in White | $59.99 $44.99 at Bed Bath & Beyond (opens in new tab)
One of the best parts of owning a KitchenAid stand mixer is that it opens your kitchen up to a world of handy attachments that make cooking so much easier. A great start? This slicer/shredder attachment set.