Living near a national park – the best locations, property prices, upsides and drawbacks
Living close to a National Park can almost double the value of a property. Find out which are the best locations to invest in – and which iconic landmarks aren't worth the extra cost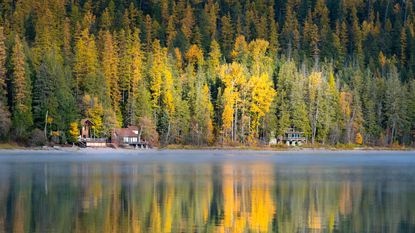 (Image credit: Jordan Banks/Alamy)
Living near a National Park gives you access to rugged landscapes, ancient forest and incredible wildlife. Whether you are heading out to hike, cycle, horseback ride or ski, or to enjoy a hobby such as landscape painting or birdwatching, having a home close to a National Park means unlimited opportunities to experience the wilderness.
See: House styles – your complete guide to architectural styles and eras
'Homes close to a National Park are likely to have scenic views, a feature many homeowners look for when searching for their perfect property,' says mortgage expert Salman Haqqi at Money. 'National Parks can also be great locations for kids to play and spend more time outside.'
But a home near a National Park can come with a premium price tag.
'One disadvantage of neighboring a National Park can be the cost of properties,' agrees Haqqi. 'In the US, our Lucrative Landmarks Report found that a typical three-bed property close to the most popular National Parks in the US is listed for an average price of $994,256, 184% more expensive than a similar home in the city closest to the Park.'
So, while a property next to a scenic beauty spot may seem like your dream home, it's important to weigh up whether it's within your budget and if it meets your lifestyle needs.
If a property near a National Park is out of your budget but you want the same fringe benefits, searching in the surrounding area is a great option. You may have to compromise on a few things, such as walking into the National Park from your door, but you may be able to secure a much more affordable property a short drive away.
You may even find a home in a neighboring area is a better investment.
Check out the property prices for three-bedroom homes in the same zip code as the six most visited National Parks in the US to find out where you'll pay the highest premium and which natural wonder has the most affordable homes.
1. The Arches National Park, Utah
With its incredible landscape of soaring sandstone arches, monumental monoliths and fragile fins of rock, living near The Arches means swapping urban architecture for elemental engineering, shaped by nature.
If you love to hike, bike, raft or simply take in the scenery, this is the location for you. Outside peak season, you'll definitely feel you have the space to yourself, with more sights than tourists. During peak visitor season, locals know the best time is between 7am-8am and 3pm-5pm.
You'll find roomy, cabin-style homes set in large plots with red rock views. Many properties have attached studios or guest houses, so you can rent accommodation to visitors while enjoying the main home.
A three-bedroom house neighboring The Arches National Park will cost an average of $1,820,620, compared with $167,449 for the same-size house in Virgin, Utah, the closest city. That's a 987% premium to live in this stunning location.
'Homes surrounding Arches National Park deliver a more modern twist on traditional cabin-style homes,' says Salman Haqqi. 'They're likely to have wraparound decking and big open plan spaces.
'The properties are also closer to local amenities, which offers the ideal balance of comfort, convenience and seclusion.'
See: Ranch-style houses – the ultimate guide to the look and how to get it
2. Glacier National Park, Montana
Shaped by prehistoric ice rivers, Glacier National Park today is a land of sparkling lakes and waterfalls, glistening glaciers and beautiful alpine meadows. If boating, biking and breathing in fresh mountain air is your thing, this is the place to be.
Make your home in one of the gateway communities surrounding the park, including well-connected Kalispell, Whitefish and West Glacier. Styles range from contemporary eco builds to traditional wood cabins and lakeside lodges.
Purchase a three-bedroom house in Glacier National Park and it will cost an average of $1,169724, compared with an average price of $174,611 for a home in nearby Missoula, Montana. That's a proximity premium of 385%.
3. Zion National Park, Utah
Sited in Southern Utah, Zion National Park isn't far from Las Vegas, Salt Lake City or St George. Yet its breathtaking desert-scapes seem a world away. This is a place of extremes – canyons and ravines, blazing sun and wintry rain, fresh springs and golden falls. It's a great location to live an active life close to nature – bike, hike, horseback ride and climb.
The charming town of Springdale sits at the entrance to the park. It has only 500 permanent residents but features great restaurants and galleries to entertain the many visitors it attracts each year. The nearby town of Hurricane also has a strong community feel.
Visitors flock to Zion National Park from March to October, but the park is quieter from November to February – and it's beautiful all year round.
Unlike the top two most-visited US National Parks, you'll pay less for a three-bedroom home in Zion than you would in the closest city, Orderville, Utah.
The price of a three-bedroom Zion property averages $897,428. But that's 76% less than an equivalent property in Orderville, which would set you back $3,765,960.
4. Yellowstone National Park, Wyoming
Live near Yellowstone National Park and your neighbors will be grizzly bears, wolves and wild bison. With more active geysers than anywhere else on earth, the local hotspot really will be hot. And your local commute will take in canyons, waterfalls and rocky trails.
To experience Wyoming's wild side, as well as great homes and amenities, you'll need to look to the characterful gateway towns that sit at Yellowstone's five entrances.
Gardiner, Cody, West Yellowstone, Island Park, Cooke City and Jackson blend heritage, tourism, culture and career opportunities – but property prices for the ranch style and chalet homes come at a premium.
In Yellowstone, you'll pay an average of $893,021 for a three-bedroom house. But in neighboring Jackson, Wyoming, a similar property would be priced at $4,137,356 – that's 78% more.
'Yellowstone National Park is a 3,500-sq mile wilderness atop a volcanic hotspot, which could explain why the property prices are cheaper here,' says Salman Haqqi.
'Many houses here are cabin-style homes, which are more likely to be used for leisure purposes such as vacations. These "off-grid" properties may not be suitable for a family who are looking to travel to school every day or commute into the workplace and therefore would command a lower premium.'
5. Rocky Mountain National Park, Colorado
Rocky Mountain National Park's mountain peaks, fertile valleys and crystal clear rivers are home to elk, coyotes, fish and deer. Commercial development is limited within its 265,000 acres, making this a true wilderness and haven for nature lovers.
Close by, you'll find thriving towns at the foot of the Rocky Mountain ranges.
Fort Collins, Boulder and Colorado Springs all offer access to the park and a mix of property styles. Choose from traditional cabins, eco new build homes, Victorians and stone built chalets.
Go property hunting near Rocky Mountain National Park and you can bag a three-bedroom abode for an average price of $728,987. That's 59% lower than a similar property in Nucla, Colorado, which would cost you $1,766,679.
6. Yosemite National Park, California
Ancient sequoias, vertiginous cliff faces and cascading waterfalls are some of the iconic sites of Yosemite National Park. Every season holds a new wonder, from winter's back country skiing and snowboarding to fishing, horseback riding and hiking in the warmer months.
There are some wonderful gateway towns on the edge of Yosemite, which combine proximity to the park with strong communities and amenities.
Check out Mariposa County, Groveland and Oakhurst. Properties range from contemporary lodges to traditional chalets and stone houses.
A three-bedroom house in Yosemite is approximately half the cost of an equivalent property in Turlock, California. In fact, you'll pay 57% less in the National Park – around $411,543 – compared with $960,970 in the city.
What are the pros and cons of living next to a National Park?
Every day can feel like a vacation day when you have one of the wonders of the natural world on your doorstep. If you enjoy an outdoors lifestyle and being immersed in nature, then there can be no better vista than the iconic views of a National Park from your window.
Keep in mind, though, that what draws you to the location will also make it attractive to others.
'Summertime can often see an influx of visitors to National Parks,' says Salman Haqqi. 'This can result in clogged transport links, and litter-filled areas as visitors leave their garbage in what's essentially your extensive backyard.'
What should I consider before buying a home near a National Park?
An important consideration is whether this will be your primary home or a vacation property. Due to their often remote locations, National Parks are not usually close to schools, grocery stores and other facilities, which can result in a longer commute to school or your workplace. You'll also need to plan carefully when it comes to shopping, cultural trips and activities, as you won't find these amenities on your doorstep.
If your lifestyle doesn't depend on frequent access to outside resources for education or employment – say, if you work from home, don't have a young family, or you are retired, then living next to a National Park will give you almost instant access to incredible scenery and outdoor activities.
As the property's scenic location and views are likely to be driving the price higher, it's important to check before you invest if there are any plans to build on the surrounding areas.
'New housing developments aren't necessarily a problem, but it's worth considering if they could affect those breathtaking views you've paid a premium to enjoy,' says Salman Haqqi.
What is the re-sale potential of a home near a National Park?
The National Parks that command premium property prices tend to have more going for them than the scenery. They will be designed as long-term residences rather than holiday homes, and have good access to transport links, work opportunities, schools, stores and amenities.
'Properties situated in more convenient locations with grocery stores and schools a short distance away are likely to be more appealing to future buyers,' confirms Salman Haqqi.
'If you are looking to purchase the property as an investment, then researching sales trends for the area can give you a better insight into how the value could appreciate over time,' Haqqi says.
It will also reveal if there are any factors that may reduce the value of the property, such as flooding or risk of natural disasters.
How can I get the perks of a National Park without paying a premium?
If a property near a National Park is out of your budget but you want the same fringe benefits, searching in the surrounding area is a great option.
You may have to compromise on a few things such as walking into the National Park from your door, but you may be able to secure a much more affordable property a short drive away.
Andrea has been immersed in the world of homes, interiors and lifestyle since her first job in journalism, on Ideal Home. She went from women's magazine Options to Frank. From there it was on to the launch of Red magazine, where she stayed for 10 years and became Assistant Editor. She then shifted into freelancing, and spent 14 years writing for everyone from The Telegraph to The Sunday Times, Livingetc, Stylist and Woman & Home. She was then offered the job as Editor on Country Homes & Interiors, and now combines that role with writing for sister title homesandgardens.com.