This charming collection adds a touch of English romanticism to any home – we sit down with the designers at Morris & Co.
H&G has sat down with the creative team beyond the Morris & Co. x Emery Walker's House collection to learn more about the inspiration for the charming designs – and how to use them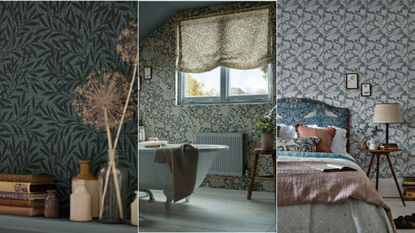 (Image credit: Morris & Co )
At a time when nostalgia is firmly at the helm of interior design, classic English design company Morris & Co. has launched a new collaboration with close friends at Emery Walker's House.
The collection of ten designs, launching 12th January 2023 across the US and Europe is a love letter to William Morris' previous designs and an ode to the close working relationship between the creative Morris and The Emery Walker House. The patterns offer a touch of considered English romanticism to any home, and we don't there has ever been a better time to decorate with pattern.
Here, we have spoken to Jessica Clayworth, lead designer at Morris & Co.to hear more about the inspiration for the collection, and learn how you can use it in your home.
With four new designs and six rediscovered classics, the Morris & Co. collection offers a fresh take on traditional patterns, reimagining previously out-of-print offerings found in The Emery Walker's House furnishings.
For 160 years, we have created beautifully crafted products that uphold the legacy of William Morris and as a brand, we strive to continue supporting craftsmanship as part of our 'Lovingly Crafted since 1861' campaign,' explains Jessica Clayworth, lead designer.
'In the last few years, there has been a resurgence in the nostalgia of arts and crafts. In 2020, when the world was brought back to basics, homeowners started to take their home projects into their own hands. Whether it be learning embroidery, wallpapering, or upholstering an old armchair, there was a desire to give it a go.
'The new Emery Walker's House collection pays homage to these specialist arts and crafts skills that are now so sought after.'
New additions include Emery's Willow, which combines the traditional willow motif used by Morris in 1874 with an unmistakable bubble-like backdrop, bringing the piece forward to 2023 without disrupting the timeless appeal of the original source material.
A similar approach was taken with Rambling Rose, a whimsical wallpaper revitalizing one of Morris' rarer motifs in a beguiling, labyrinthine pattern.
'Although many of the designs in the collection are over 100 years old, designed by Morris for his dear friend Emery Walker, the colorways, the designs and the pattern repeats are exactly how Morris used to produce himself,' Clayworth continues. 'The Emery Walker's house is the perfect embodiment of how Morris & Co. designs truly do stand the test of time and are more relevant now than ever.'
The collection is not just made up of wallpapers, however, with May's Coverlet offering an easier-to-incorporate option for every home. Inspired by the impressive needlework of William Morris' daughter May, the cover is made using hand-guided embroidery on a 100% linen base to perfectly replicate the original pattern.
'I personally am a huge fan of the Daisy Embroidery, it's been within our Morris & Co. collections for many years but never as an embroidery,' Jessica Clayworth, lead designer at Morris & Co. says. 'The hand-tufted knots within the flowers are incredibly special and add a beautiful depth to the design.'
How to use the Morris & Co. X The Emery Walker's House collection
'The collection has something for all Morris & Co. fans across the world, from light and fresh spring palettes to deeper hues, there are many colorways that suit all different homes and styles,' Clayworth says. Here are some ways to use the collection in your home.
1. Don't be afraid to pick a hero print and allow it to shine
With wallpaper trends providing the unique impact our homes are demanding in 2023, picking a bold hero print and letting it sing throughout a space can make an impressive statement unachievable by paint alone. 'I'd suggest always starting with a hero print. Something that suits the home as well as your personal taste,' says Jessica Clayworth, lead designer at Morris & Co. 'Once you've found your 'anchor' color, you can then add to it with different designs, styles, and textures.'
2. Take bold patterns to unexpected places in the home
'People tend to focus on living spaces when using bold designs as they are the rooms that get the most use, such as the bedroom and living room. However, patterns can work in every area of the home,' Clayworth suggests. Consider using an impactful wall pattern in your entryways, or try stair wallpaper ideas to add interest and intrigue to an often forgotten-about spot in the home.
3. Mix pattern with paint to prevent overwhelming a space
If mixing patterns is not quite your style, combining the pristine patterns with blocks of paint can provide a visual break and allow the pattern to pop, rather than dominate. 'All designs within the Emery Walker's House collection work seamlessly with the Morris & Co. paint range, so if you choose a wallpaper but are not feeling brave enough to put it on all four walls, you can choose a paint color that will work seamlessly with the design on the remaining walls,' Clayworth reveals.
US customers can find Morris & Co. online at Harrods or on the Morris & Co. website.
Chiana has been at Homes & Gardens for six months, having started her journey in interior journalism as part of the graduate program. She spends most of her time producing content for the Solved section of the website, helping readers get the most out of their homes through clever decluttering, cleaning, and tidying tips – many of which she tests and reviews herself in her home in Lancaster to ensure they will consistently deliver for her readers and dabbles in the latest design trends. She also has a first-class degree in Literature from Lancaster University.