Stair wallpaper ideas – 10 ways to add interest and intrigue to your staircase
Stamp personality on your space with these beautiful stairwell wallpaper ideas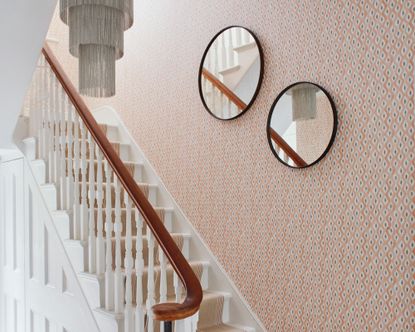 (Image credit: Brent Darby)
Sign up to the Homes & Gardens newsletter
Decor Ideas. Project Inspiration. Expert Advice. Delivered to your inbox.
Thank you for signing up to Homes & Gardens. You will receive a verification email shortly.
There was a problem. Please refresh the page and try again.
Stair wallpaper ideas are often over-looked, but stairwells are actually the perfect place to showcase beautiful prints and decorative designs.
Occupying only a small part of your home and one that is used for short periods of time, the staircase is an ideal location for those big patterns that might feel overwhelming elsewhere. Using a range of staircase ideas and experimenting with color, texture and pattern with wallpaper, can beautifully uplift a space that is usually ignored.
Connecting two floors together, stairwells offer a large expanse of wall that can be used as a blank canvas for a range of wallpaper ideas, providing an area on which to stamp your personal style and make a real statement across two stories.
Stair wallpaper ideas
Including wallpaper among your hallway ideas and entryway ideas not only helps bring visual interest to this transient space, they are also a vehicle for showcasing your personality.
If you're considering wallpaper ideas for stairs then there are an array of wallpaper trends to choose from, from show-stopping panoramic murals, to botanical prints and timeless stripes, there is an option to suit every style and space, no matter what the size.
But before you decide, there are some key things to consider as the type of design and how it is used can really alter how a space feels. A good place to start is to take a good look at the stair area, taking into factors such as light levels, room size, room orientation and materials already in a space as well as the decor of adjoining rooms.
'Hallways and stairs are fantastic spaces to create a first impression for guests, but also the first area you enter when returning home, so consider how you want your home to make you feel,' says Ruth Mottershead, Creative Director of Little Greene. 'Consider the views into the hallway or onto your stairs from other rooms, how much do you see, how will the design you choose flow into the other rooms?'
With so many staircase ideas to choose from it's tricky to know where to start, so we've rounded up an array of eye-catching stair wallpaper ideas as well as expert tips to get you inspired.
1. Bring the outside in with bespoke mural
Often stretching across multiple stories, stairwells offer the opportunity to decorate walls differently and make a real statement. If you are after something truly breathtaking, consider a bespoke mural which captures the majestic beauty of nature.
Tara Miller from The Heartland Interior Design states 'a mural instantly adds a scene to your space. Instead of having a piece of art in a frame, a mural pulls you into the scene itself by making it more life size. You can add the entire mural to your wall, or you can frame each strip of wallpaper with trim molding to make your money go further.
A panoramic mural can not only transport you to another space, but by choosing a nature-inspired design, the boundaries between indoors and out can become blurred, especially if the exterior as glimpsed from windows echoes the scene on the walls. This will have a restful, restorative, comforting effect.'
2. Add classic elegance with a refreshed toile design
Contemporary wallpapers inspired by archive designs such as toiles are guaranteed to bring a feel of romance to a stairwell – and will inject your home with a touch of history, too.
Originating in the 18th century, in the French village of Jouy-en-Josas, toile de Jouy also known as 'toiles' was historically linen cloth printed with engravings of romantic pastoral scenes, but today there are wallpaper companies today that offer printed wallpapers inspired by the toile fabric designs which are refreshed for the 21st century. A modernized toile inspired by Japan in timeless blue and white, this Nara design by Manuel Canovas features scenes of pagodas perfect for bringing a touch of the exotic.
'Many of today's florals and toiles have been given a contemporary twist through the use of fresh color combinations so they can be enjoyed in both modern and traditional interiors,' says Daniel Slowik, Associate Design Director at Sibyl Colefax & John fowler.
'Combining the patterns with neutral or plain color tones – and adding colorful block-printed cushions and rugs always works well. Hanging carefully chosen modern pictures can also enhance the modernity of the colors in the designs. Plain floorboards in a light colorway or white keeps the room looking fresh as does stone and natural flooring. Play up the freshness of the designs by combining them with contemporary ceramics and baskets.'
3. Use wallpaper to make a feature of a staircase
Wallpapers for stairs are a brilliant idea for open plan spaces, as Ruth Mottershead explains.
'As more people embrace open-plan living rooms, homes often now include stairs that are open to a living space. Rather than treating them as a separate area, incorporate the stairs into your design scheme with a coordinated color palette, or create a statement with the addition of a beautiful wallpaper which will create a personality-filled design statement.'
We think this grand stairwell has been beautifully elevated by the GP&J Baker Floral Rococo wallpaper, the elegant design invites you to take the stairs, and adds warmth and texture to the large open space. Ann Grafton, Creative & Managing Director of Mulberry Home states, 'Floral Rococo provides a contemporary take on the country house look. Soft and pretty, this opulent design will transform a staircase into a light, open space, in country and town houses alike'.
4. Choose versatile stripes for a timeless feel
For stairwell decor that will stand the test of time you cannot go wrong with a classic stripe in an ever-popular blue and white palette.
Blue and white decor is timeless, and one of the most classic interior design combinations, perfect for creating a serene yet fresh aesthetic. When used in conjunction with stripes, this masterful combination works beautifully in country or coastal retreats to create chic spaces that look relaxed and informal at the same time.
5. Soften stairwell wallpaper with complementary paint colors
Wall-to-wall print can sometimes be overwhelming, so for a more pared-back look consider papering just one of a stairwell or hallway and teaming it with plain walls and woodwork in colors picked out from the design for a cohesive scheme.
'Consider your woodwork color carefully – rather than opting for traditional white, consider pairing with coordinating or contrasting colors to deliver a considered and inspiring interior,' says Ruth Mottershead.
6. Inject glamor with a metallic wallpaper
It can be hard to know what to do with the redundant wall space under a stairwell –why not use it as canvas for showcasing a beautiful wallpaper and bringing a touch of personality to your home? If the space is feeling dull and lifeless consider a design with metallic detail which will glitter when it catches the sunlight. Metallics work beautifully with pastel pink shades, as this Sefina wallpaper in Wild Rose wallpaper from Romo proves.
7. Use a ditsy nature-inspired wallpaper for a calm feel
If you love pattern but are looking for a calm yet cheery to welcome when you return home, a repeat floral design is a good option, bringing pretty pattern and personality without powering your space.
This nature inspired Harlequin wallpaper uses a natural color palette with beautiful flowers and birds to create a fresh and inviting atmosphere, guaranteed to lift spirits after a long day. Liberty Blackwell, stylist at Harlequin states, 'simply patterned wallpaper is perfect for a staircase as it is well-placed to accentuate decorative pieces such as mirrors, artwork, or family portraits. Simple repeating patterns fit best as they won't draw attention from the decorative objects, but rather, will make them all the more eye-catching thanks to the break in pattern'.
8. Paper half a stairwell to break up high ceilings
As well as bringing color and pattern to a room, wallpaper can also be used as a clever device to change how a space looks and feels. Large stairwells can sometimes have a tendency to feel cold and drafty – in these instances consider breaking up the wall by papering the ground level section.
A timeless stripe in a warm neutral such as Little Greene Broad Stripe wallpaper in Mullion will subtly break up large wall expanse whilst keeping a space feeling bright and welcoming.
'For those interiors without a dado rail or paneling to naturally divide the wall, a stripe of a darker paint tone is an effective way of adding a design detail that is also hardwearing and practical,' says Ruth Mottershead.
9. Celebrate nature with a leafy print and woodwork
If you have a country home with a large entrance hall why not use it to pay homage to your beautiful rural surroundings with a nature-inspired wallpaper? Large, occasional spaces are a brilliant canvas for ornate prints to really shine, plus they can help them feel more intimate and welcoming.
10. Use the stairs to showcase a playful paper
If you're a fan of mid-century design then there's a wealth of printed wallpapers that reference archive designs and, as an occasional space the stairwell is a brilliant place to display them.
In an attempt to differentiate from their previous collections, Linwood has released a new one-off whimsical winter wallpaper with a mid-century feel. Off-Piste is derived from a 1950s document discovered in a French archive and captures the fun, thrills and exhilaration of the slopes. Its stylised skiers have been captured in a chalky color palette of red, yellow and green on a monochromatic ground that is true to the original.
Can you wallpaper a staircase?
A staircases is a great place to add wallpaper. As a 'linking space' that we tend not to spend long amounts of time in, you can afford to be bold with your decor in a stairwell. Wallpaper is an exceptional way to introduce elements of color, pattern and personality. Staircases are also everyday spaces that can get lots of wear and tear, so remember to think about practical, durable wall treatments.
Liberty Blackwell states, 'a staircase is the ideal place to get creative with wallpaper, giving people the opportunity to tell a story, or journey through the pieces they choose, as they transition from one floor to another'.
What is the best wallpaper for a staircase?
The best wallpaper for a staircase will depend on many factors, so it is a good idea to evaluate what you want from the stairwell and the existing qualities of the space before you start. Pay attention to factors such as light levels and the existing materials in the space such as flooring and internal woodwork as well as the decor of adjoining rooms.
'Hallways and staircases can often be narrow with little natural light so consider using color and pattern to create a design scheme that brings warmth and light to the space,' advises Ruth Mottershead.
Sign up to the Homes & Gardens newsletter
Decor Ideas. Project Inspiration. Expert Advice. Delivered to your inbox.
Pippa is Content Editor on Homes & Gardens online contributing to Period Living and Country Homes & Interiors print issues. A graduate of Art History and formerly Style Editor at Period Living, she is passionate about architecture, creating decorating content, interior styling and writing about craft and historic homes. She enjoys searching out beautiful images and the latest trends to share with the Homes & Gardens audience. A keen gardener, when she's not writing you'll find her growing flowers on her village allotment for styling projects.