6 mistakes to avoid when designing an open-plan kitchen – revealed by an expert
Easy to overlook, these are the pitfalls to avoid to get open plan right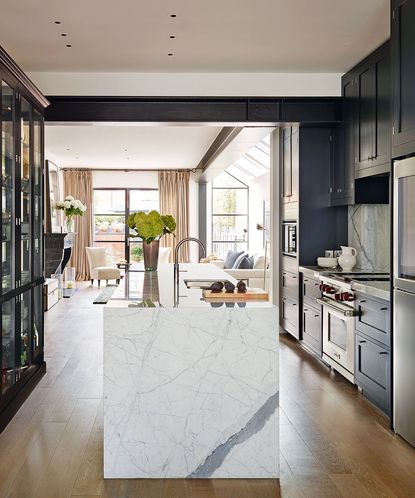 (Image credit: Darren Chung)
While open-plan kitchen ideas have never been more popular or searched for, there are downsides that come with them if they're not well designed. The different zones can become indistinct, walkways through the open-plan area can be obstructed, and the kitchen can feel decoratively disconnected from other areas, to mention just a few examples.
So what are the design tricks that will swerve the traps an open-plan kitchen layout? UK-based kitchen designer Charlie Smallbone, founder of Smallbone of Devizes and whose latest venture Ledbury Studio sees him harnessing the beauty of original materials while creating kitchens that are practical as well as stylish and elegant, shares with us the strategies for creating a successful open-plan design.
Read on for advice on zoning, furniture, lighting, and more for a room you'll love living in.
1. Not hiding away the functional elements
A kitchen is a hard-working space with features that make it look functional and out of harmony with living areas. The art of making it blend seamlessly lies in making these practical items disappear.
'Installing retractable elements such as downdraft extractors and pop-up plus sockets that sit flush to the worktop when not in use help to make the kitchen look less utilitarian,' says Charlie.
The features of the room might also be used to create an uninterrupted effect. In the London kitchen shown above, Ledbury Studio blended furniture and architecture, joining the tops of the cupboards with the ceiling coving, linking them with a lighting recess that makes coving and cupboard appear as one.
2. Not using design techniques to define zones
Using the same flooring throughout an open-plan area isn't essential, and in fact choosing different floorcoverings can be a positive virtue, distinguishing separate zones of the space. 'A change in flooring is a subtle way to define kitchen and living space without sacrificing harmony,' says Charlie.
Hard flooring is, of course, the practical option in a food preparation area, while soft carpet may be preferred in a living area as seen in this London property.
3. Not dividing the cooking area for the social spaces
Zoning can also be achieved in a variety of other ways, including by using a kitchen island. 'The beauty of an island is that it not only divides the living areas from the kitchen but also provides additional space for food prep and storage,' says Charlie. 'And by incorporating a breakfast bar, it can be used for relaxing and entertaining too.'
See: Kitchen island ideas – guaranteed to make a statement
4. Not considering thoroughfares carefully
A sizeable piece of furniture can fulfill the same function as an island. It's a tactic that's particularly useful in smaller open-plan areas with space for only a one-wall kitchen layout. In this situation, a sofa, for example, can signify a change of purpose.
A word of warning, though. 'This should be carefully planned so that people can move from zone to zone without obstruction,' says Charlie.
Walkways through an open-plan space should absolutely avoid the cooking area for safety if at all possible. Avoid positioning them between screen and sofa in a TV space, too.
5. Not getting the lighting design just right
It's not just flooring and furniture that can contribute to zoning an open-plan space. Lighting should also be employed and multiple light sources are required in order to set task or mood lighting in the different zones, Charlie advises.
Also crucial is color temperature. 'Bulbs range in color temperature from a yellowish, warm white through to a much brighter, cleaner white (most often used in commercial settings),' explains Charlie. Kelvins (K) are the measure of how cool or warm a light is; the higher the number of Kelvins, the whiter the light.'
'As the social hub of many homes, the kitchen requires a warm, relaxing light,' he adds. 'That said, it is also where culinary talents are put to the test. Therefore, kitchen lighting cannot be as warm as the bedroom, for instance, because you need to be able to see when cutting or handling hot food.
'To strike this delicate balance, we typically work with warm white LEDs of around 3,000K (at full brightness). These can then be dimmed according to how the space is being used – to host an intimate dinner party, for example.'
See: Kitchen lighting ideas – to set the scene for cooking, eating and entertaining
6. Not including freestanding furniture
Kitchen storage need not be entirely composed of fitted cabinetry and including pieces of freestanding furniture in the layout will echo the design of the living area to make a link between the two.
'For example, think about display cabinets with glass doors that can be used to make a highlight of dinnerware or treasured items,' says Charlie.
A handsome freestanding design can also make a fabulous focal point for the space.
Sarah is a freelance journalist and editor. Previously executive editor of Ideal Home, she's specialized in interiors, property and gardens for over 20 years, and covers interior design, house design, gardens, and cleaning and organizing a home for H&G. She's written for websites, including Houzz, Channel 4's flagship website, 4Homes, and Future's T3; national newspapers, including The Guardian; and magazines including Future's Country Homes & Interiors, Homebuilding & Renovating, Period Living, and Style at Home, as well as House Beautiful, Good Homes, Grand Designs, Homes & Antiques, LandLove and The English Home among others. It's no big surprise that she likes to put what she writes about into practice, and is a serial house renovator.