7 mistakes to avoid when designing an outdoor kitchen – according to experts
It could be your most-used room this summer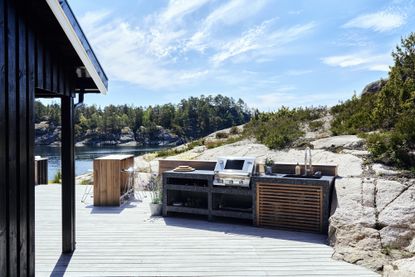 (Image credit: Lundhs Stone)
With many of us working from home, our outdoor space has become more important than ever. And it's no surprise that searches for 'outdoor kitchen ideas' are soaring.
While we get most use from an outdoor kitchen in the summer, these spaces now need to work year-round to enhance the WFH life.
An outdoor kitchen is essentially an extension of our living space, so needs to combine the perfect blend of style and substance.
We've asked two experts for their six top outdoor design mistakes to avoid, so you can sidestep potential pitfalls when you plan an outdoor kitchen, and enjoy a whole new area of your home stress-free.
1. Choosing materials that aren't tough enough
Unless you live somewhere that sees very little rain, your outdoor kitchen needs to be weather-proof, so factor this in when considering your total outdoor kitchen cost.
'Your choice of material is key,' explains says Jamie Blake, creative director of Blakes London. 'We recommend marine ply for carcasses, solid oak and iroko as all these timbers are complex but well suited for the outdoors. Oak being rock solid and iroko holding a lot of natural oils that allow it to endure outdoors.'
Hege Lundh, marketing director at Lundhs, agrees: 'Make sure you choose materials that will withstand changes in temperatures, exposure to the sun's UV rays and also to the moisture of rain and dampness.
'The key to a long-lasting outdoor surface is something that will stand the test of time against these elements. The features you should look for are a material that has low porosity, low absorption and a resistance to UV.
'Also opt for a material that is easy to clean and is maintenance-free. The key to this is choosing a material that is 100% natural. A completely natural stone will be used to the elements and notoriously only require very little maintenance – a simple wipe with a damp cloth will suffice.'
And don't forget healthy and safety factors. Hege adds: 'Take safety into consideration – if you are planning on installing a grill for example, make sure you avoid flammable materials and choose a worktop and surfaces that can withstand high temperatures of up to 300ºC.'
2. Skipping a water supply and sink
A key addition to an outdoor kitchen is a sink and tap, without which the space would just become a worktop with a BBQ.
'Constantly running in and out of the house to use the sink or grab something from the fridge can be incredibly frustrating, so replicate a preparation area and space as you would have in the kitchen outside. This is key to delivering a sociable outdoor kitchen you will actually enjoy,' says Jamie Blake.
3. Forgetting good lighting
'The space must be properly lit so that when you want to BBQ at night you can do so without donning a head torch,' says Jamie Blake. 'It's also a good idea to add ambient lighting to create the right mood during those long lazy summer evenings.'
He adds: 'Consider the sun path and BBQ kitchen. Think about when you're most likely to want to BBQ most frequently, and plan the location of the kitchen accordingly. There's nothing worse than standing in the direct sunlight in the height of summer by a scorching BBQ while your dining table is covered in gloomy dank shadows.'
4. Picking the wrong location
'Find a nice spot in your outdoor area where you have enough space,' says Hege Lundh. 'The outdoor kitchen should not be fully exposed to sunlight, and if possible find the least windy area.'
It also pays to consider the space around the kitchen and proximity to the house. 'As when designing your main kitchen, think about circulation,' advises Jamie Blake. 'Where do you want people to stand and congregate, kids to run and play and where are the thoroughfares? Things can get a little hectic when you are creating your masterpiece and there is a lot of heat etc!
'Get clever with where you position the table, a raised bar with stools between you "the BBQ master" and your guests gives you the space you need and a clear line for people not to cross and kids not venture.'
5. Omitting outdoor heating
Nobody likes to feel cold, so ensure maximum use of your outdoor kitchen by adding a heat source. 'Consider heating the seating areas and installing retractable covers for those cooler wetter months,' says Jamie Blake.
'Personally, I like to create a permanent overhead cover for the BBQ to keep off direct rain and weather on the units themselves. This will offer better longevity for the cabinetry and BBQ kit and, as boring as it sounds, rain covers for when the hardware isn't in use also increases the lifespan considerably.'
6. Ignoring the importance of storage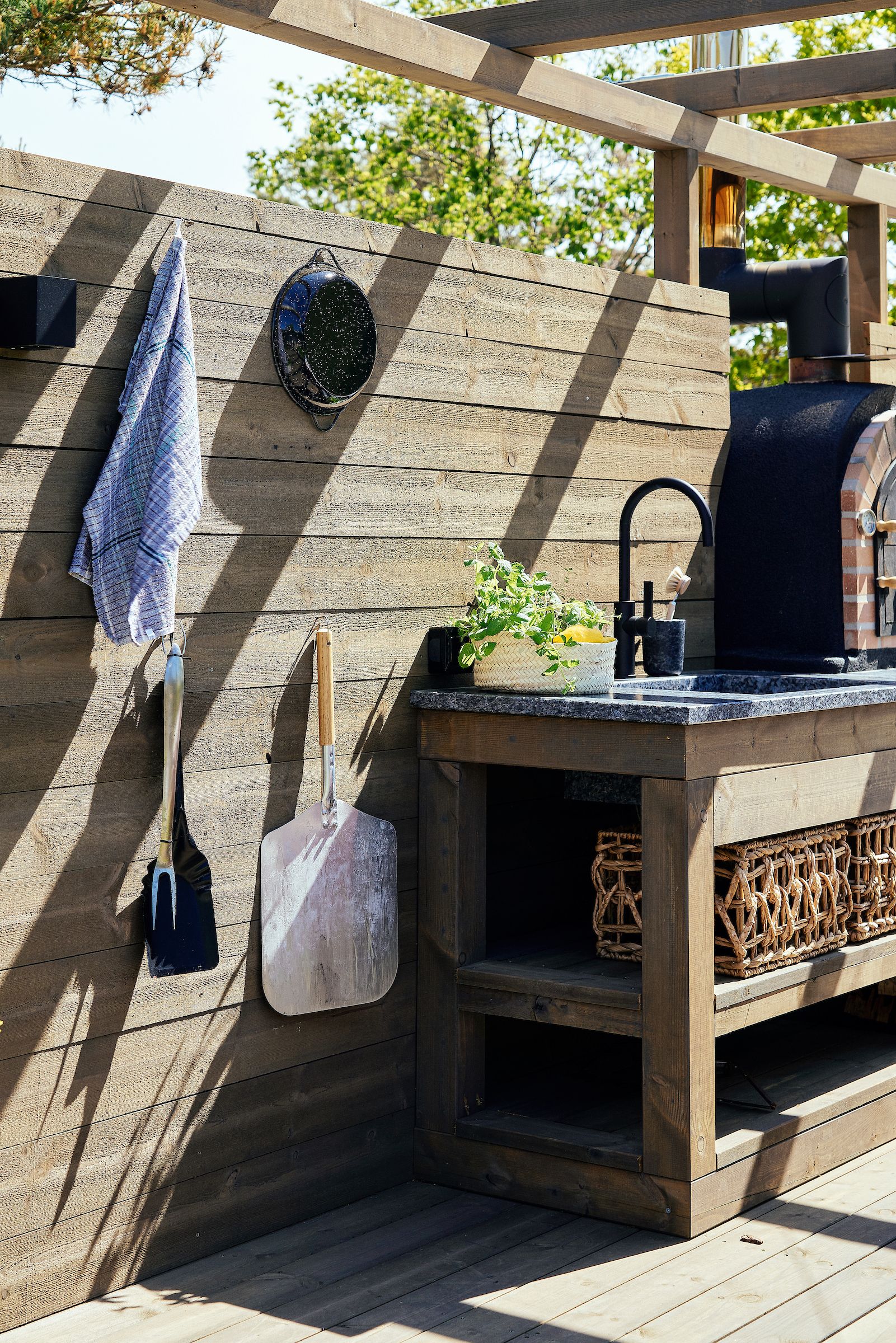 Storage is just as important in an outdoor kitchen as an indoor one. Hege Lundh advises: 'As with any indoor kitchen space, it's important to ensure you have enough storage. Make sure you're able to close and lock things away so that they are safe from the outdoor elements, and so you can store appliances outside without having to run indoors to grab utensils or glasses every five minutes.'
7. Not including a refrigerator
Excluding a refrigerator from an outdoor kitchen might be something you regret.
Jamie Blake agrees, adding: 'Consider your distance from the house. The further you are from the house the better stocked your outdoor kitchen needs to be in terms of a refrigerator, spice rack etc. If your outdoor kitchen is on a patio a few steps from your main kitchen this won't be so vital.'
Sign up to the Homes & Gardens newsletter
Decor Ideas. Project Inspiration. Expert Advice. Delivered to your inbox.
Ruth Doherty is an experienced digital writer and editor specializing in interiors, travel and lifestyle. With 20 years of writing for national sites under her belt, she's worked for the likes of Livingetc.com, Standard, Ideal Home, Stylist and Marie Claire as well as Homes & Gardens.