10 pillow arrangements our stylists want you to know about
Style your pillow arrangements for a chic and cozy aesthetic – the expert way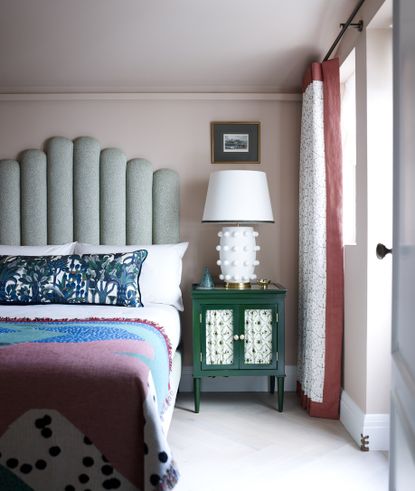 (Image credit: Gunter & Co)
Having a solid set of pillow arrangements in your styling arsenal can help you transform a room, creating atmosphere, coziness and that feet-up-and-flop feel – while also being designer-smart. But how to style pillows to get that chic, luxe yet lived-in look?
Answer: with our pillow styling rules. They can guide you to create comfort with a high-end aesthetic. Pillows are an easy way to give a space a mini makeover, and can be easily changed to match the seasons or your shifting tastes, too.
A good place to start is to remember not to be too matchy-matchy; work with different shades or complementary colors, and differing shapes and sizes for a cohesive look that has dimension.
We have a host of experts on-hand to talk us through how to style your pillow arrangements to perfection – below.
See: Bedroom ideas – designs and inspiration for beautiful bedrooms
1. Mix up pillow sizes
'While every house is different, there are a few basic places to start,' says Lauren Meichtry of Elsie Home. 'For your bed or sofa, choose two or three sizes. Create some height by using larger pillows in the back (24 x 24 or 22 x 22), then size down from there.
'I love mixing and matching with different-sized pillows. It creates dimension and interest on an otherwise blank canvas. Pair small, medium and large pillows together – a combination of 22 x 22s, 20 x 20s and a lumbar is a great place to start.
Kirsten Krason, co-founder of House of Jade Interiors, agrees, saying: 'Make sure you are using varying sizes so each pillow can stand out on its own with the bigger pillows in the back.'
And Joanna Ross, General Manager of Design at Sheridan, also believes 'choosing cushions of various sizes creates height and drama'. Fancy a boutique hotel look? Choose all-white but use solids, patterns and different textures as well as different sizes. Joanna says: 'Bringing in different sized pillows also gives extra dimension to your bed.
See: How to dress a bed – a five-star hotel guide to layering
'To dress the bed, start (at the back) with a European, large square pillow – generally use two European pillows for symmetry, but for larger beds, we recommend three, giving your bed a more plump and luxurious look.
'European pillows add height and are also perfect for extra comfort if you like to sit up in bed to read or sip tea. It also brings dimension and layers to your bed.'
2. Use solids as well as prints
'I generally suggest people start with one or two prints they absolutely love and then layer in neutrals and colors that complement the others,' says Lauren.
'I recommend a good mix of neutral prints and solids so you can add in bold prints and colors as the seasons change. This way you won't have to swap out every pillow on your couch or bed. You can even choose to buy your seasonal pillows as covers only and then swap out the insert from one you'd be storing for the season anyway. You're storing and wasting less.'
Kirsten Krason says: 'It's important to mix in some solids to break up all of your patterned pillows. Either having an actual solid to break up the pattern or use a textured pillow that gives the effect of a small pattern.'
See: Living room seating ideas – the essential design rules for sofa and chair layouts and trends
3. Be aware of the scale of your patterns
'The key to mixing patterns is by the scale,' says Kirsten Krason. 'A bold pattern paired with a simple pattern will not compete against each other, instead they will complement each other.'
And Lauren Meichtry agrees: 'When choosing patterns, it's easiest on the eyes if you pair small scale prints with large scale prints so each pillow has a chance to shine.'
4. Don't underestimate the loveliness of a lumbar
If you want to keep it simple, adding a lumbar to larger back pillows, whether on your bed or sofa, is an easy way to create visual interest and dimension.
Kirsten says: 'Sometimes simple is better. One long lumbar on a sofa can be just as impactful as a pillow arrangement with multiple pillows.'
And Brianne Bishop of Brianne Bishop Design, says: 'Your bed does not need 100 fussy pillows to deal with everyday. For decoration we simply use one long lumbar accent.'
Use a striped lumbar pillow to add interest to a sectional sofa or bed – or choose a beautiful print to add texture and interest.
5. Think in threes
Three is often the magic number when it comes to styling. And Brianne Bishop says this golden rule can be applied to create chic pillow styling, too. She says: 'Think in threes! We like to start with three big, solid and grounding pillows, two decorative accents layered and then potentially a small fun one with either tassels, or fur or something unexpected.'
See: Rule of three – 10 ways interior designers use this magic number in their schemes
On the bed, two square layer pillows and a rectangular one at the front adds interest.
6. Do the pillow karate chop
'Yes, karate chop your pillow to get that perfect look,' says Brianne Bishop. A little indent in the top middle space creates a refined finish.
7. Add a tailored trim
Don't forget trim as an opportunity to make the pillow unique, says Brianne Bishop, explaining that 'contrasting welts add definition and a tailored look to any pillow'.
It's also a good way to add cohesion to a color scheme, as seen in the above room where the black bobble trim picks out the greys and blacks elsewhere in the room.
See: Living room ideas – clever ways to decorate living spaces
8. Utilize accent colors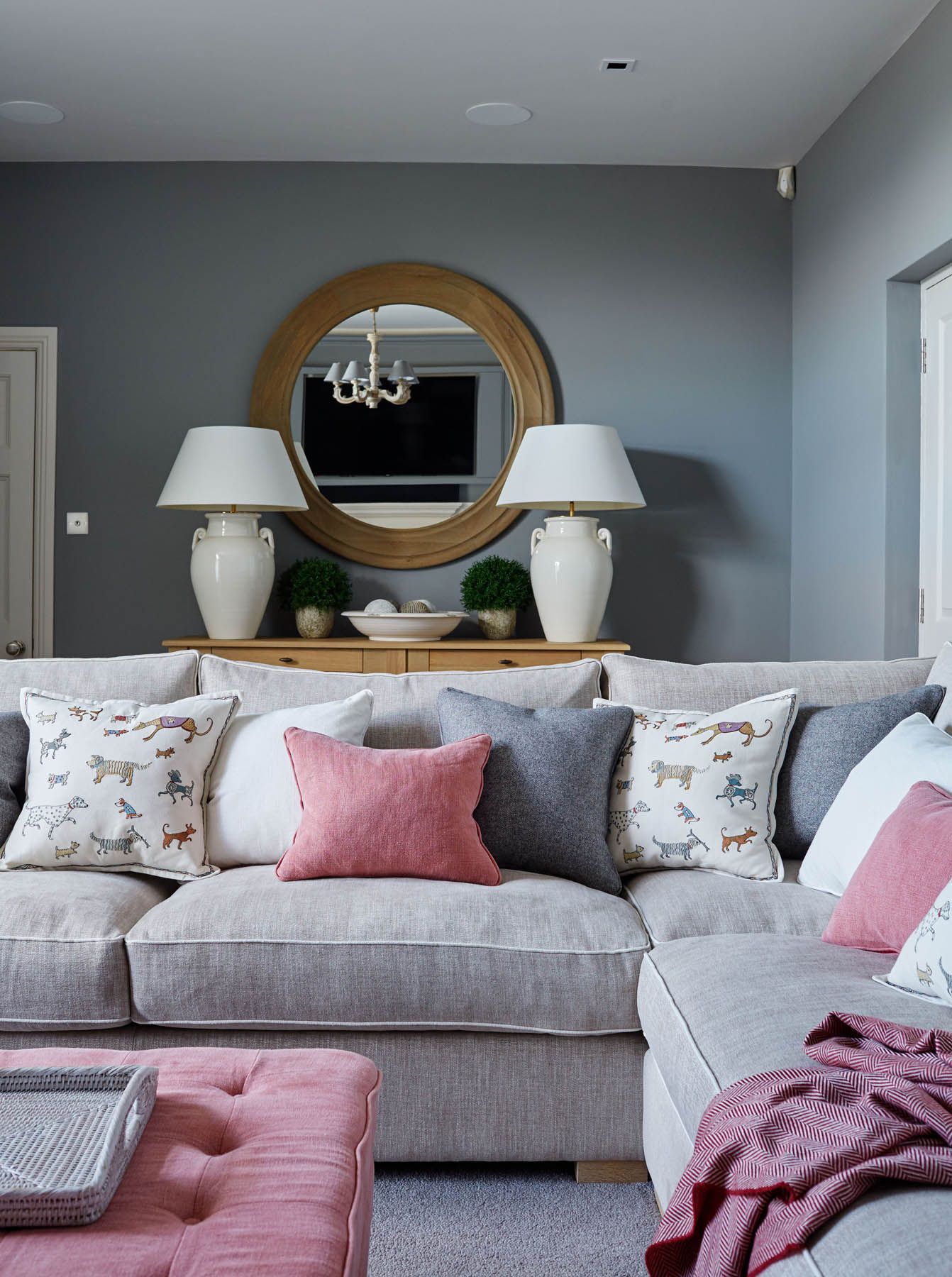 'Pick a primary color to play off of if you don't know where to start,' says Kirsten Krason. 'You can play off that color with other options that are complementary and keep the majority of your pillows in that same color.'
See: Accent color ideas – how to use them and why they are important
9. Choose different colors
To avoid repetition, try not to use pillow groupings that are the same shade. Choose different but complementary colors for a cohesive look that's still vibrant and interesting.
Even in a neutral colors scheme you can use different earthy, organic tones.
10. Stay neutral if it's in your comfort zone
If mixing lots of color and pattern feels overwhelming, don'y worry, a neutral scheme can be calming and elegant. Kirsten Krason, of Jade House Interiors, says: 'Stay neutral if you are nervous. An entirely neutral pillow palette can be hard to achieve but can also be beautiful if you can't commit to colors. If you are doing a neutral arrangement mix it up with lots of different textures.'
See: Neutral room ideas – light, dark and timeless ways with colour
As Kirsten says, it's a good idea to mix fabrics, so you may have some linen or cotton, with wool or velvet in similar shades.
Sign up to the Homes & Gardens newsletter
Decor Ideas. Project Inspiration. Expert Advice. Delivered to your inbox.
Ruth Doherty is an experienced digital writer and editor specializing in interiors, travel and lifestyle. With 20 years of writing for national sites under her belt, she's worked for the likes of Livingetc.com, Standard, Ideal Home, Stylist and Marie Claire as well as Homes & Gardens.