8 times powder room wall decor went bold – and why you should try it in yours
The smallest room can make the greatest impact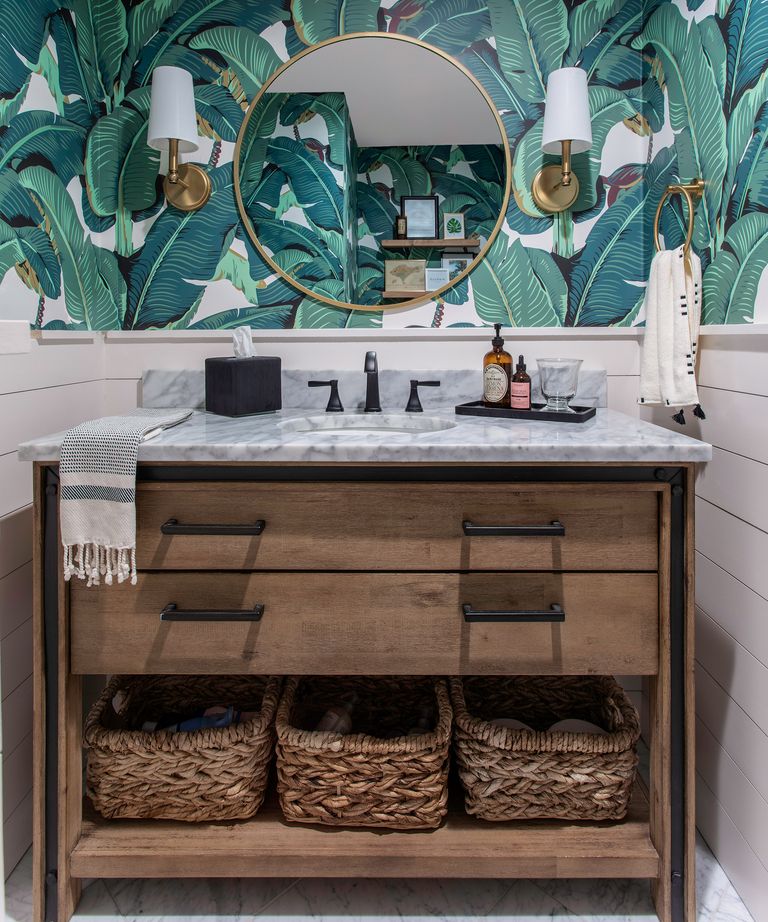 (Image credit: Vivian Johnson)
Powder room wall decor can make a small space special. Powder rooms – the British cloakroom – may be small but they can still pack a decorative punch. Color and pattern can make these ground floor spaces rooms both family and guests can appreciate.
While you might hold back on using wallpaper in a family bathroom where it might be splashed, there's no reason not to introduce it in a powder room to turn what could be an anonymous area into one with style.
But it's not just pattern that can dress up one of these spaces: vivid or dramatic wall colors, rich finishes, and fabulous furniture and accessories can all be part of the picture.
Read on to be inspired to create a powder room with pizzazz by the world's best designers.
See: Bathroom ideas – 30 stylish decor ideas for washrooms, ensuites and more
1. Evoke organic beauty
The Swirls wallpaper by Robert Crowder in this 1928 Tudor home in California designed by Anyon Design has the appeal of extravagantly veined natural stone and mesmerizing effect.
'I loved how the powder room turned out,' says Lindsay Anyon Brier. The room's other elements pick up shades from the wallpaper giving the space a cocooning atmosphere. 'We restored an Asian chest and lacquered a pagoda-style mirror in a dark green. The brass fixtures by Waterworks really complete the look,' she says.
2. Create a color surprise
London-based interior designers Salvesen Graham chose to add a pop of color to this powder room with a dynamic Beata Heuman wallpaper.
Take a leaf out of the design practice's book by introducing a contrast in style as well. The contemporary wallpaper strikes a different note to the room's more traditional elements, such as the radiator, to make the scheme even more arresting.
See: Small bathroom ideas – gorgeous decor solutions for compact washrooms
3. Stay fresh
An organic stripe creates impact in the powder room of this home overlooking the San Francisco Bay designed by Nest Design Co. Choosing a wallpaper with a white ground like this one is a great option to take in order to make a very small space feel airy and bright without compromising on the scheme's boldness.
The vertical stripe wallpaper design adds height to the room, too, leading the eye upwards to a ceiling that reflects light to further space-stretching effect.
4. Opt for distinct style
While this home in Carmel, Indiana, was give a modern monochrome update when the homeowners' five children had flown the nest, interior designer Whittney Parkinson of Indianapolis-based Whittney Parkinson, changed the palette and the mood with this interior.
'For the powder room we wanted to throw the rule book out of the window,' she says. 'This space is all about fun and frivolity. The Cole & Son wallpaper is an inspired addition that we think fits this space perfectly.'
5. Bring it to life
Jungle Birds wallpaper from Hamilton Weston has a vibrant presence in this powder room design by UK design practice Sims Hilditch. The motif is perfectly scaled for the small room, allowing the details of birds, butterflies, branches and even spiders' webs to be appreciated.
If you're concerned about scuffs, using the strategy of paneling to dado height, as shown here, is a great solution, creating a hard-wearing finish.
See: Panelling ideas for walls – that bring warmth and interest to your interiors
6. Add drama
Deeply veined marble in a warm burgundy shade on the floor along with tactile wallpaper make this powder room in interior designer Elnaz Namaki's apartment a masterclass in going bold.
'I wanted to have fun – compact spaces are ideal for experimenting with all-out glamour,' she says. Follow Elnaz's lead by swapping white sanitaryware for alternative shades. Here it's a black WC, along with a delicate plaster pink basin. The mirror's a showstopper from the 1950s with a lit frame.
7. Go for glamor
This powder room by Vani Sayeed Studios is as visually striking as the rest of the New England home. Intricate pattern and bold colors give it both glamor and a sense of playfulness, but they're combined with classic furnishings and white sanitaryware as a cozy and grounding counterpoint.
8. Choose a biophilic theme
The powder room of this colorful San Jose home designed by Carmit Oron is brought to life by the exuberance of the wallpaper.
'Despite its size, this room was a glorious opportunity to utilise color and pattern –with added playfulness,' says Carmit. 'I began designing it with a rather cool Beverly Hills Hotel wallpaper in mind – one that showcases lush, oversized greenery. I was delighted when my clients gave me the green light on this particular design element. To tone down the grandiose wallpaper, I used horizontal shiplap for wainscoting on the bottom half of the walls, and classic herringbone Carrara tile on the floor.'